Walt Disney World Monorail

---

Since 1991, the Walt Disney World Resort has operated a fleet of 12 Mark VI monorails. More than 30 years of research and development, started in the 50's, has brought the monorail technology to what we have today. The Walt Disney World monorail system has been in continuous operation since 1971 with double beam track that circles the Seven Seas Lagoon in front of the Magic Kingdom.

Originally, the monorail system connected the Contemporary and Polynesian hotels with the Magic Kingdom and Transportation and Ticket Center. In later years, the Grand Floridian was added to the loop. Disney expanded the monorail system in 1982 by adding a four mile extension that travels from the Magic Kingdom resort area to Epcot's entrance.

The current model of monorail began operation in 1990, with the full fleet of 12 in service by early 1991. The Mark VI has a higher passenger capacity as well as improved air conditioning, door systems and improved safety features. Each Mark VI train consists of six cars. The overall length is 203 feet with a capacity of 365 passengers. The track consists of 26 inch wide, pre-cast concrete beams supported by concrete columns which are approximately 50 feet apart.

Each monorail travels on rubber tires and is powered by a 600 volt DC propulsion system which includes eight DC motors rated at 112 HP each, with the power emanating from each side of the beam. The 13.6 mile monorail system carries over 150,000 guests to the Magic Kingdom and Epcot parks on an average day.

Express Loop (Magic Kingdom and Ticket and Transportation Center)

EPCOT Loop (EPCOT and Ticket and Transportation Center)

Resort Loop (Magic Kingdom, Contemporary, Ticket and Transportation Center, Polynesian, Grand Floridian)
July 2023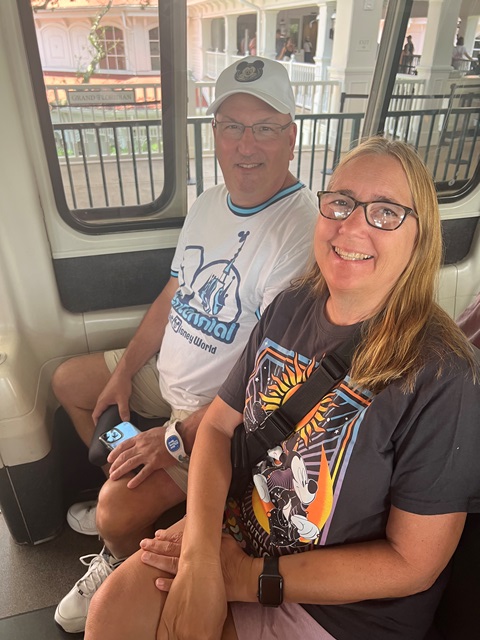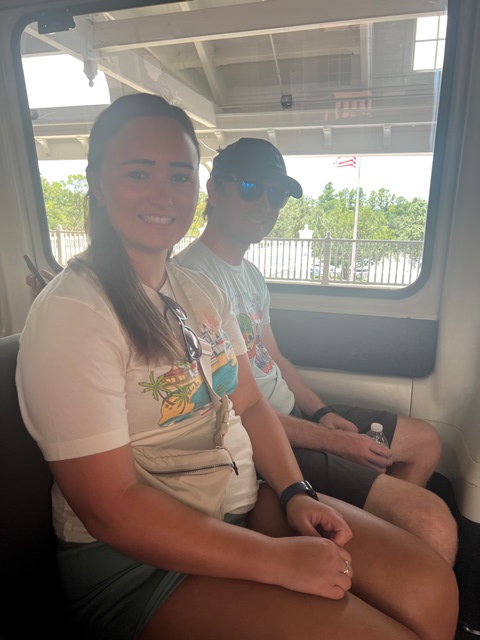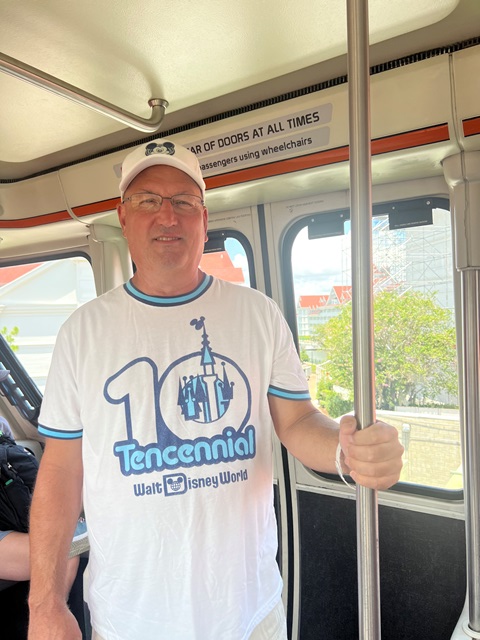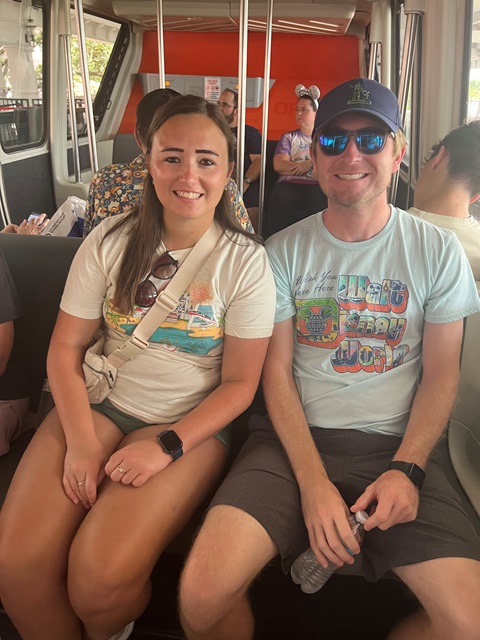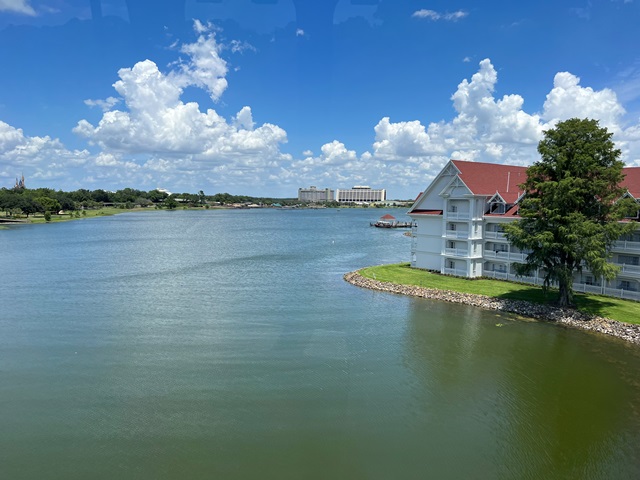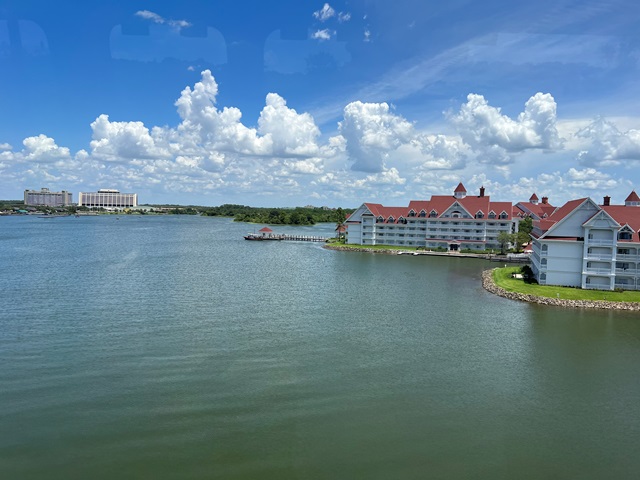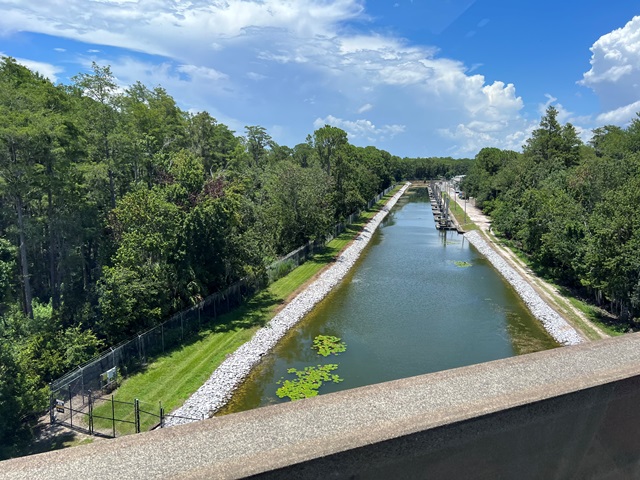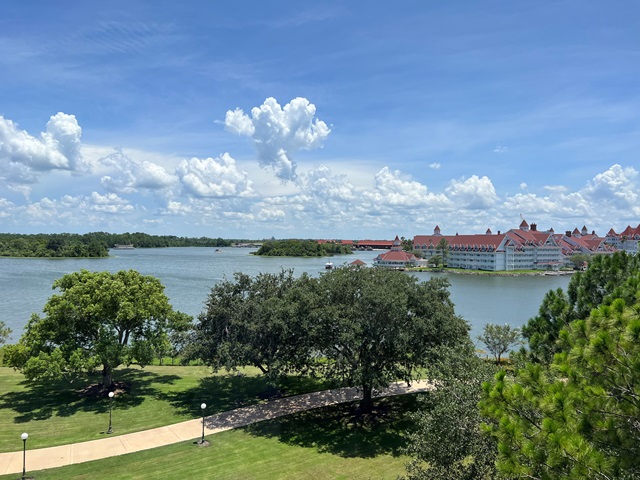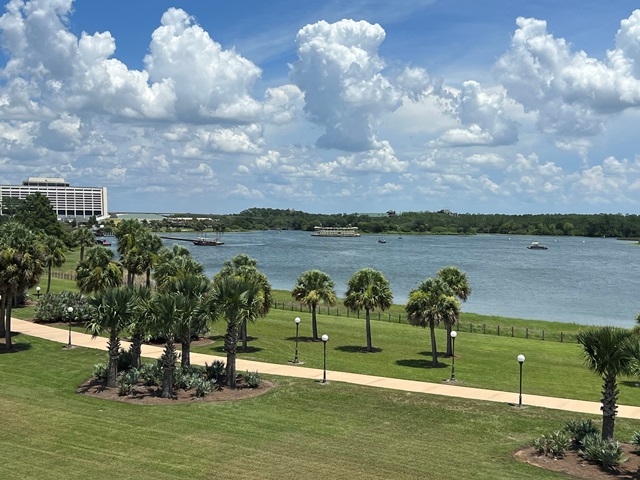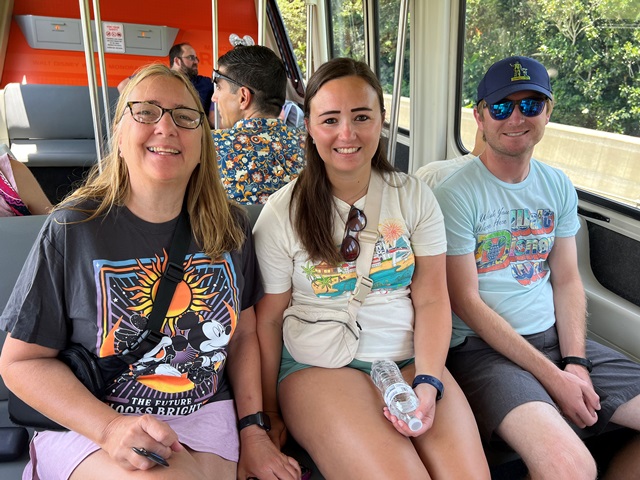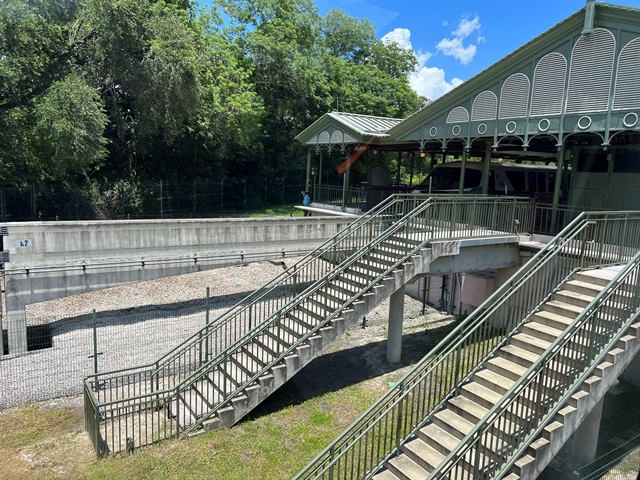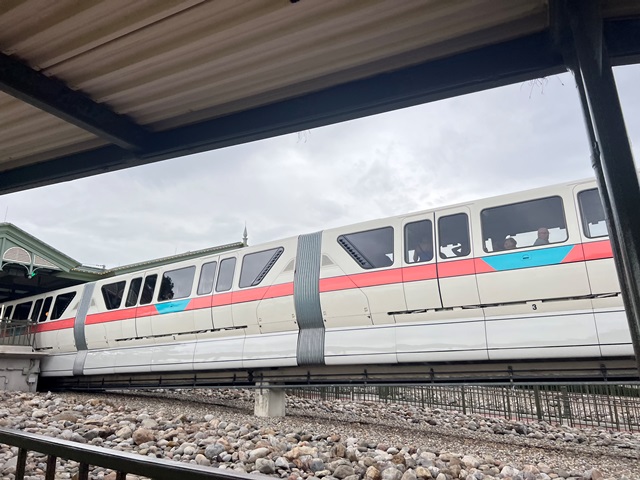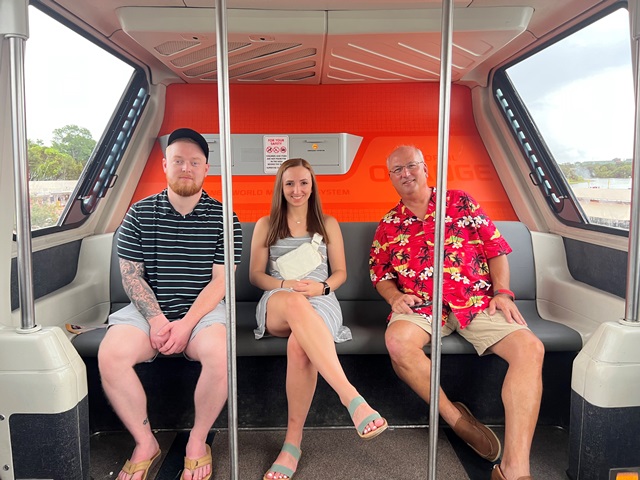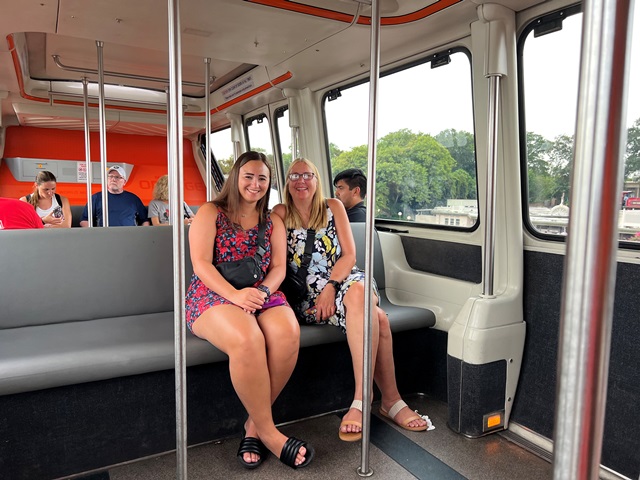 April 2023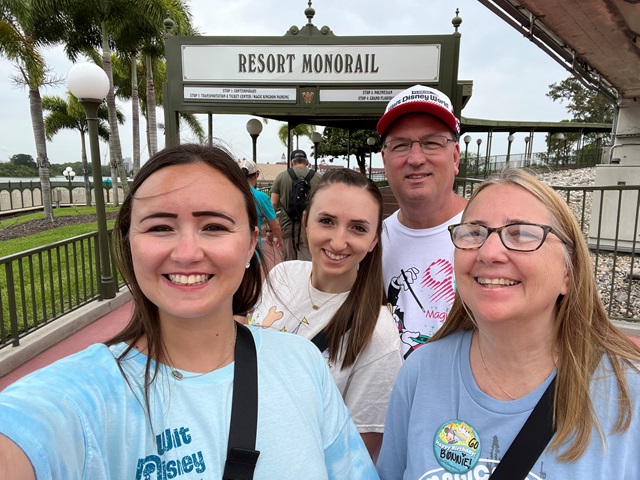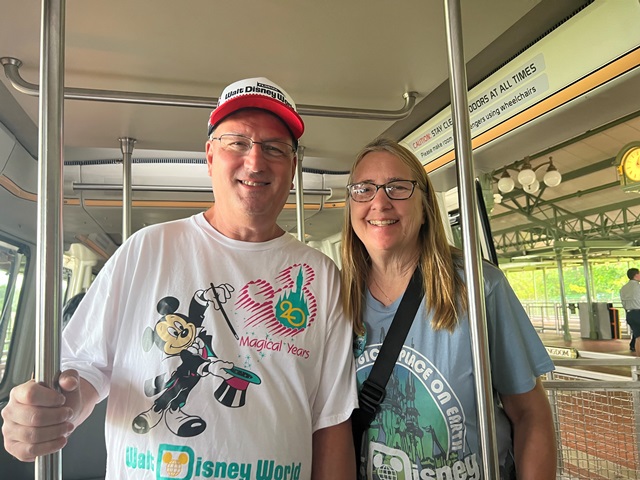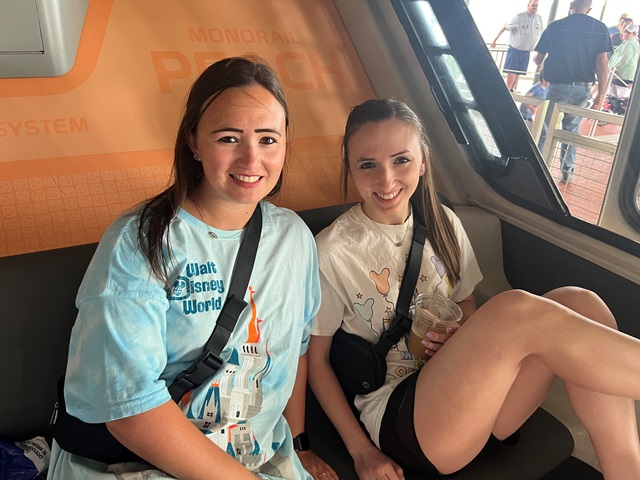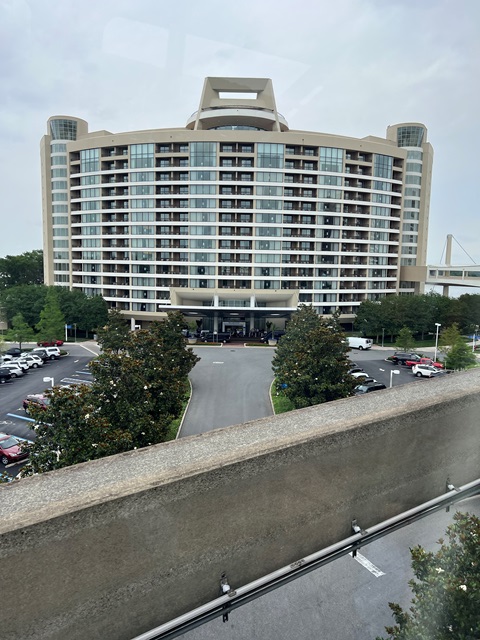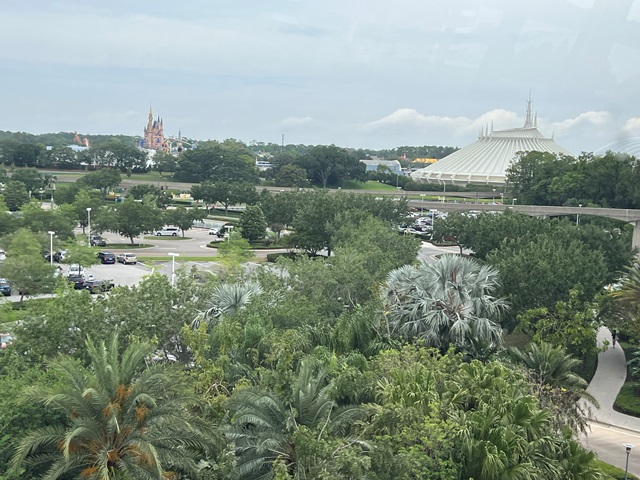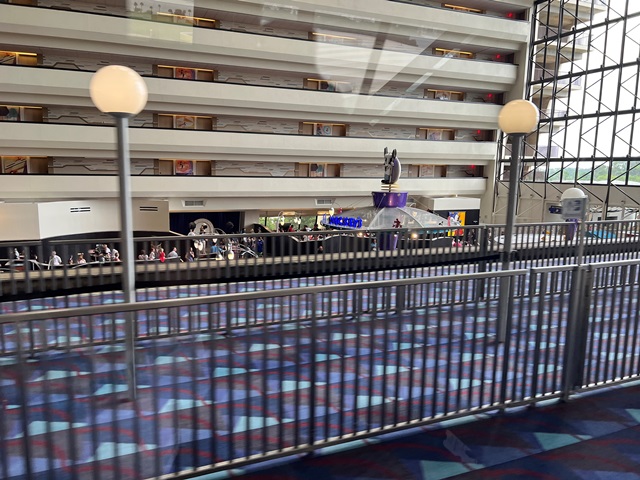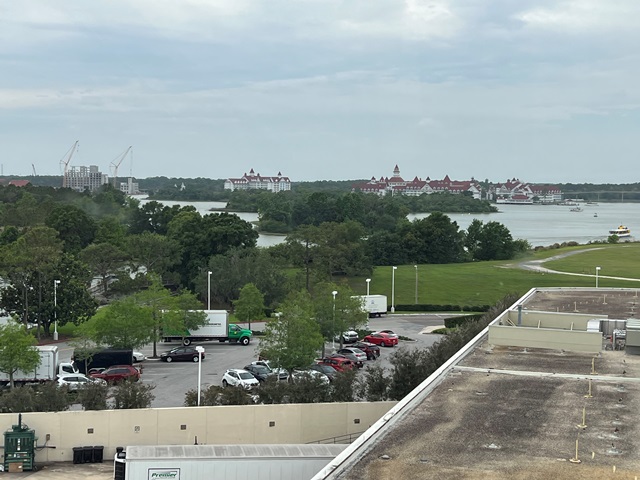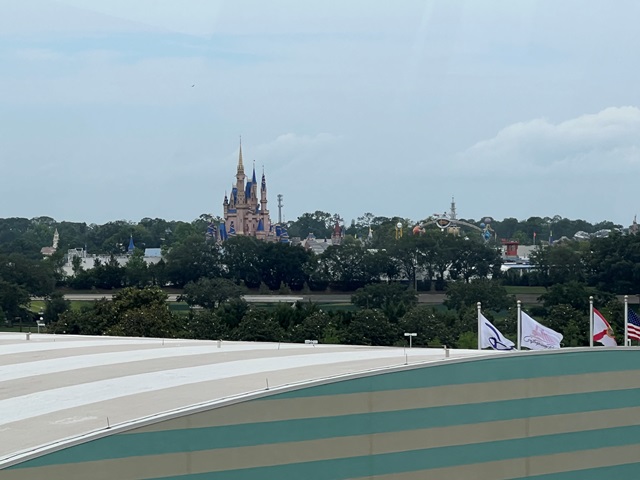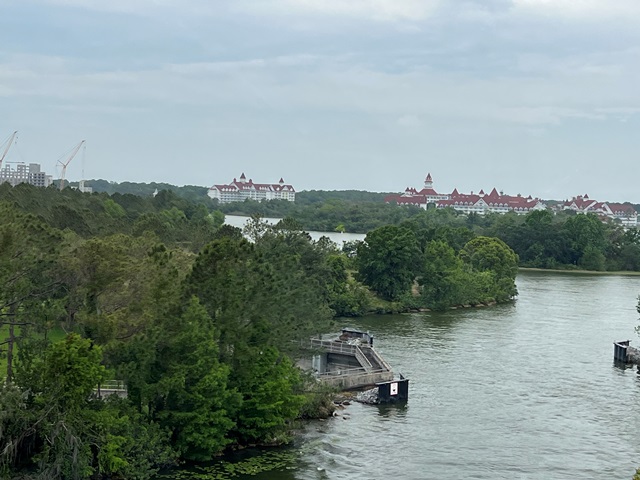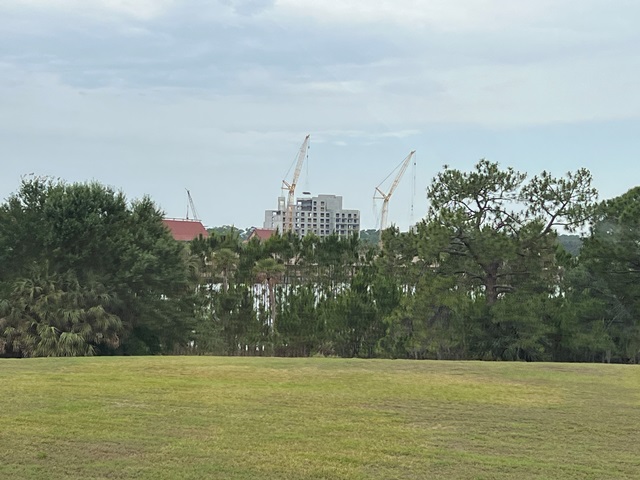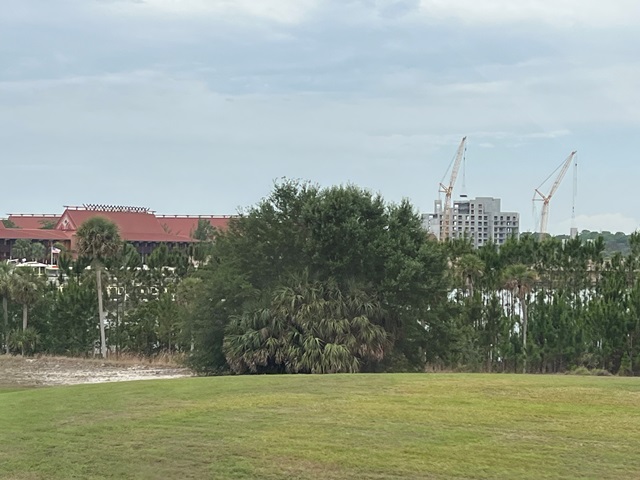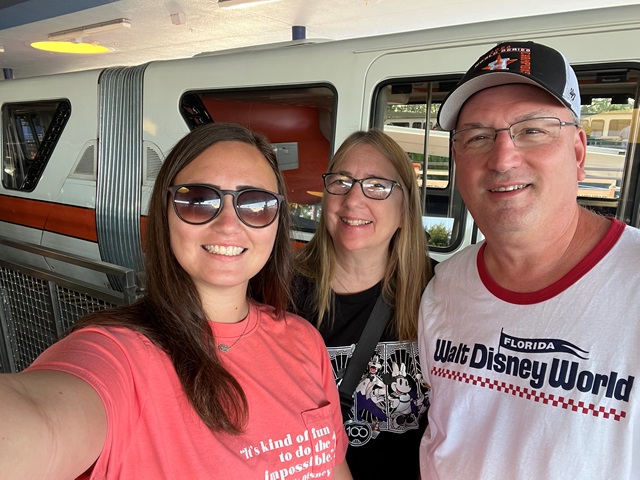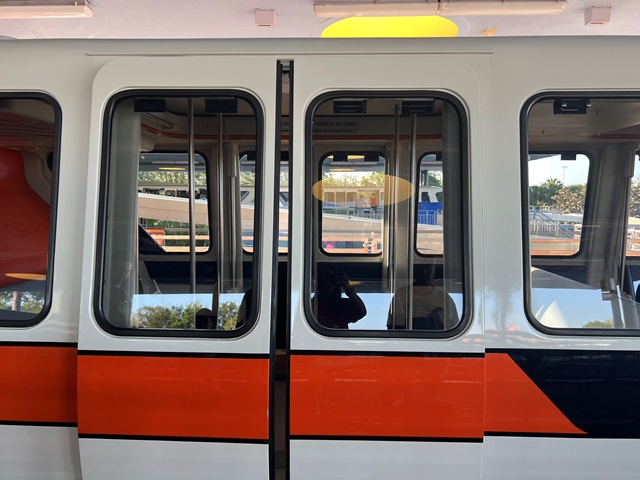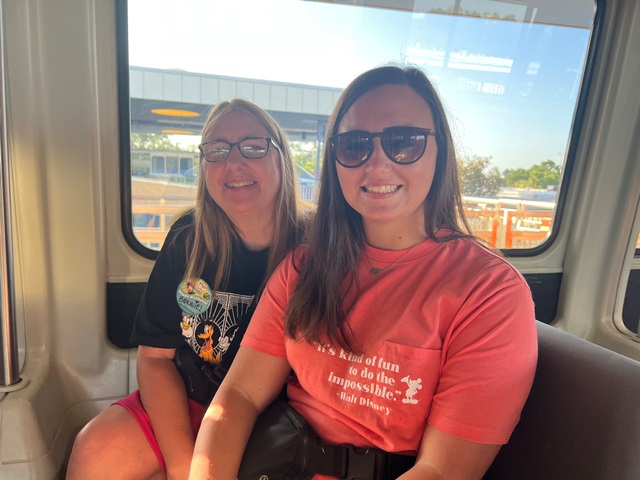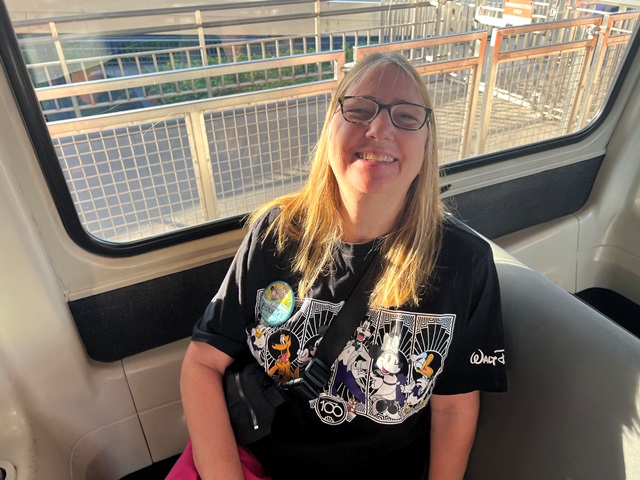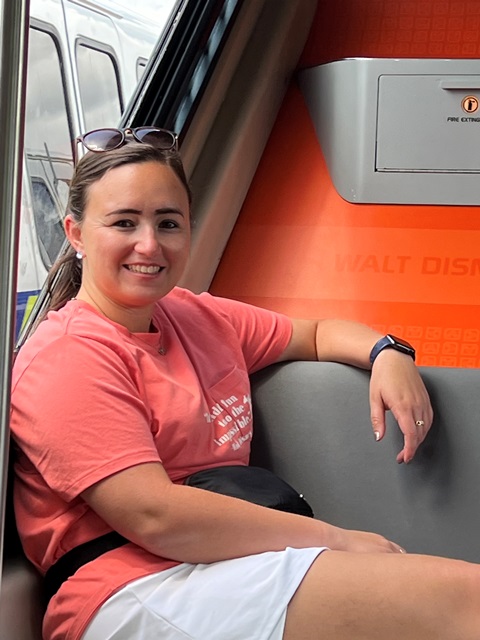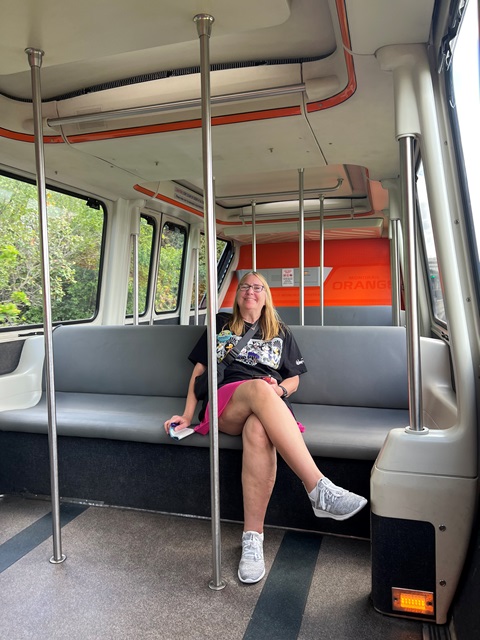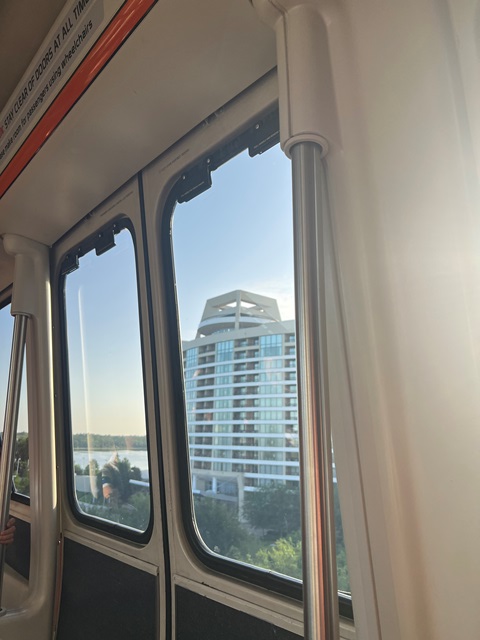 December 2022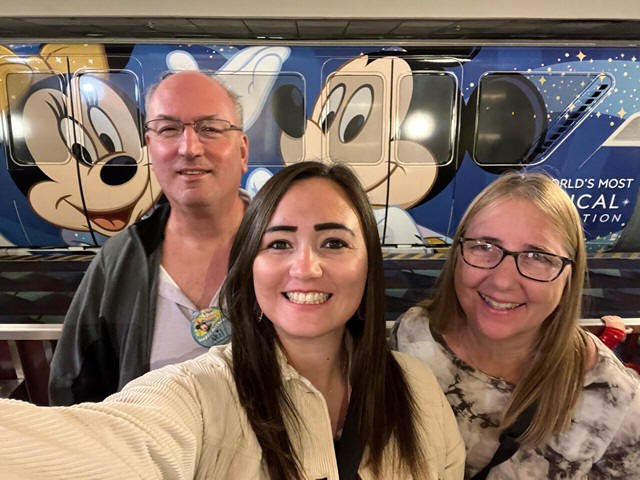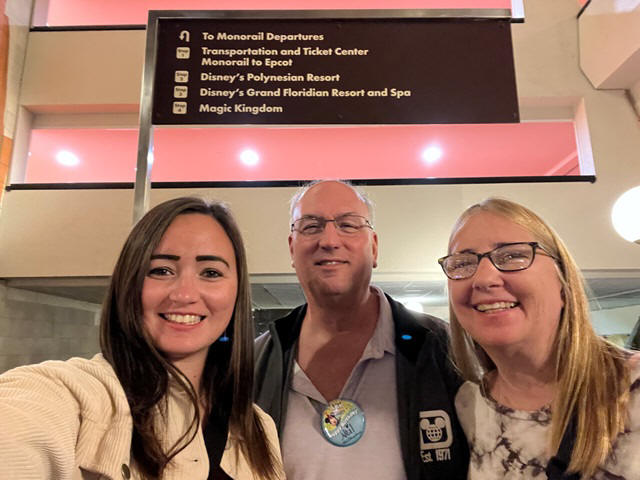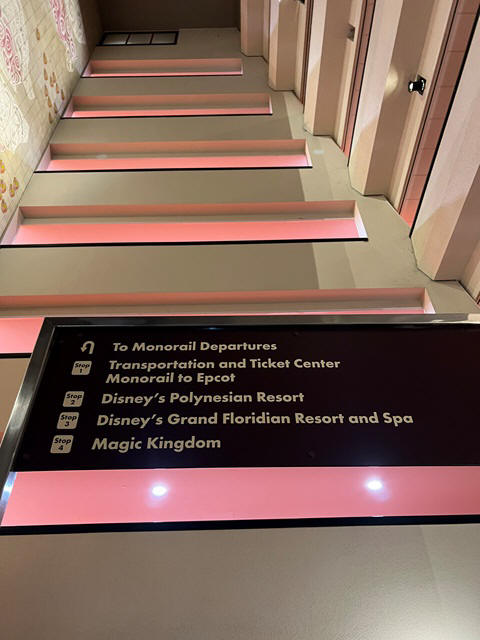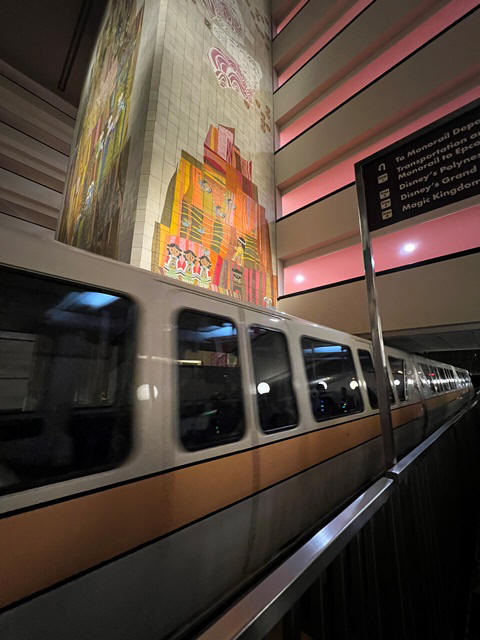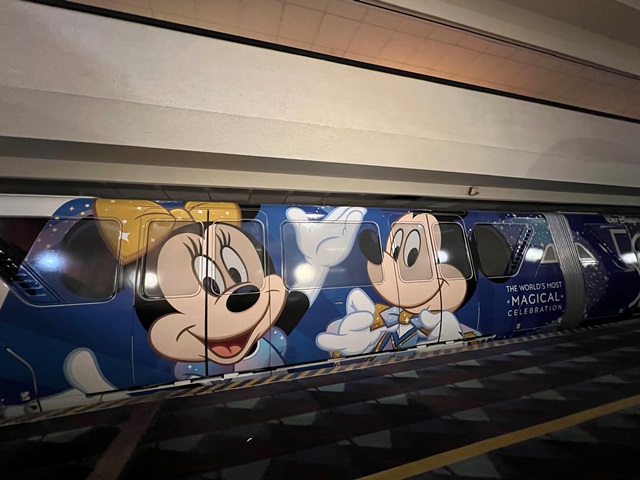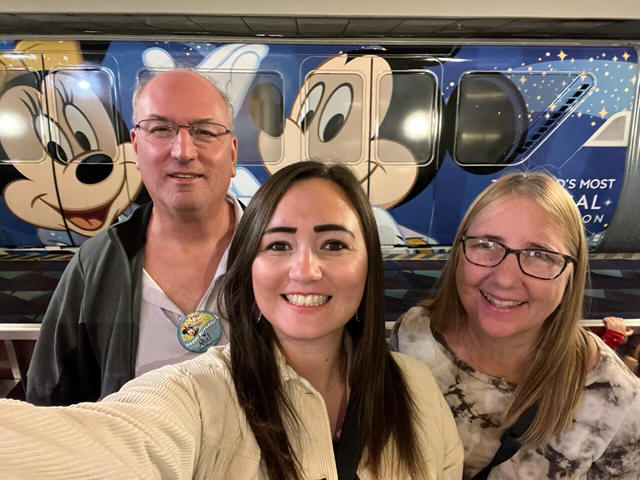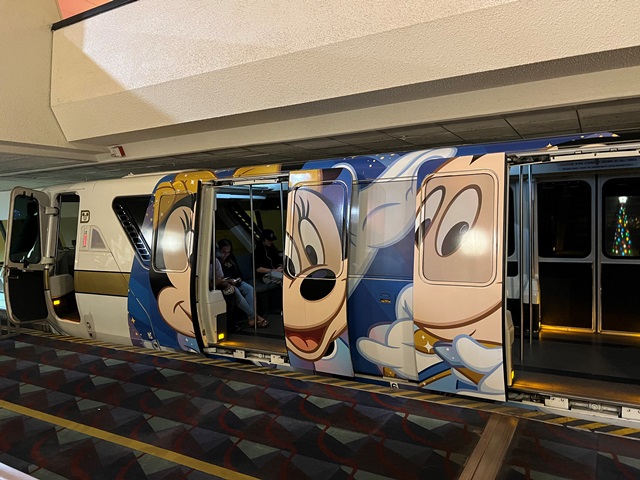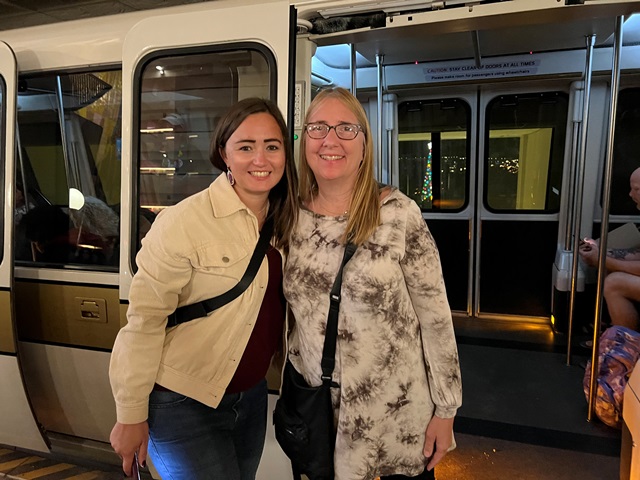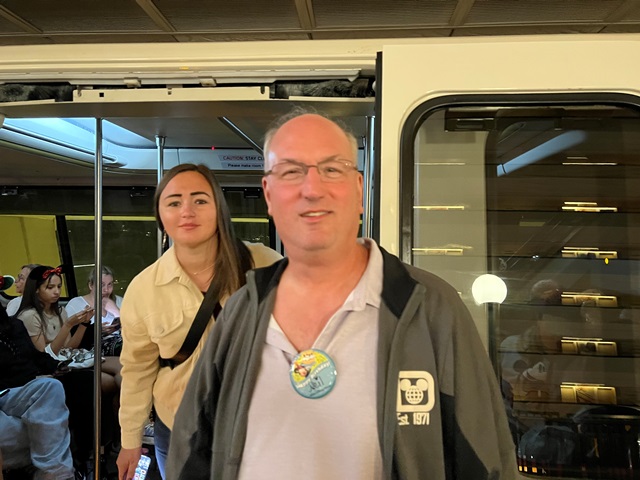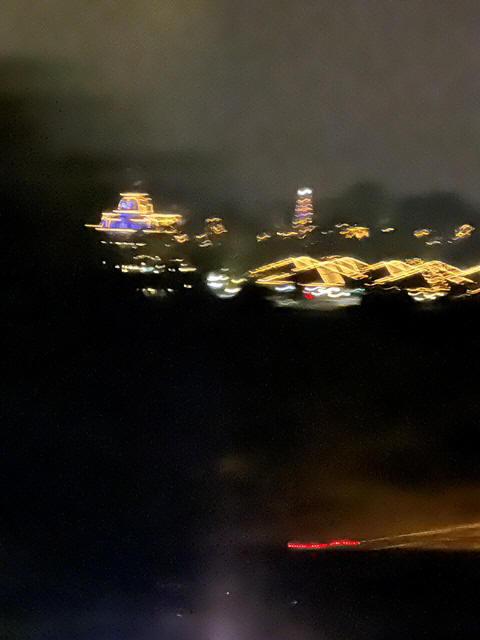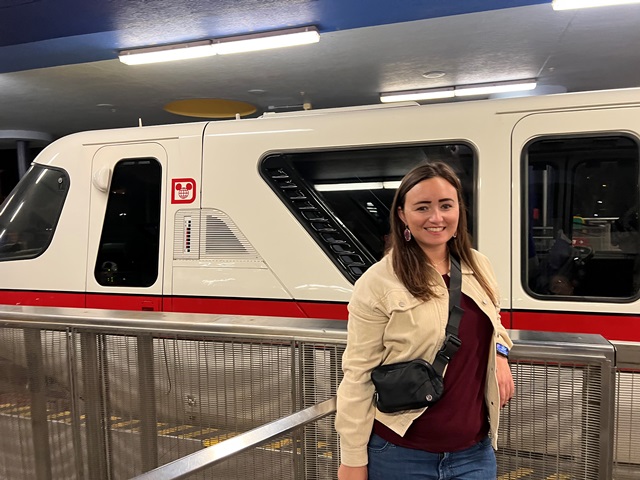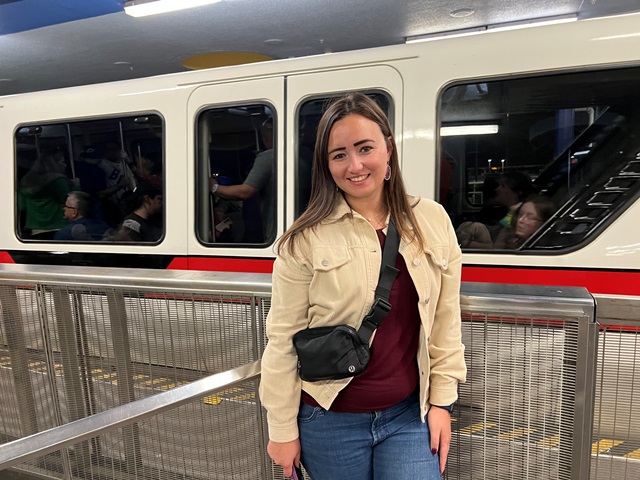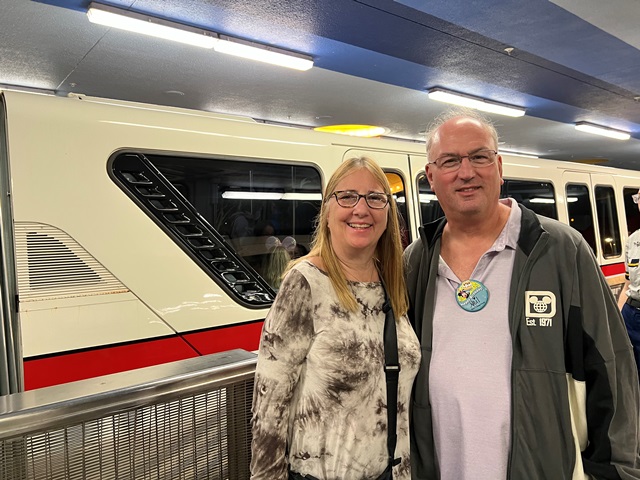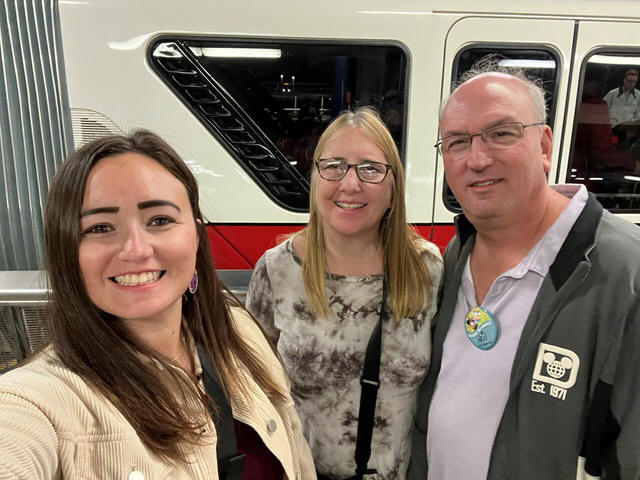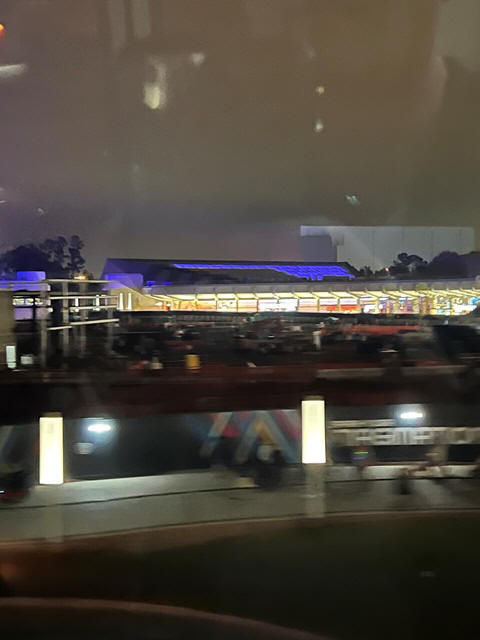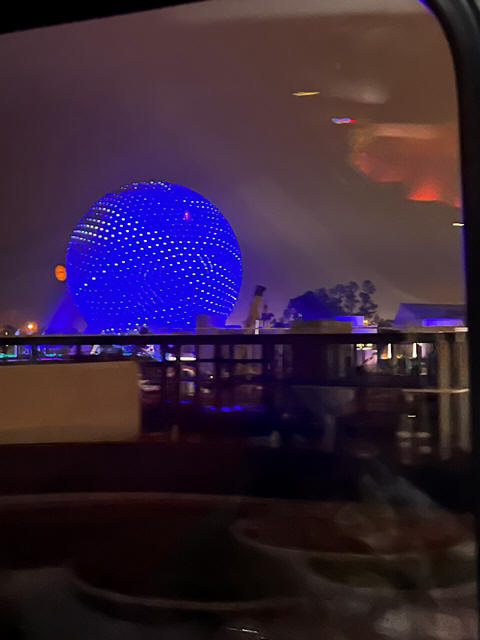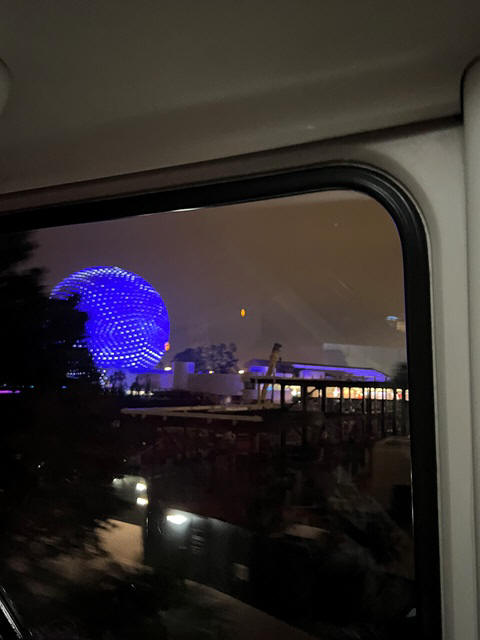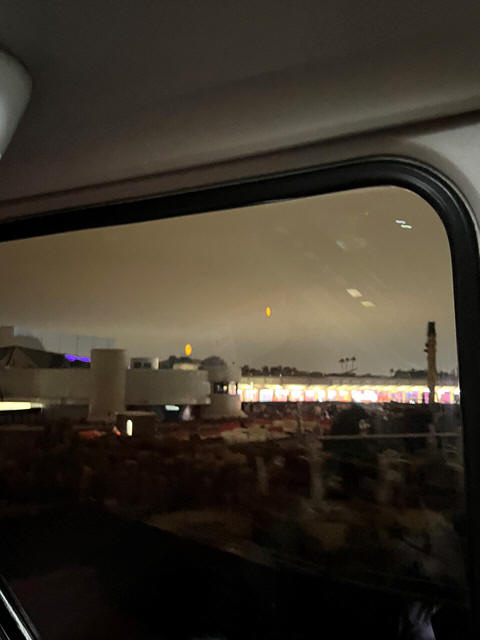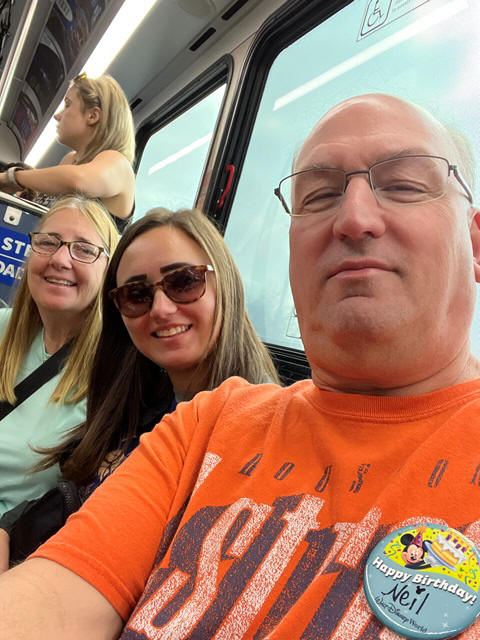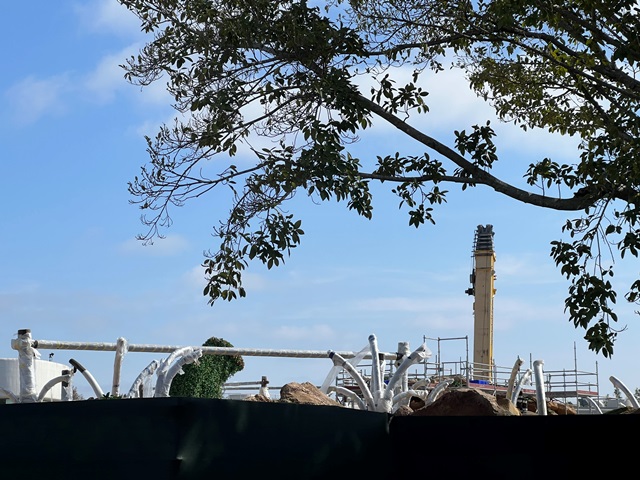 July 2022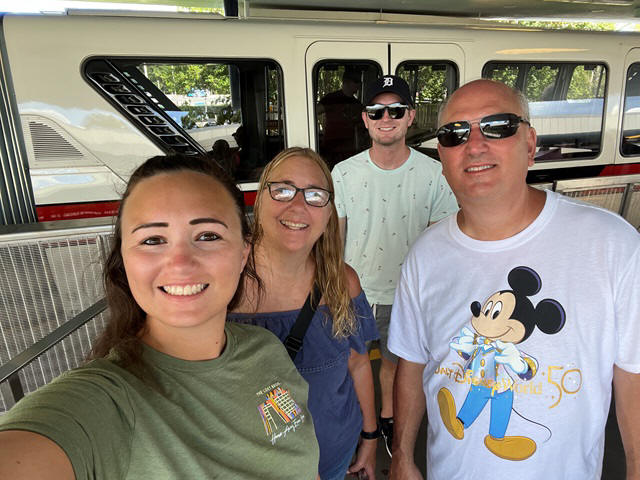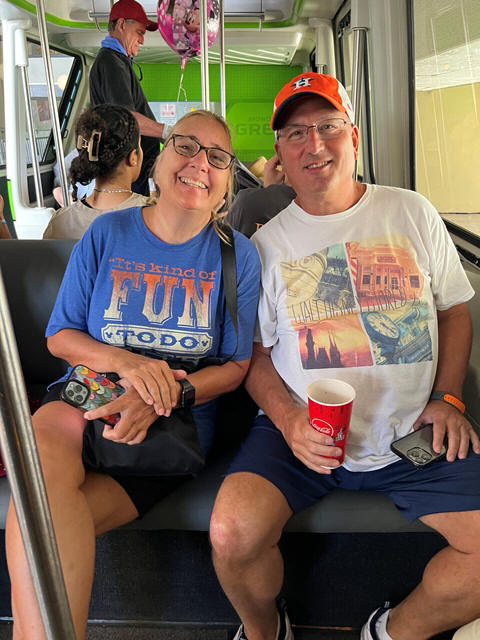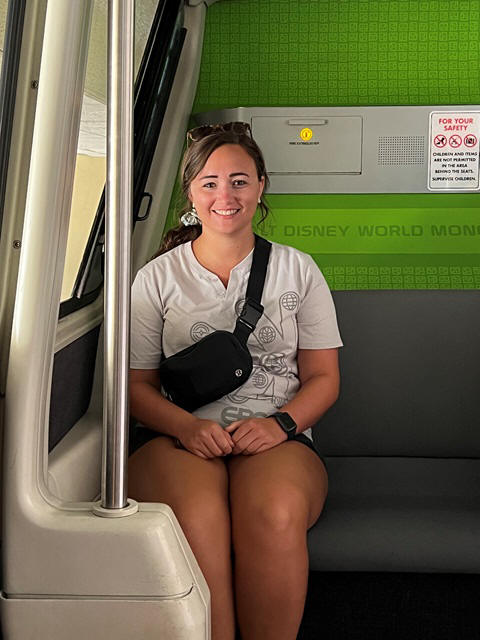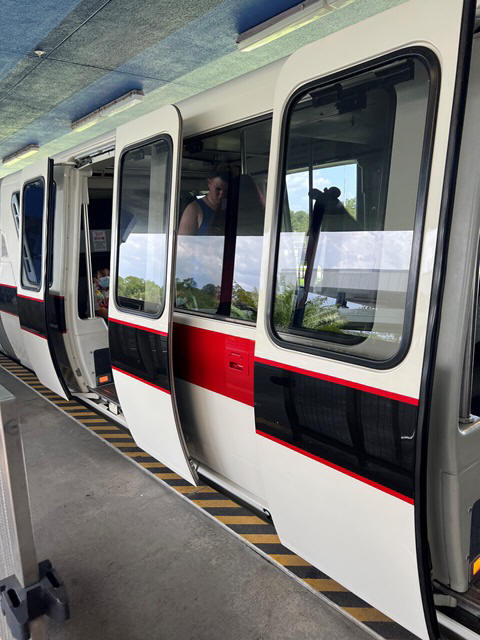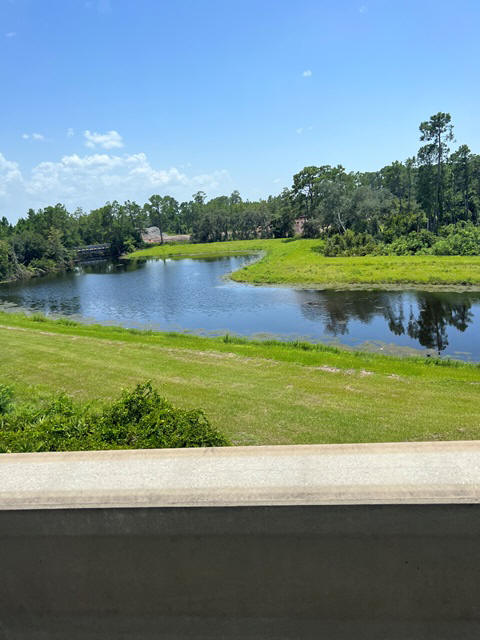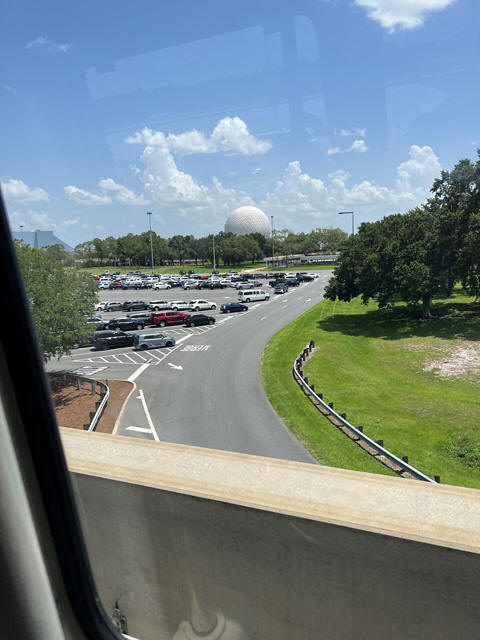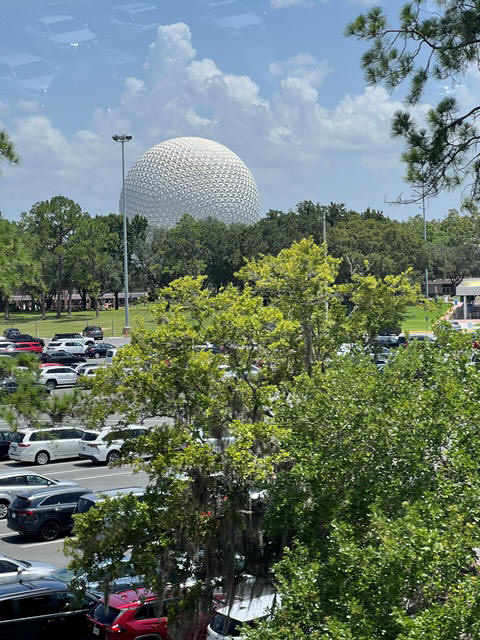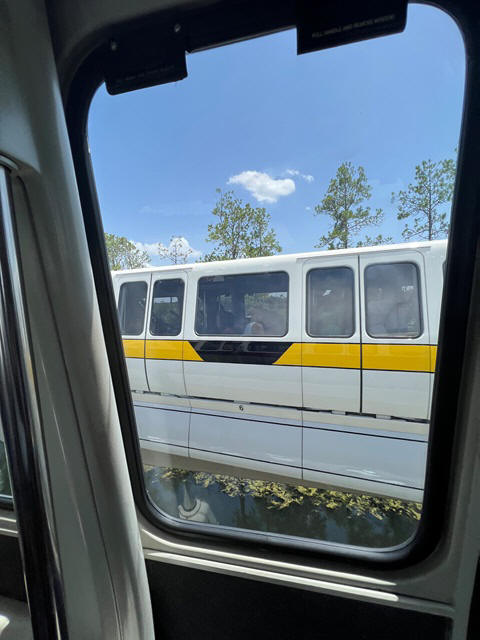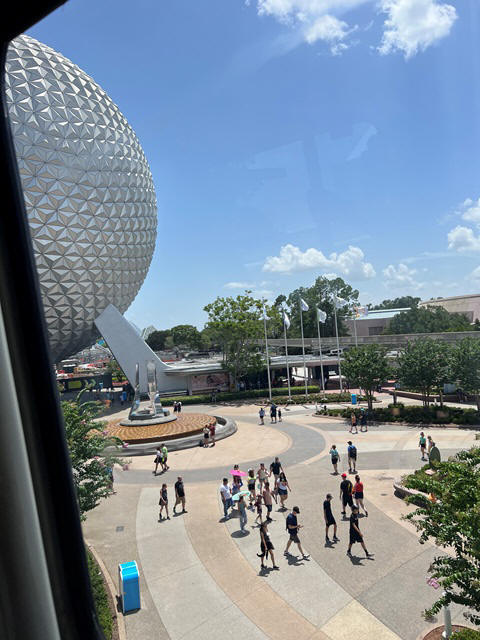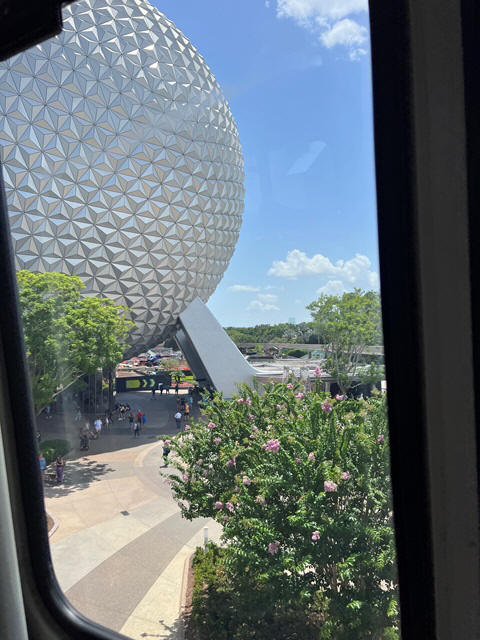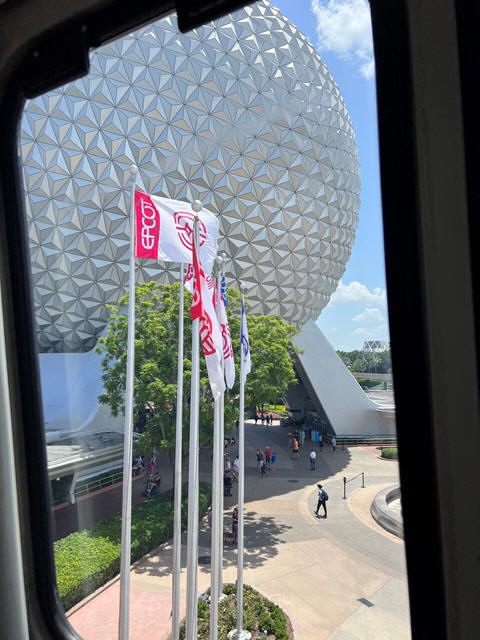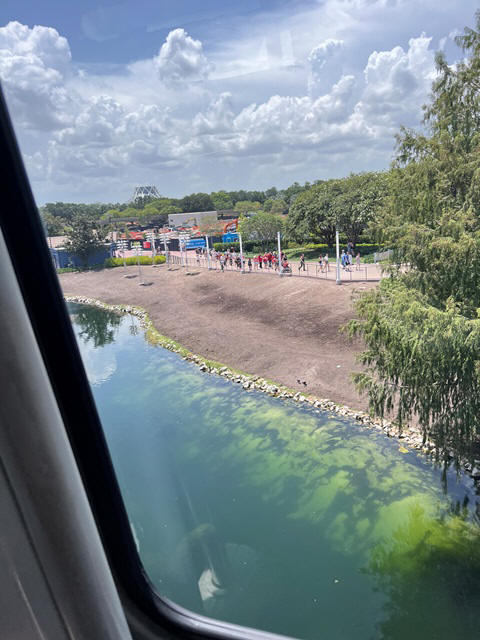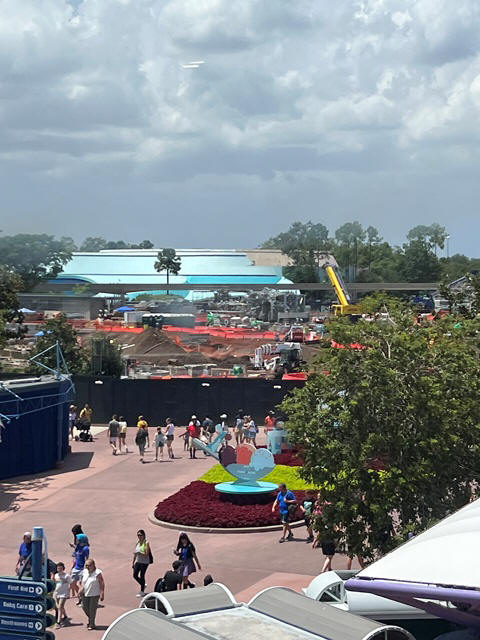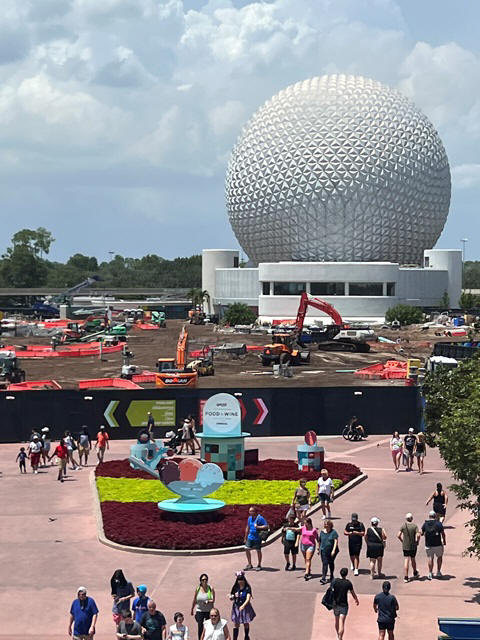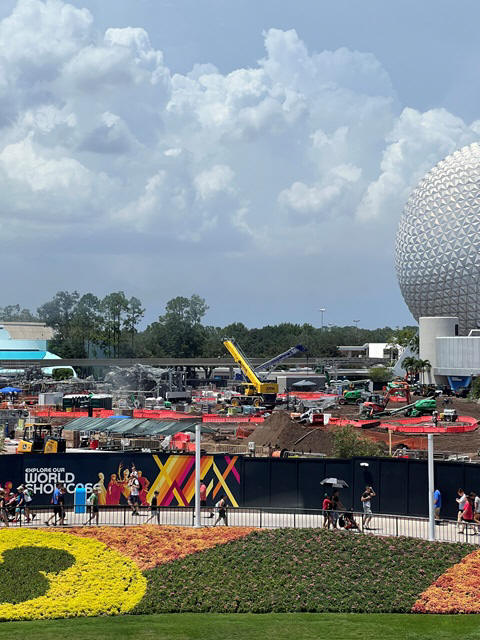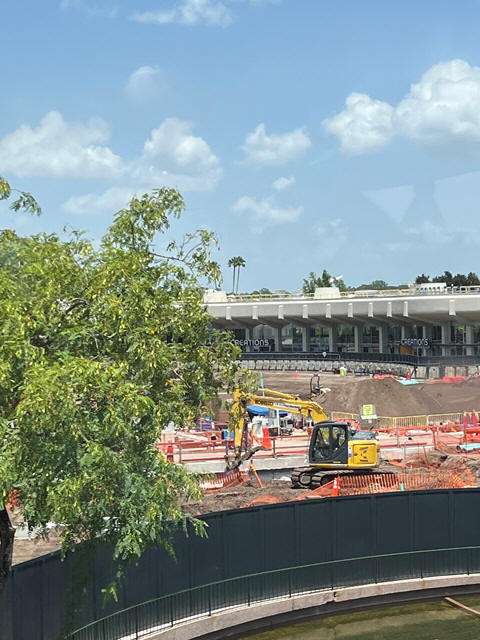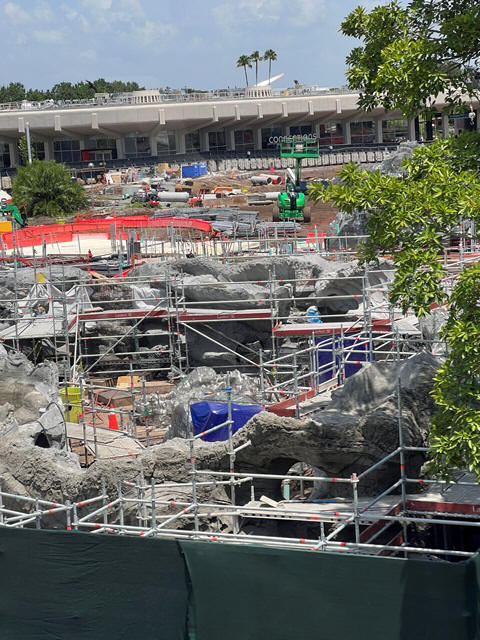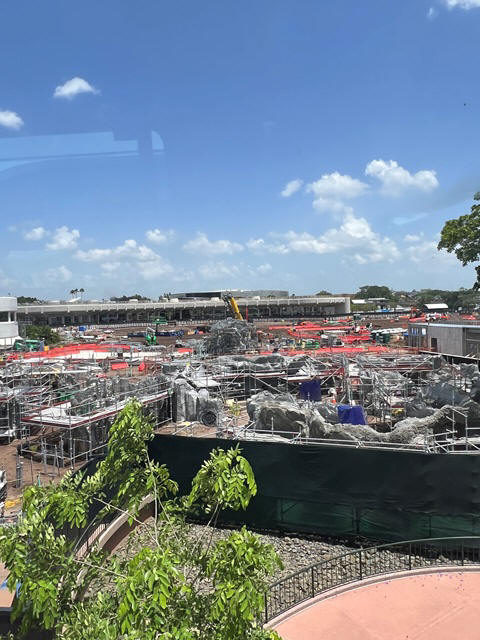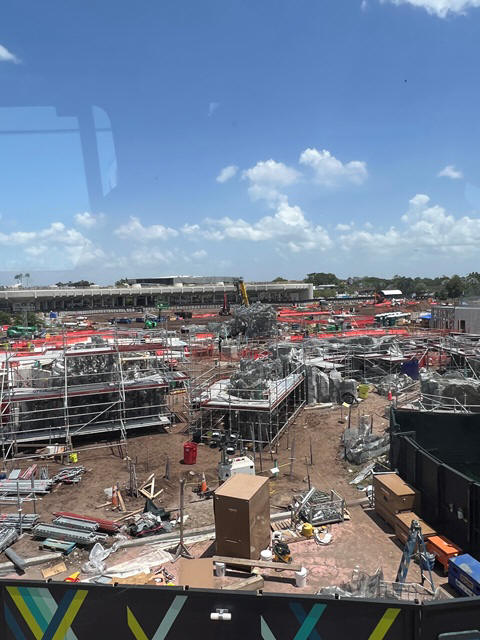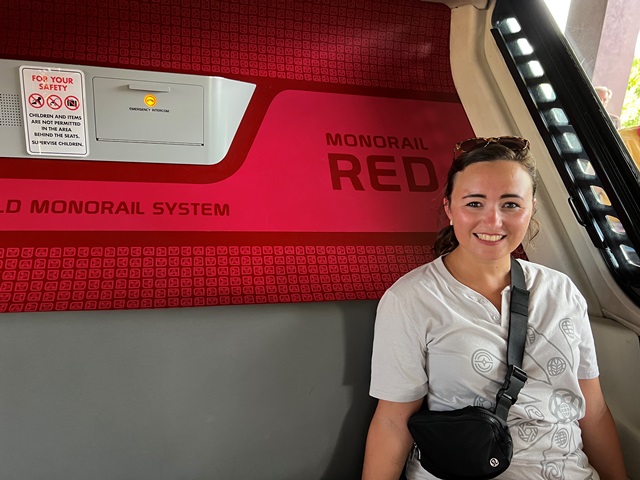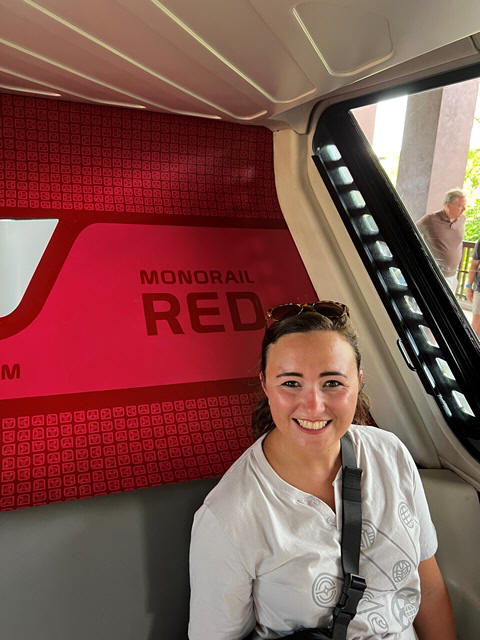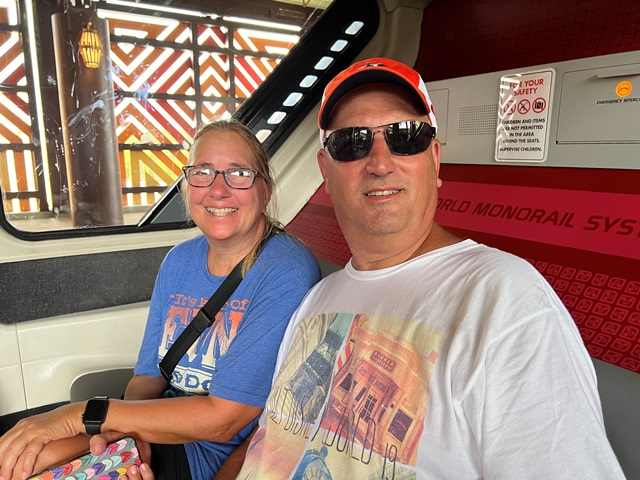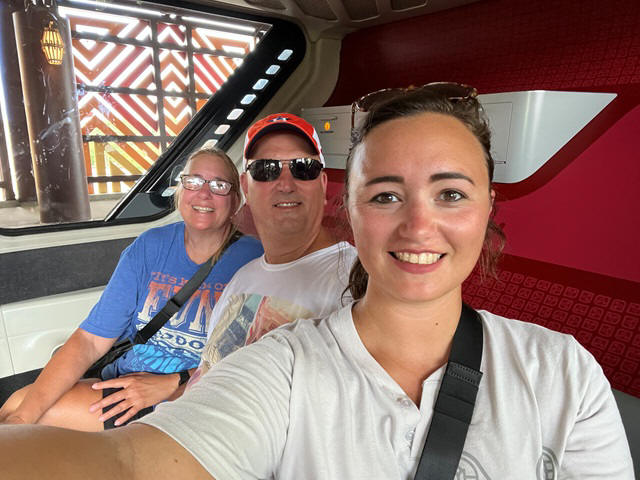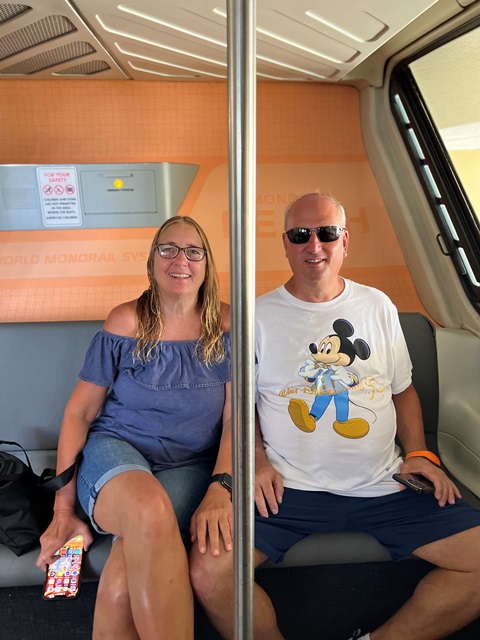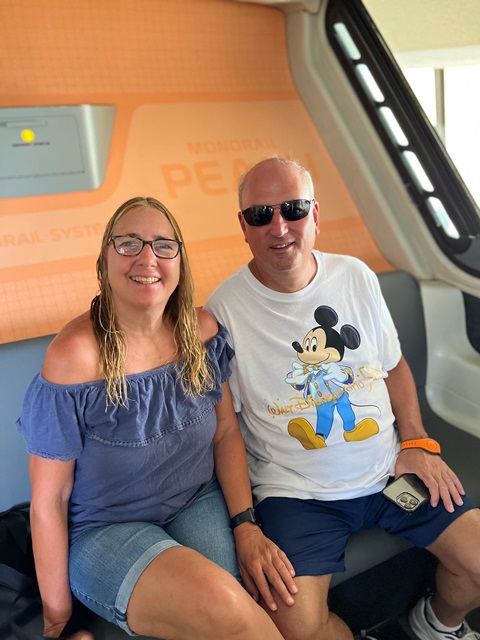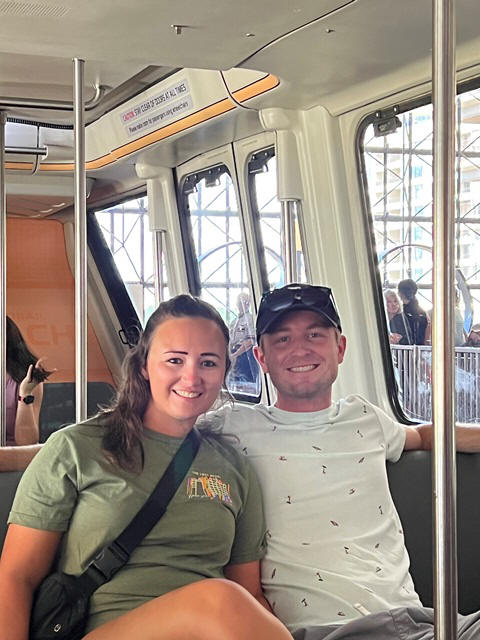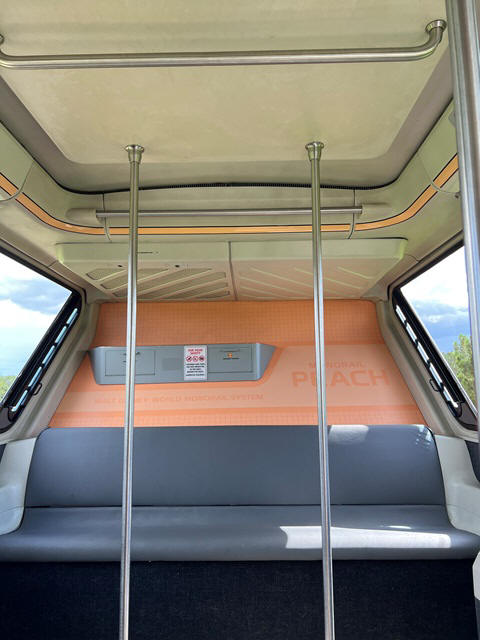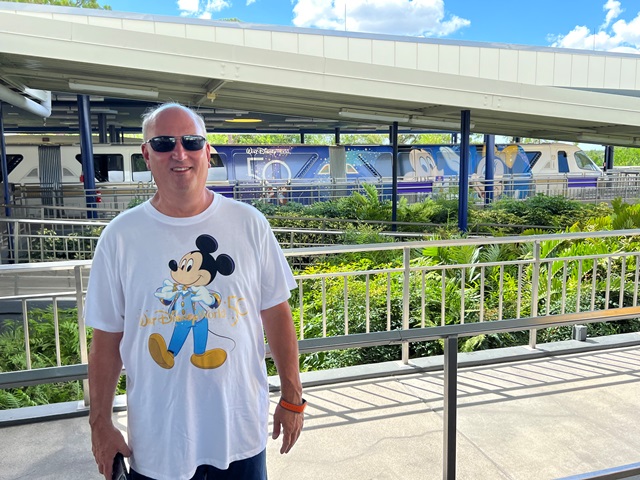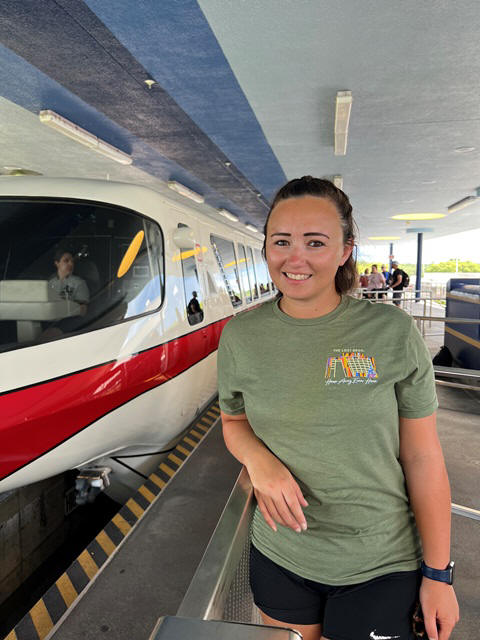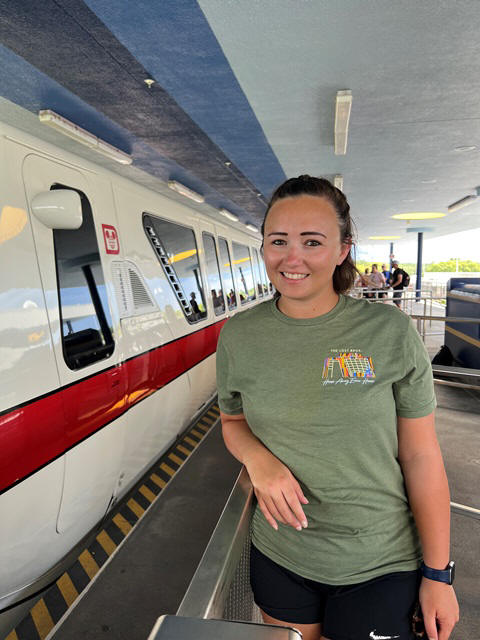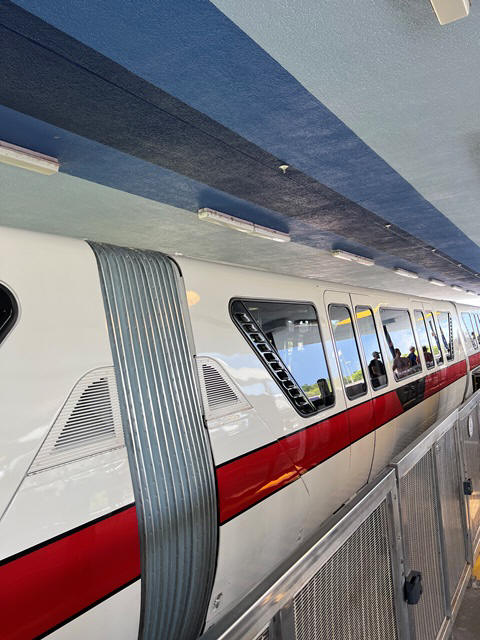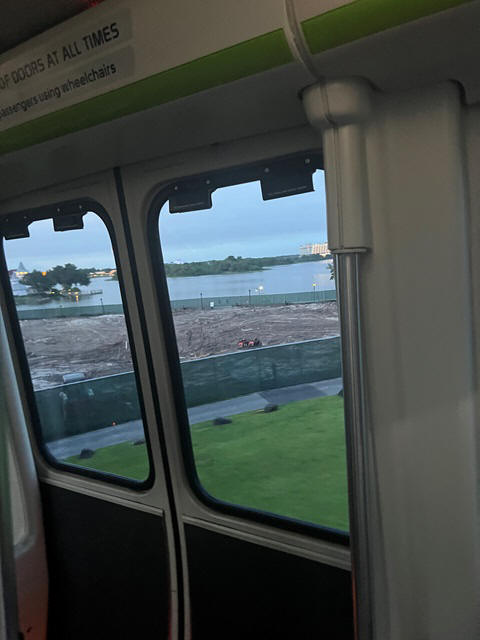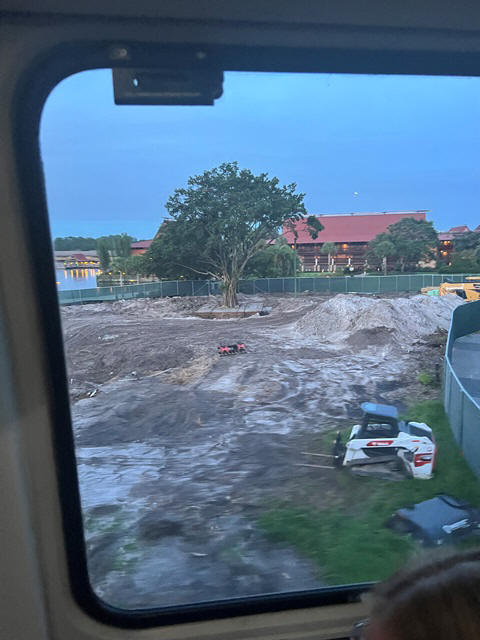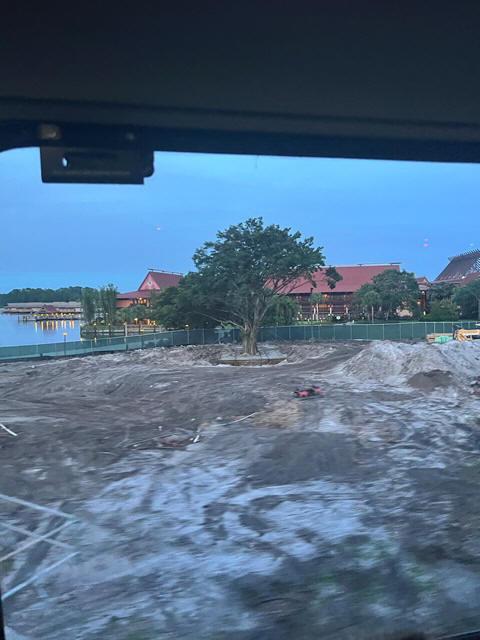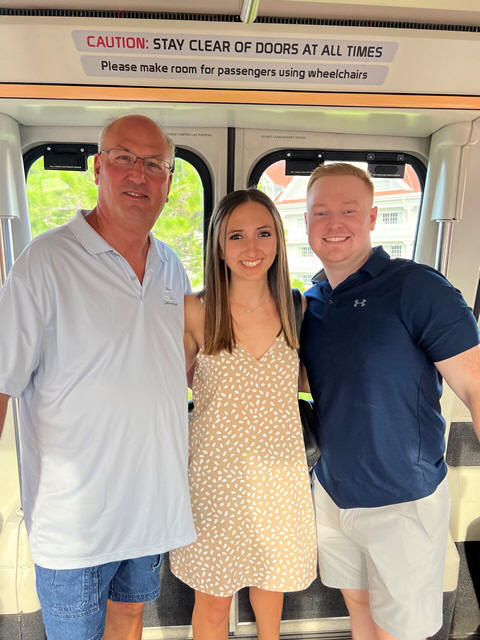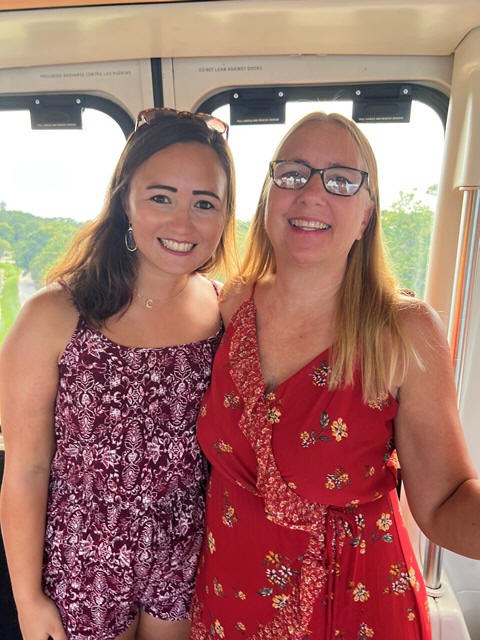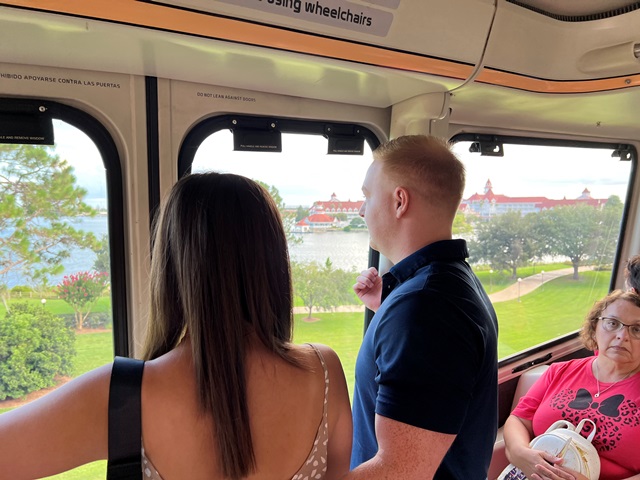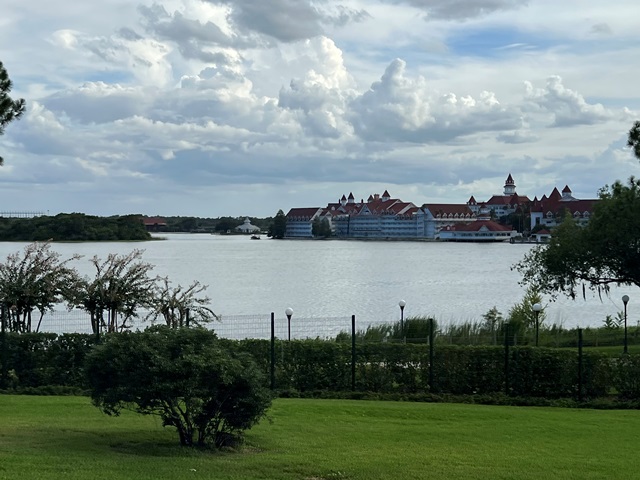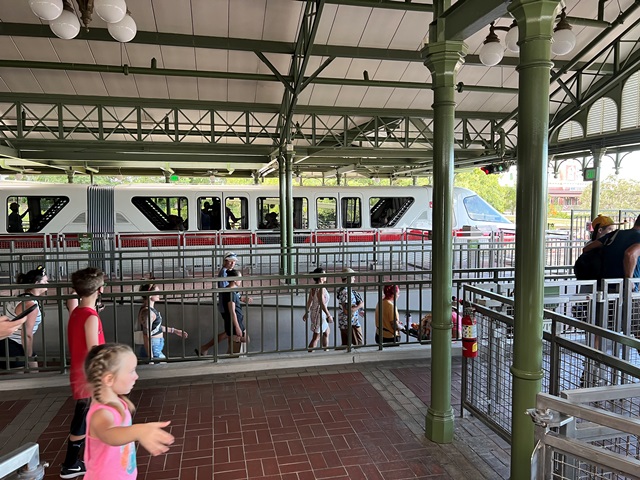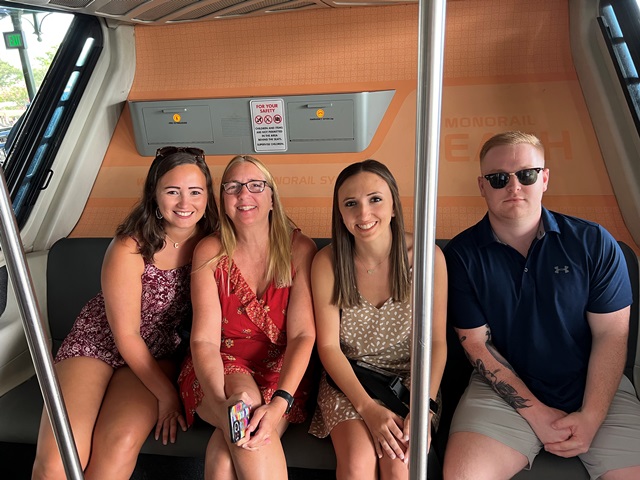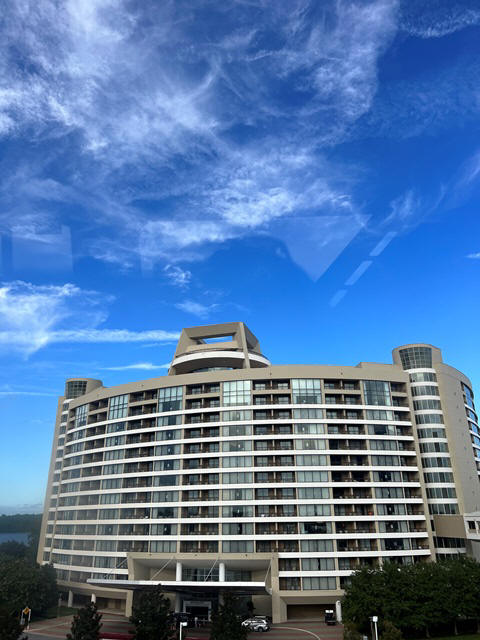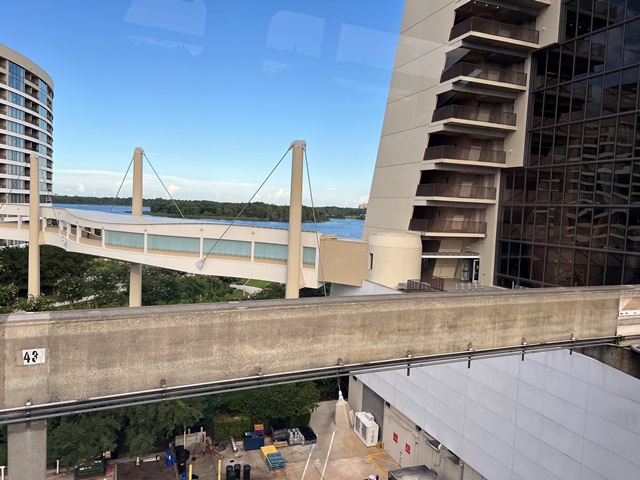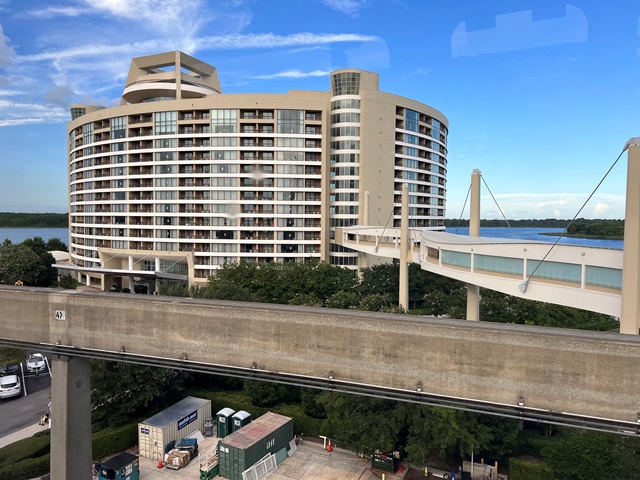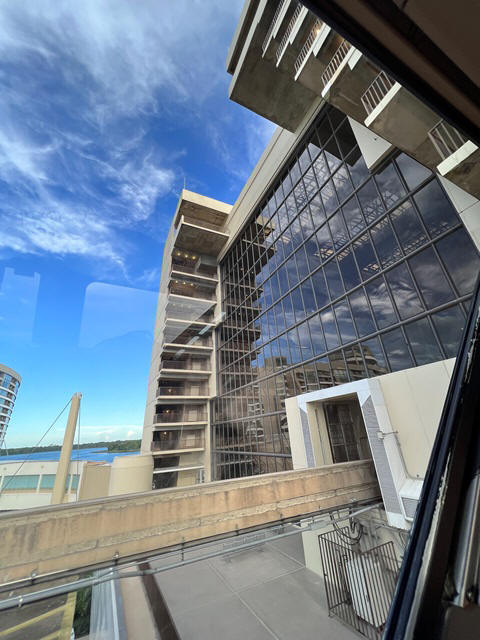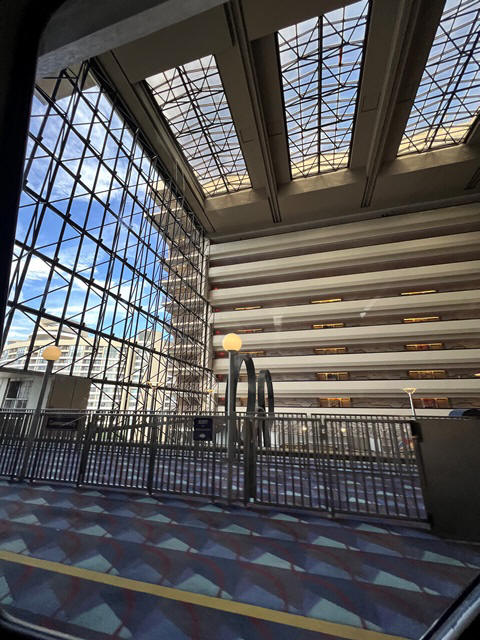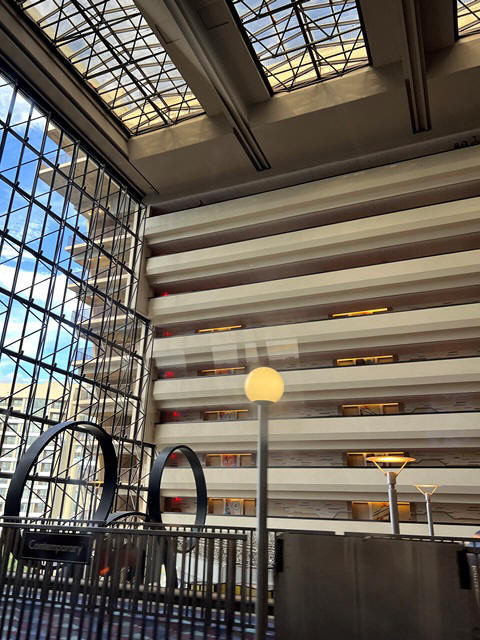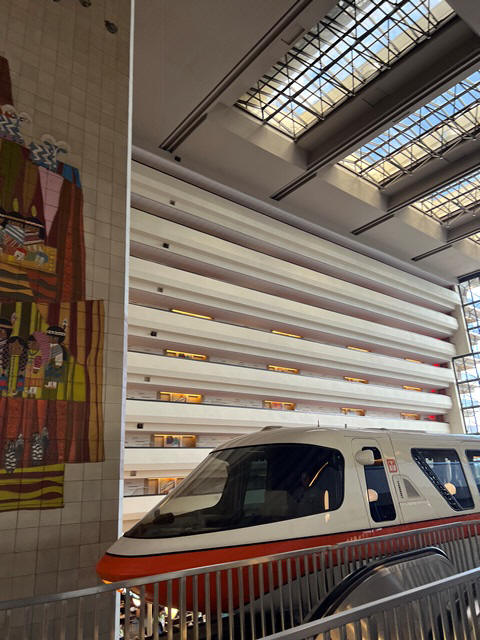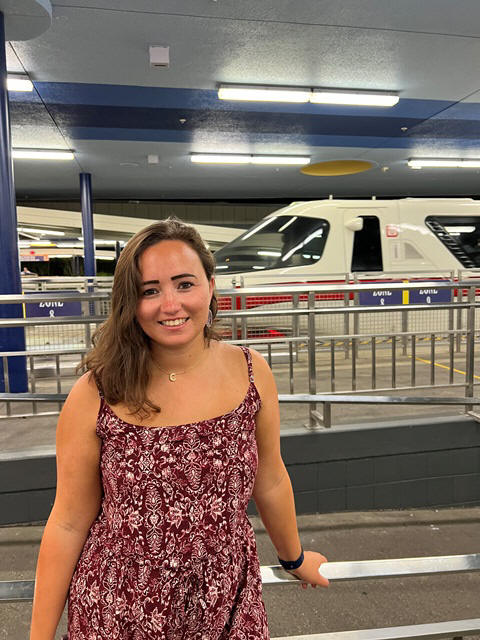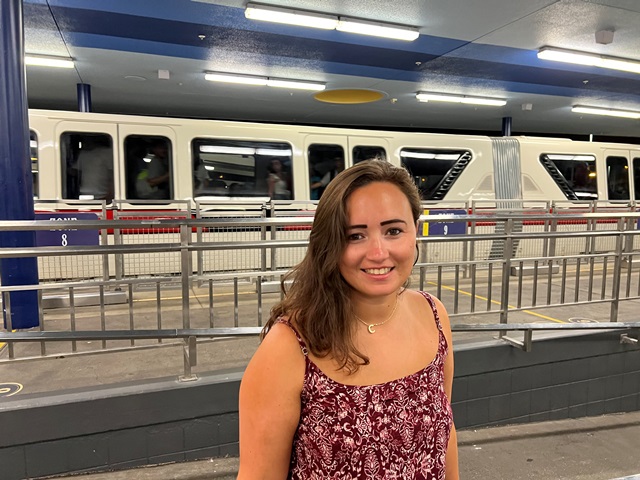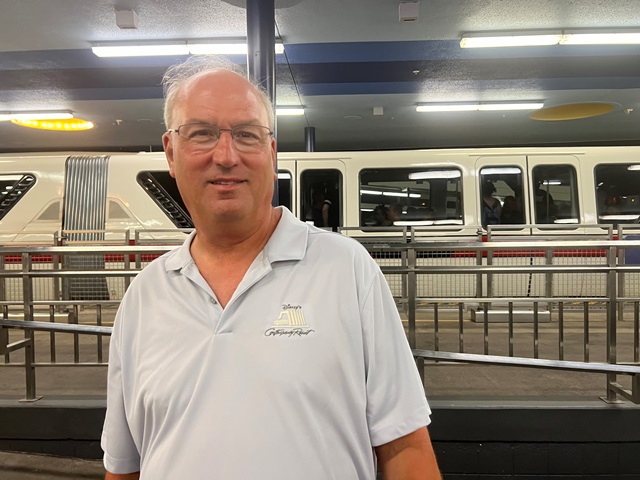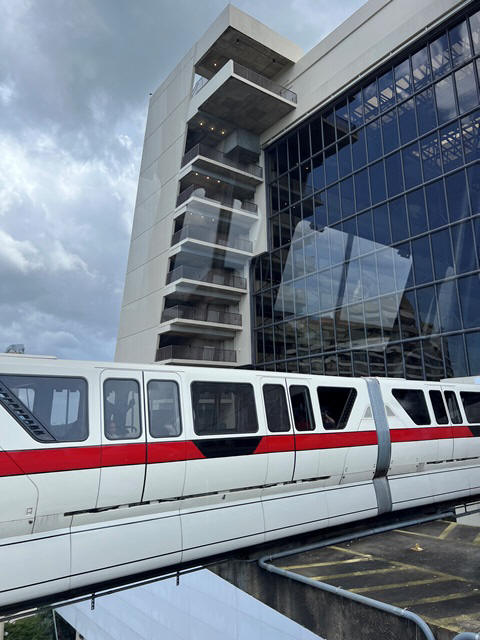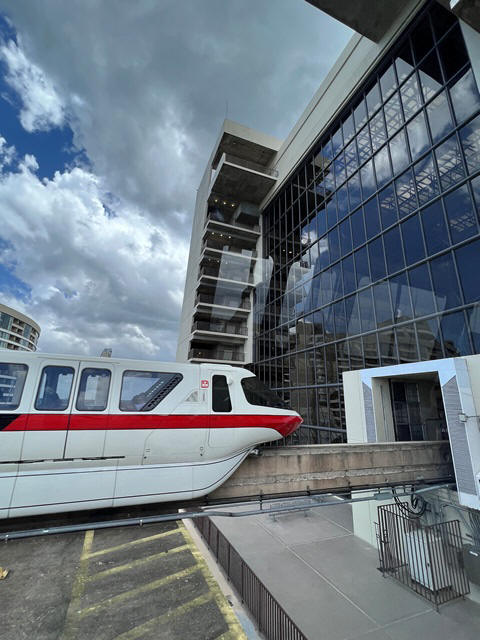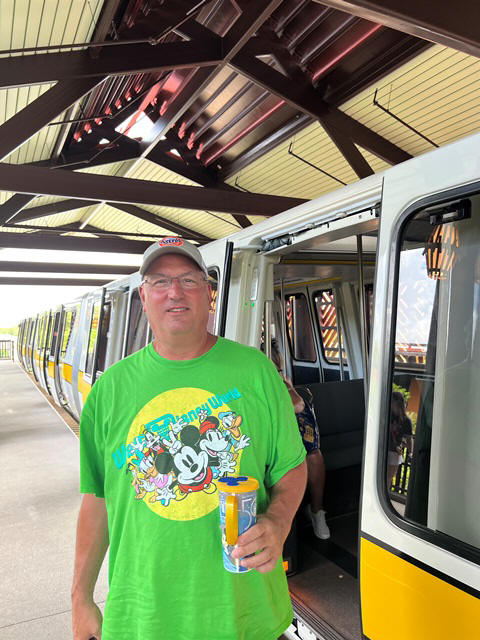 July 2021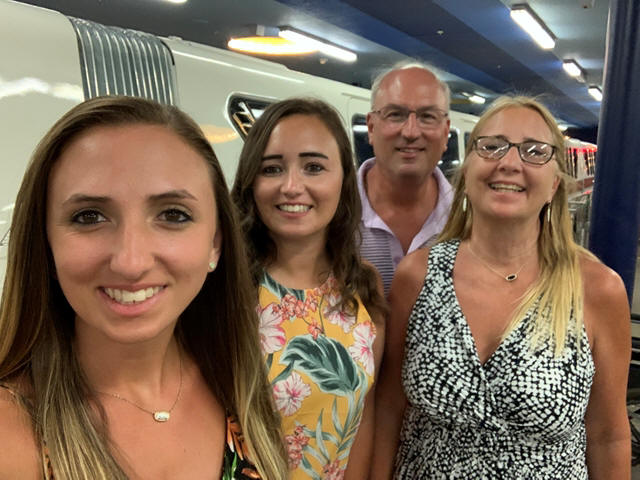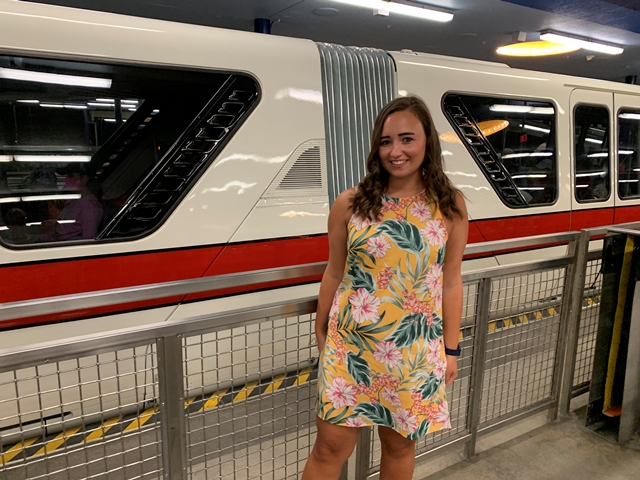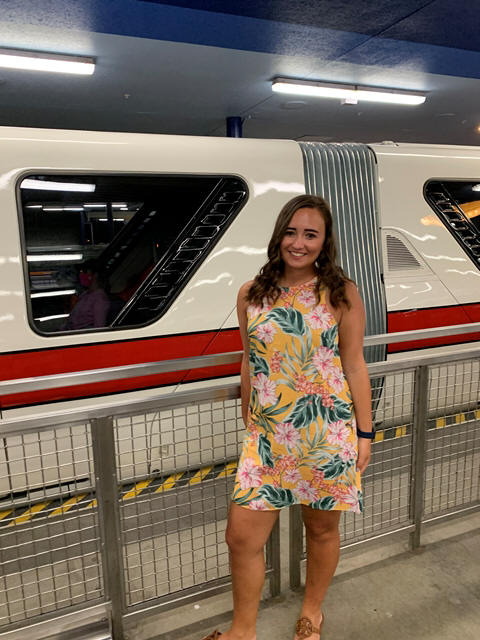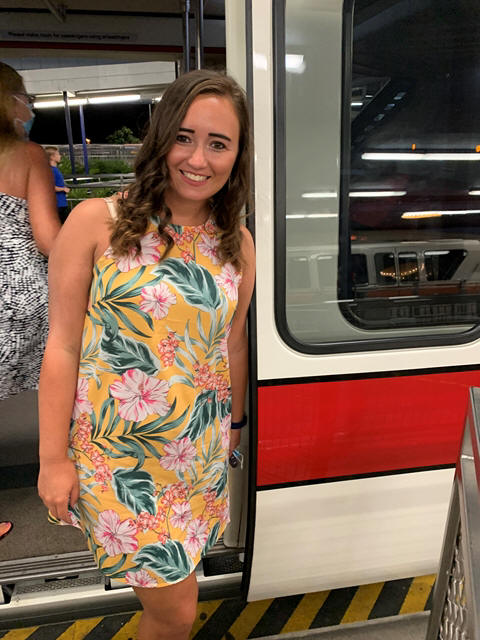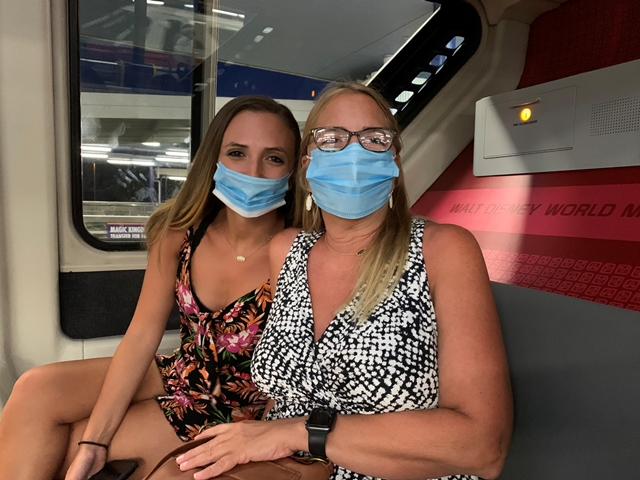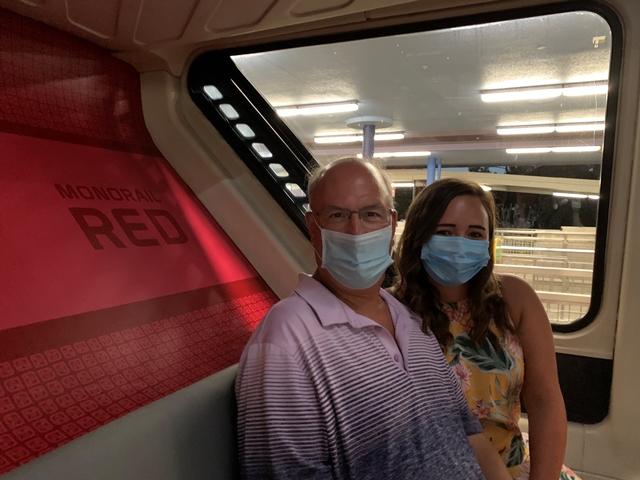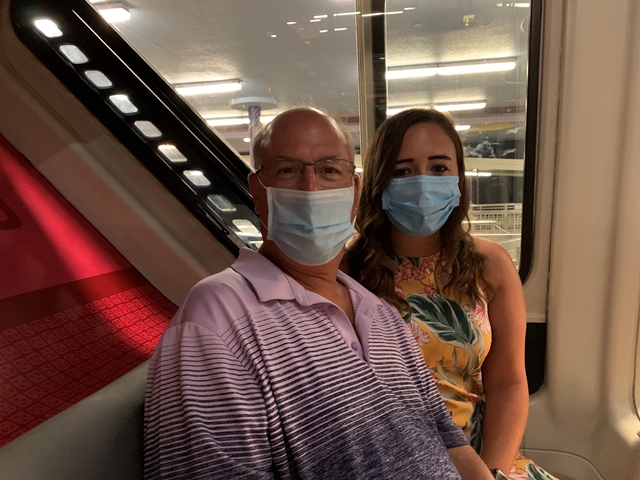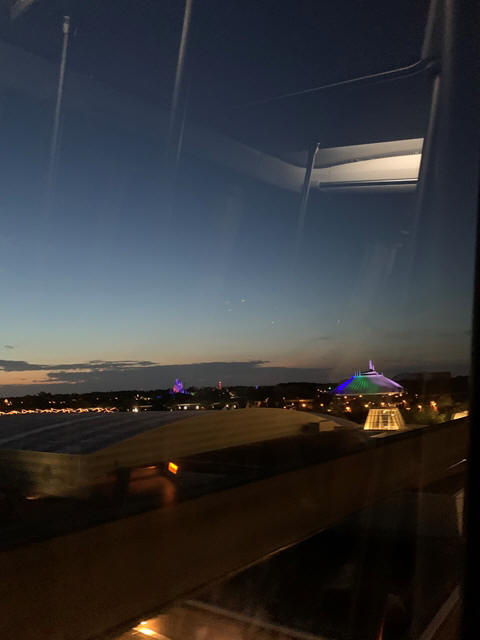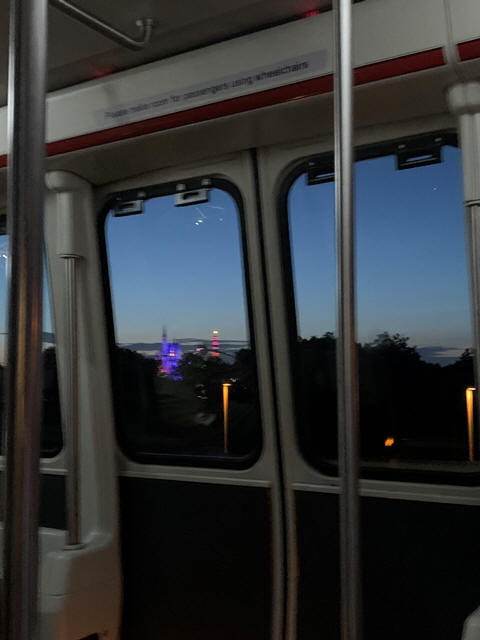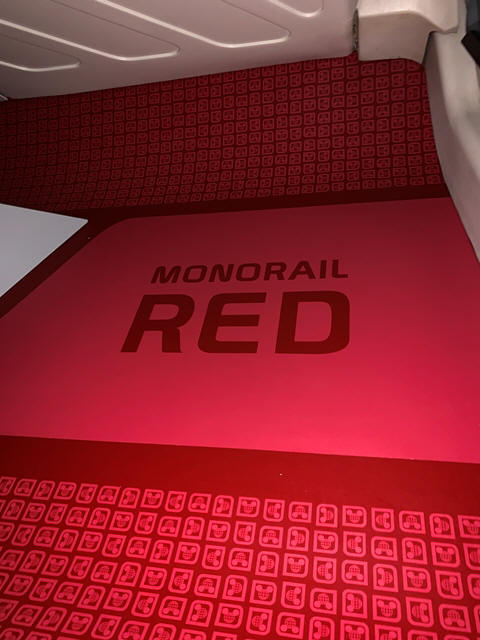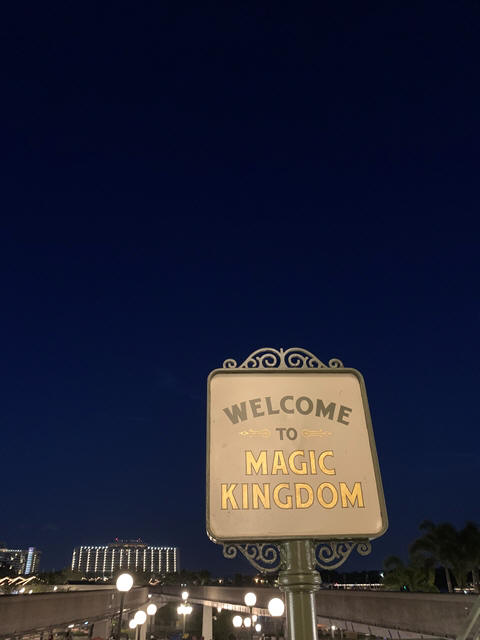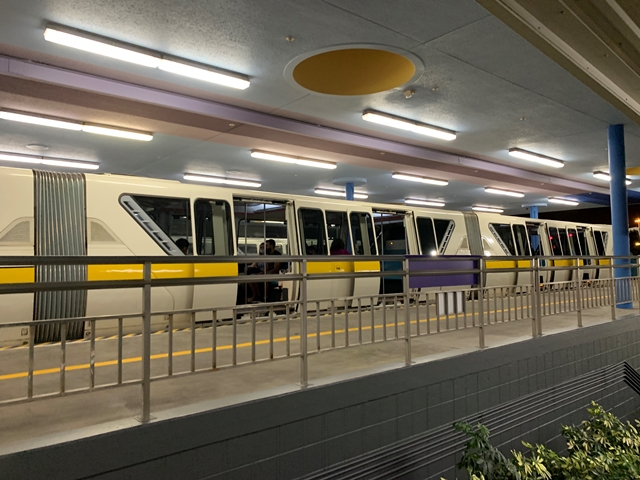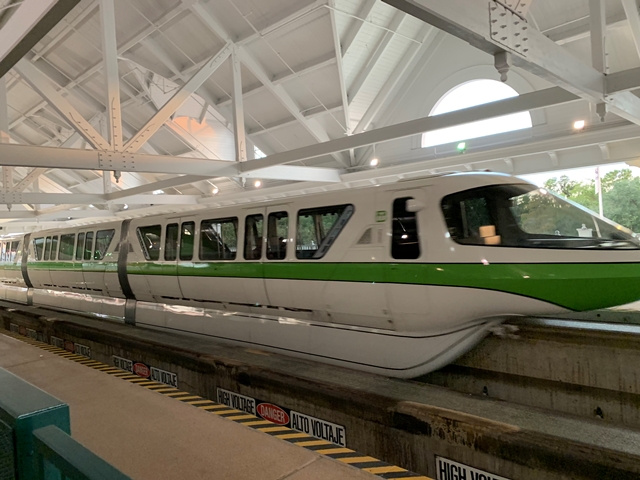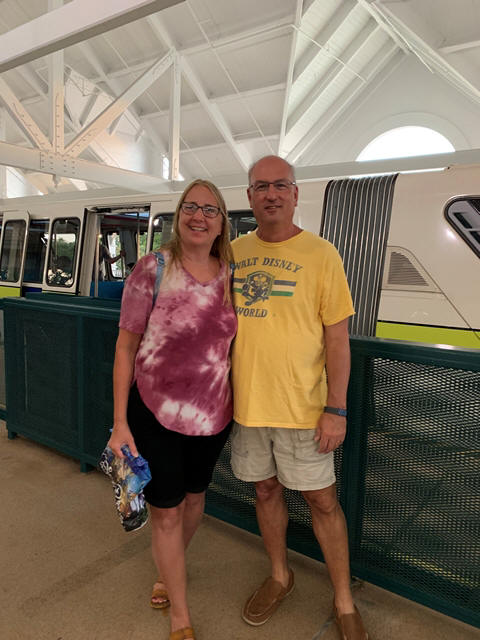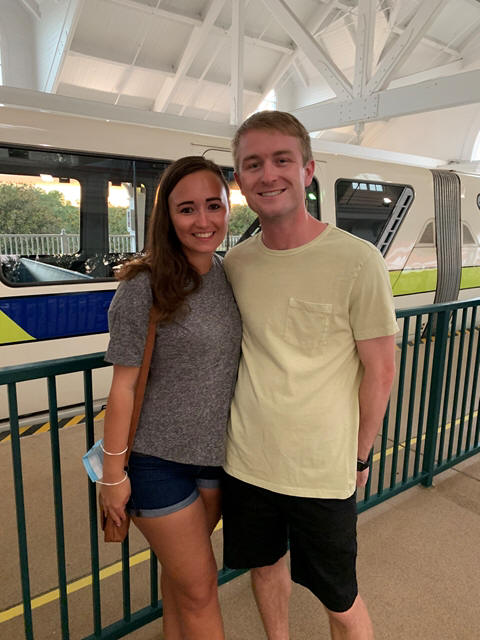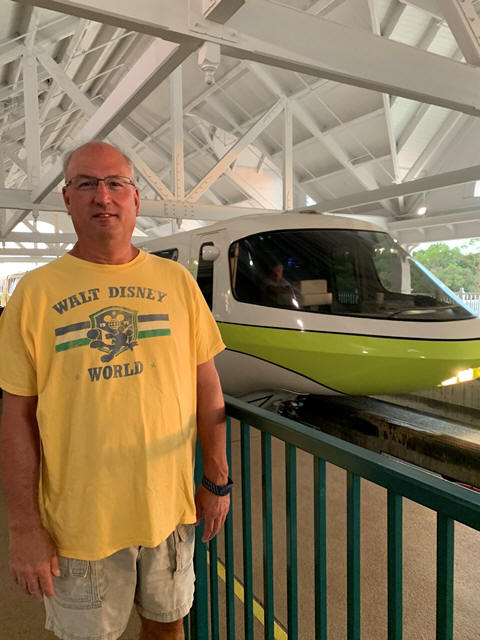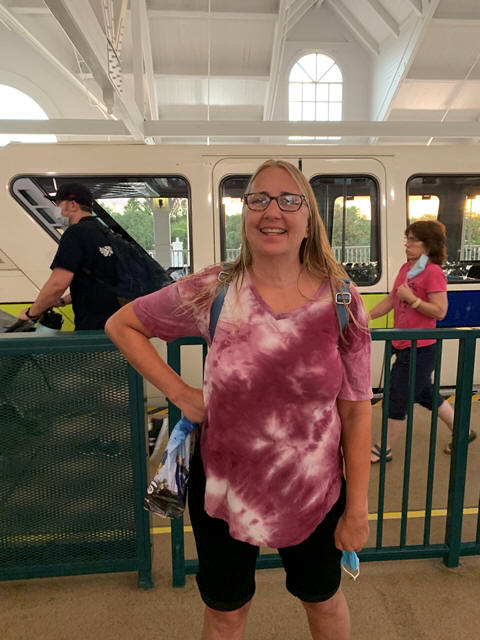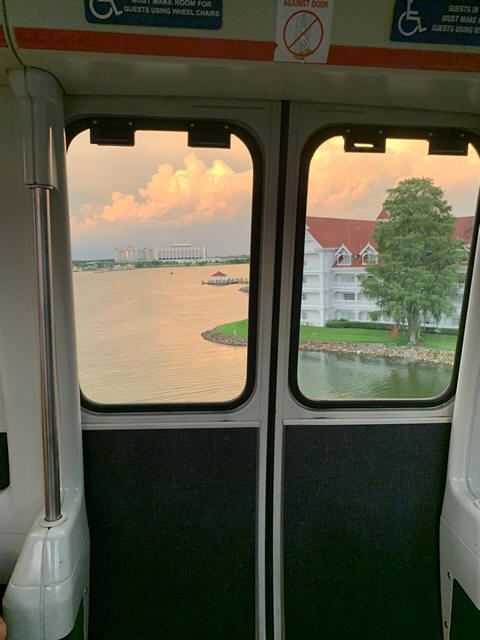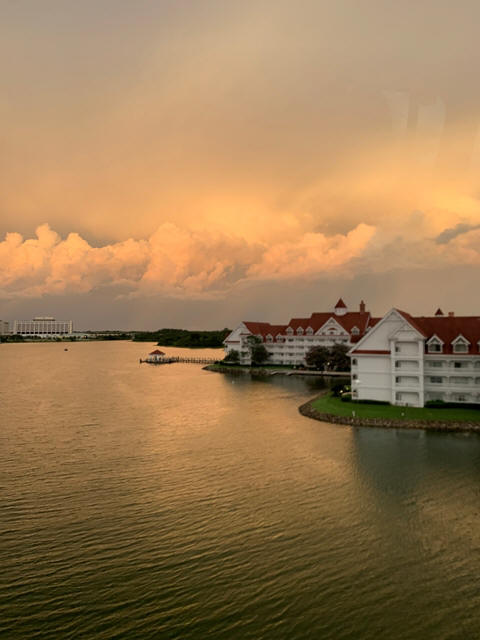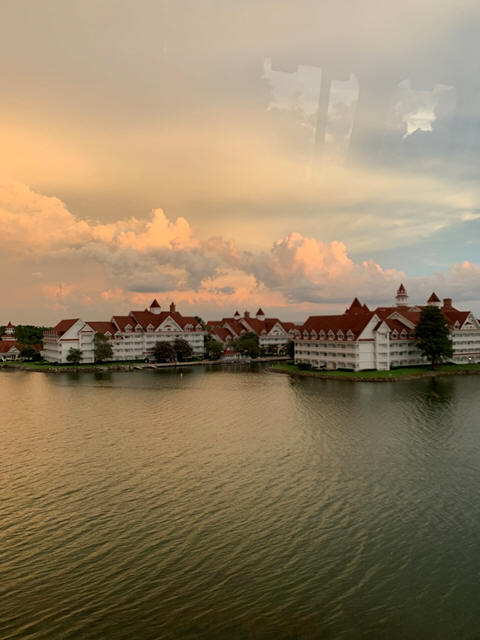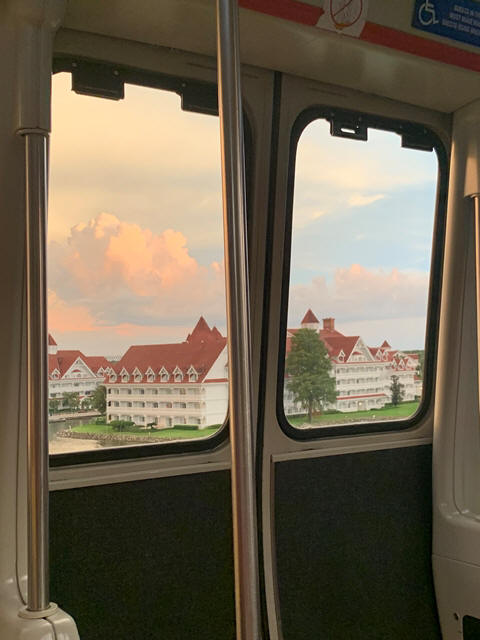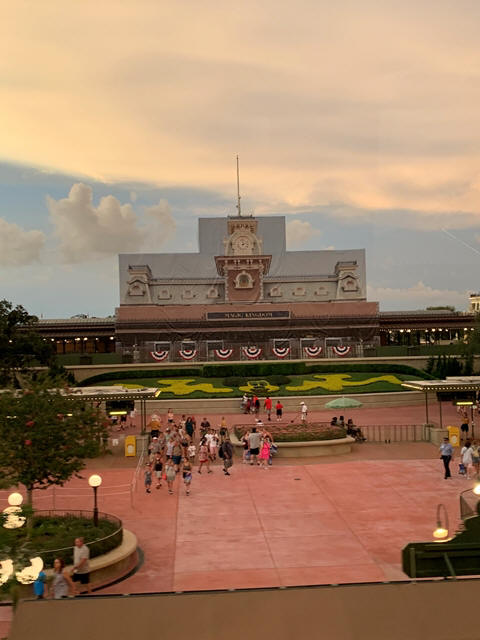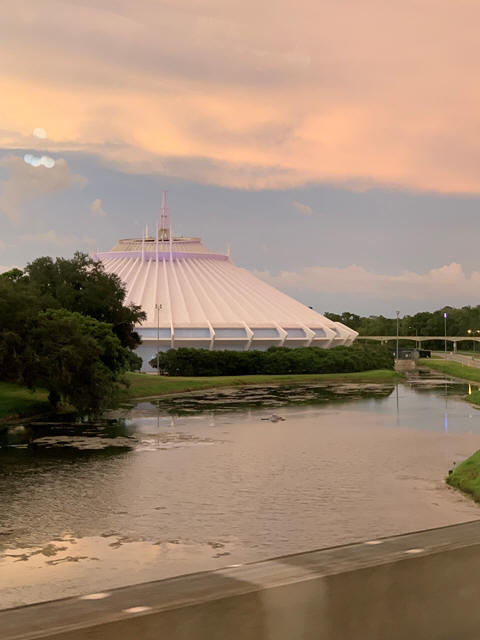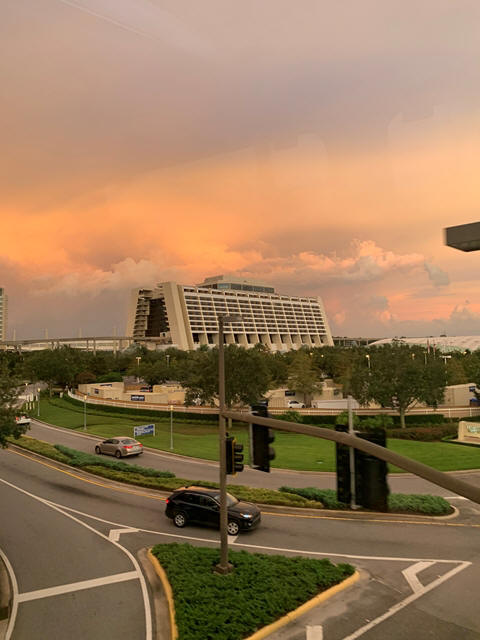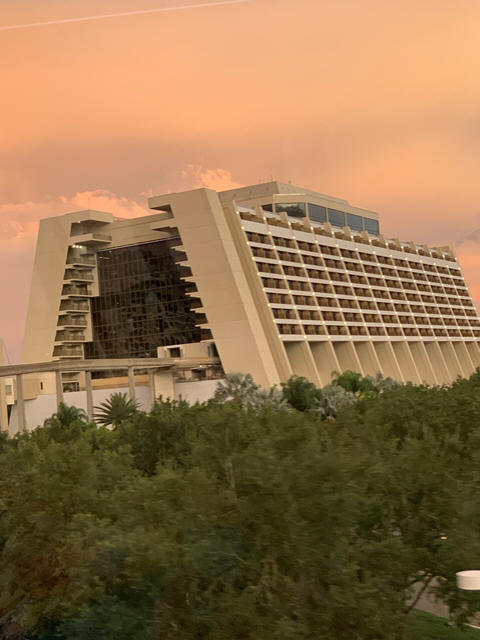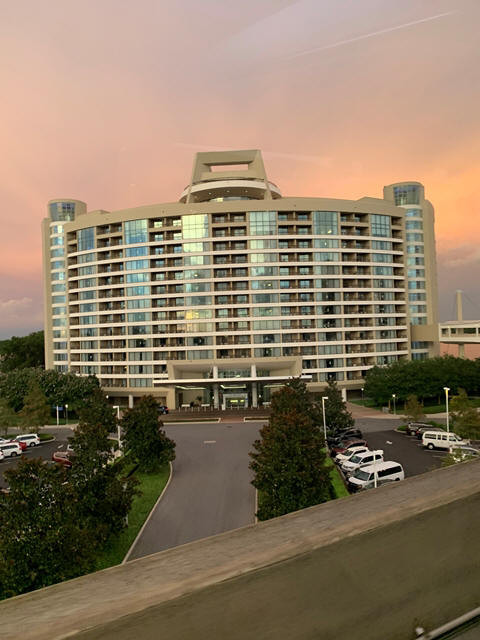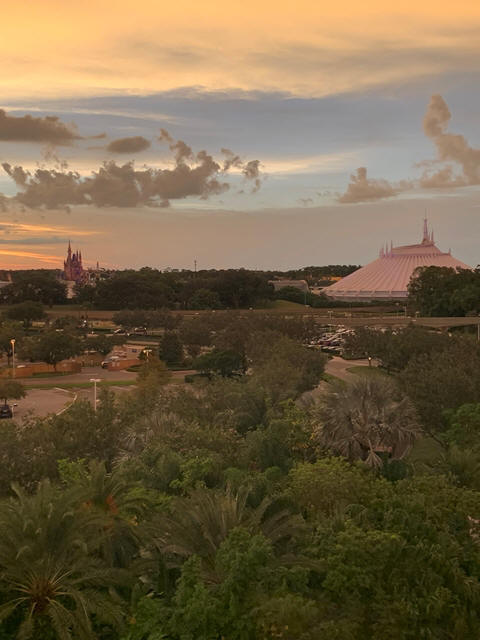 November 2020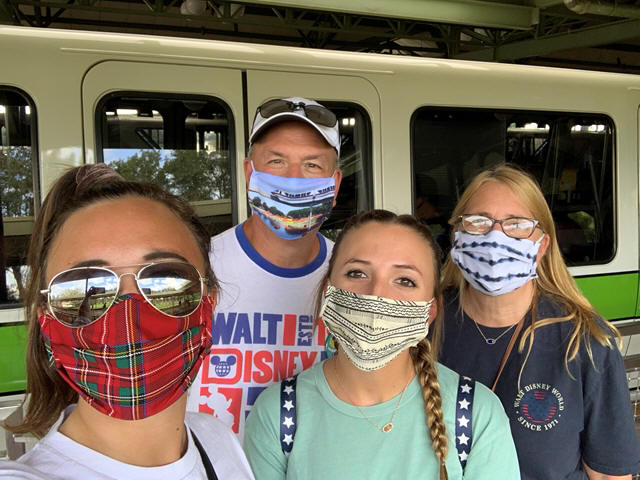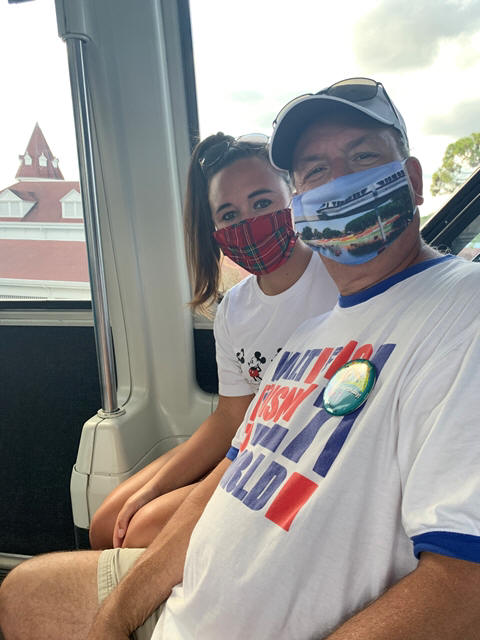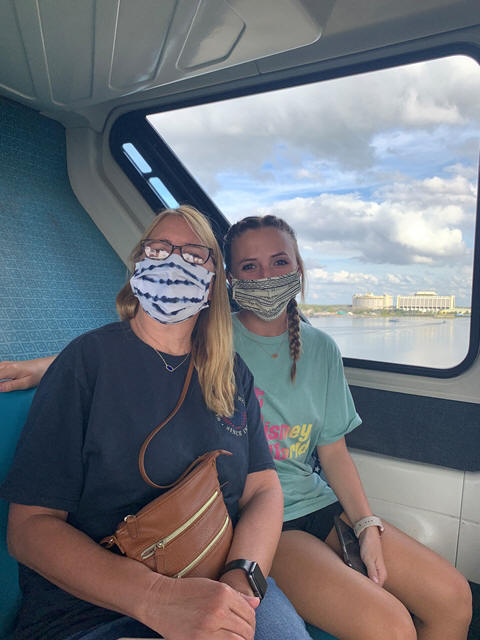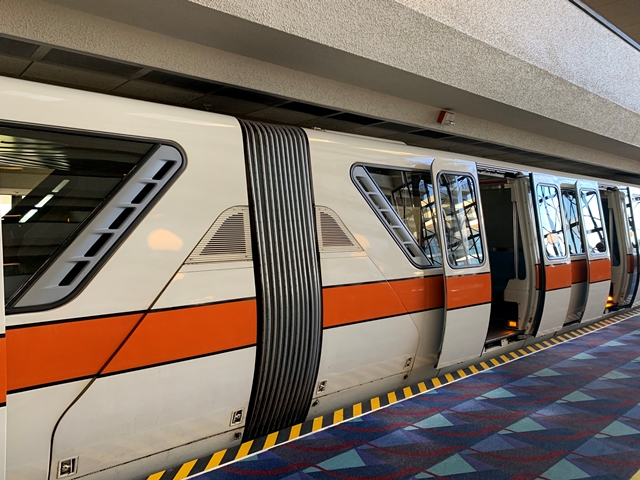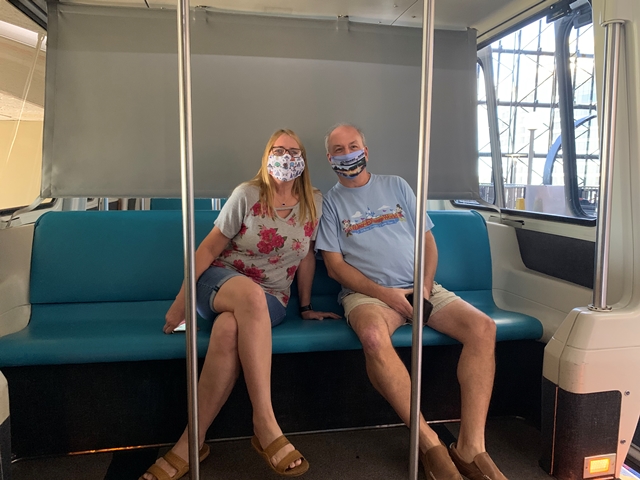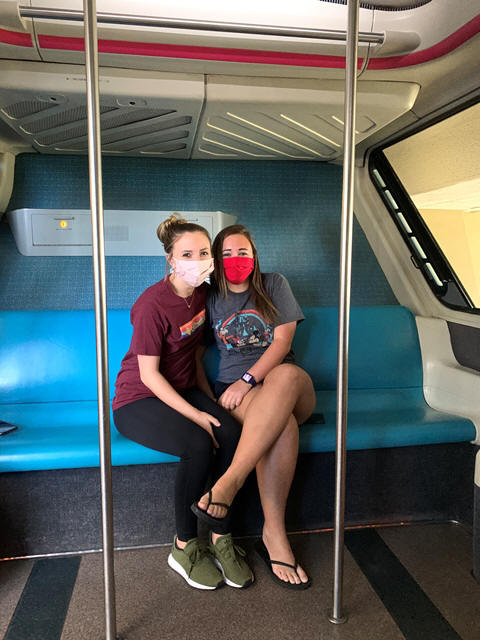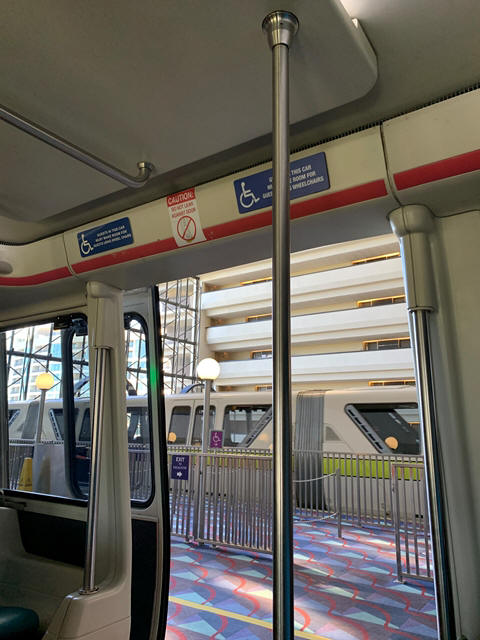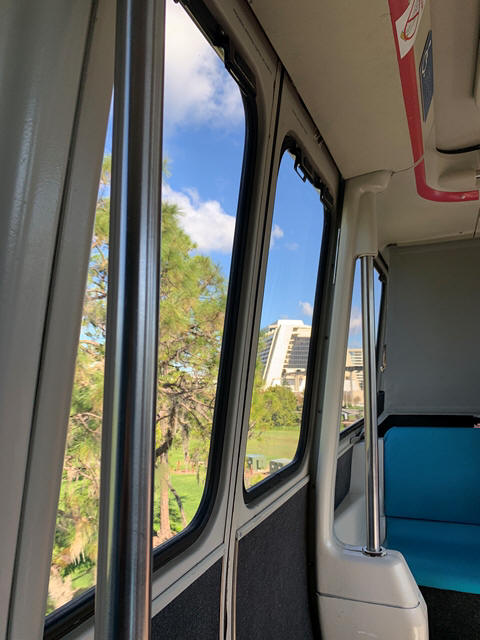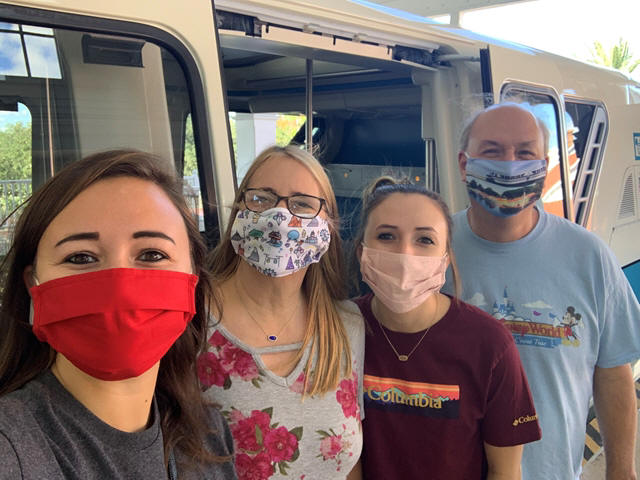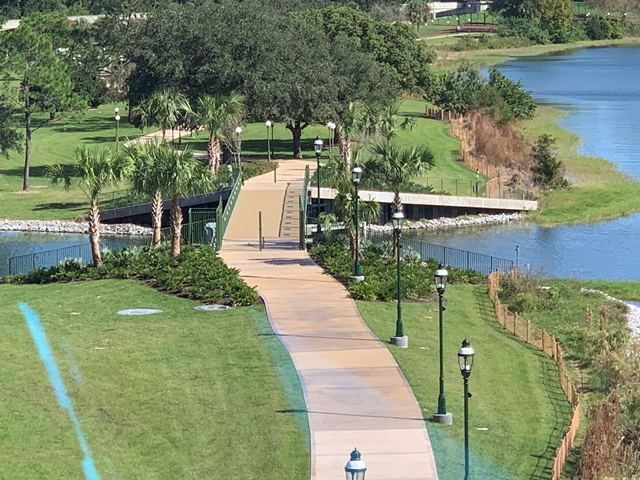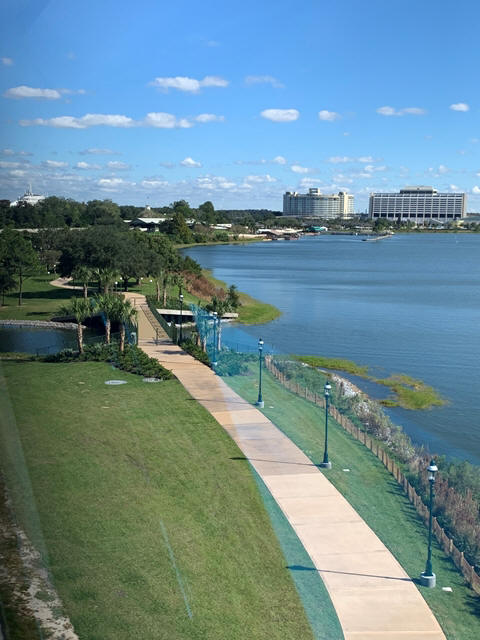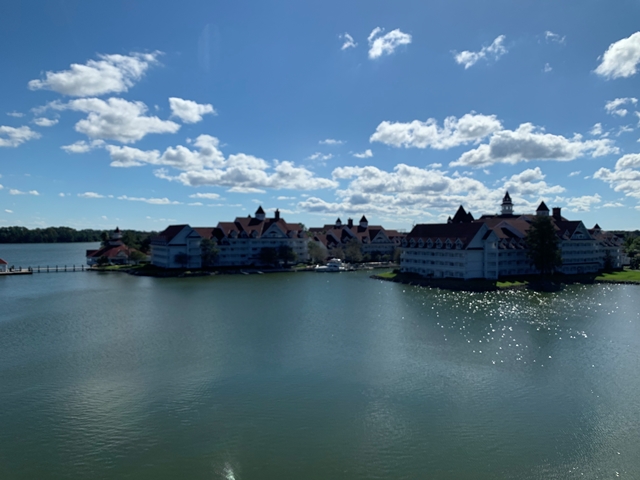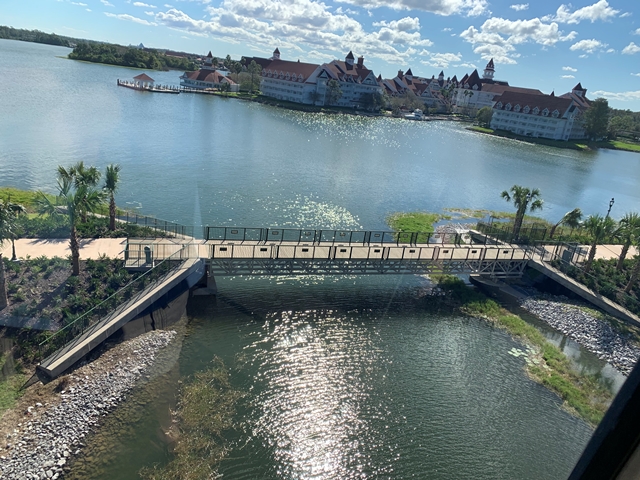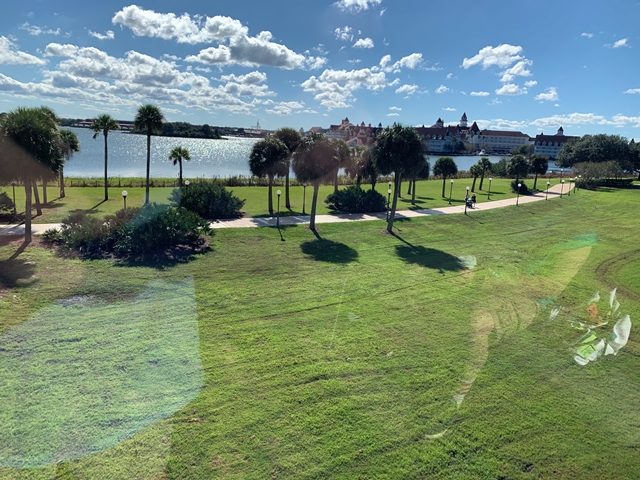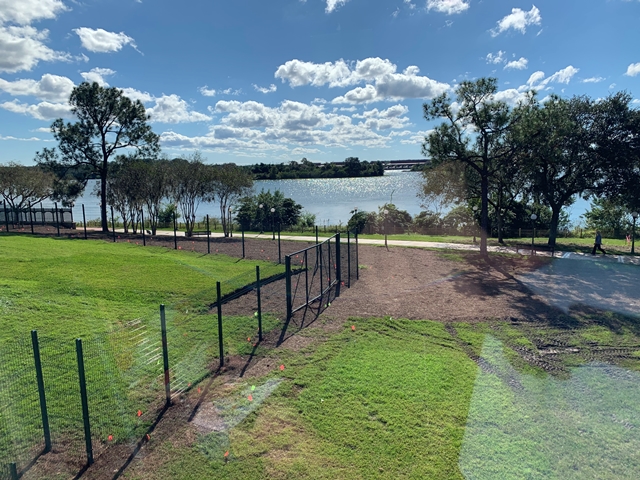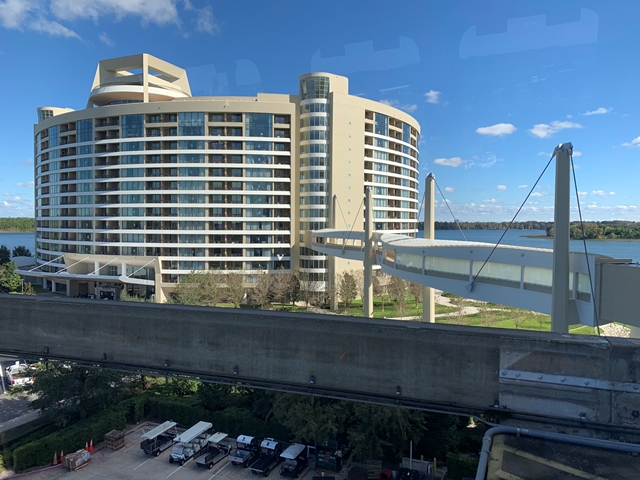 September 2020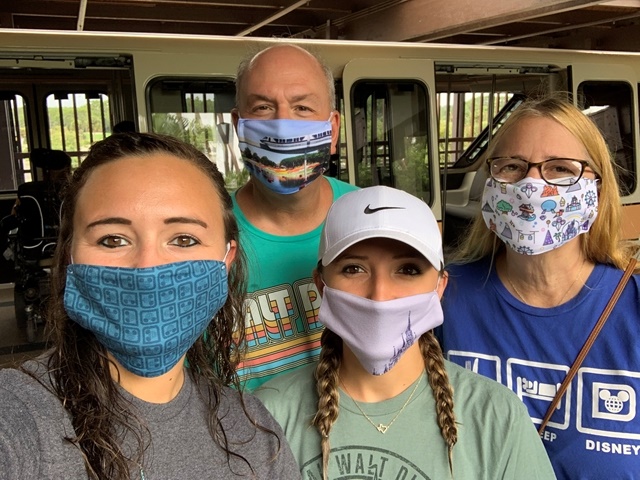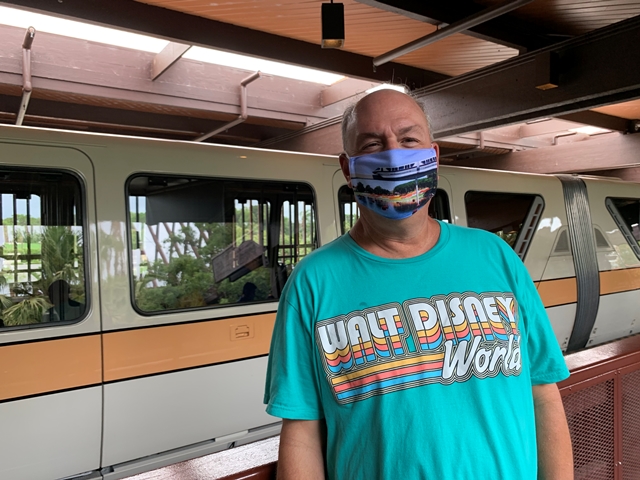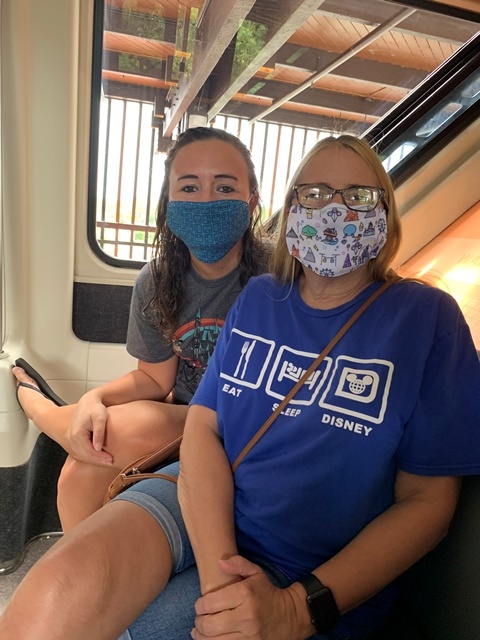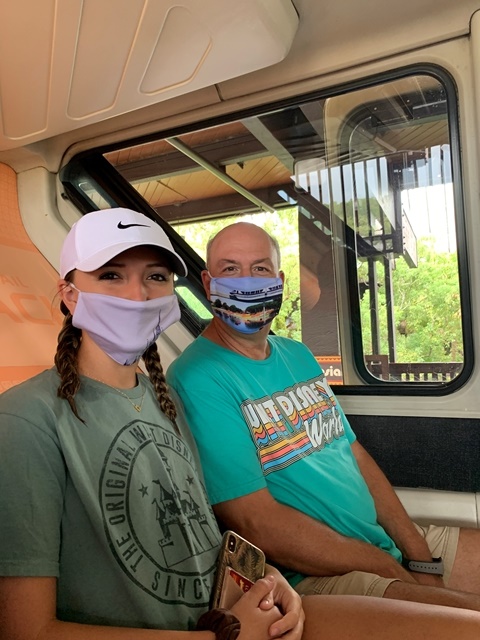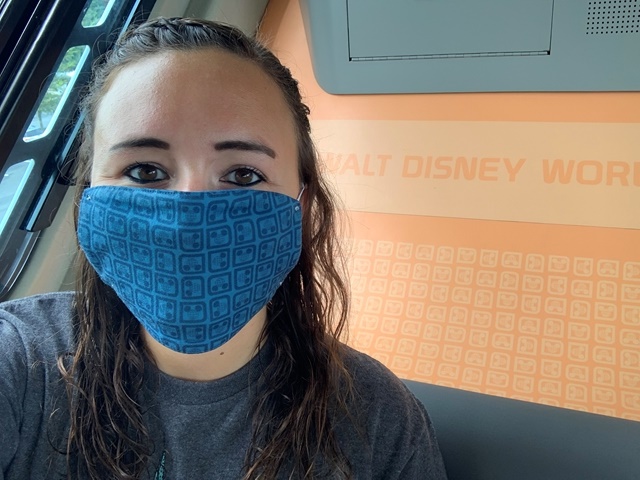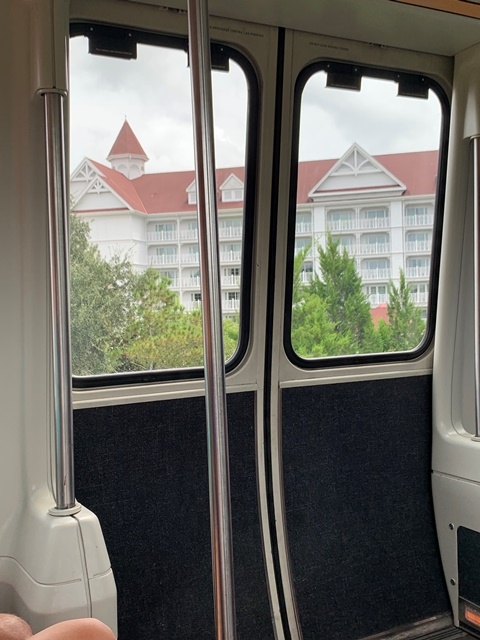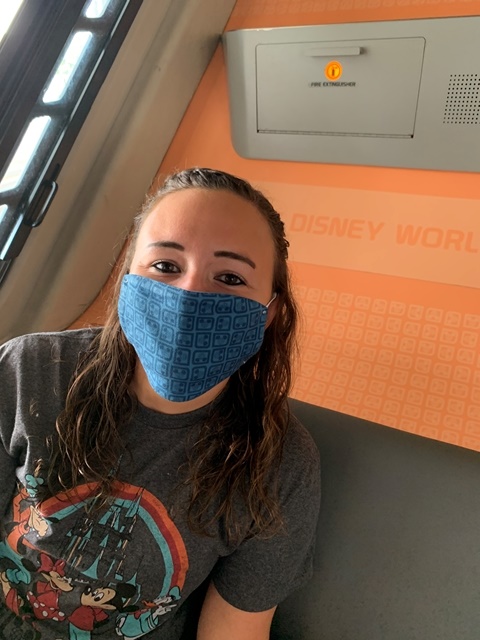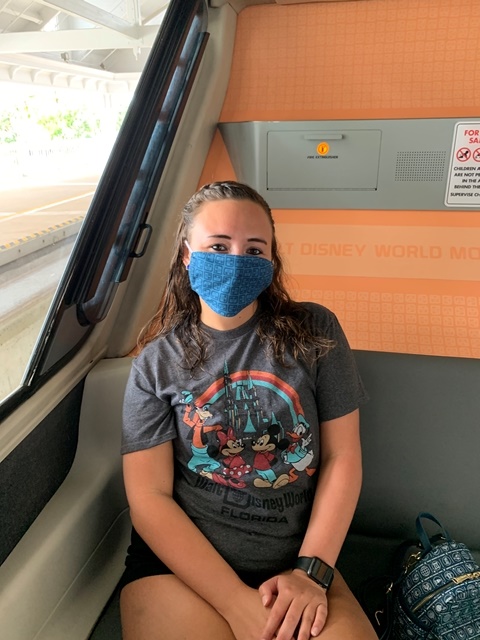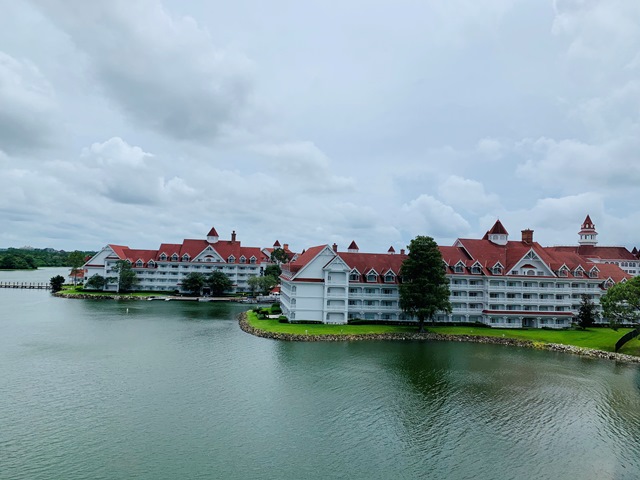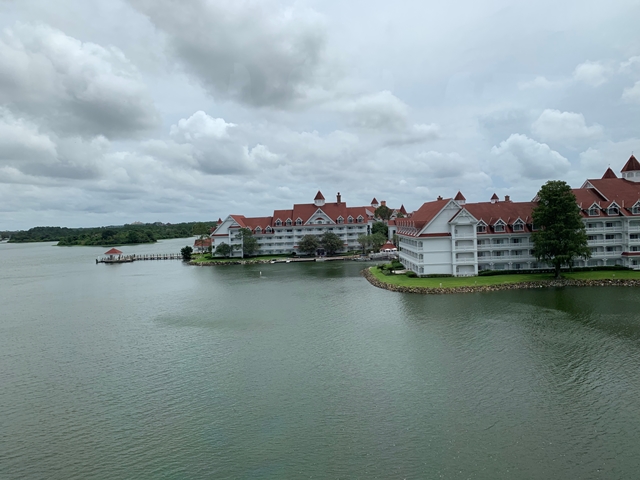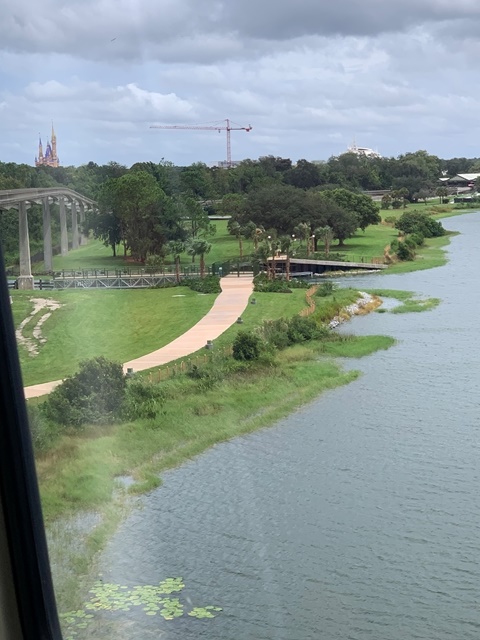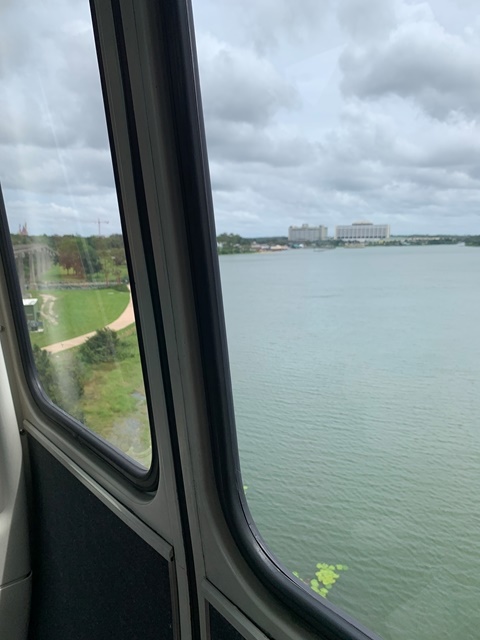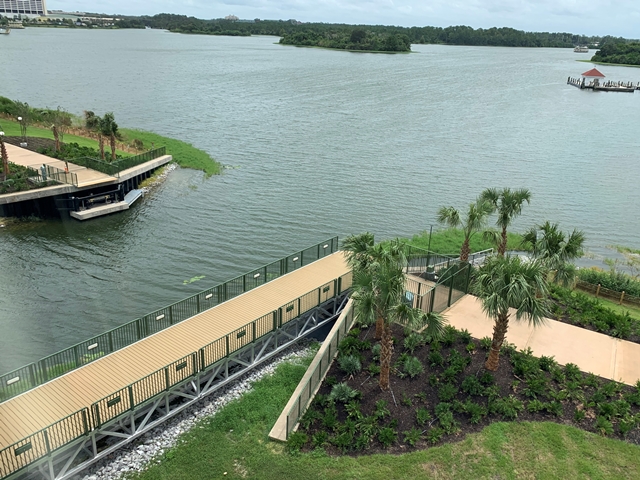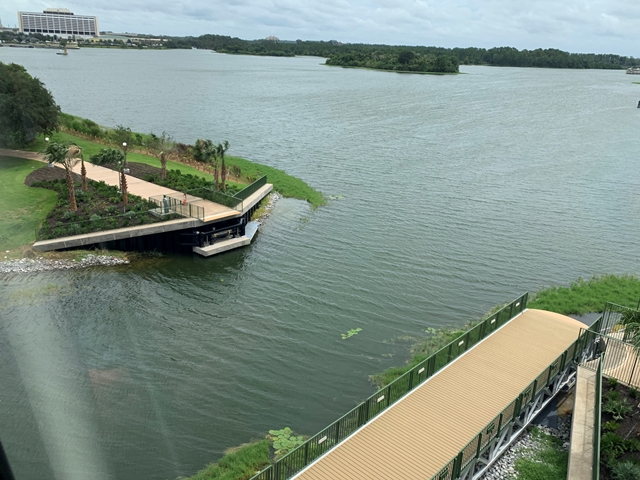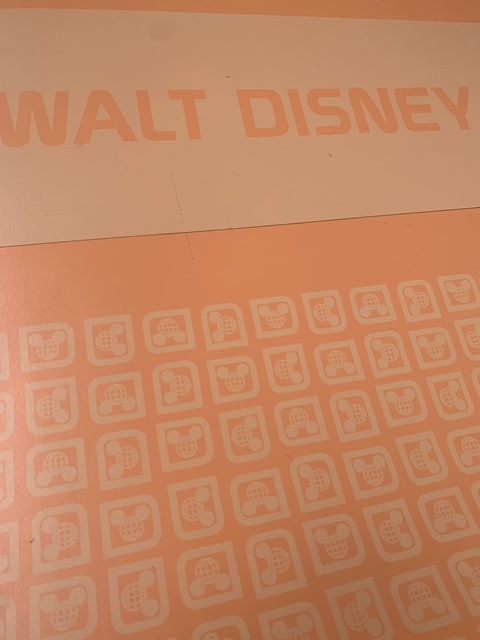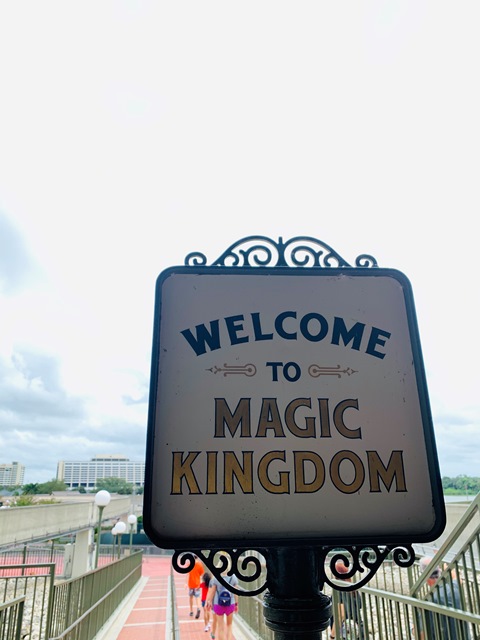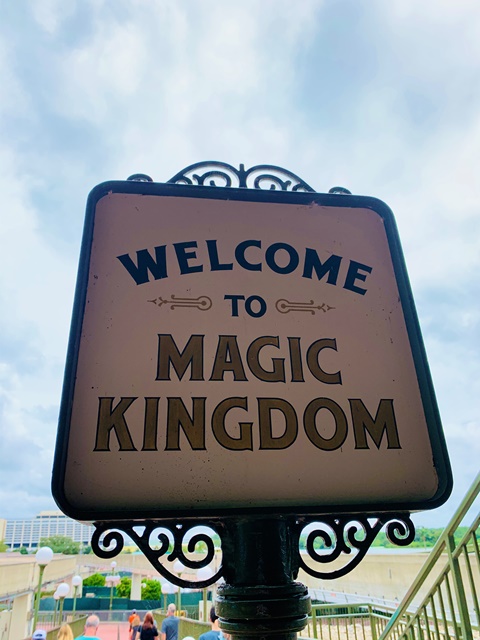 July 2020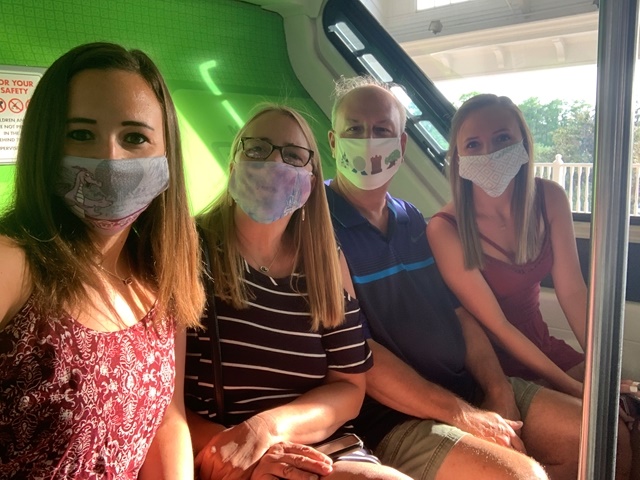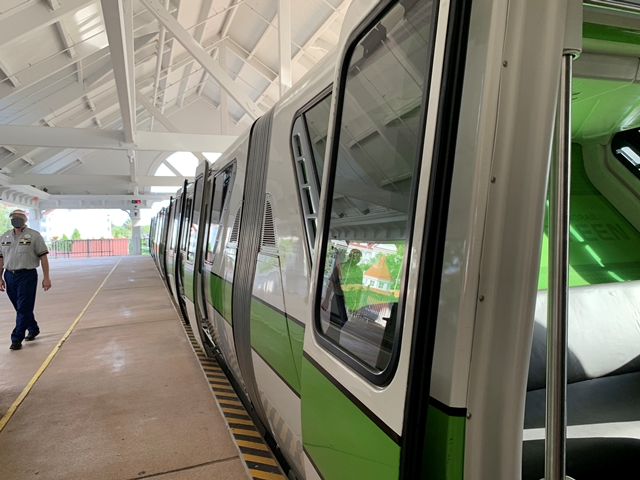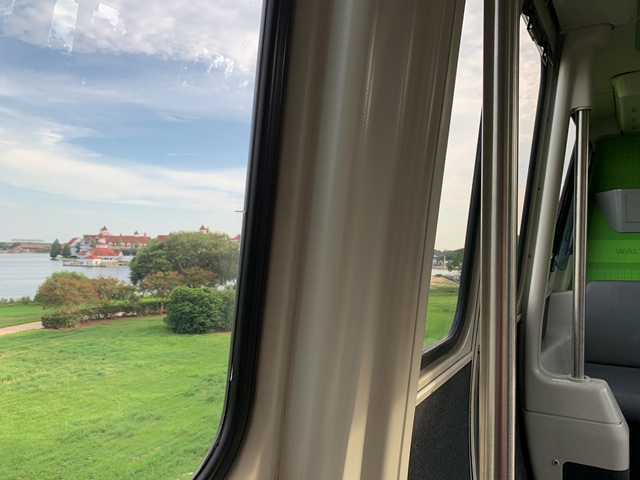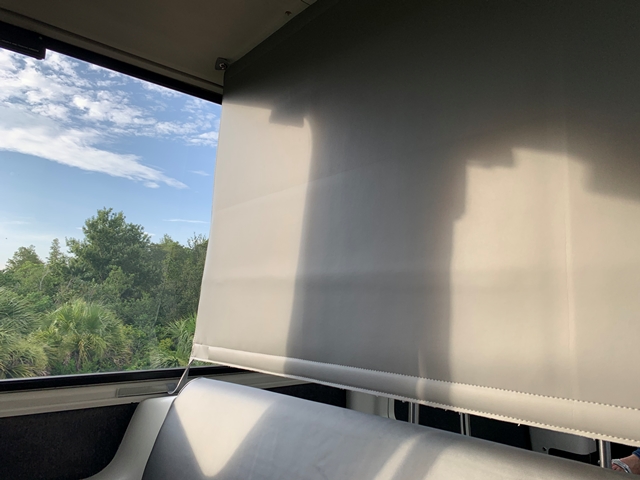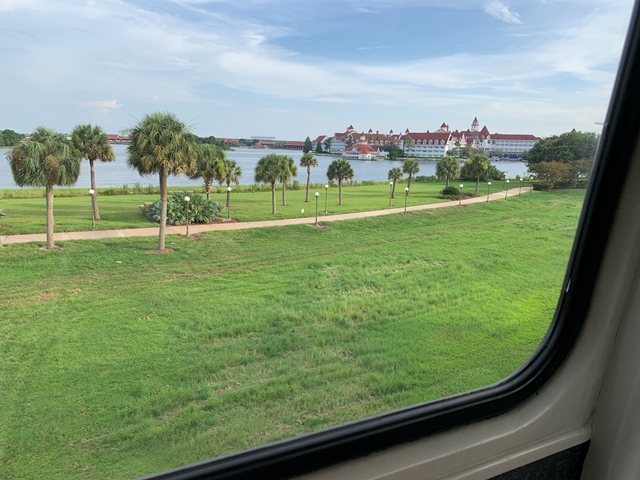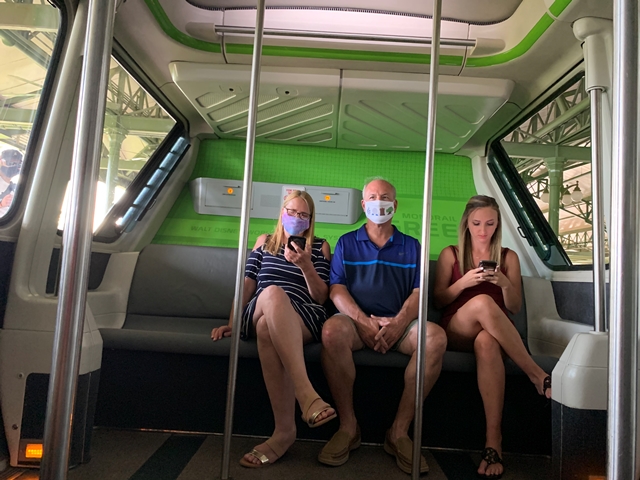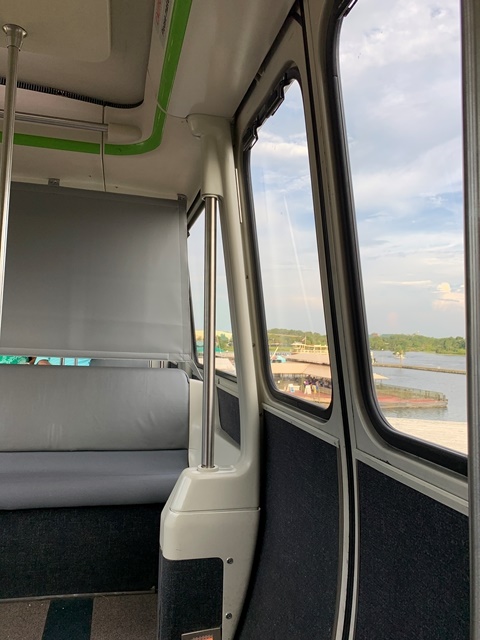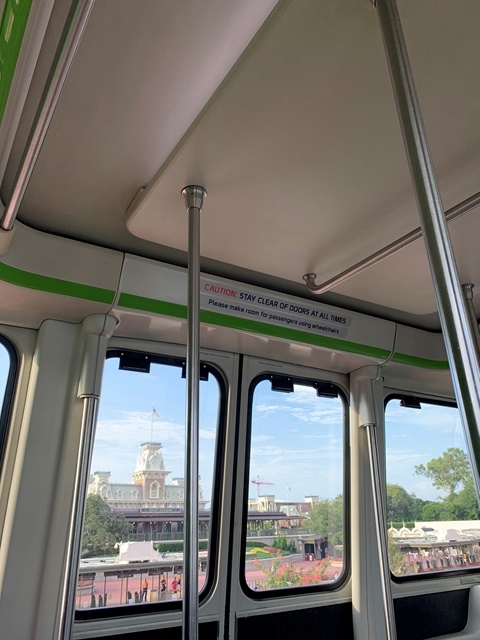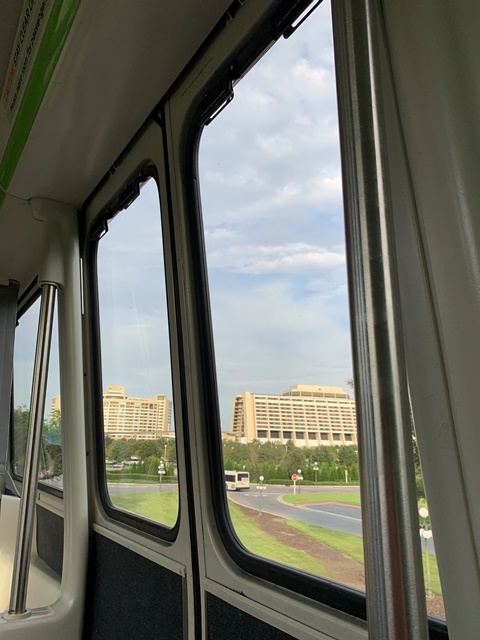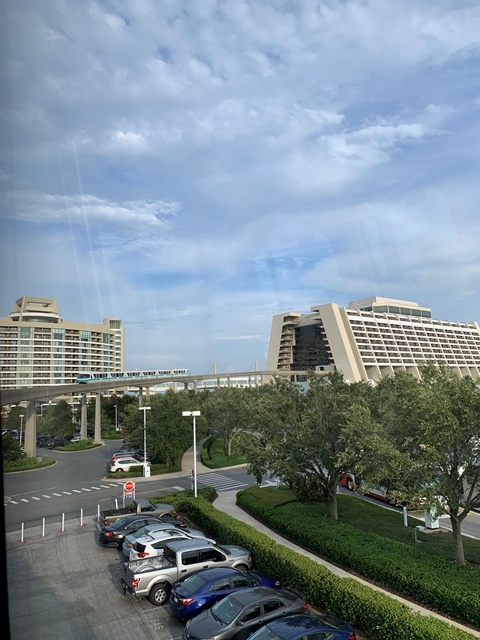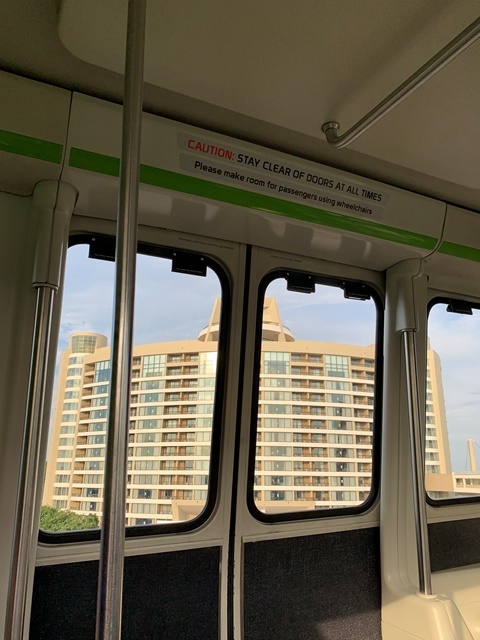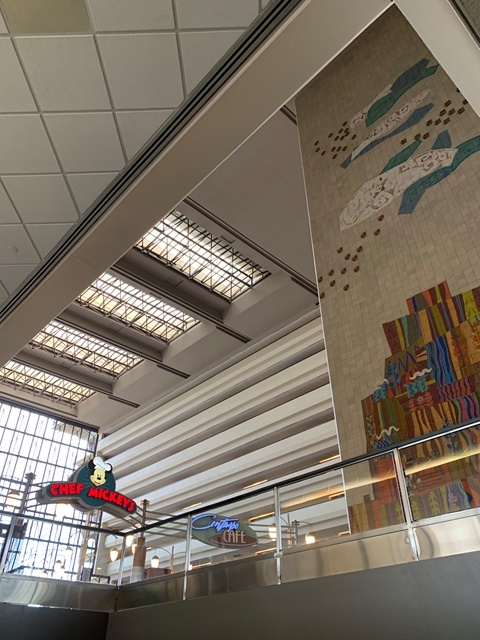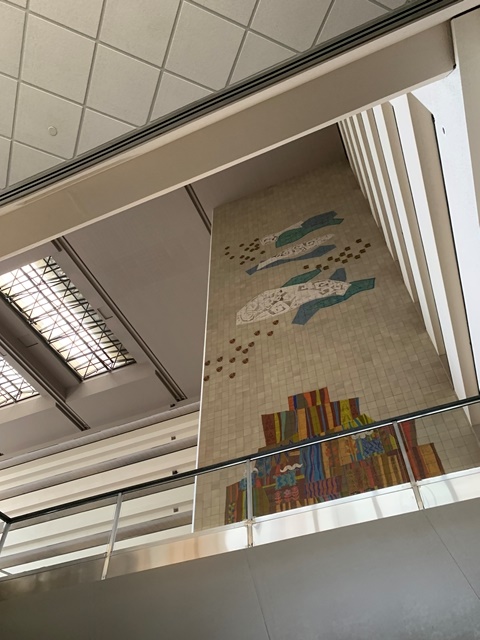 July 2019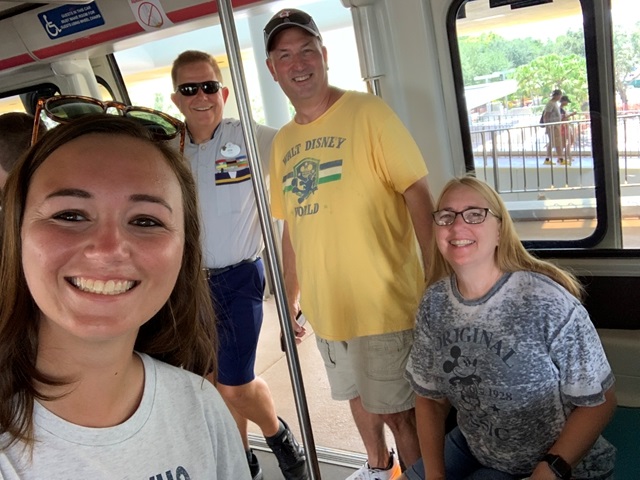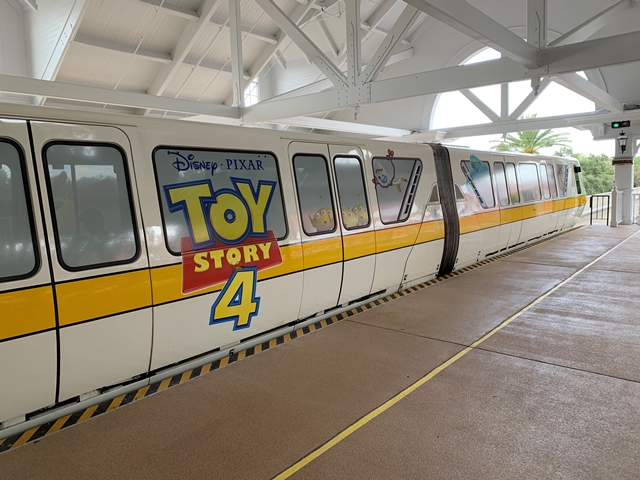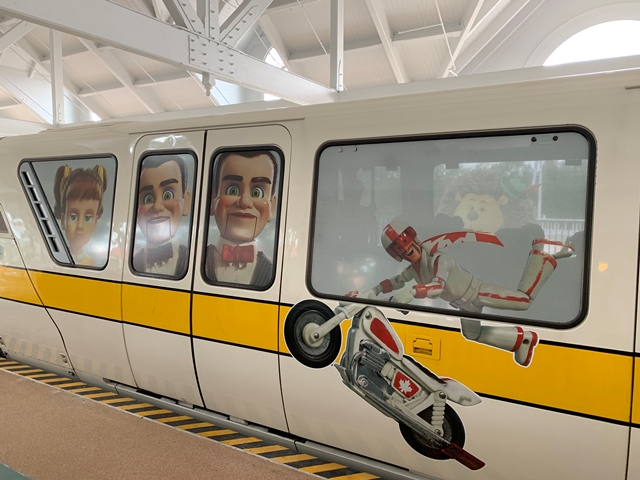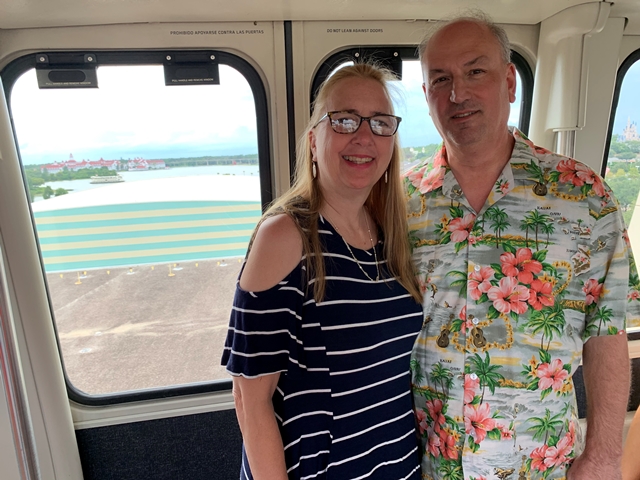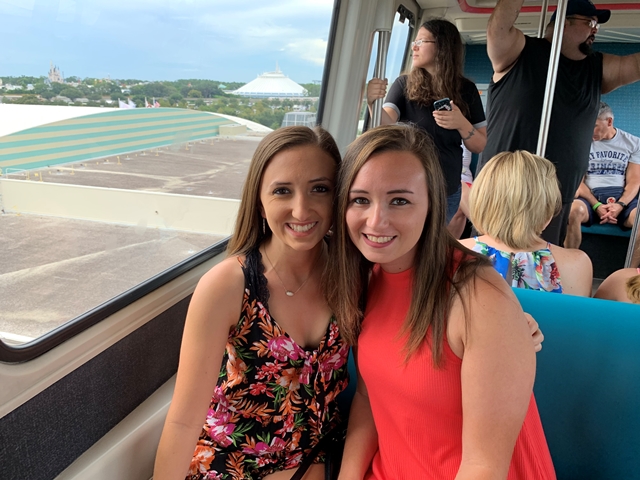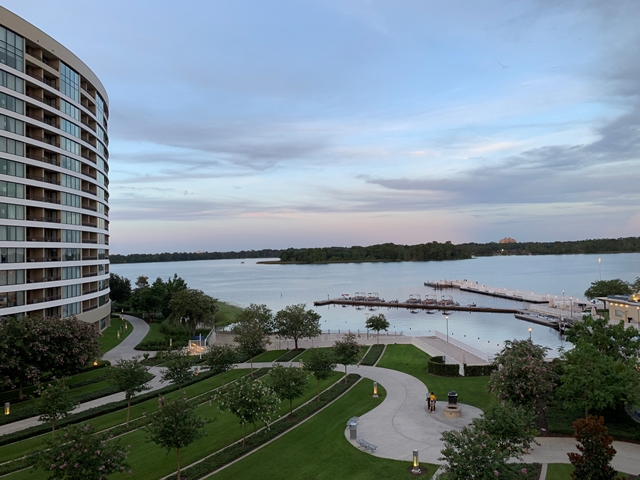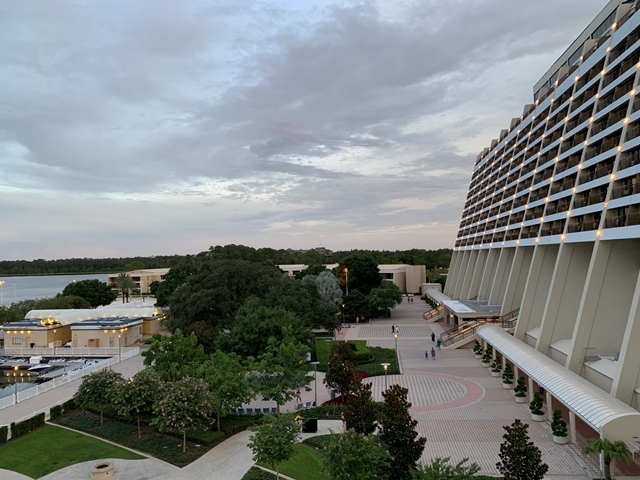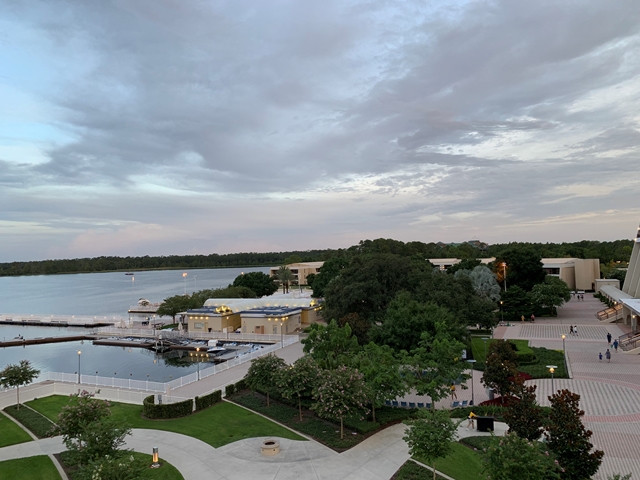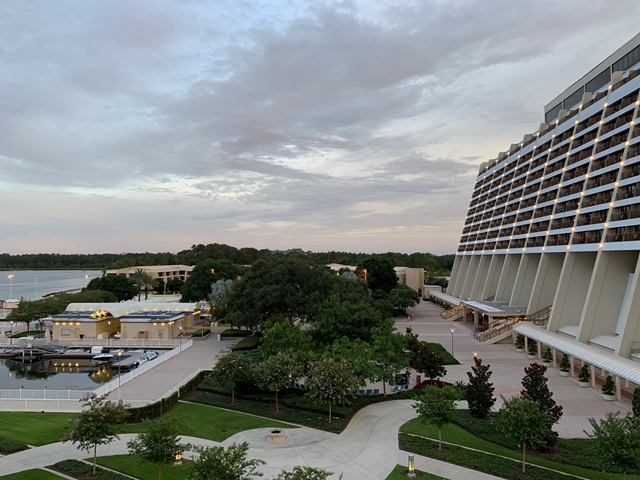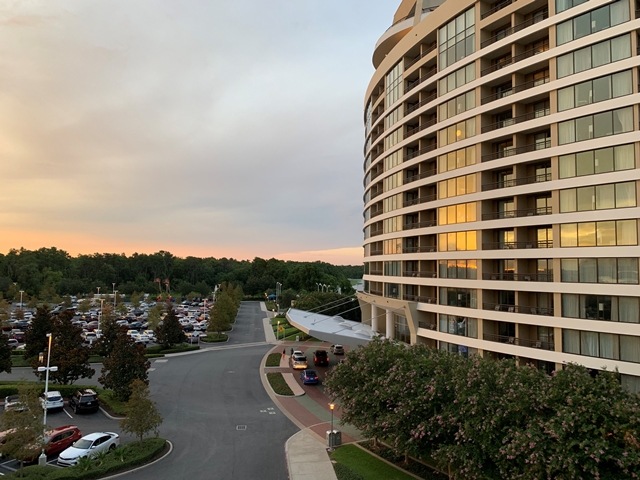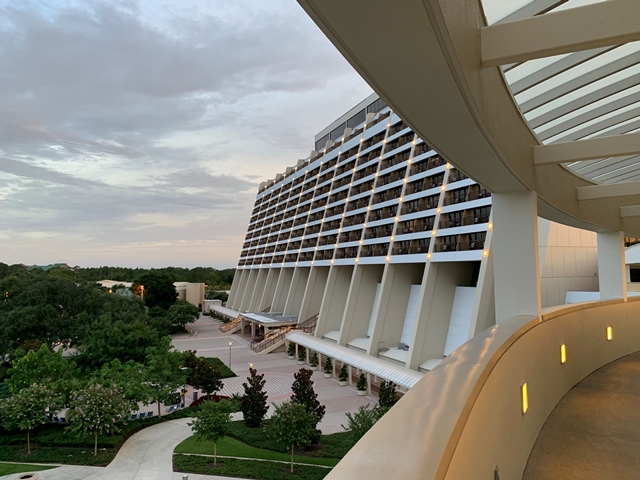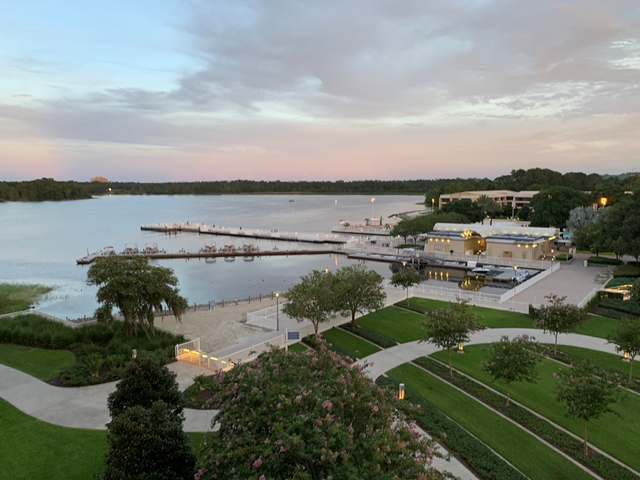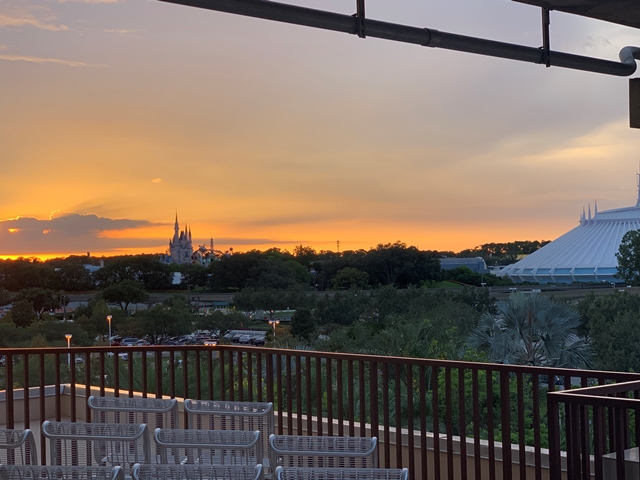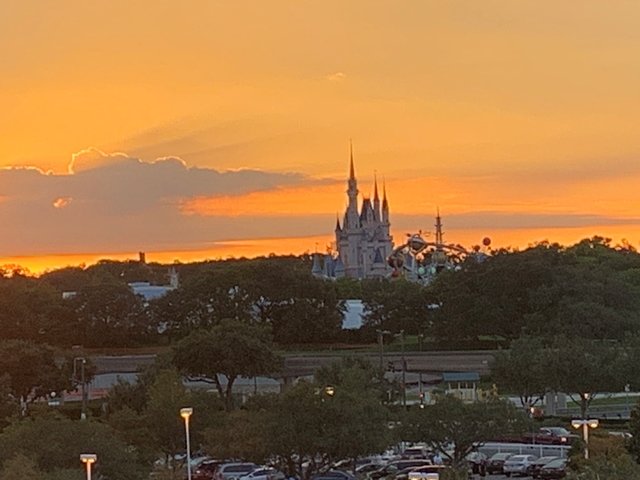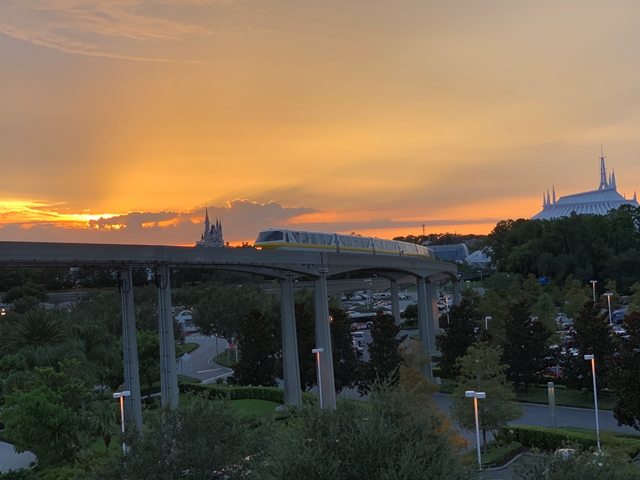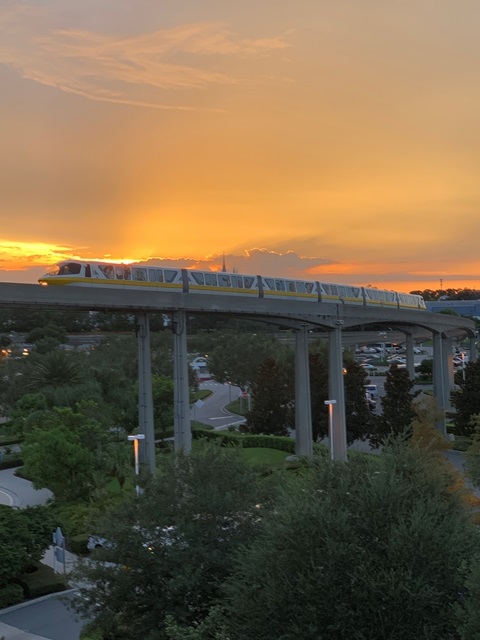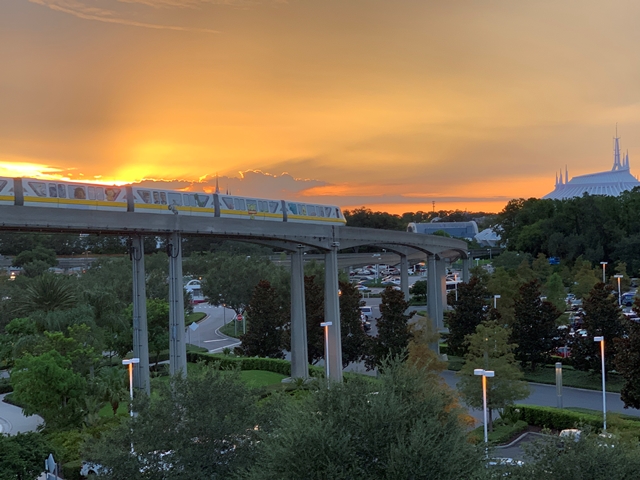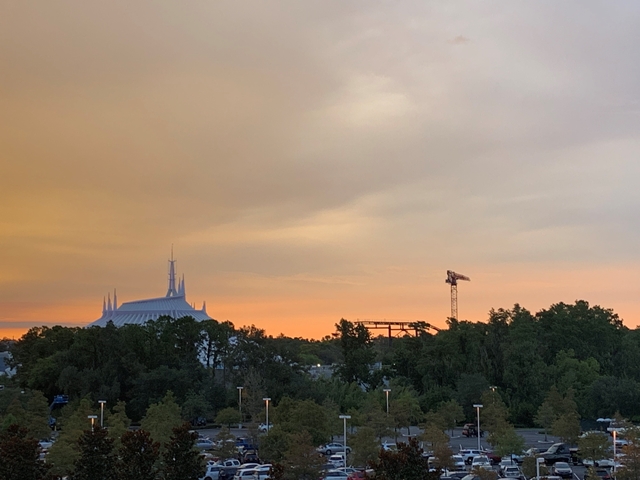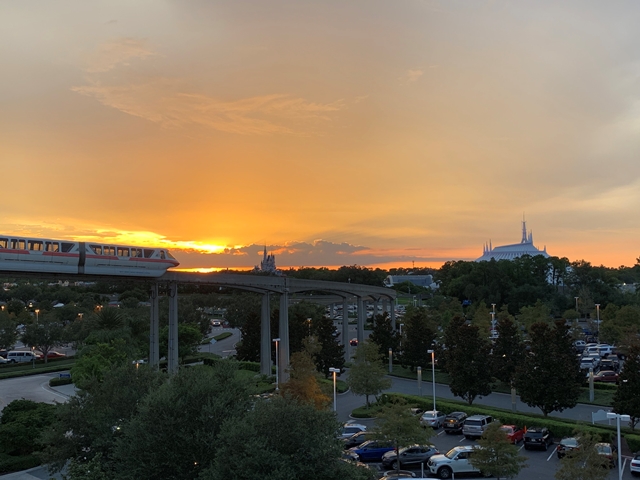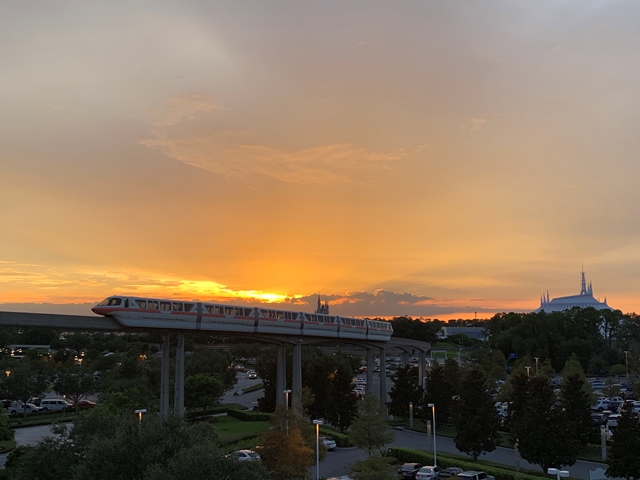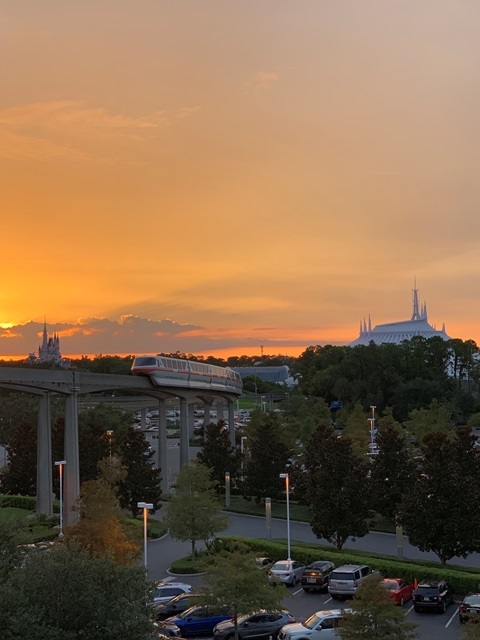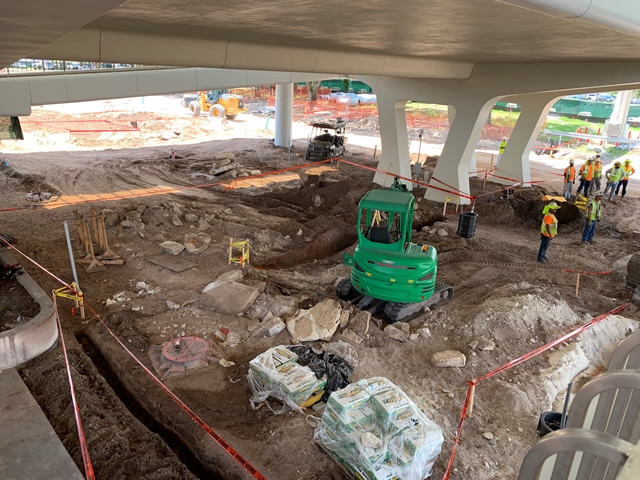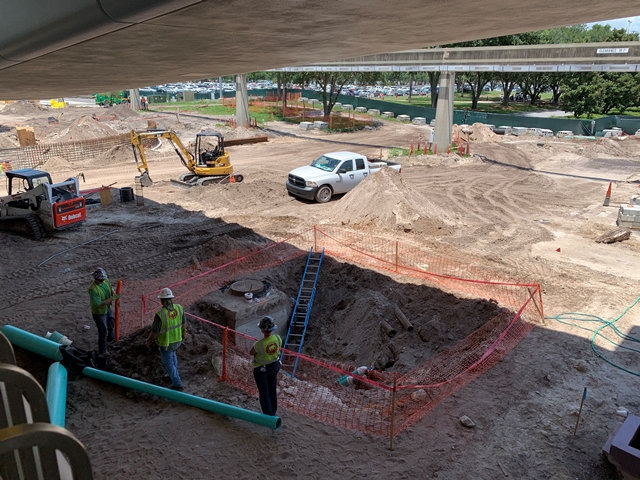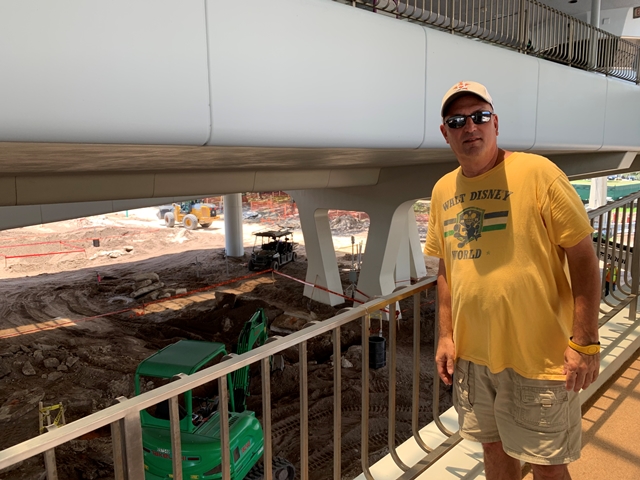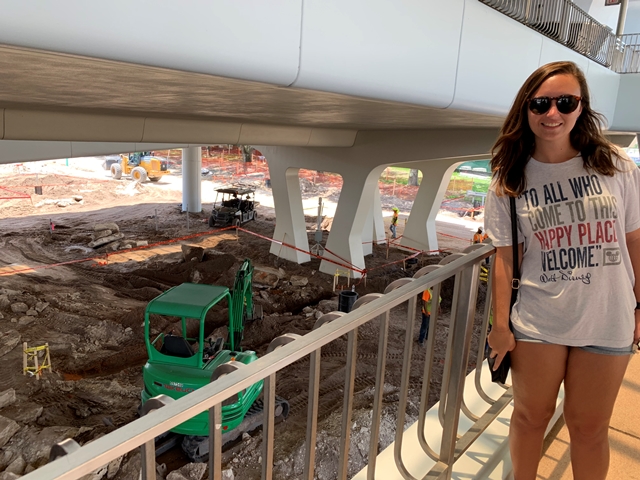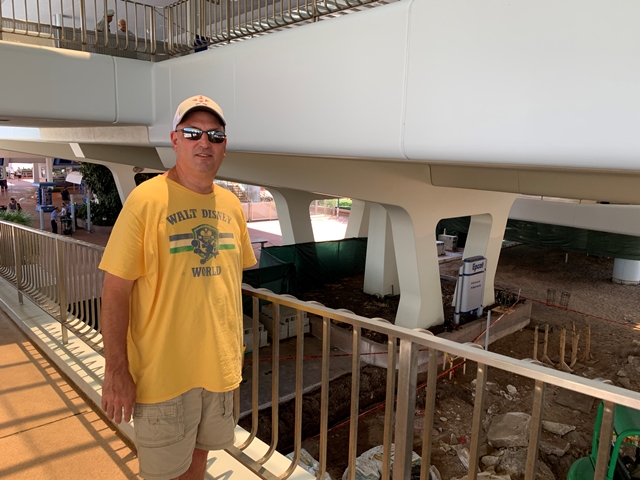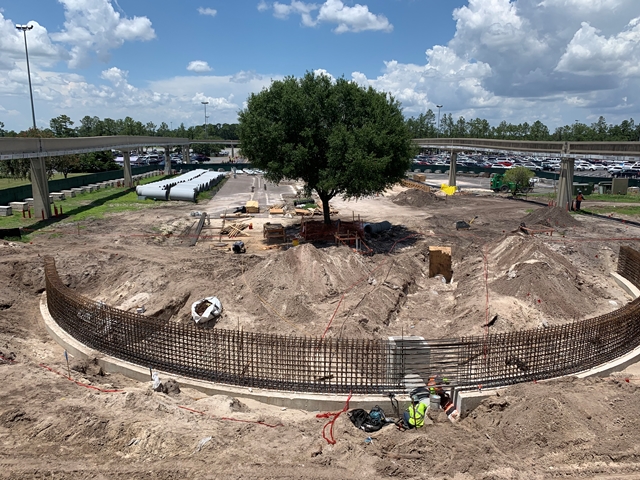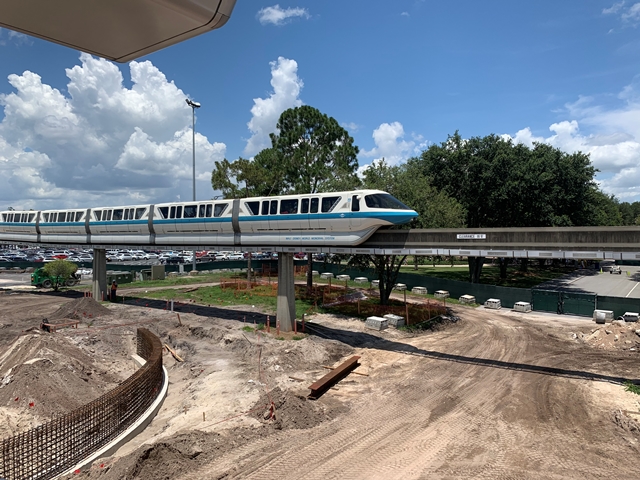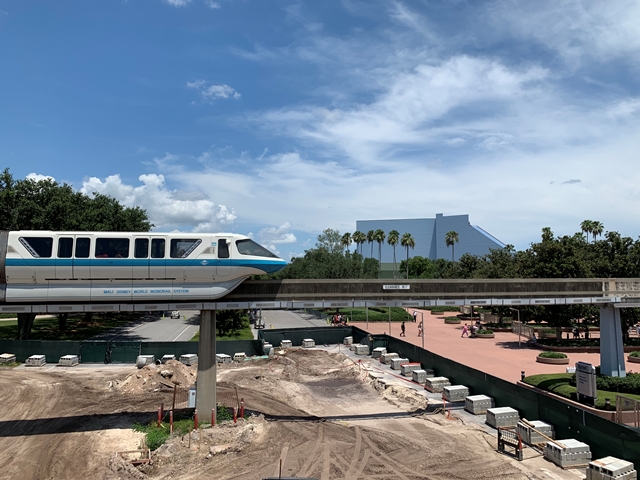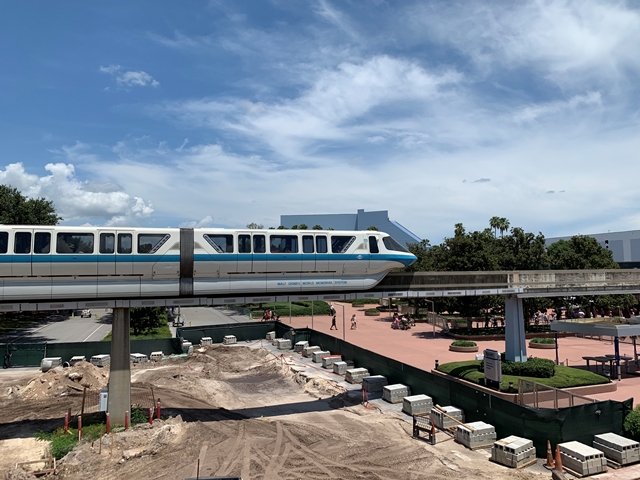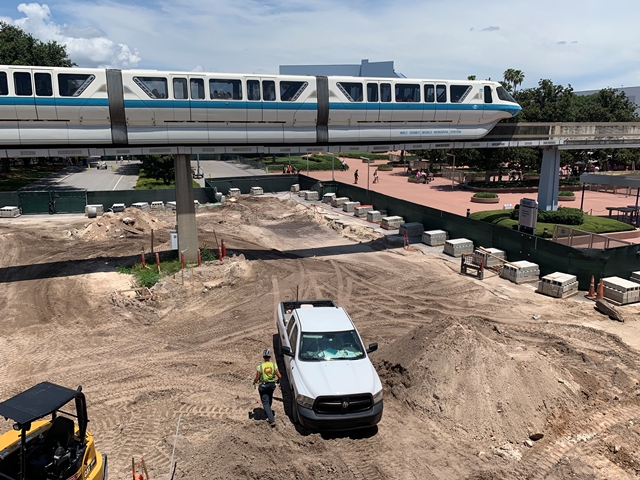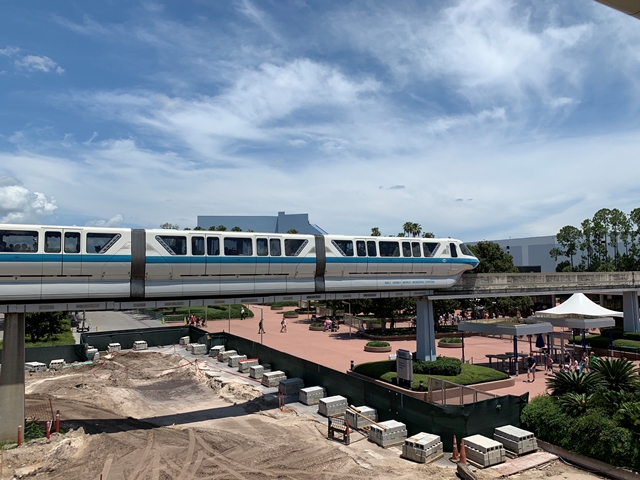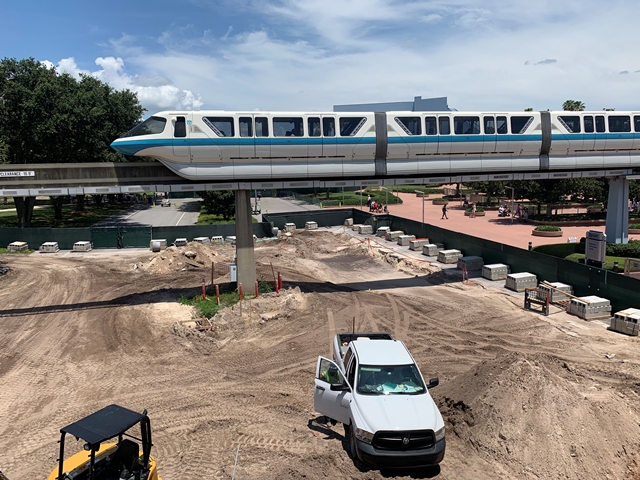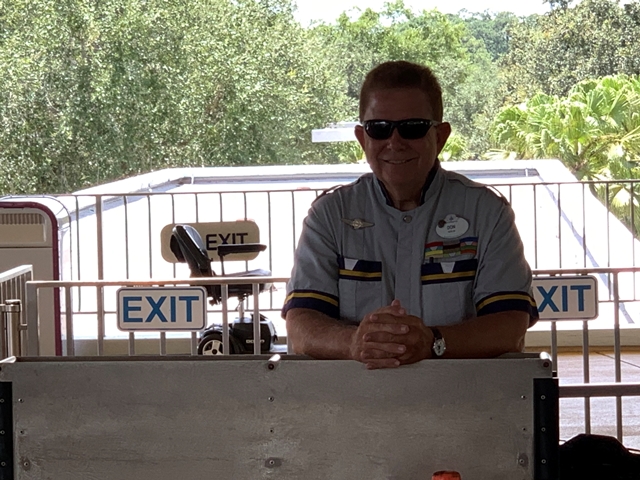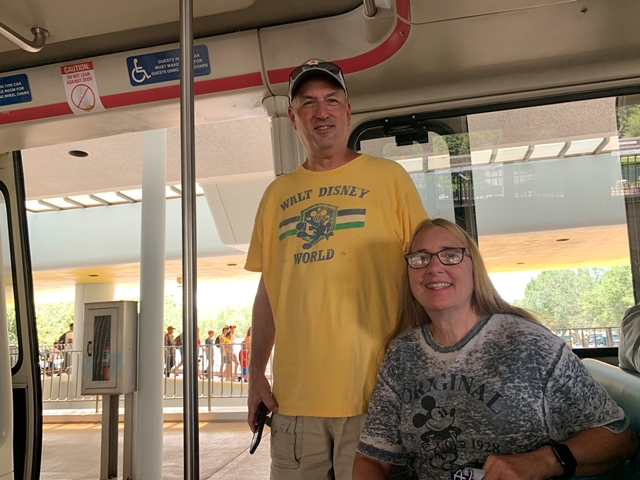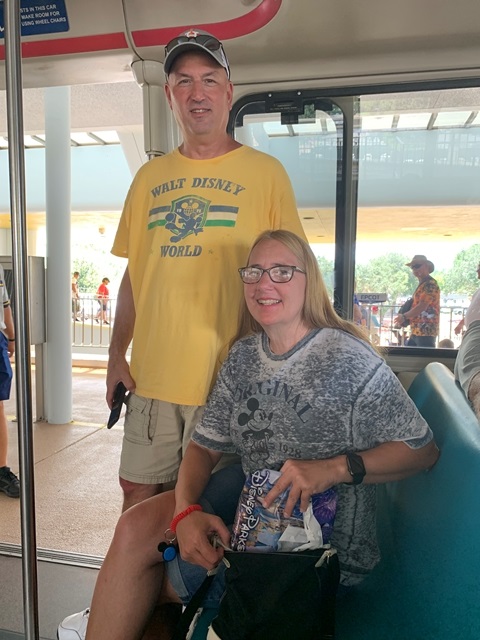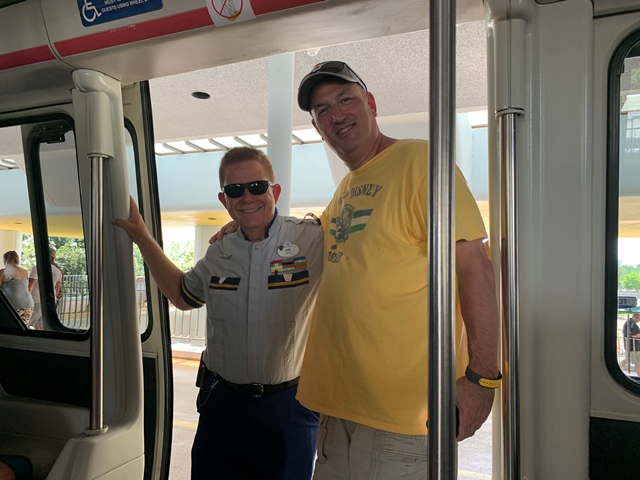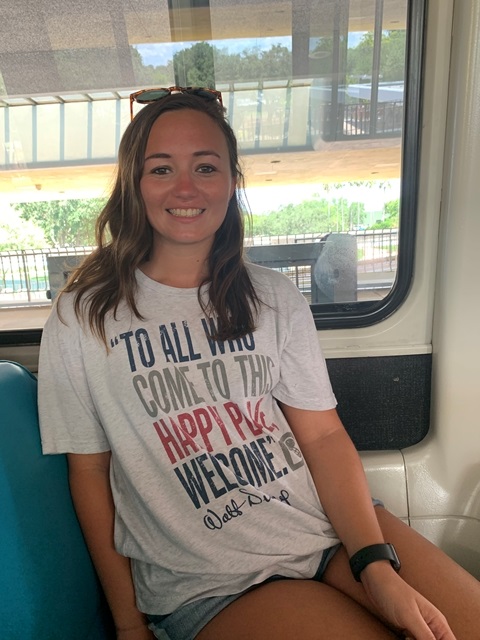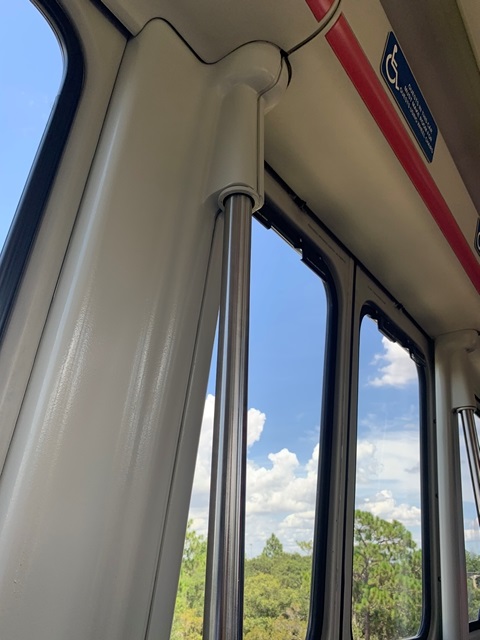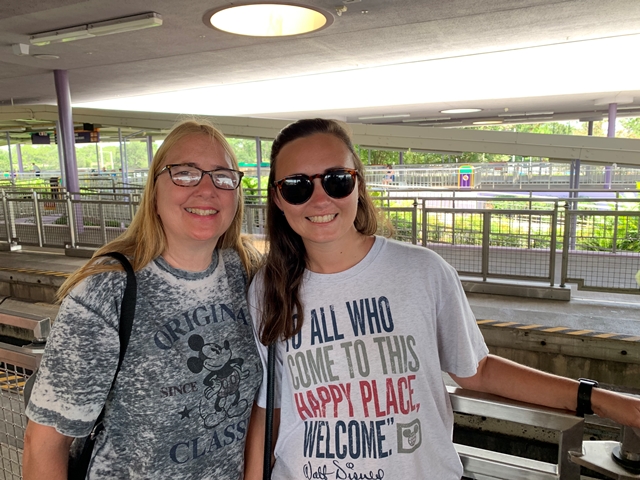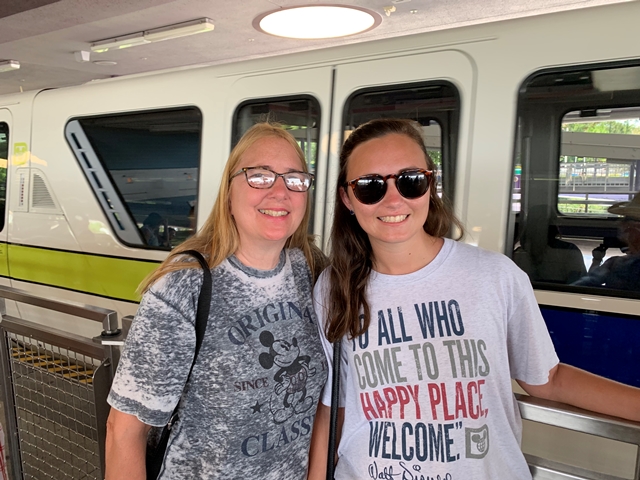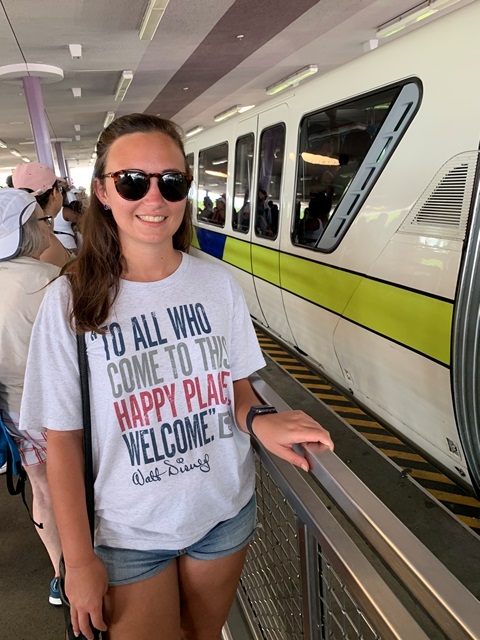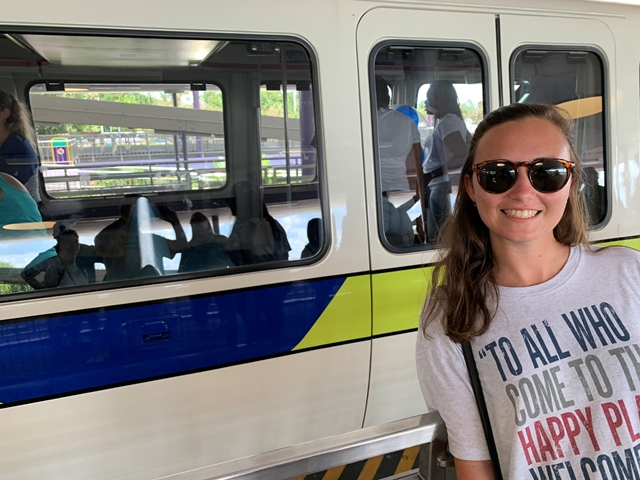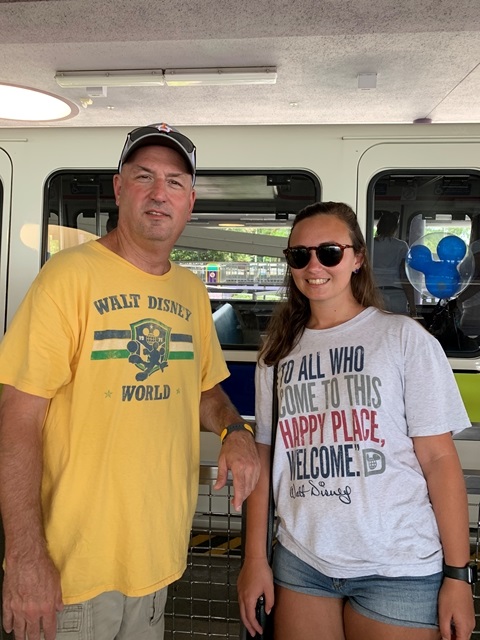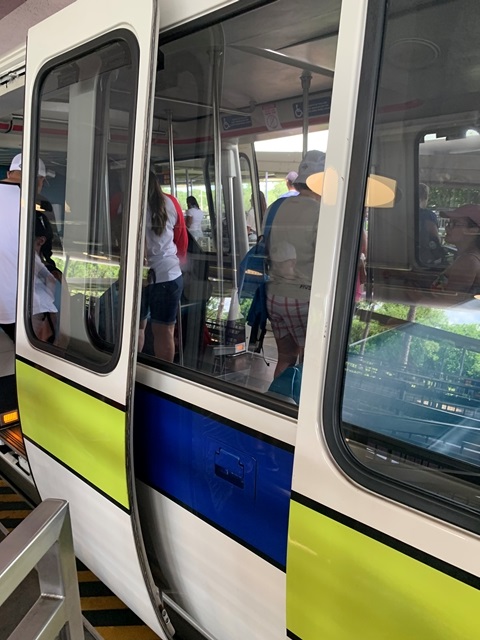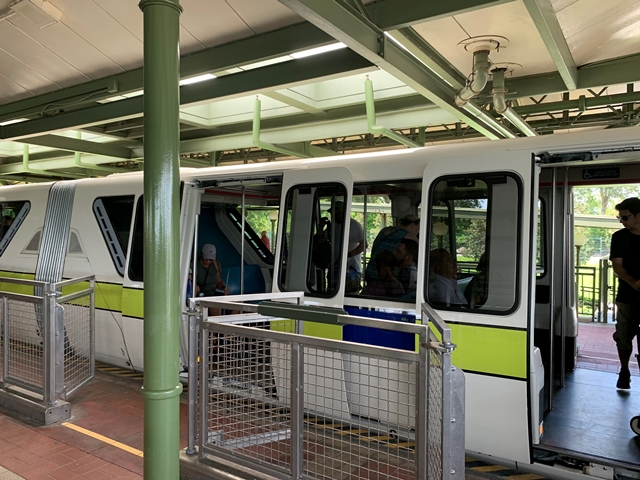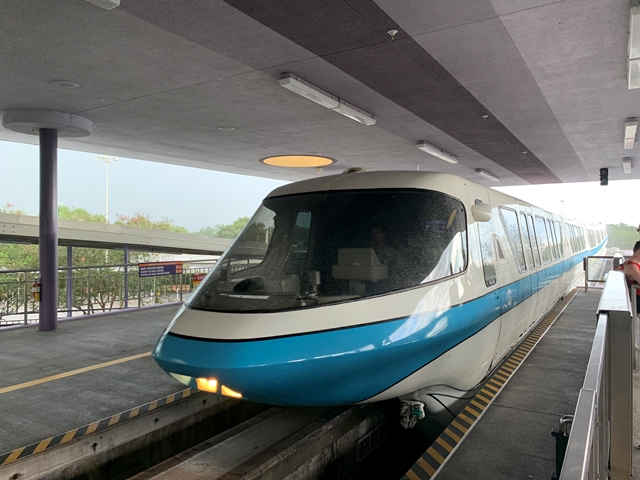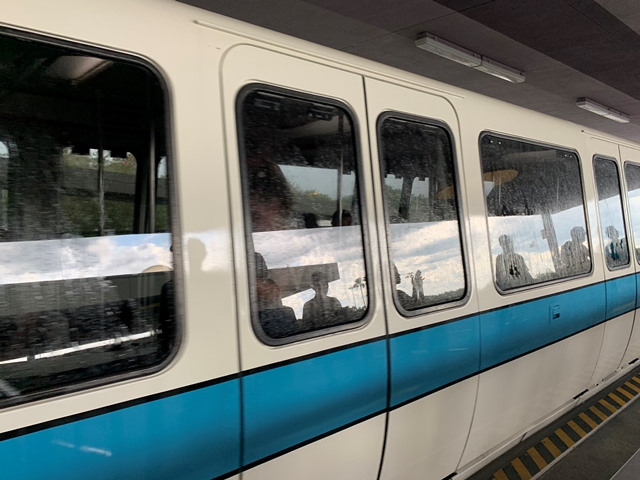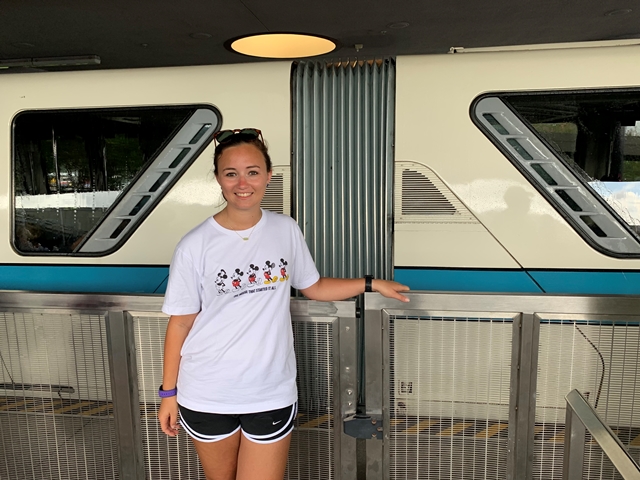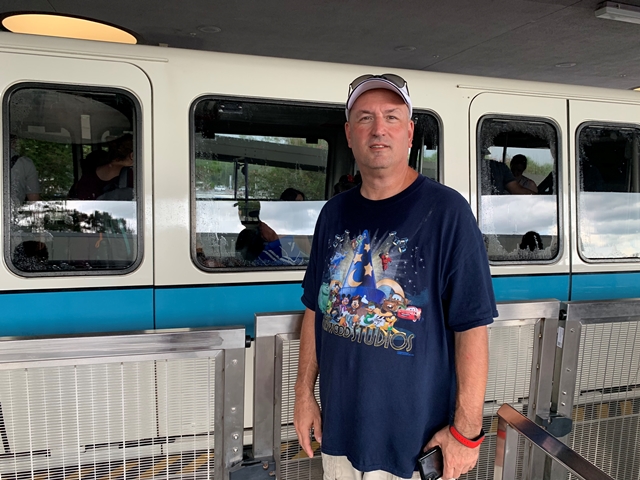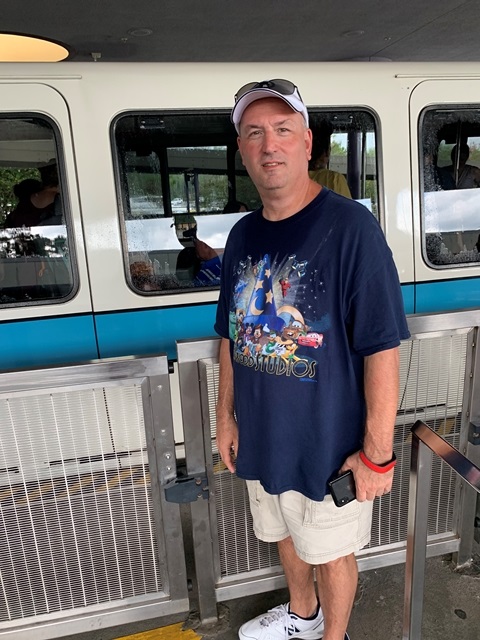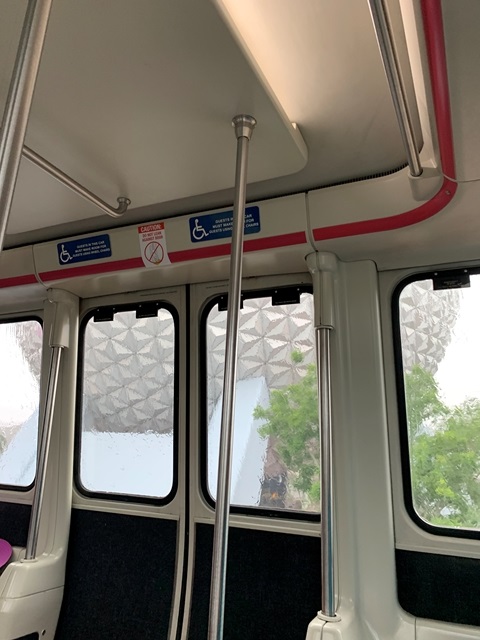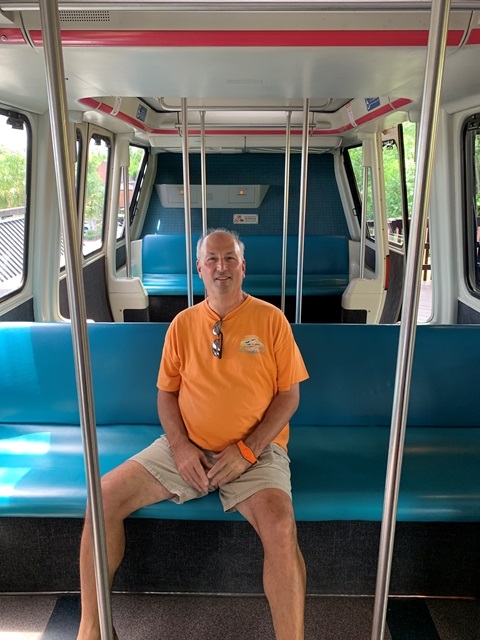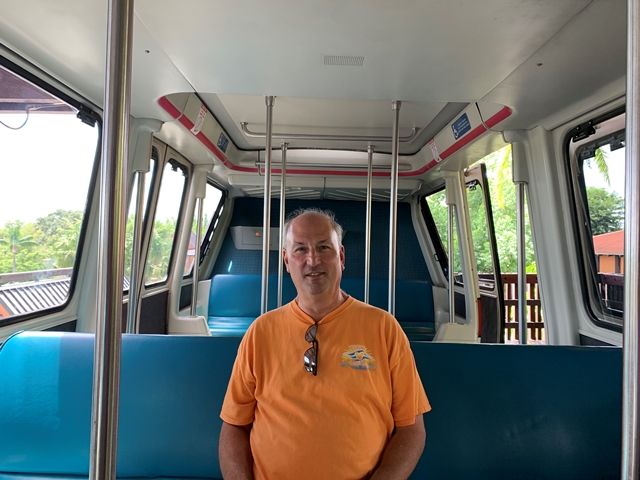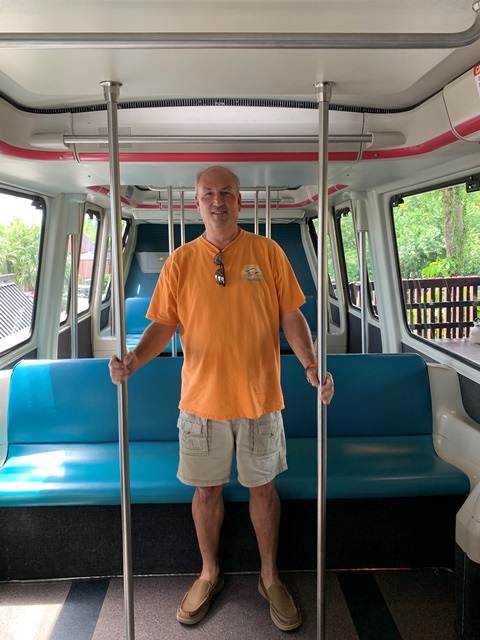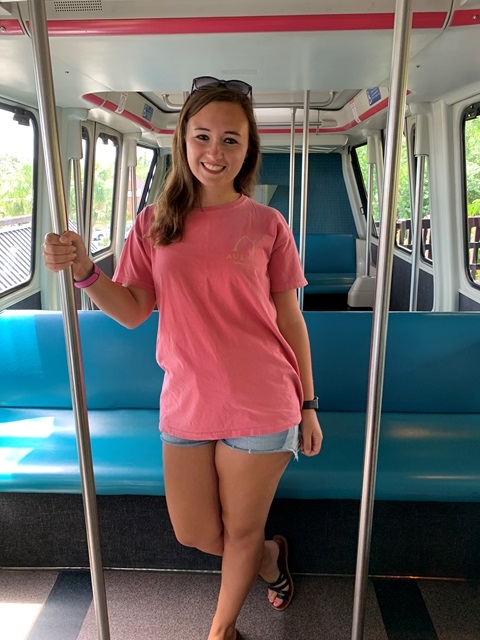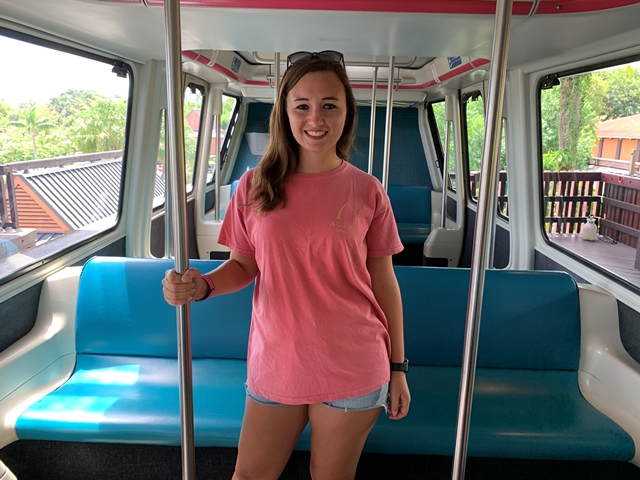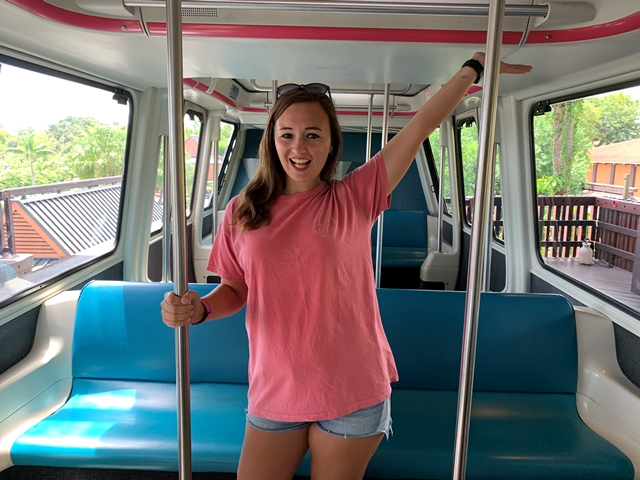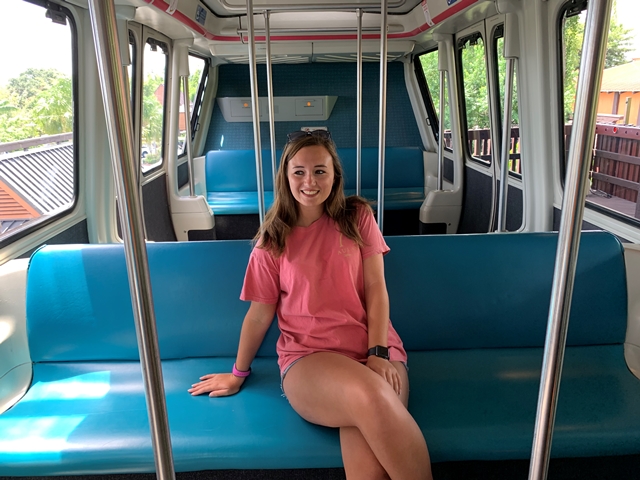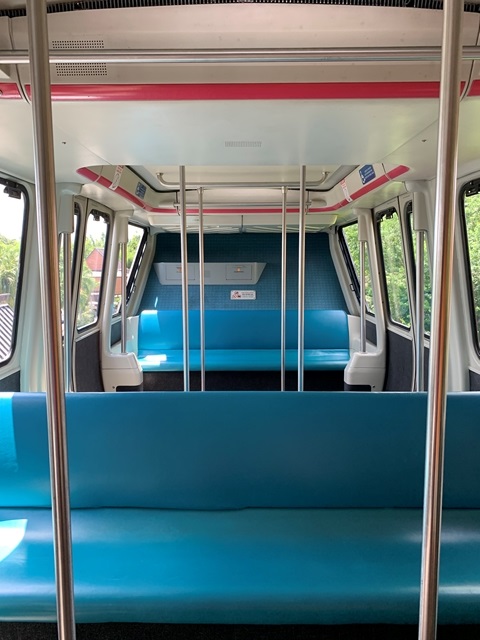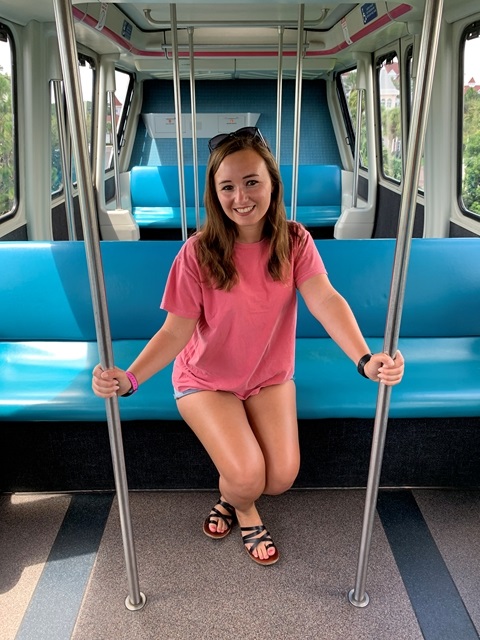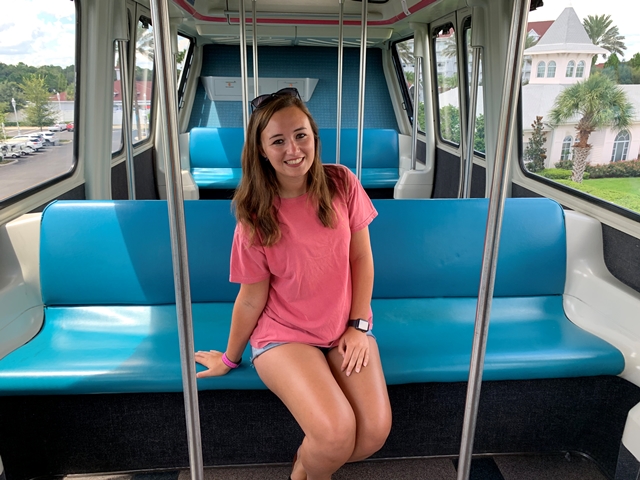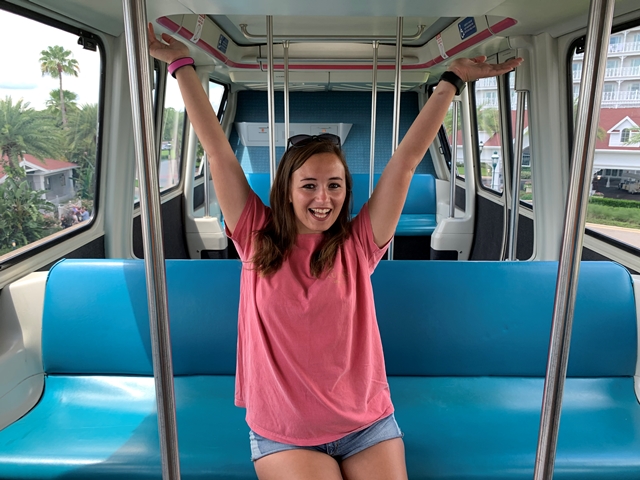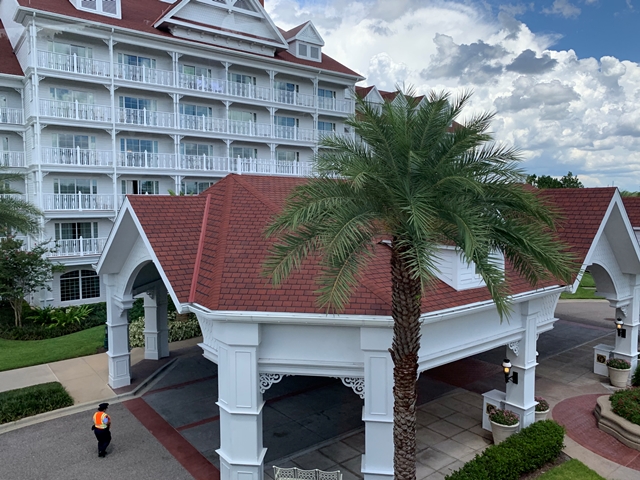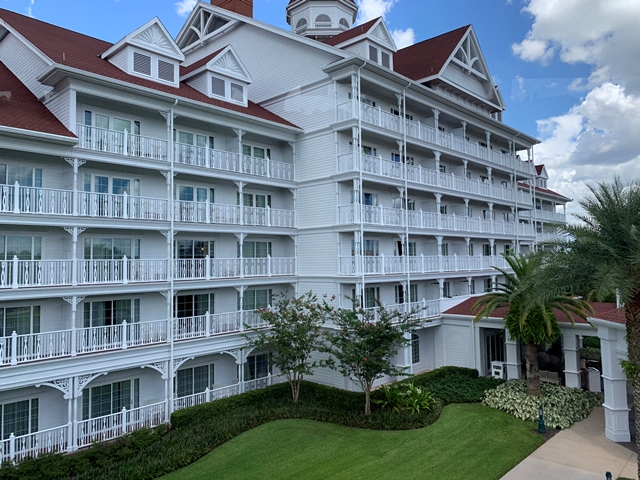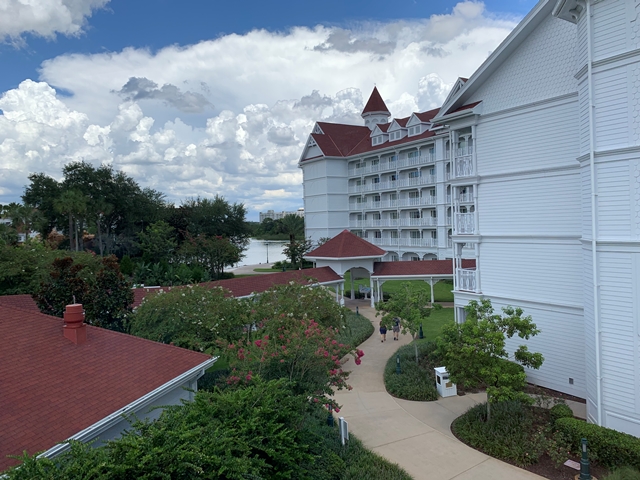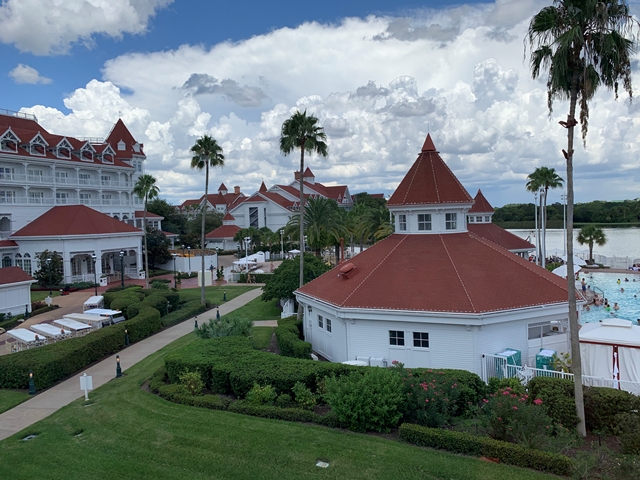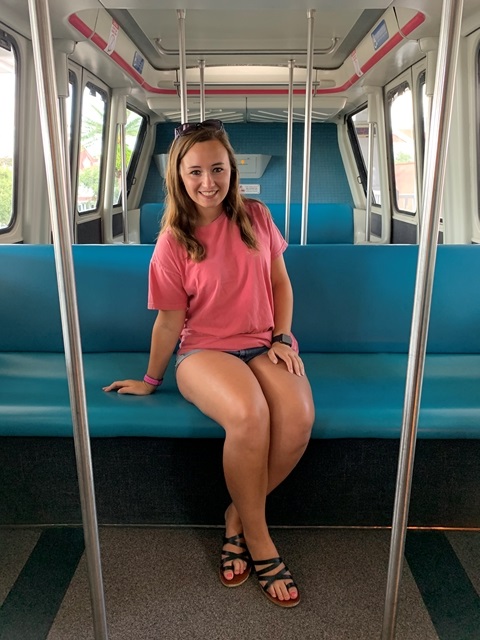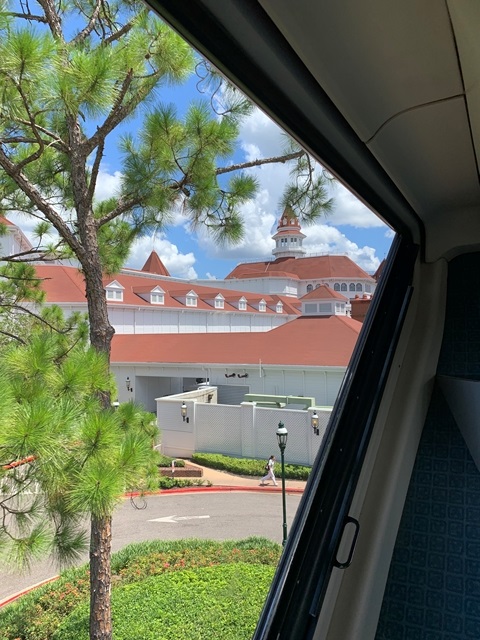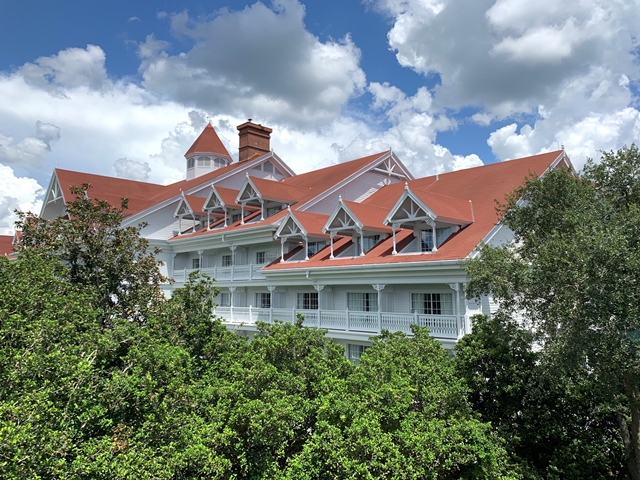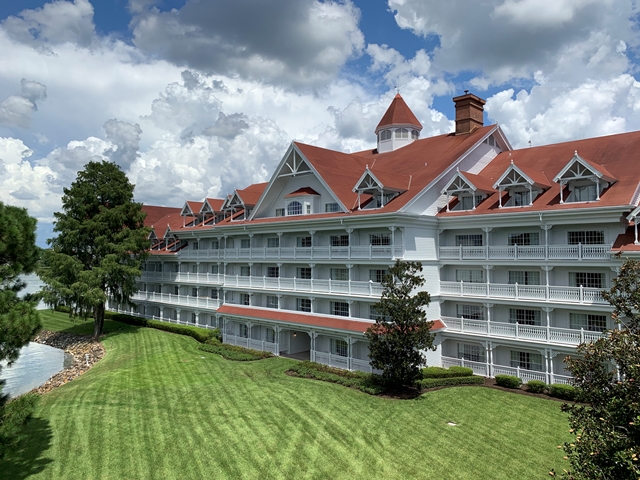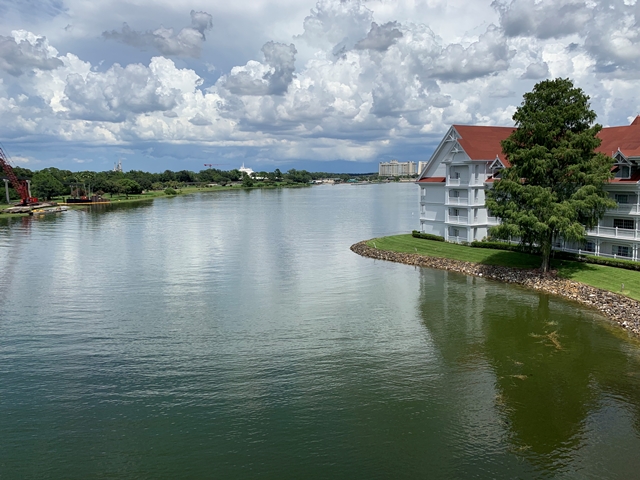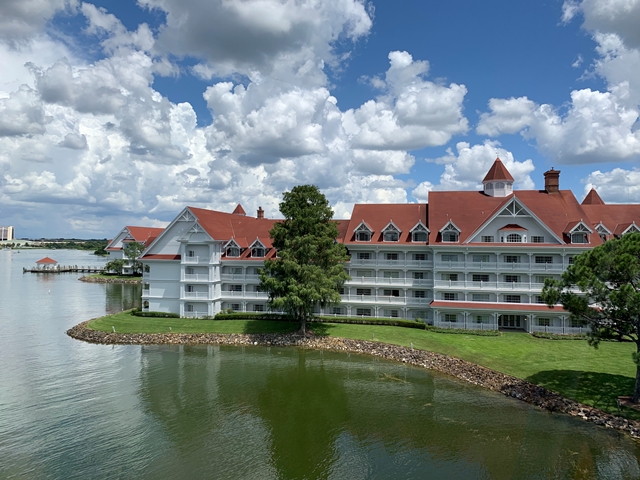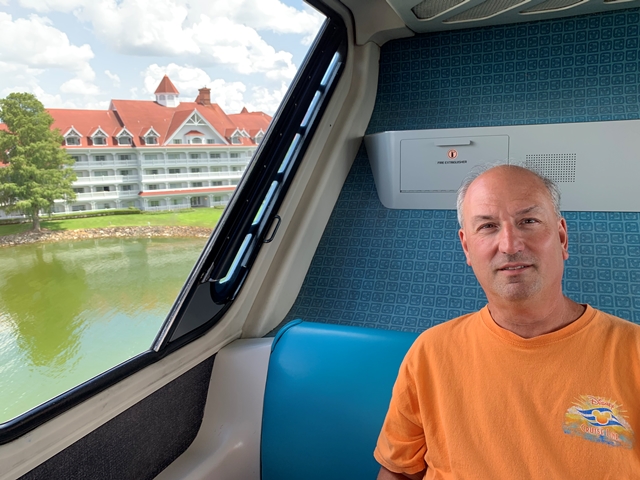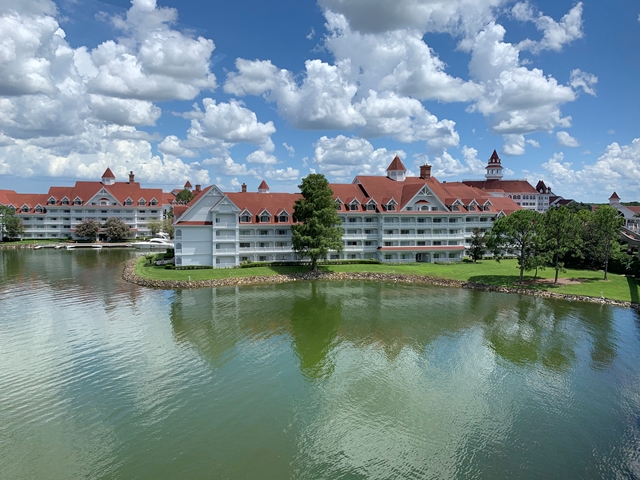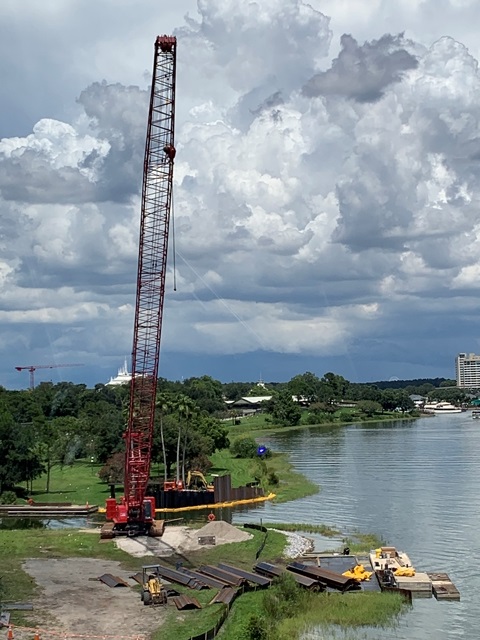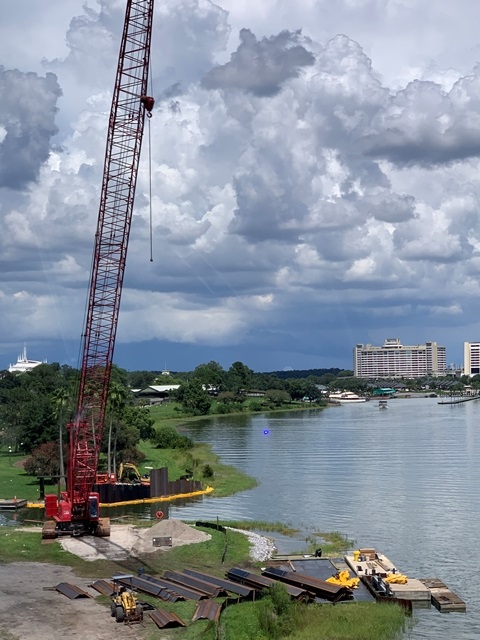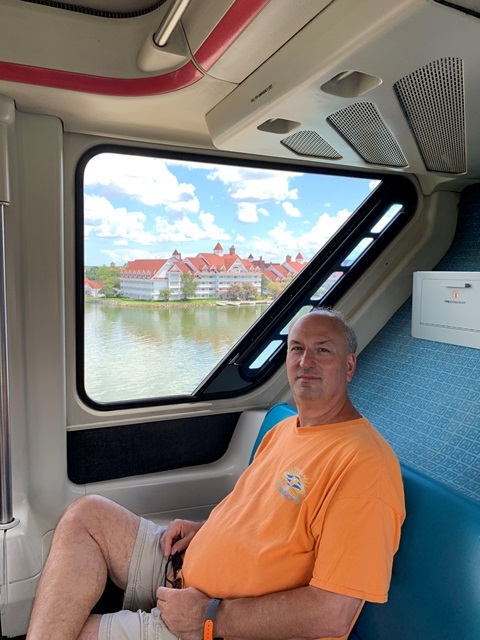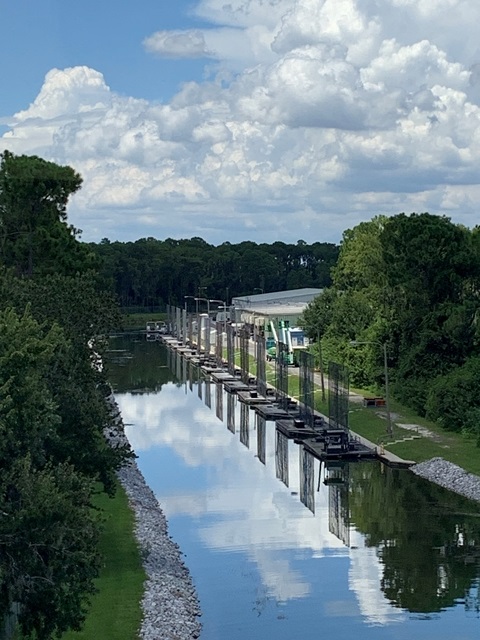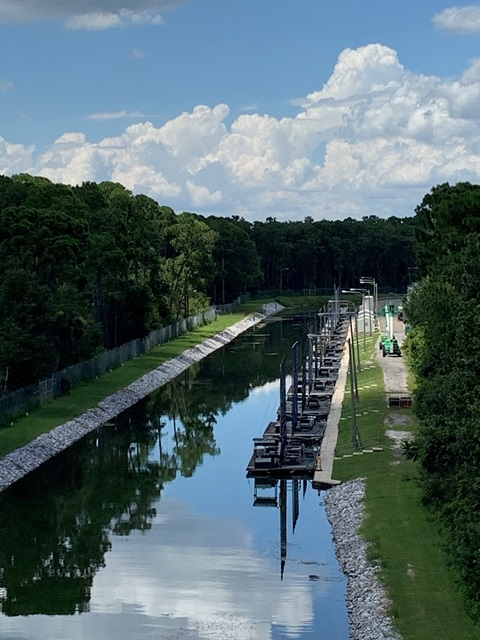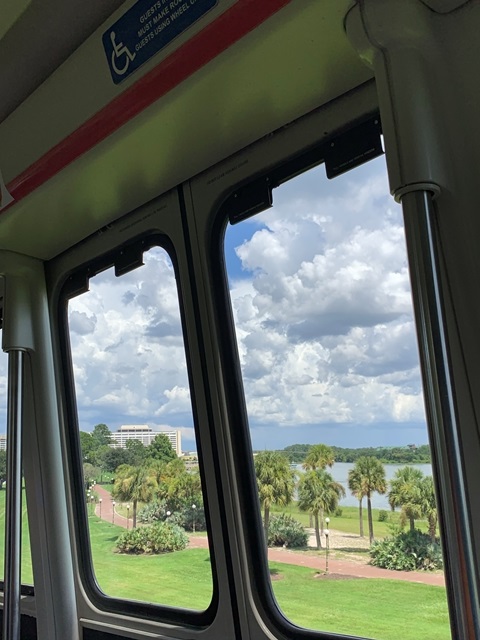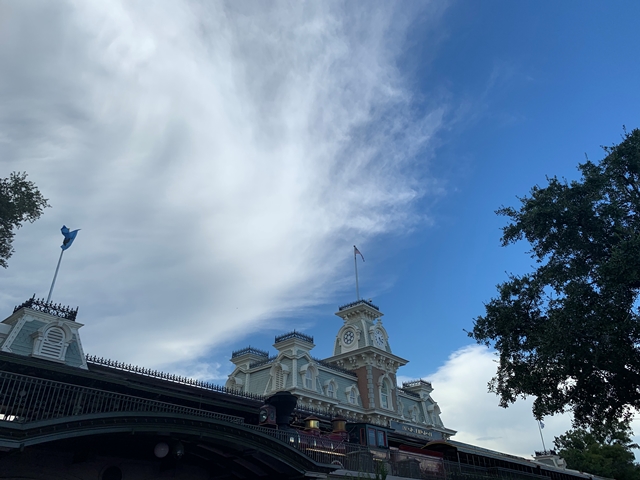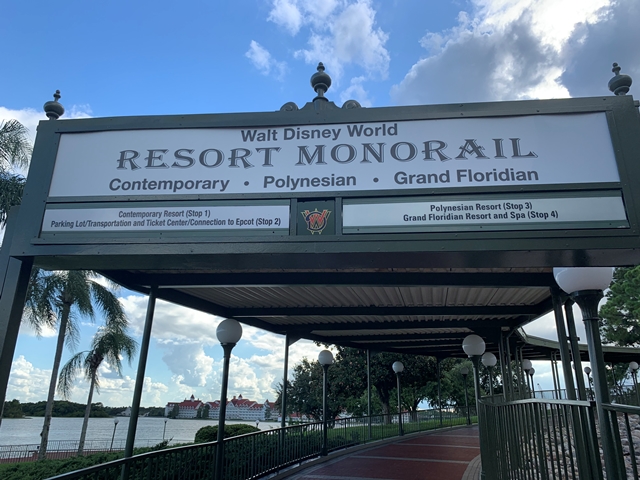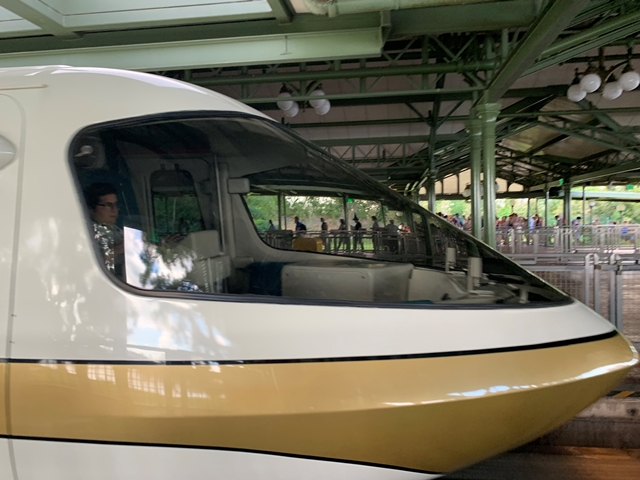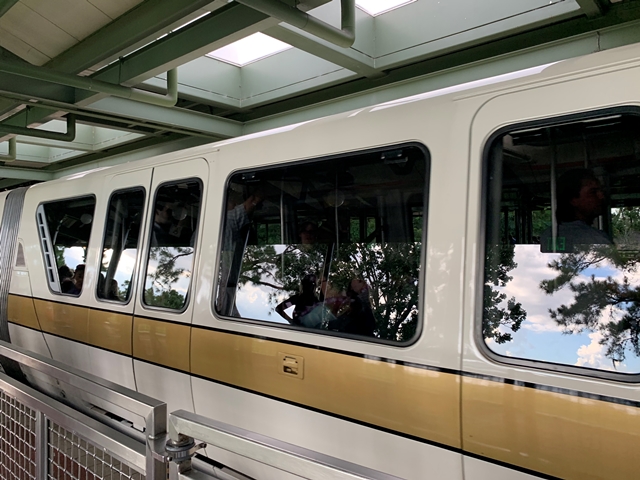 March 2019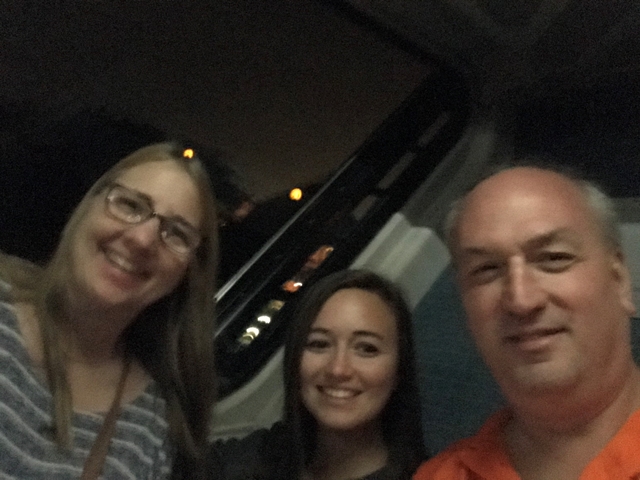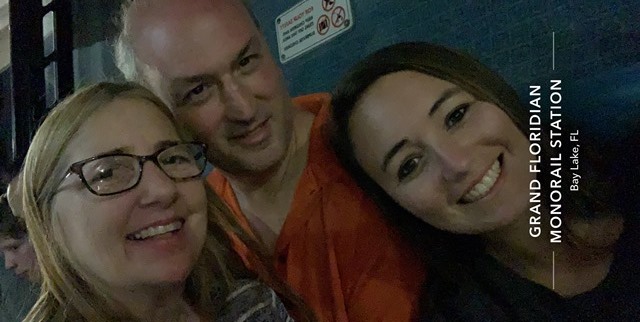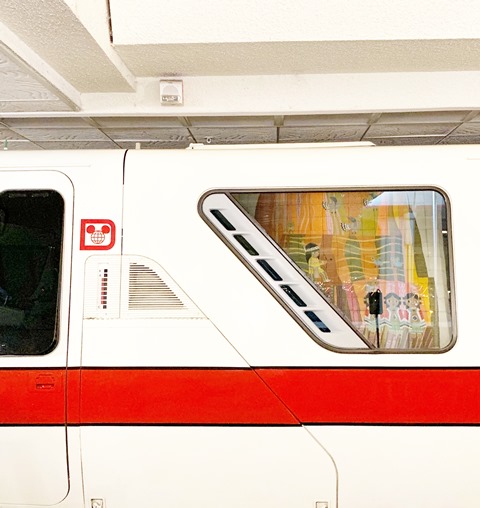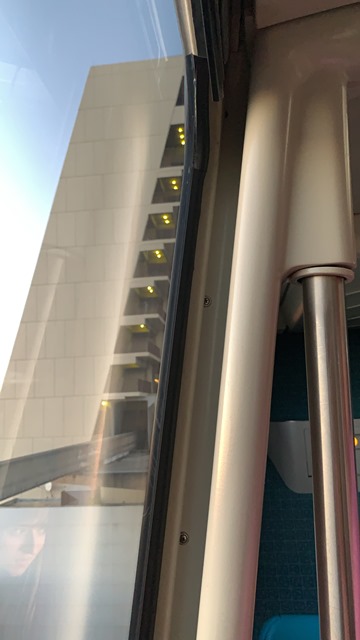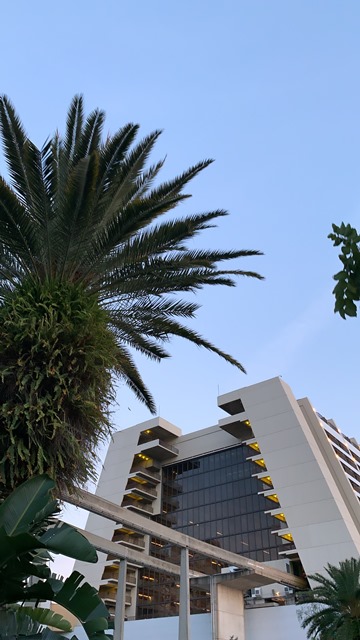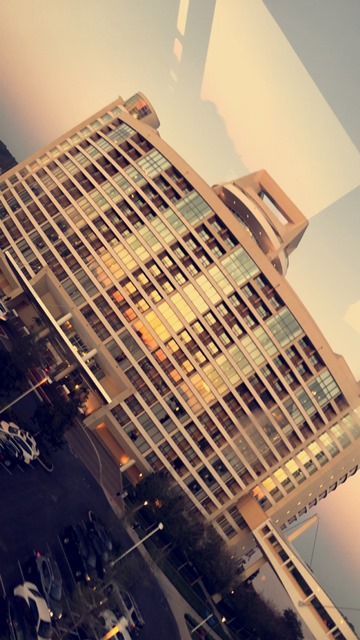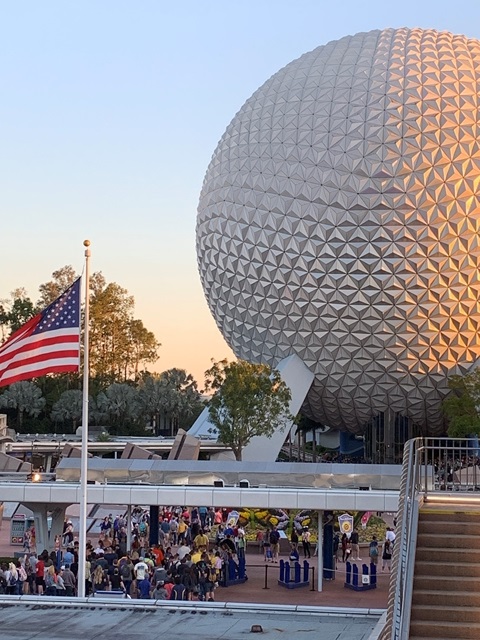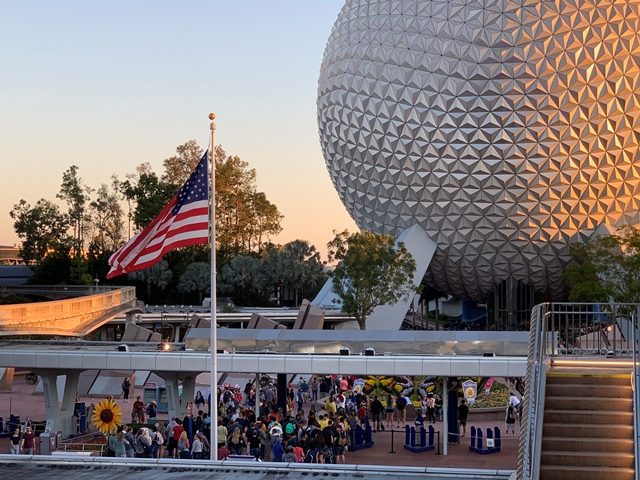 February 2019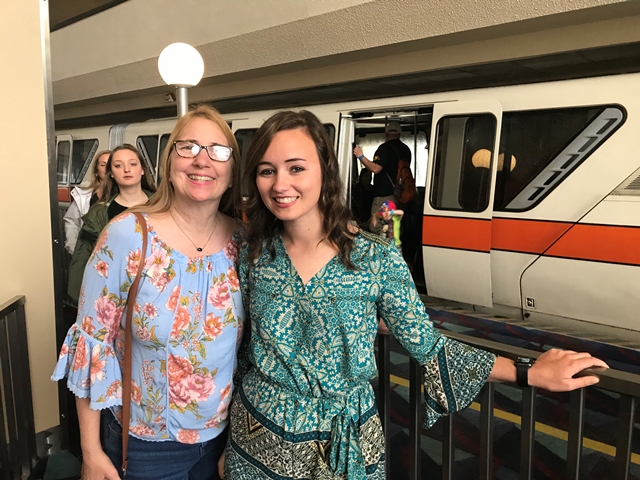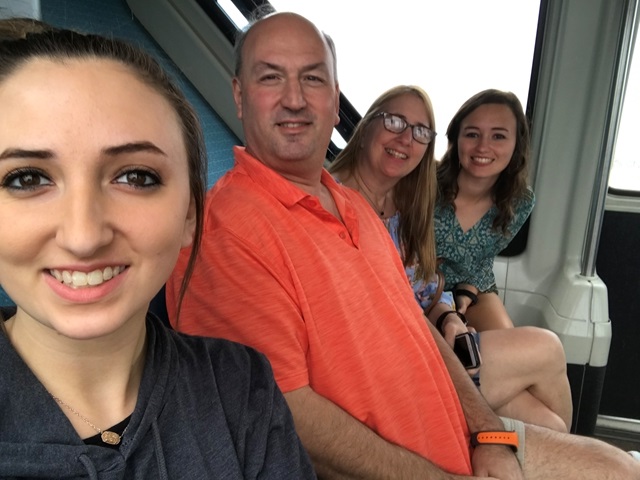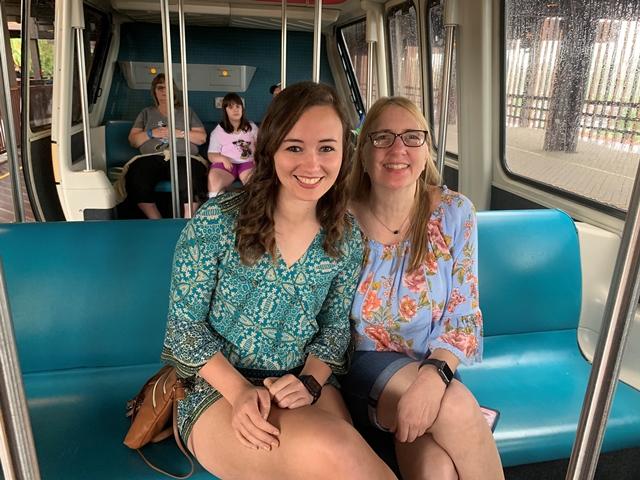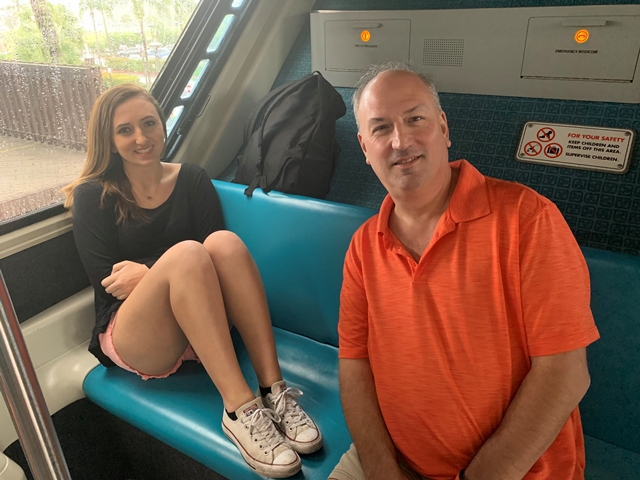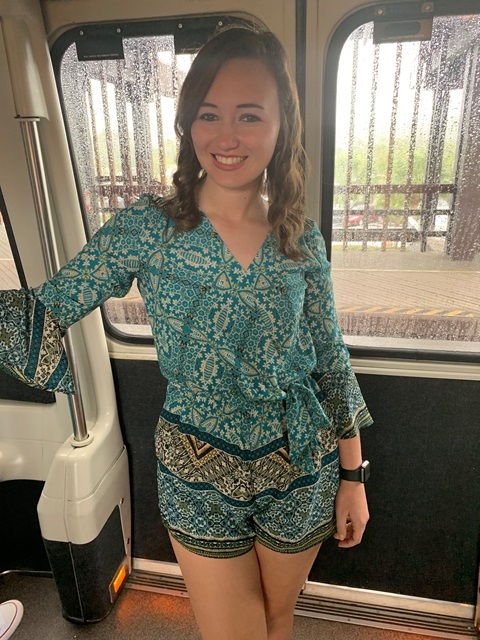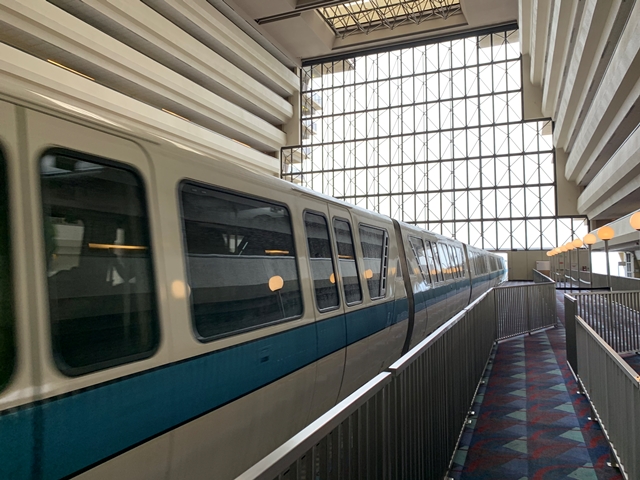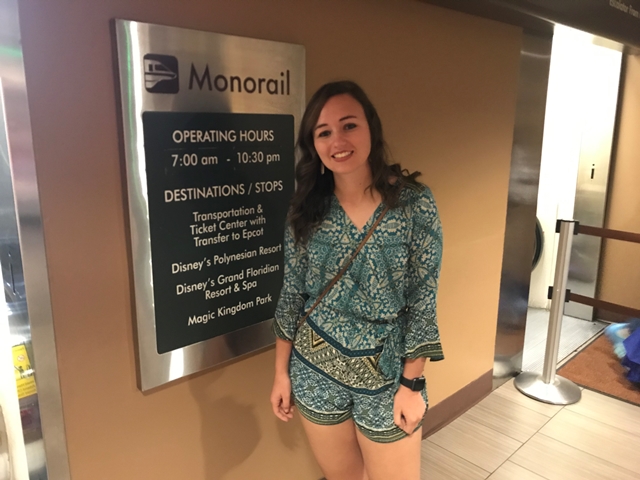 January 2019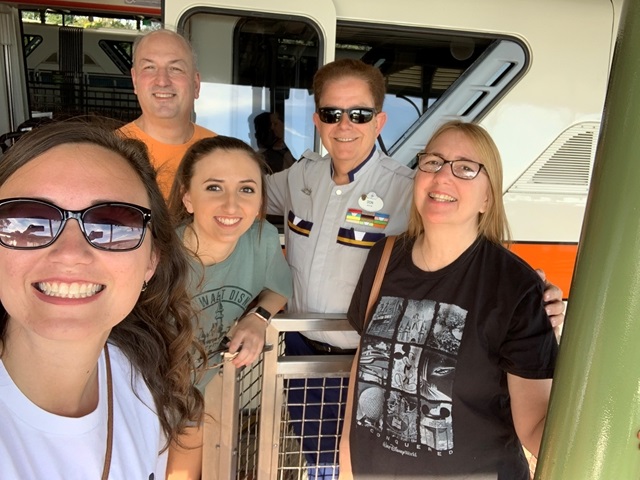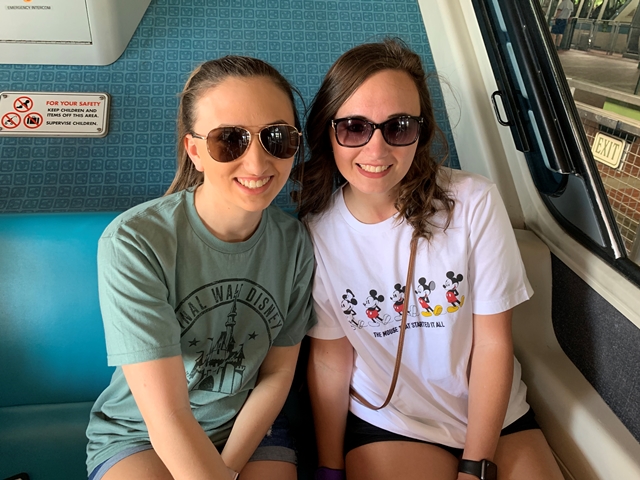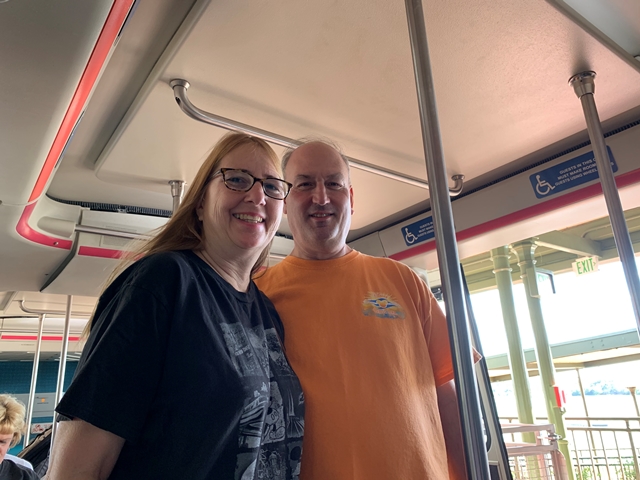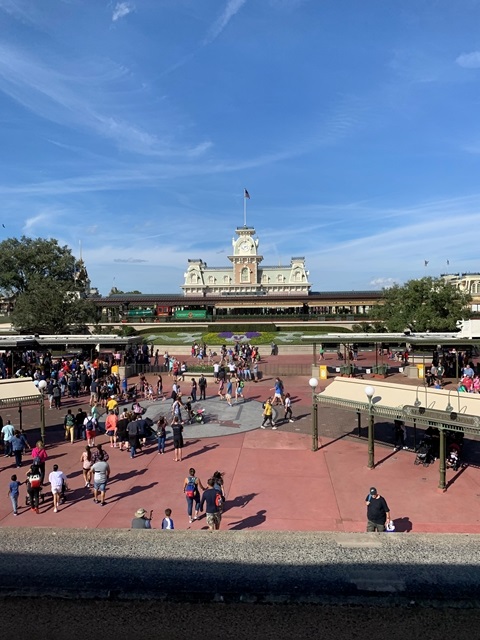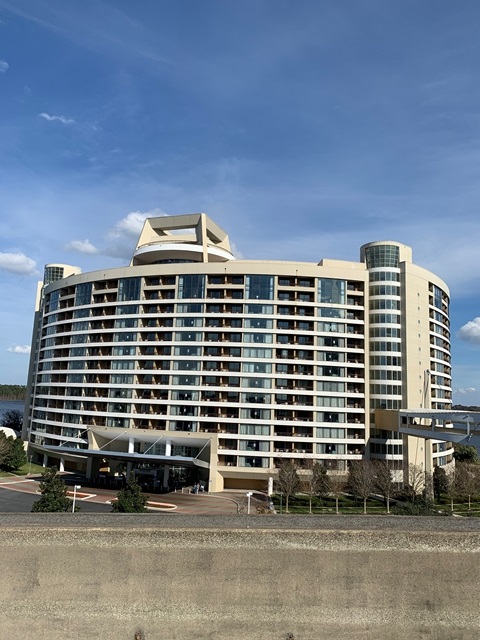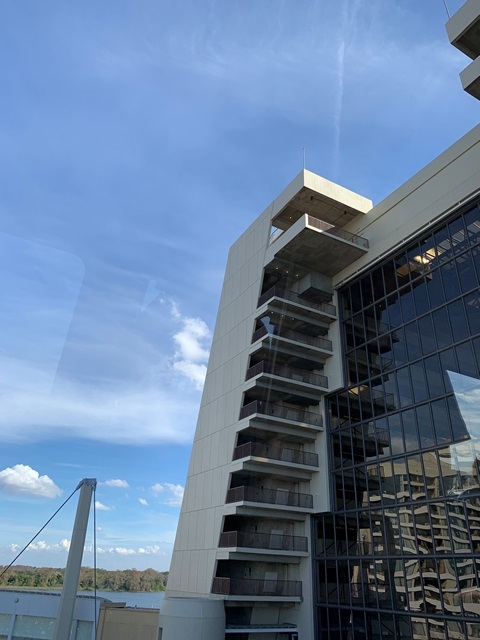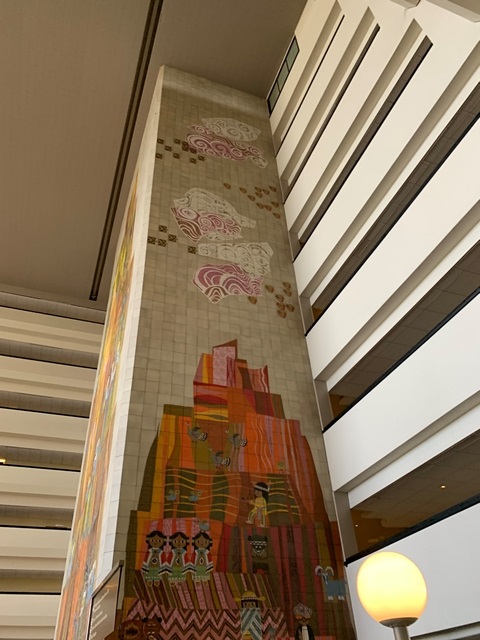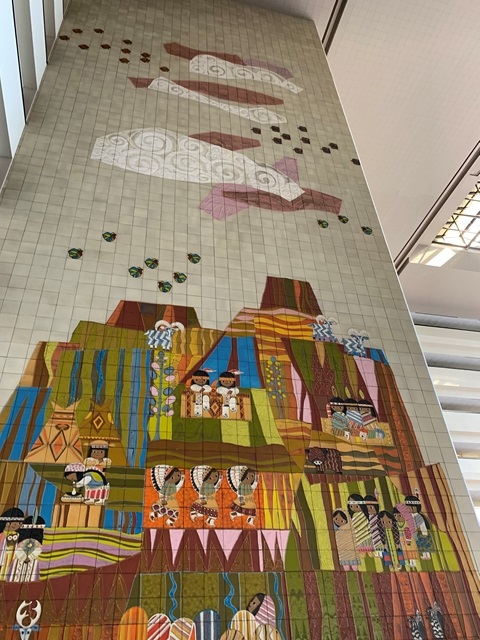 July 2018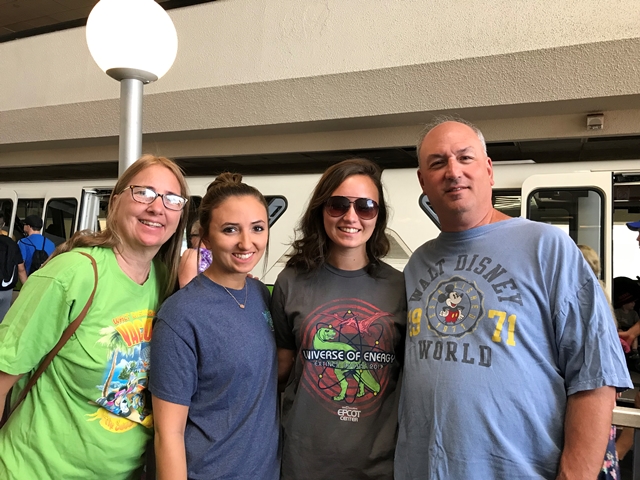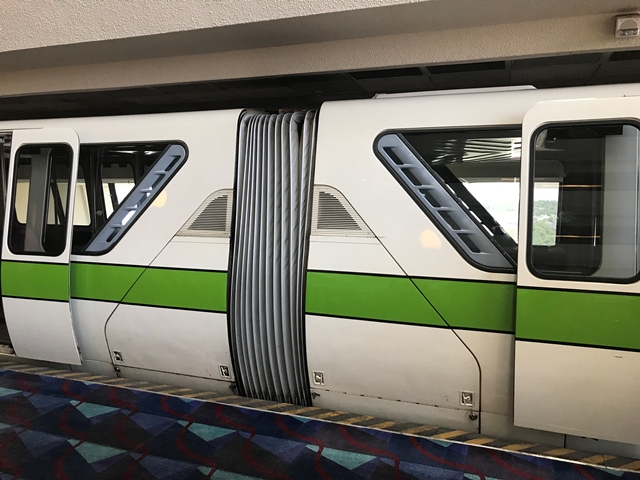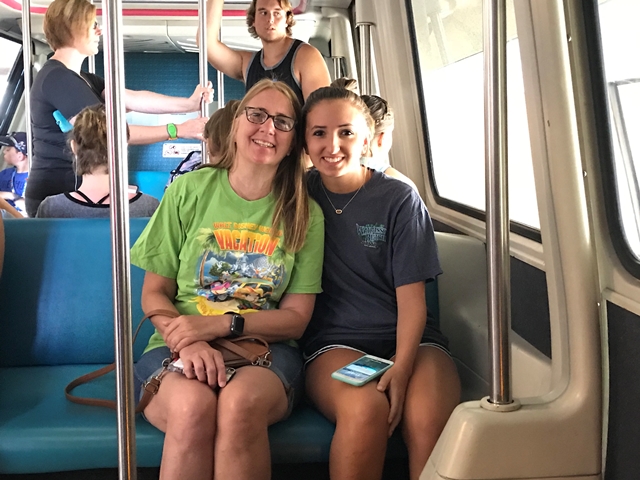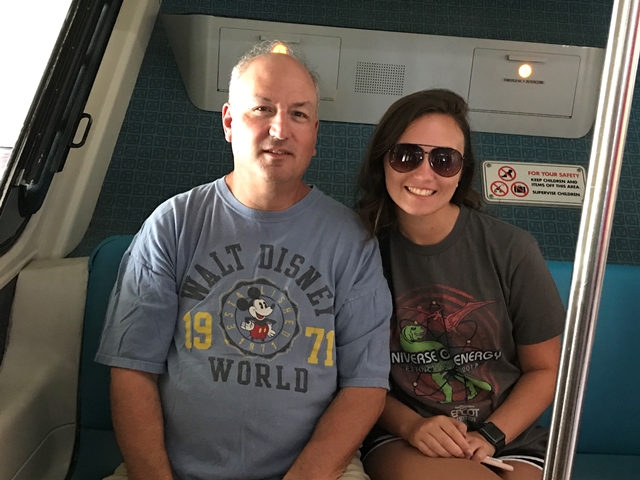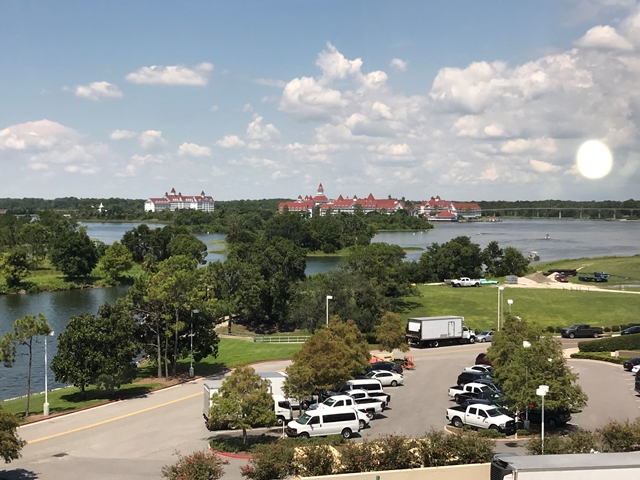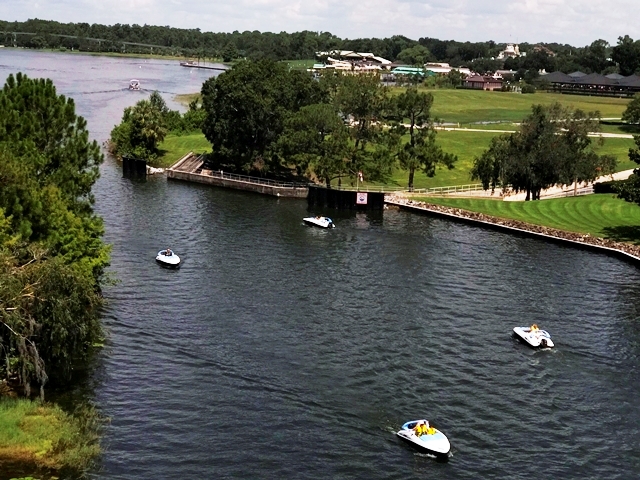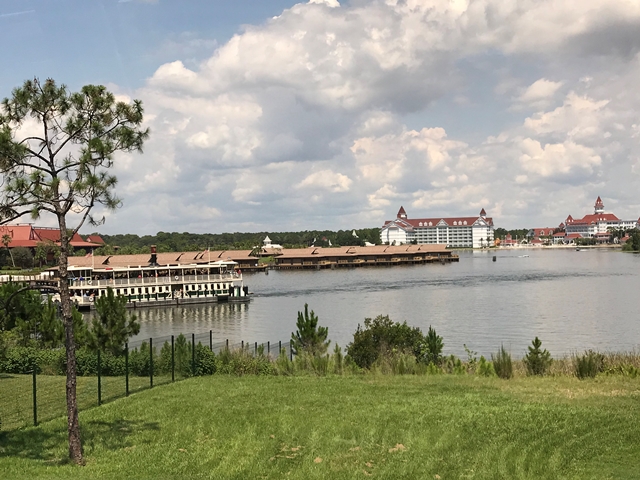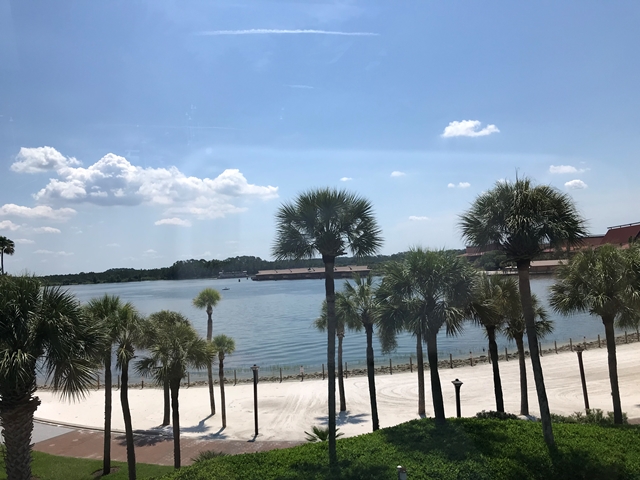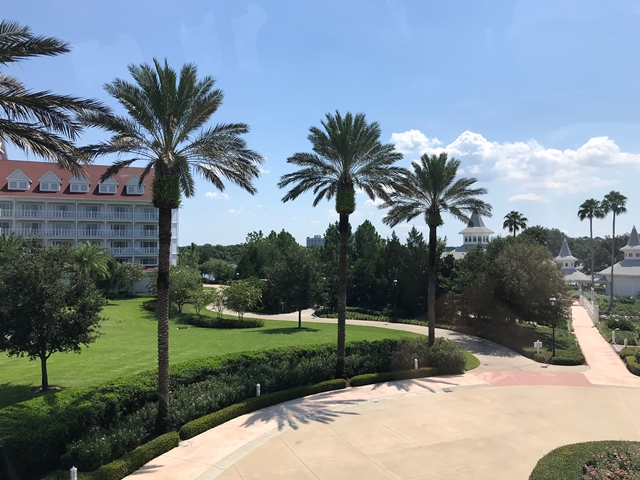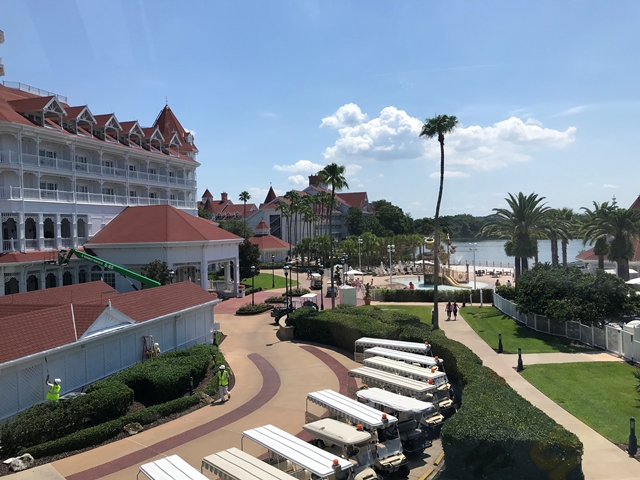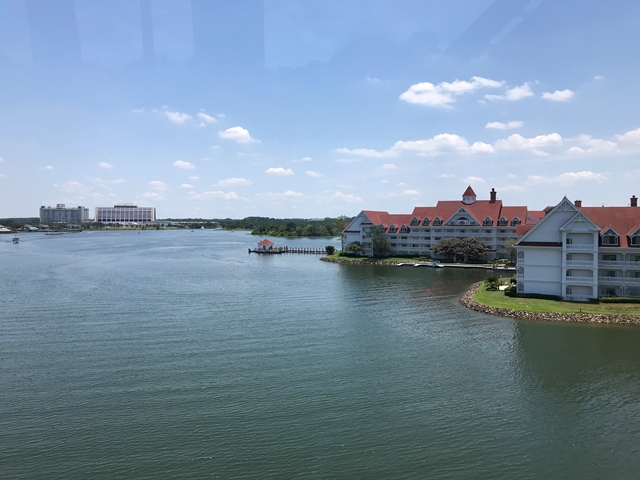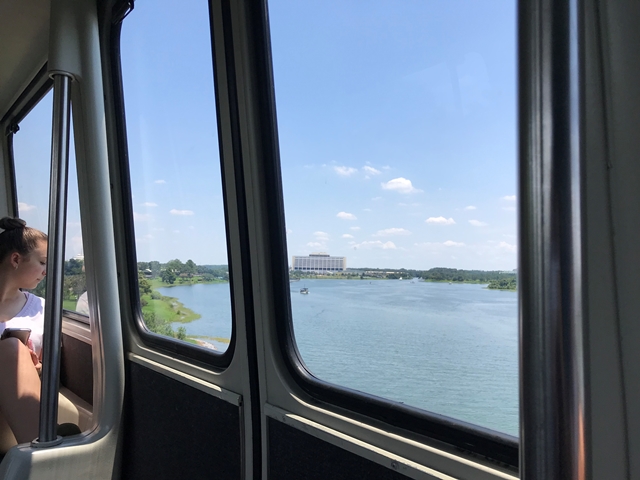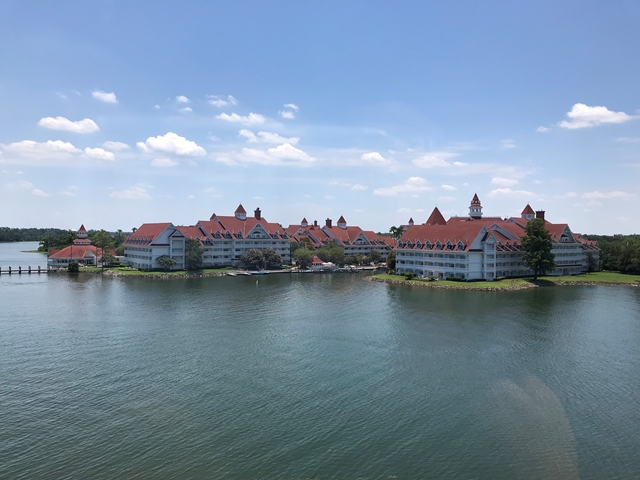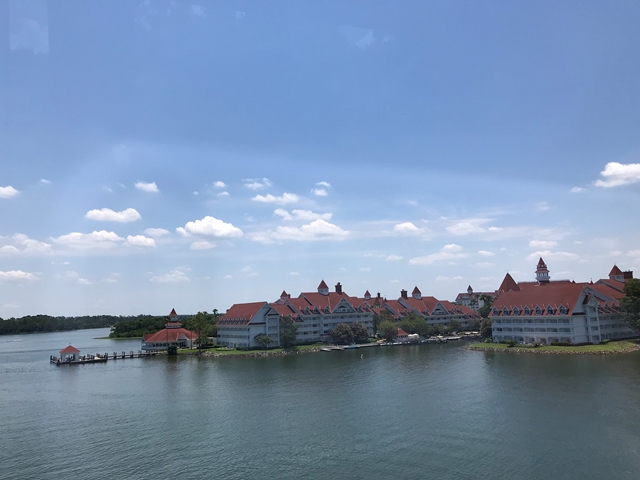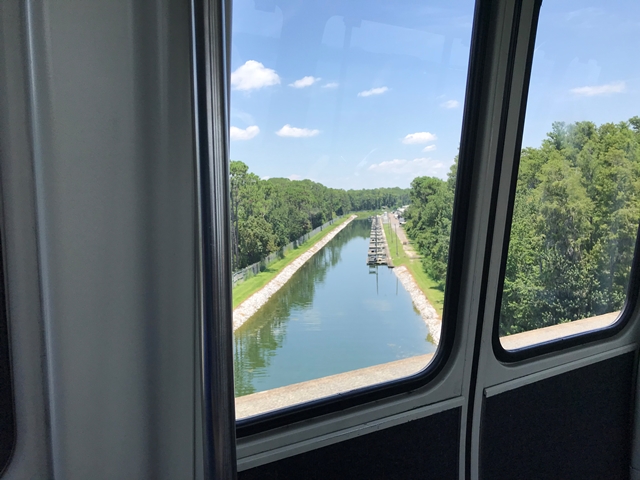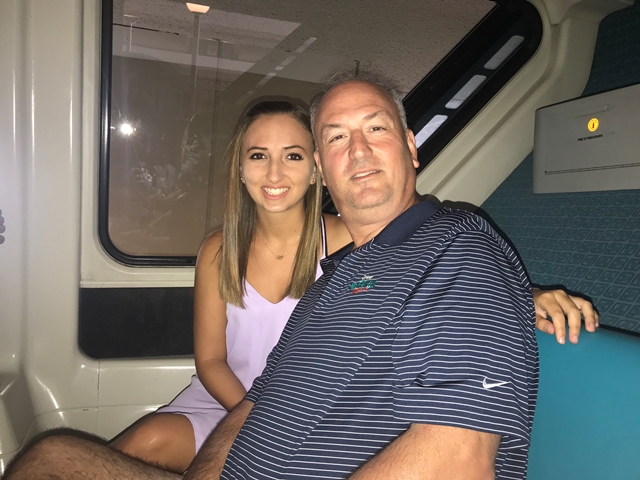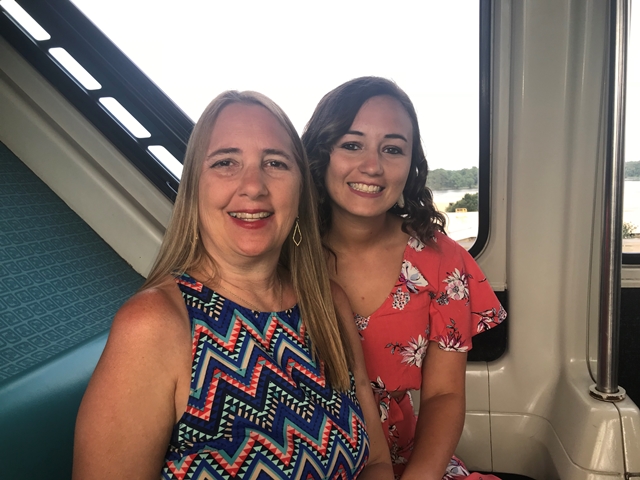 July 2017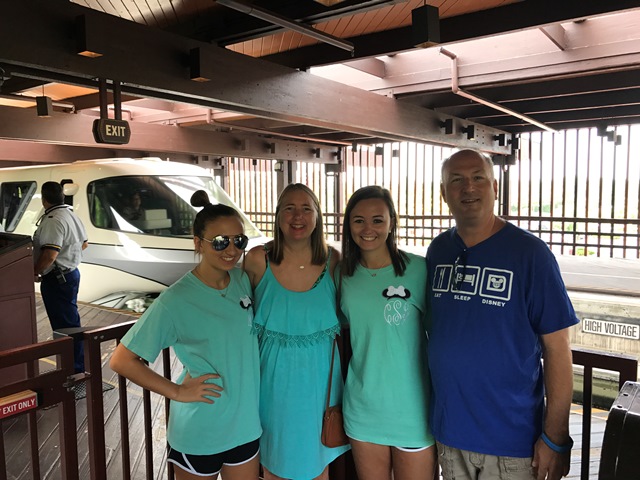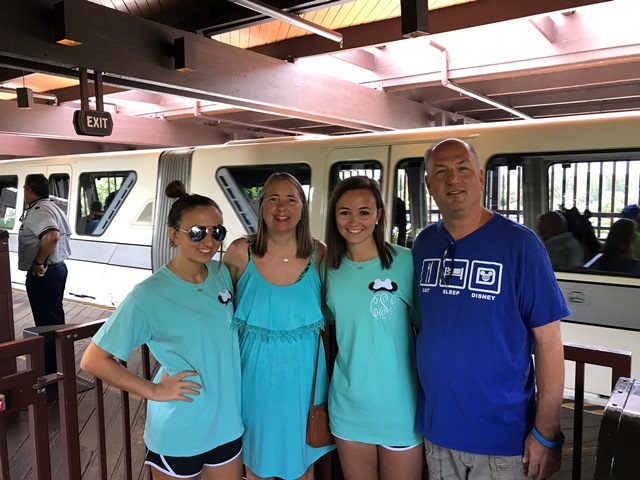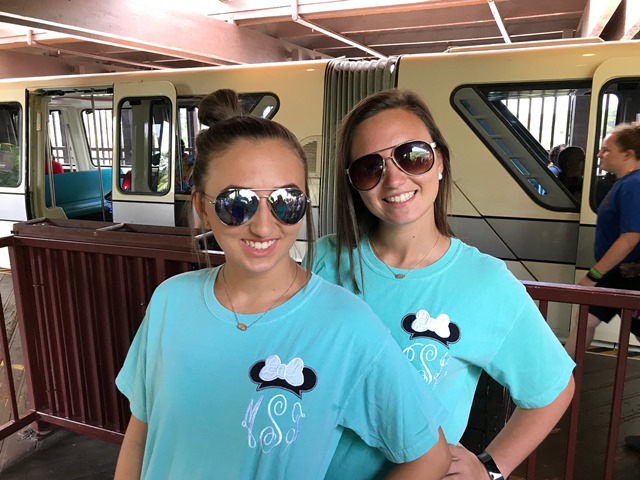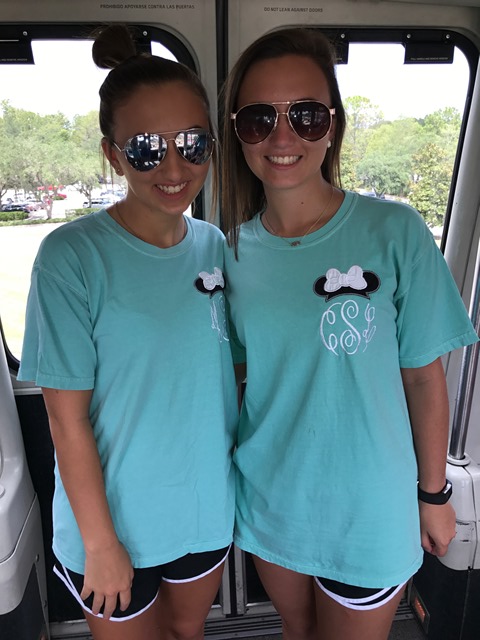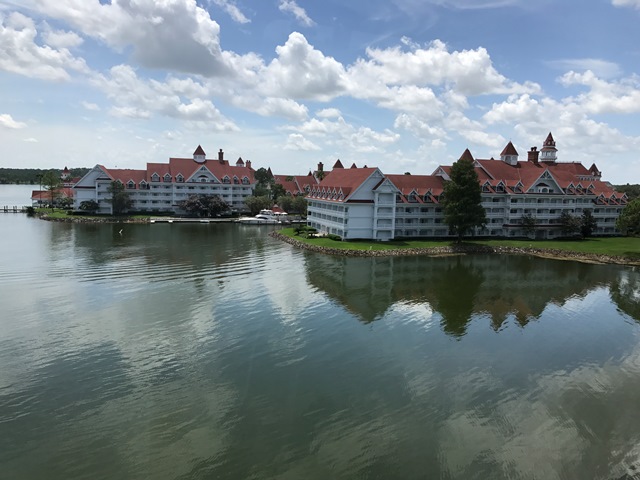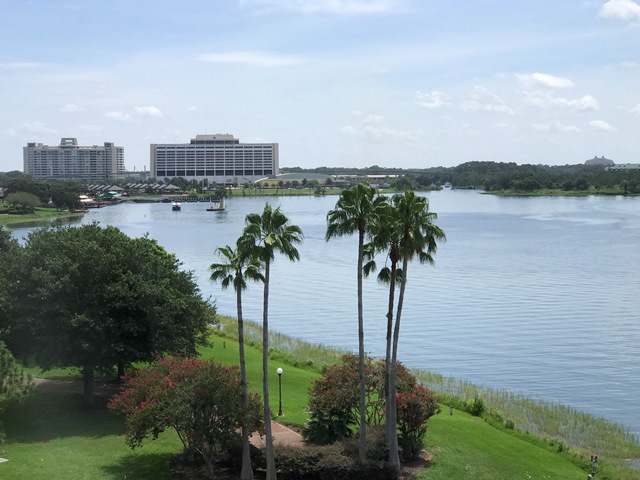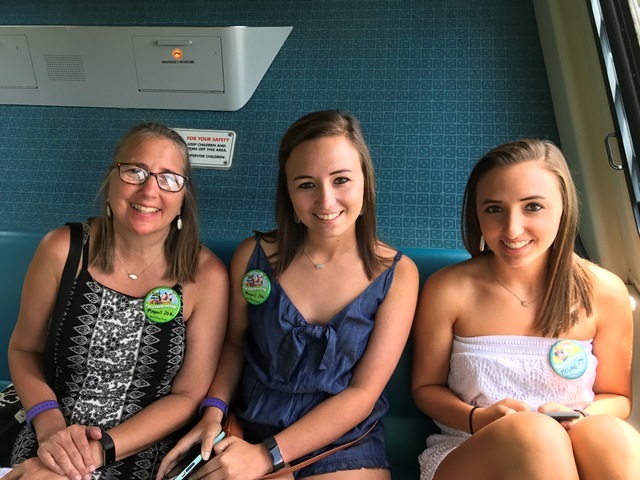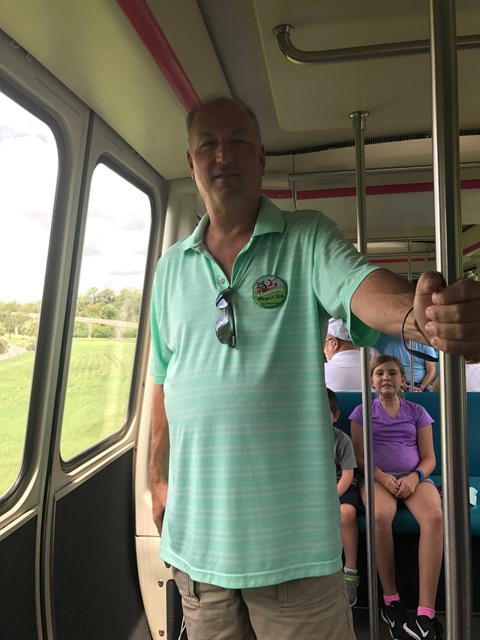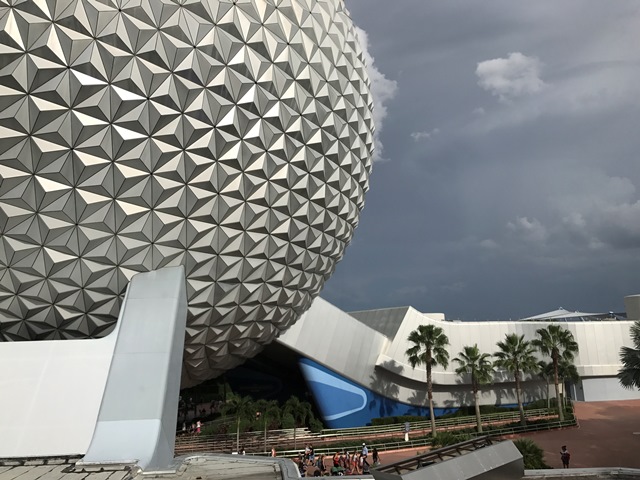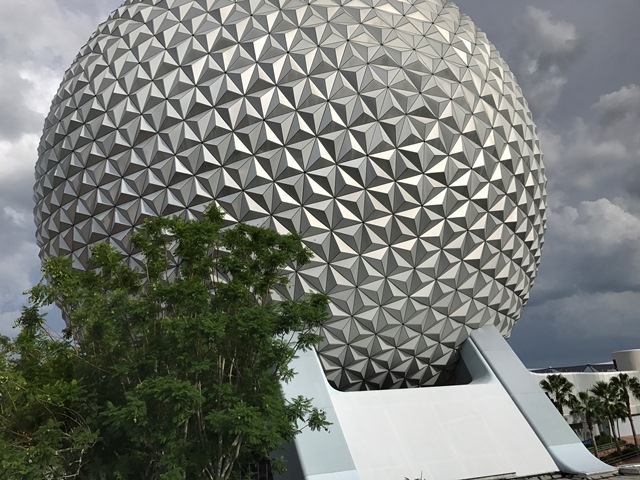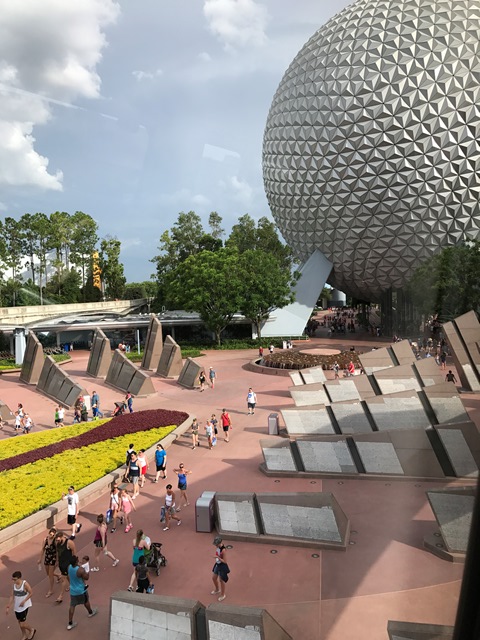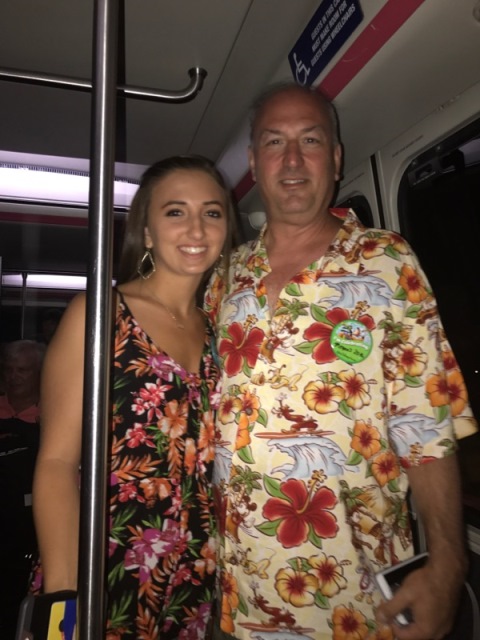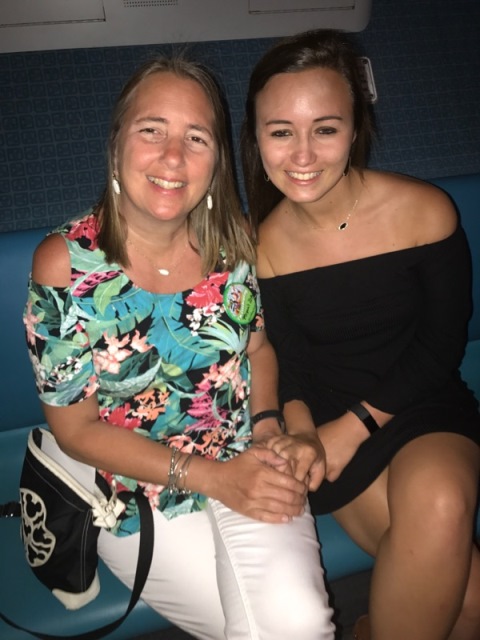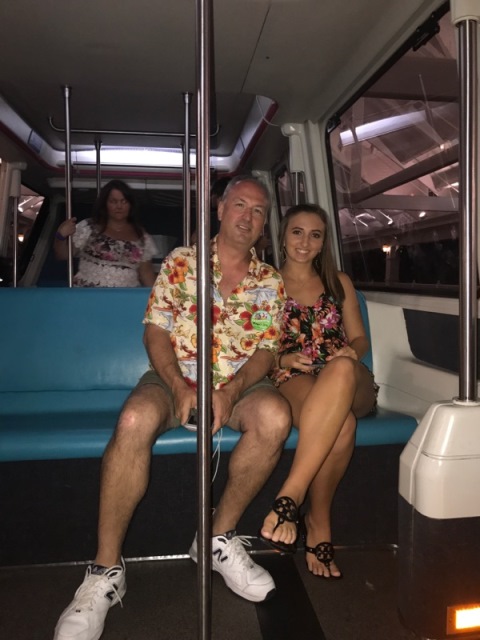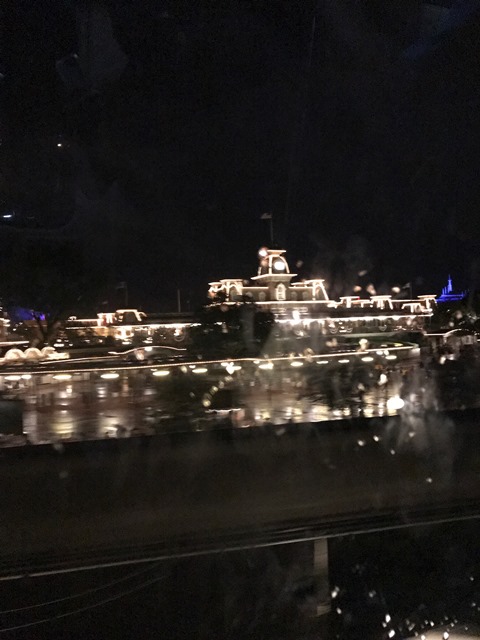 July 2015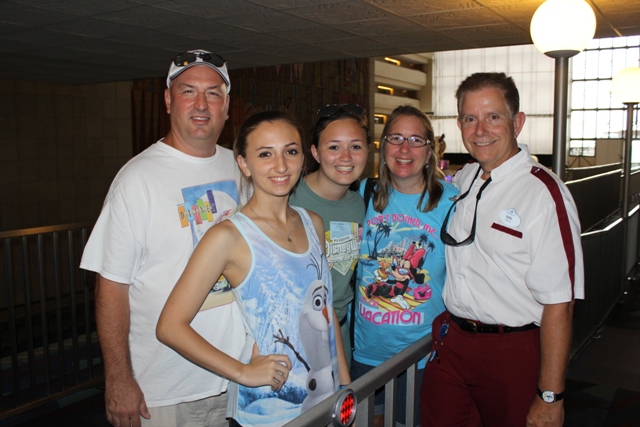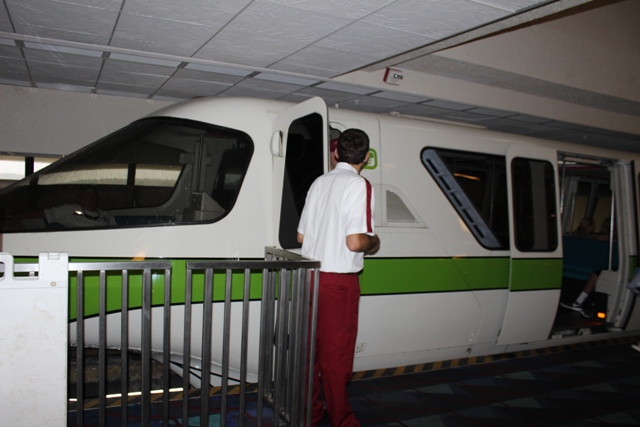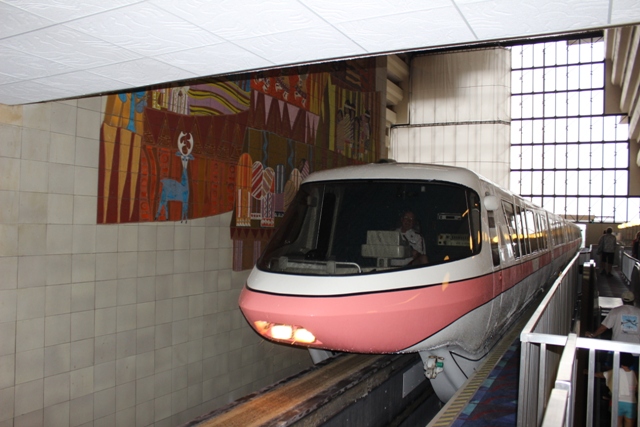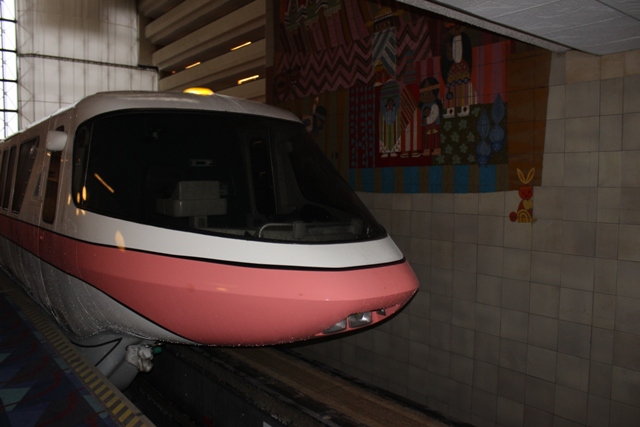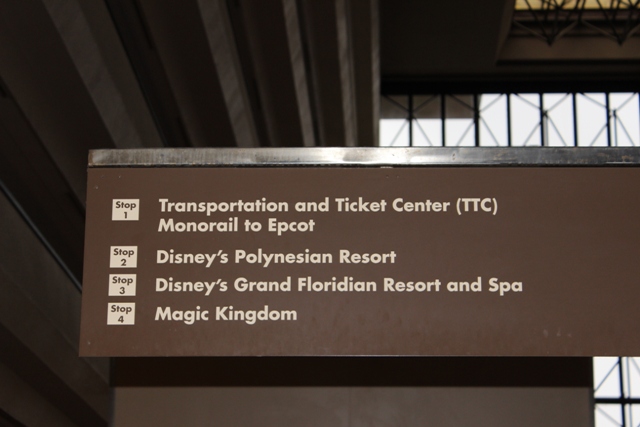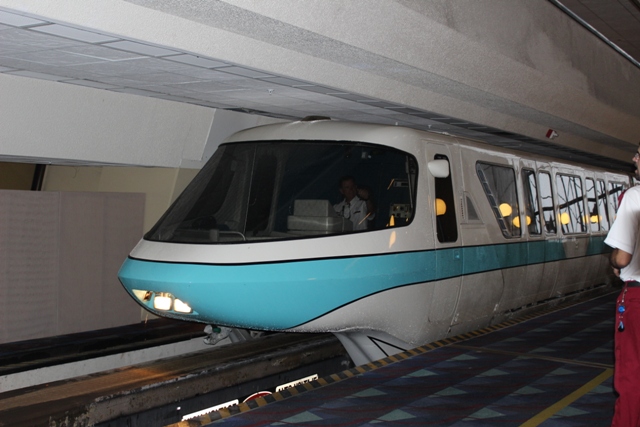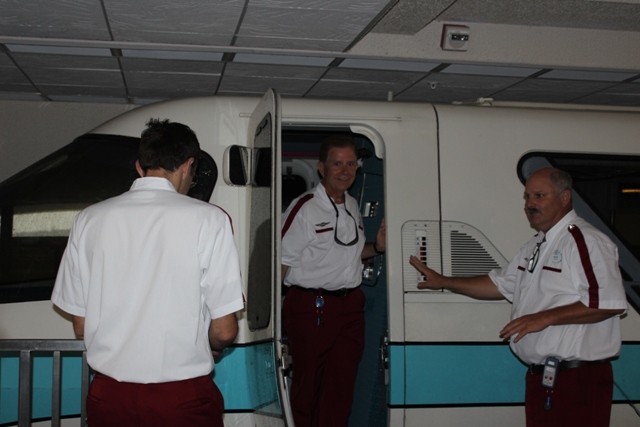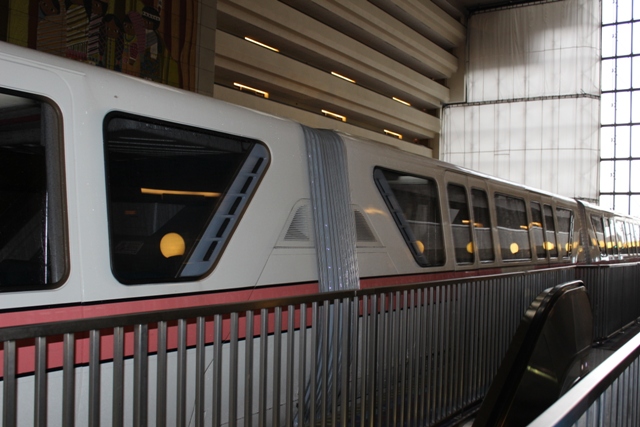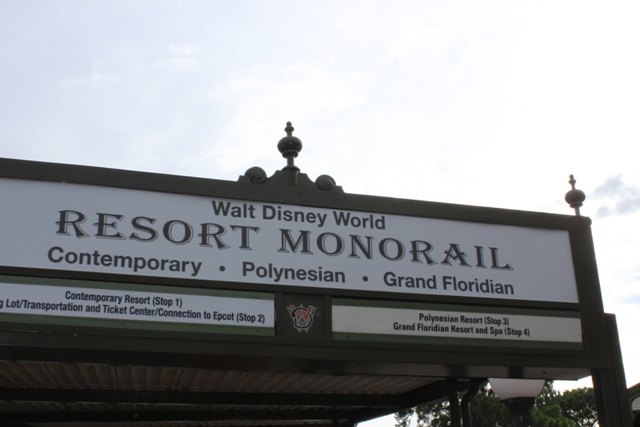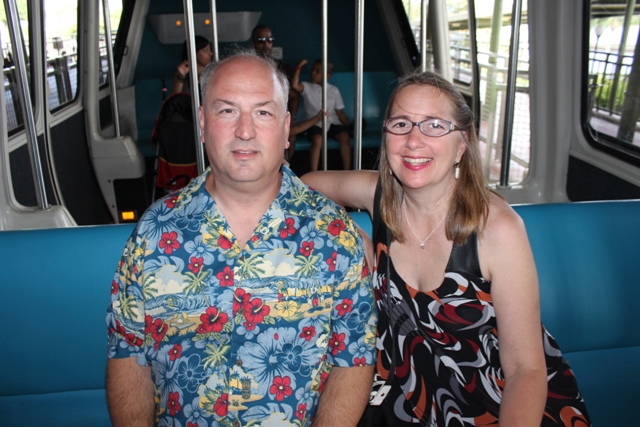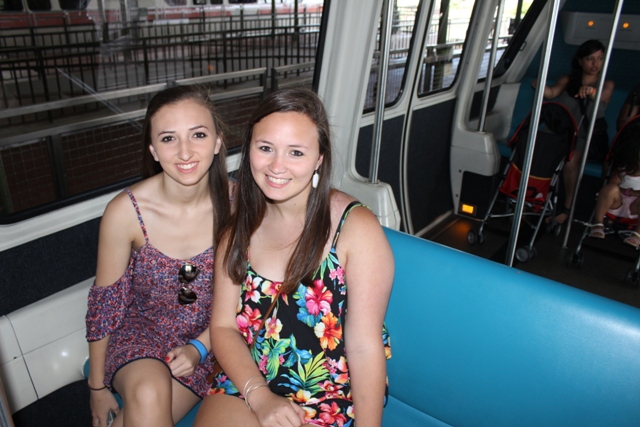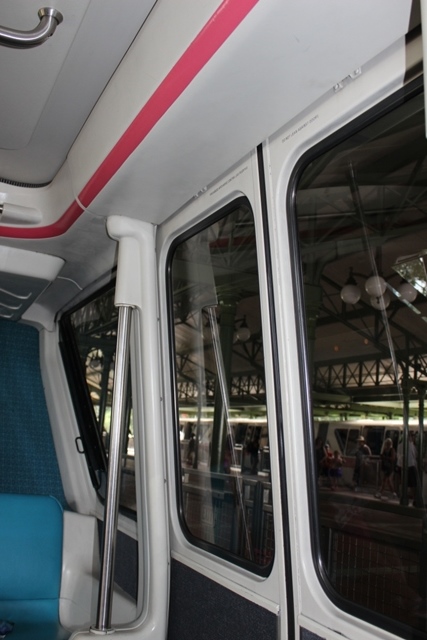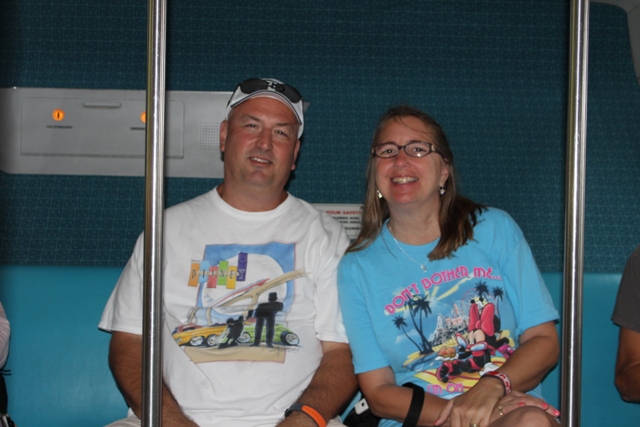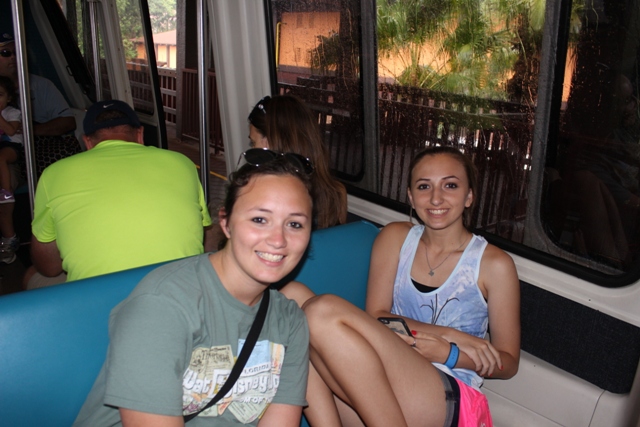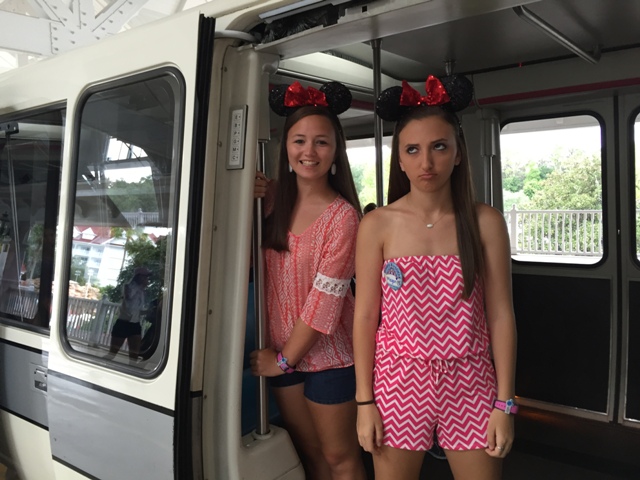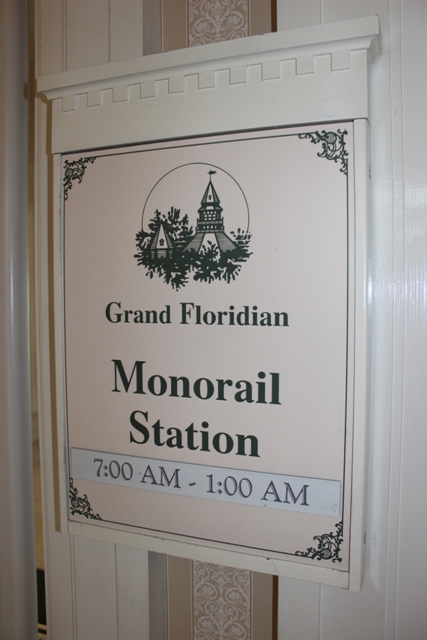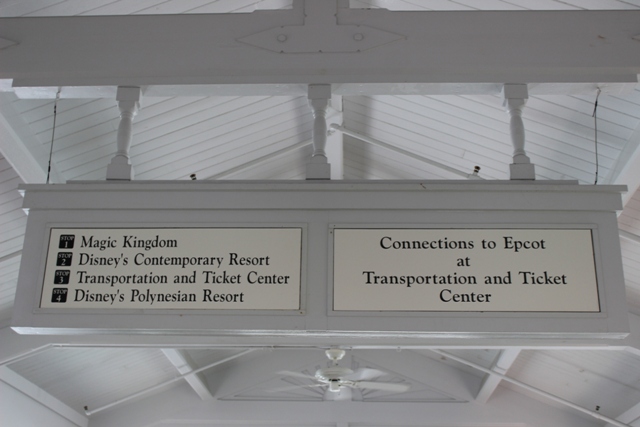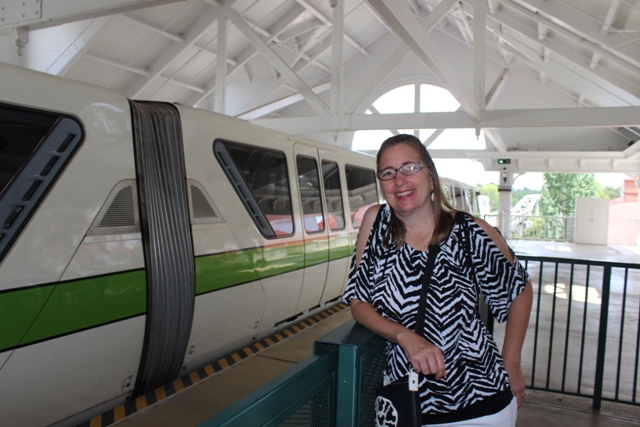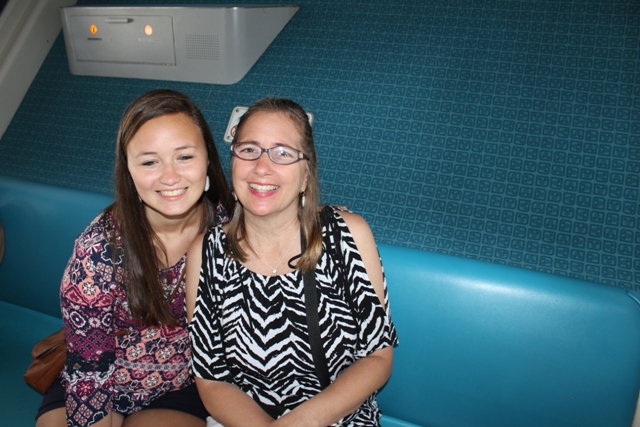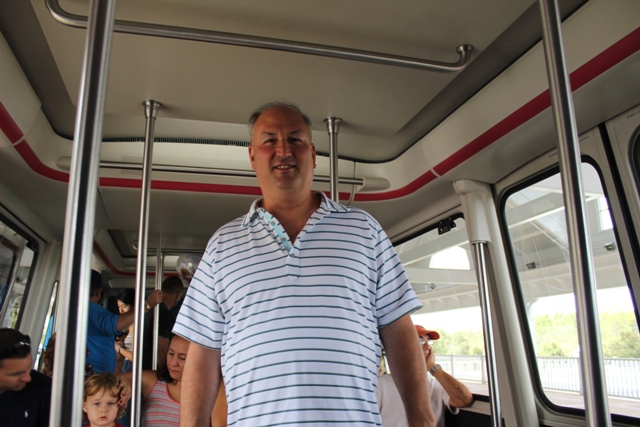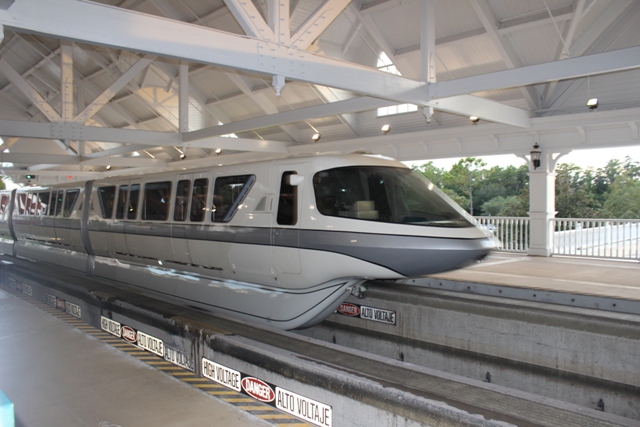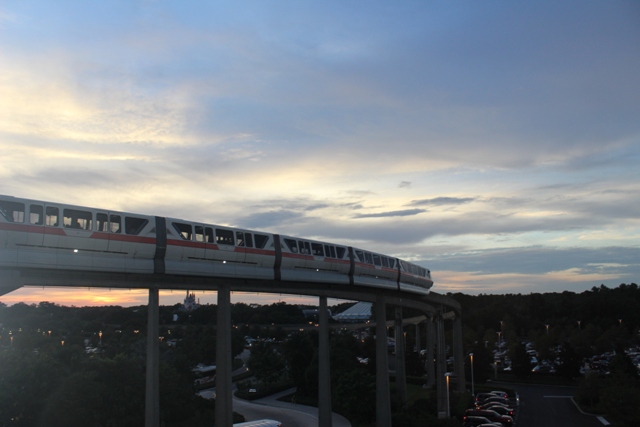 March 2015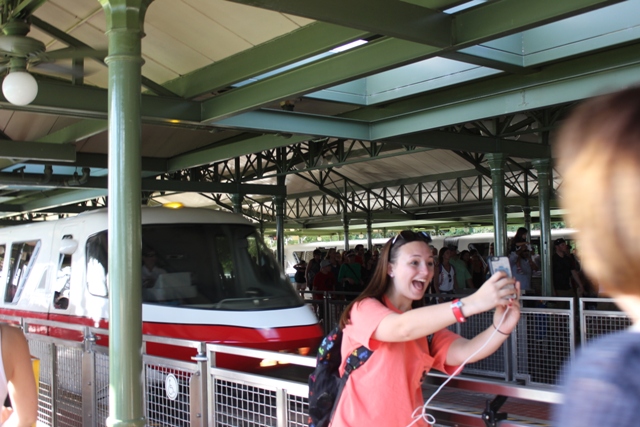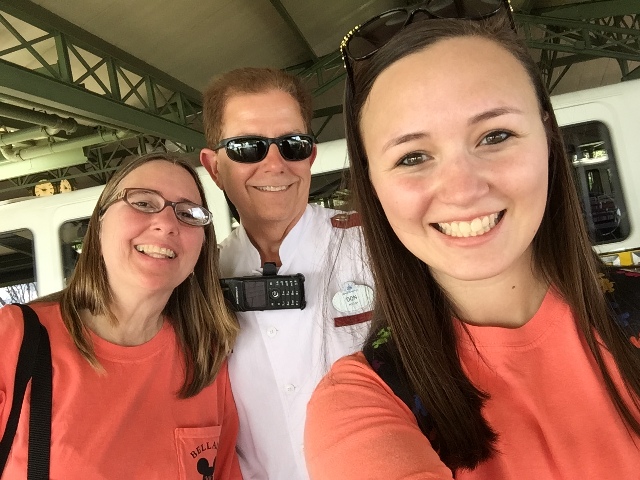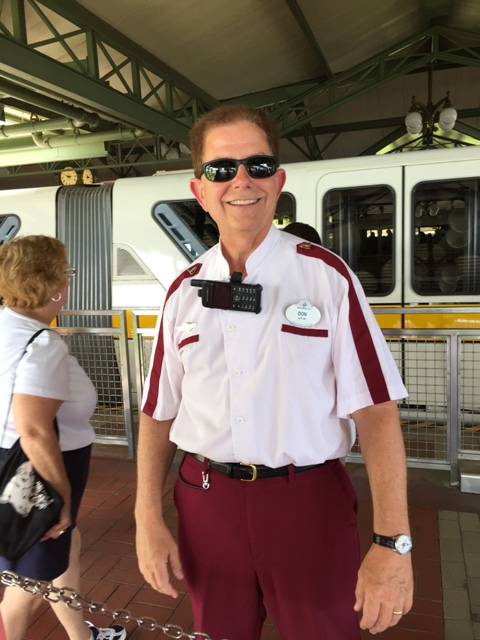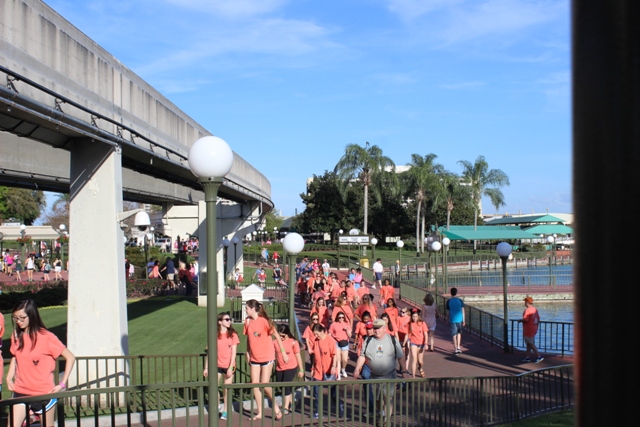 July 2014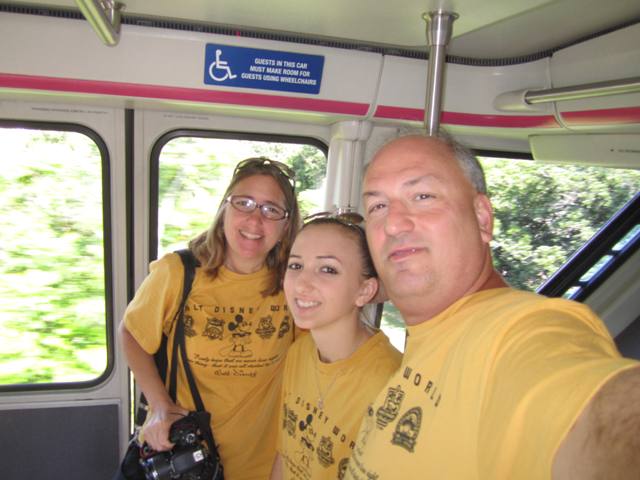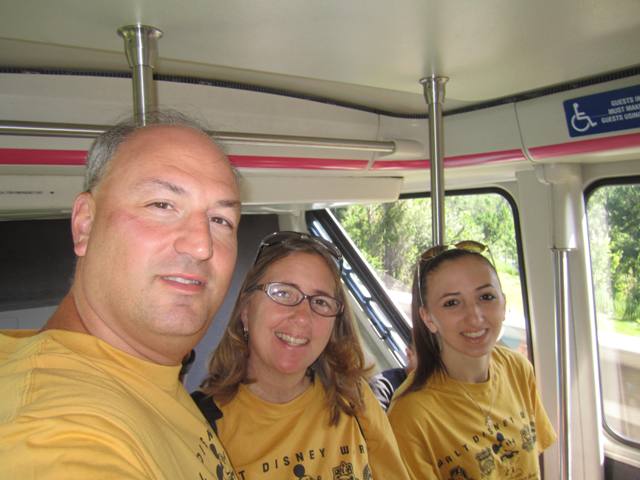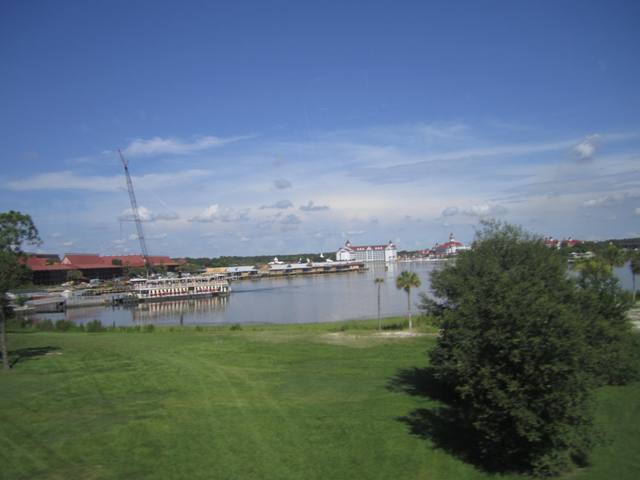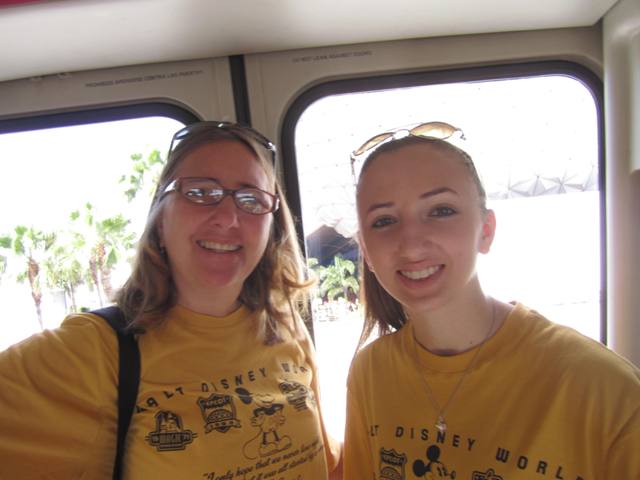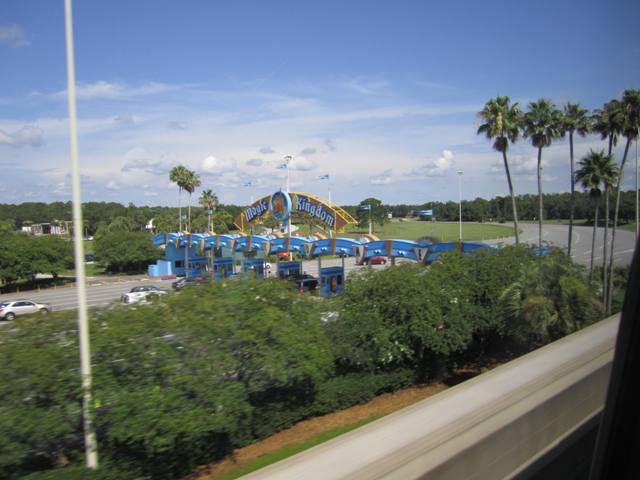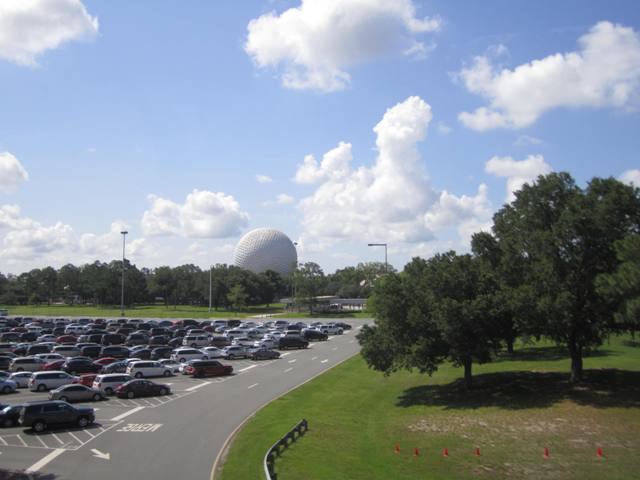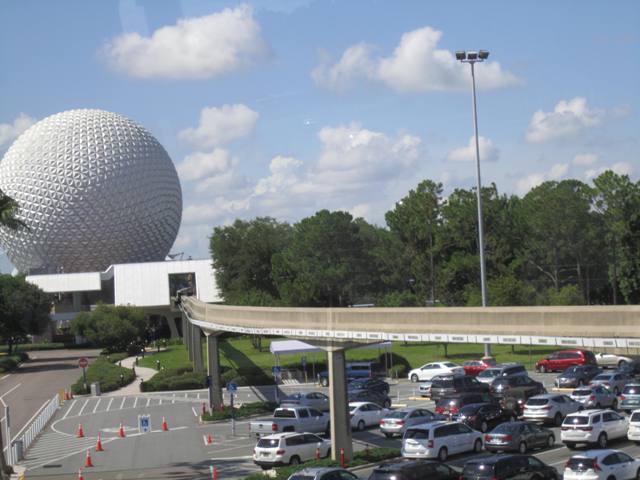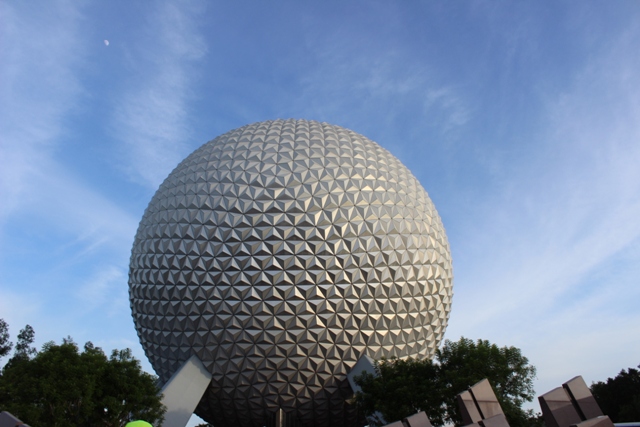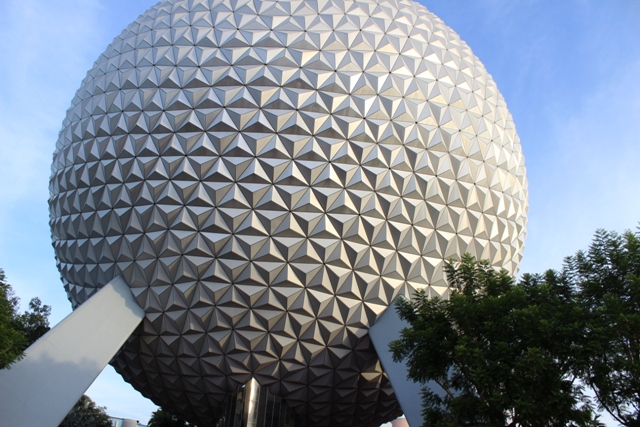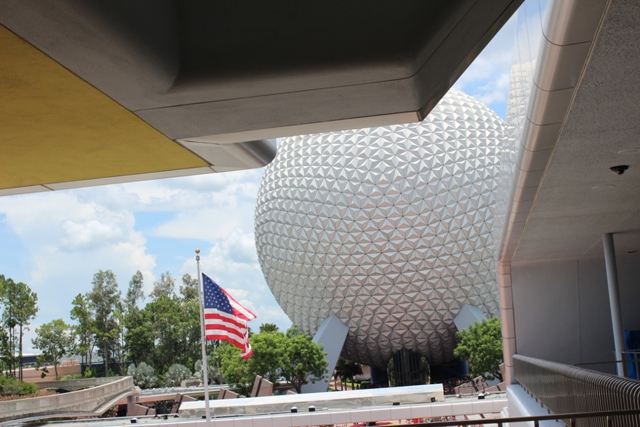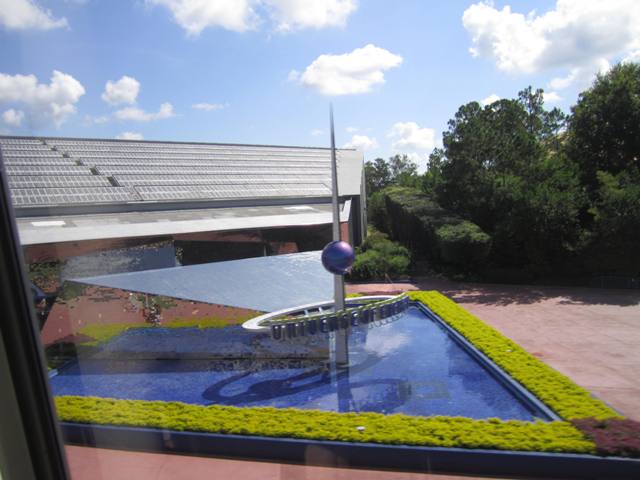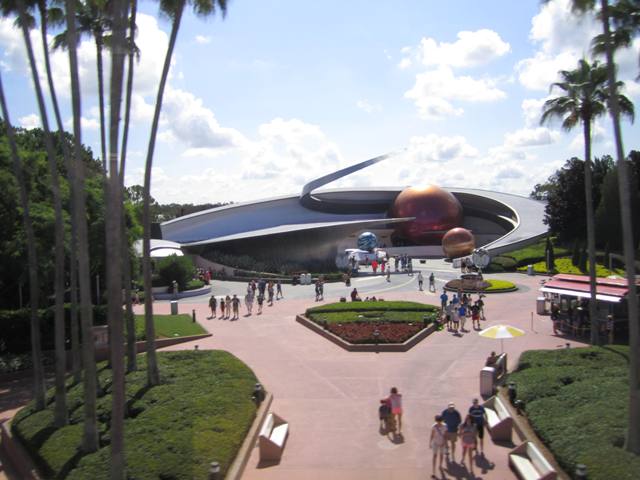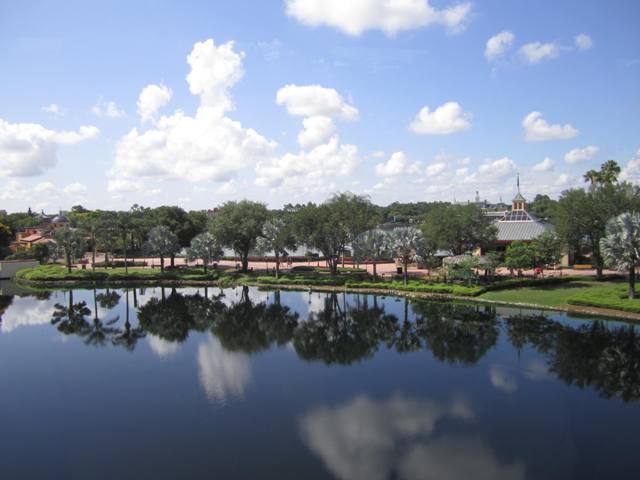 July 2013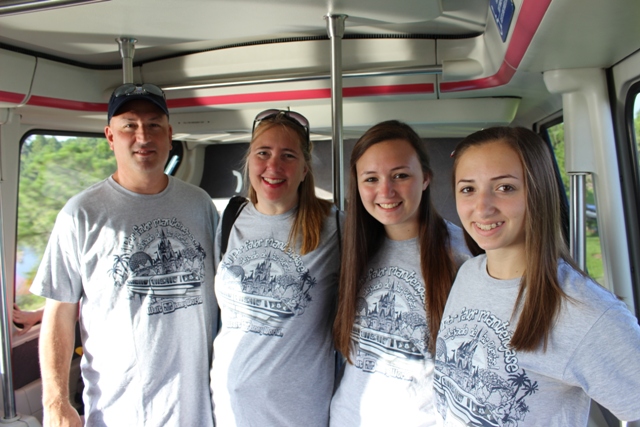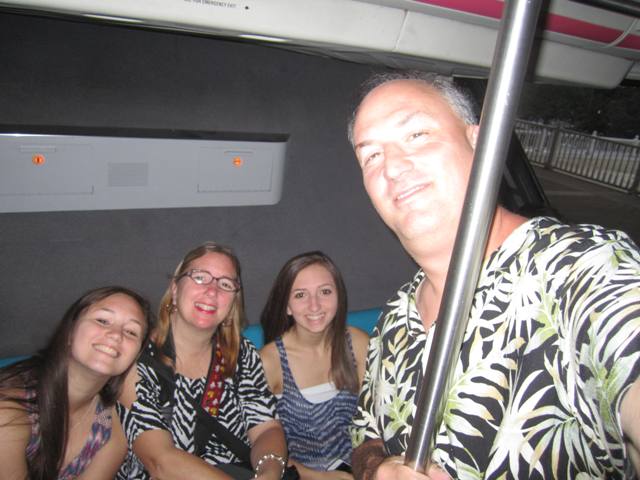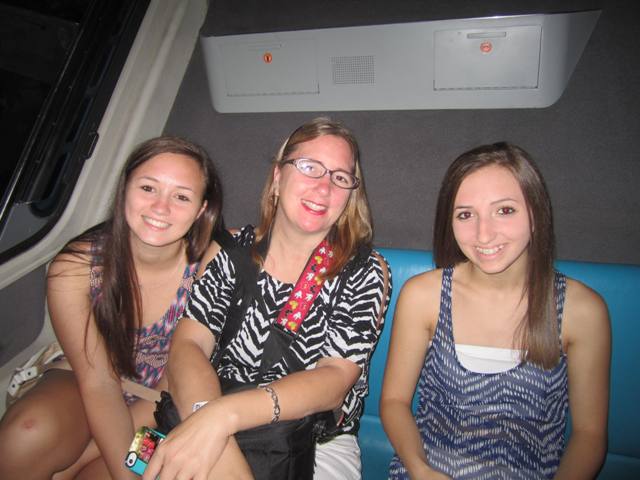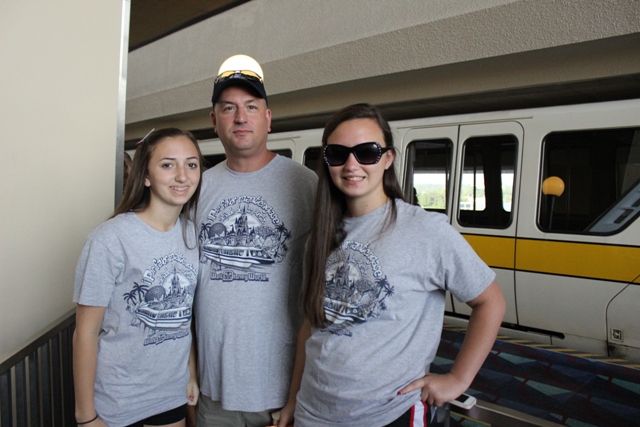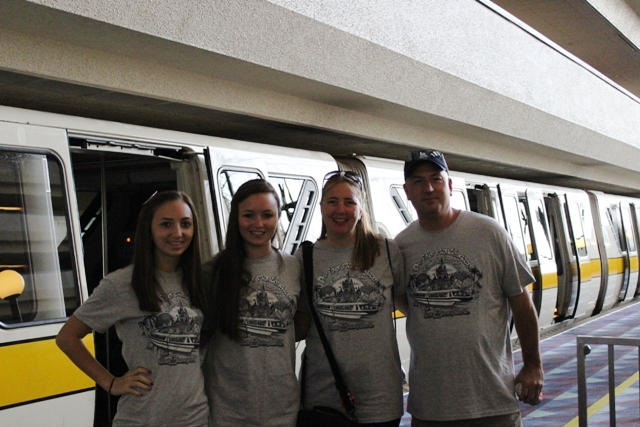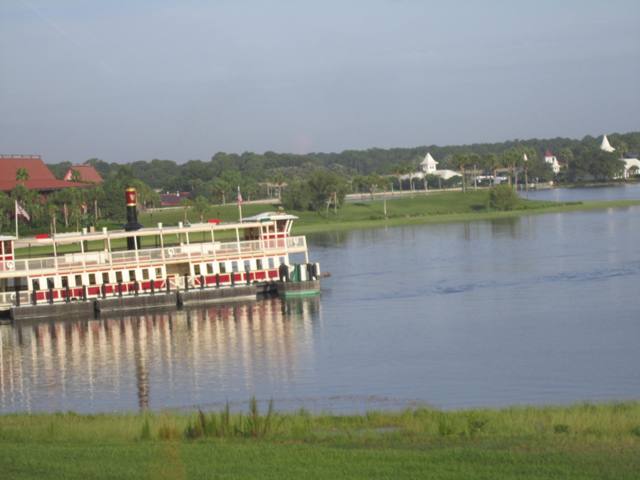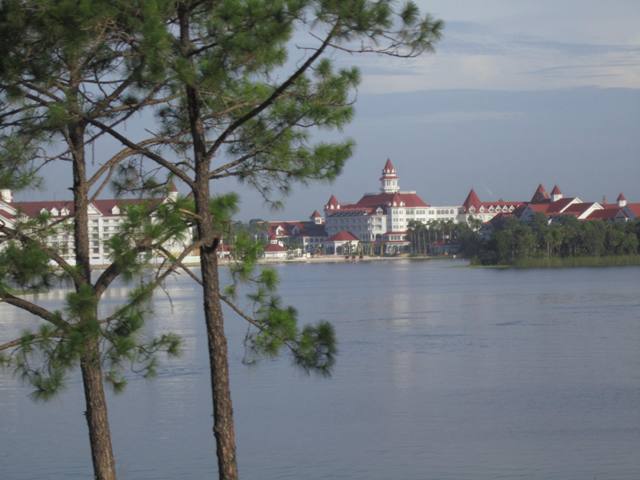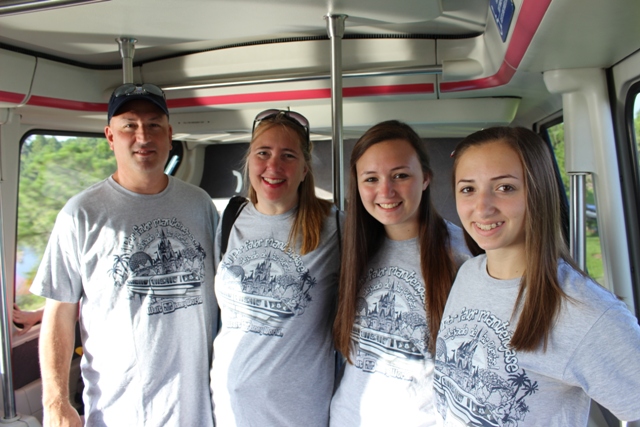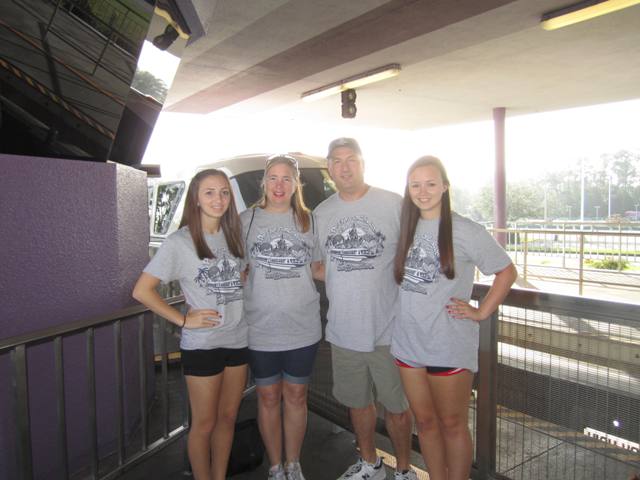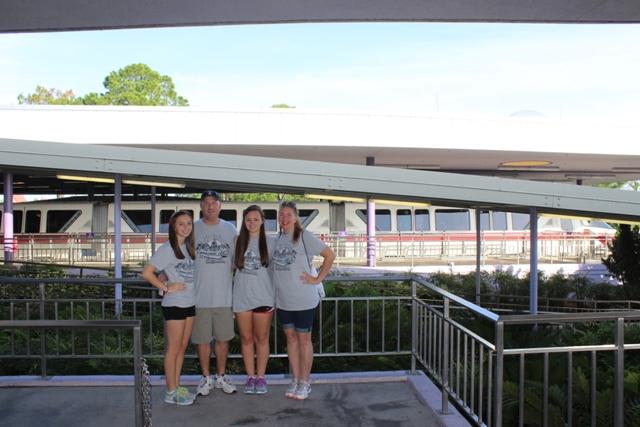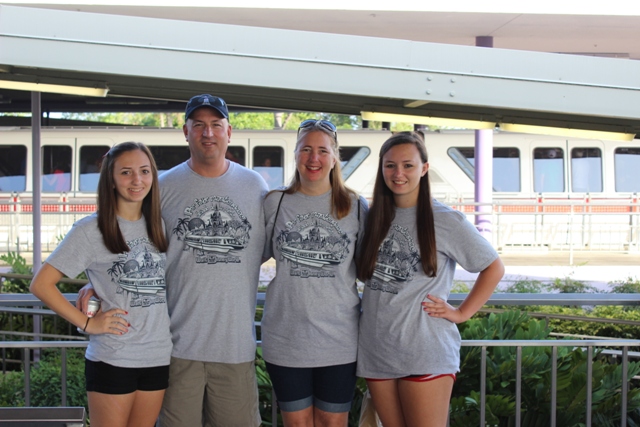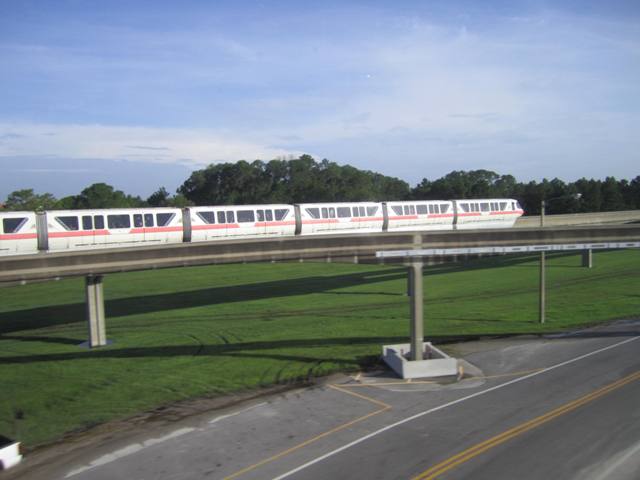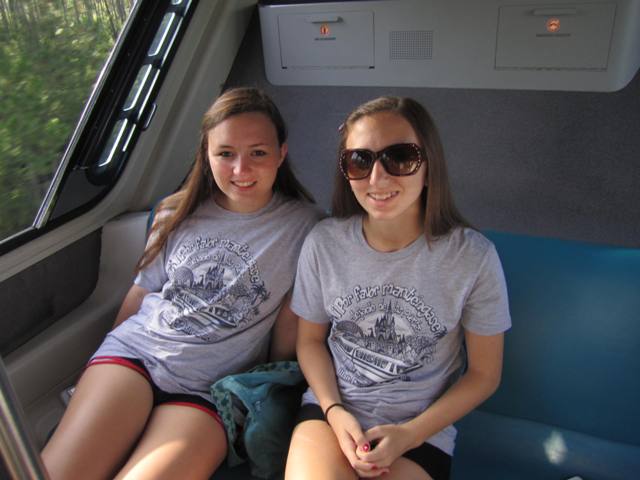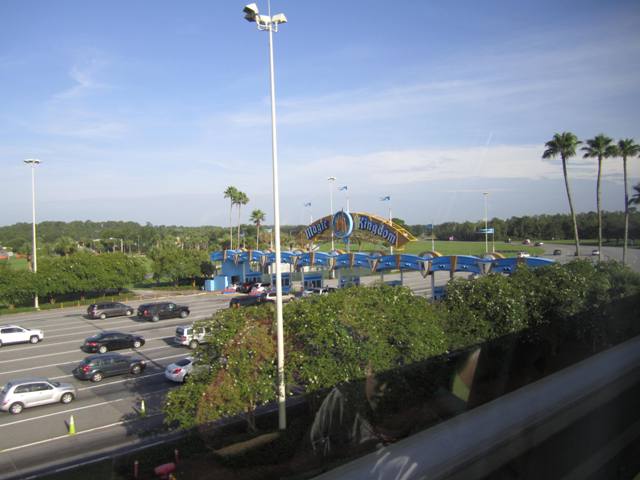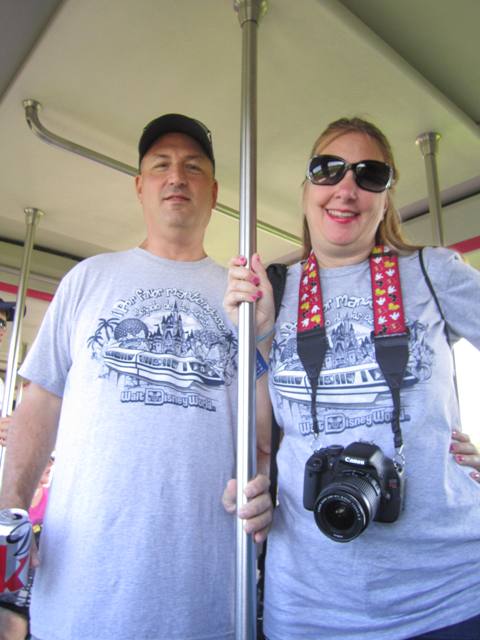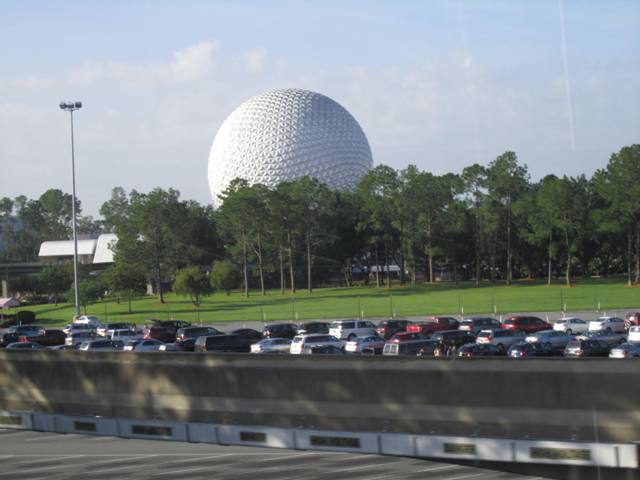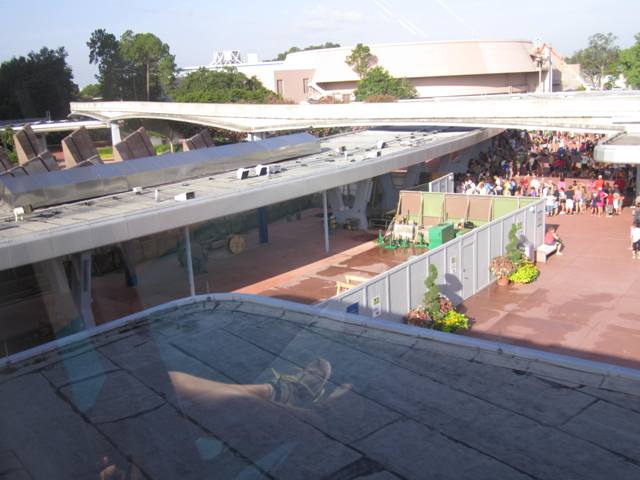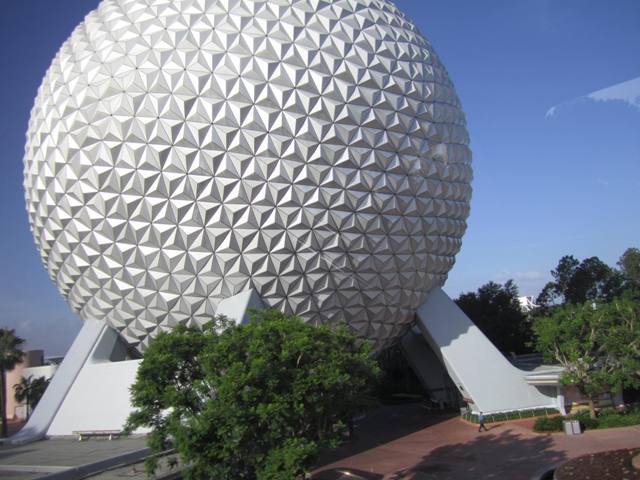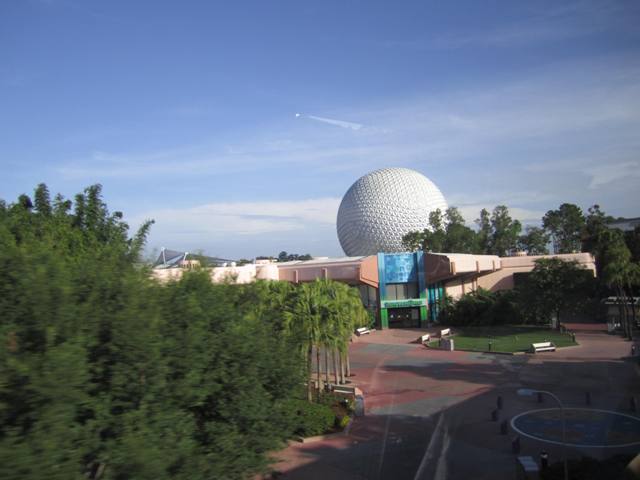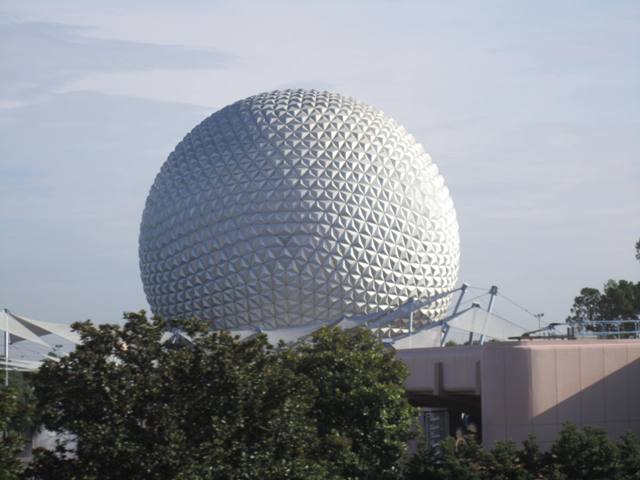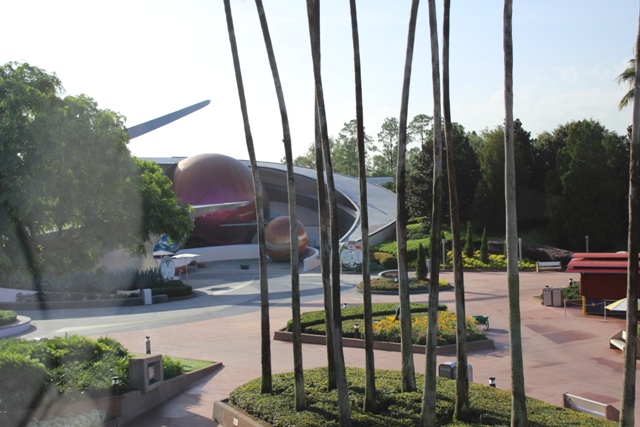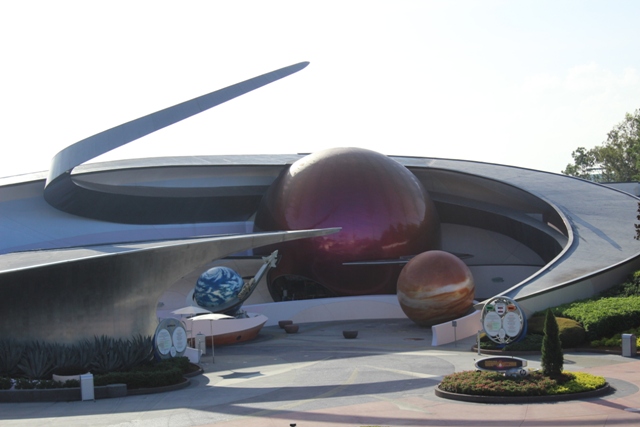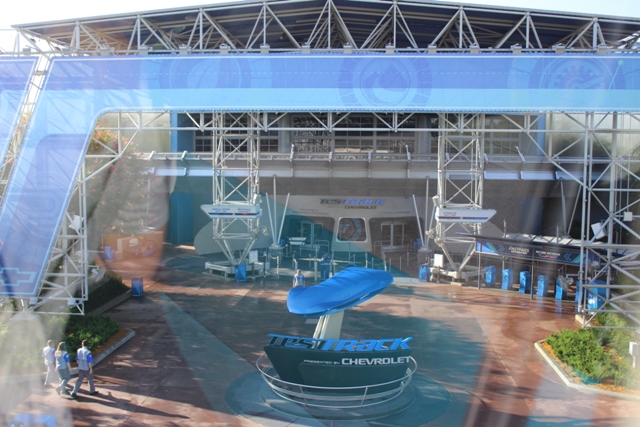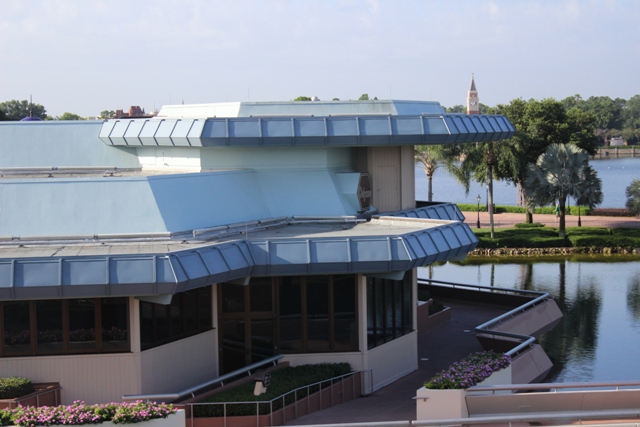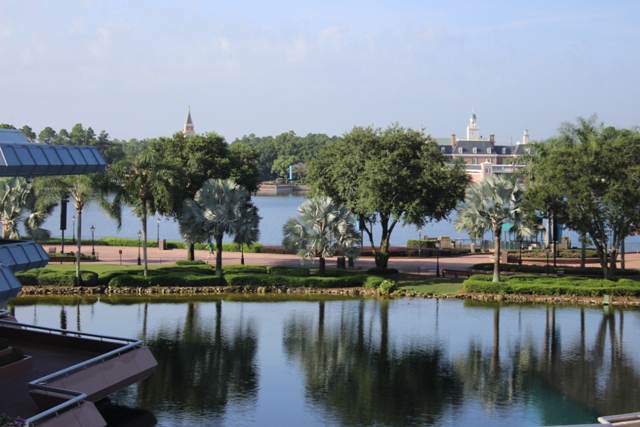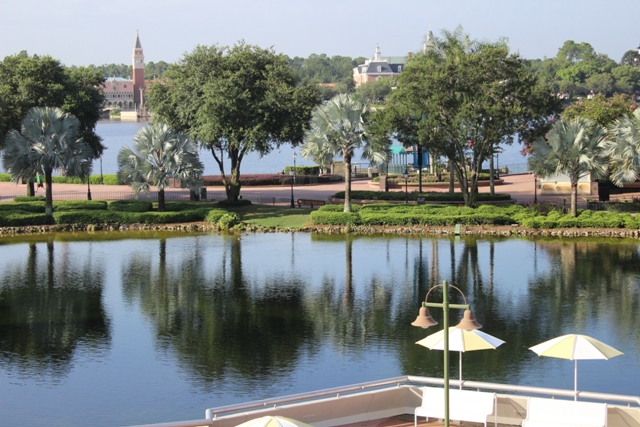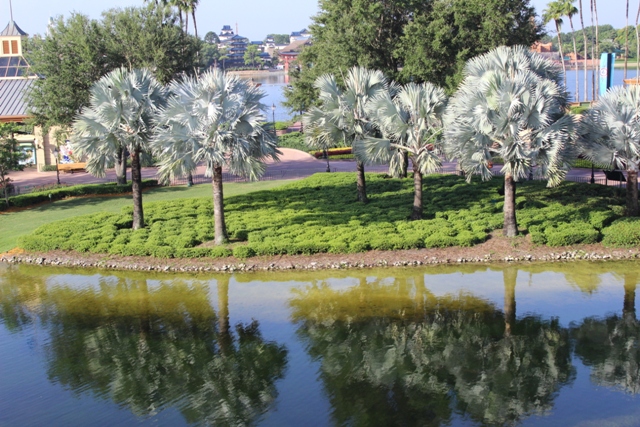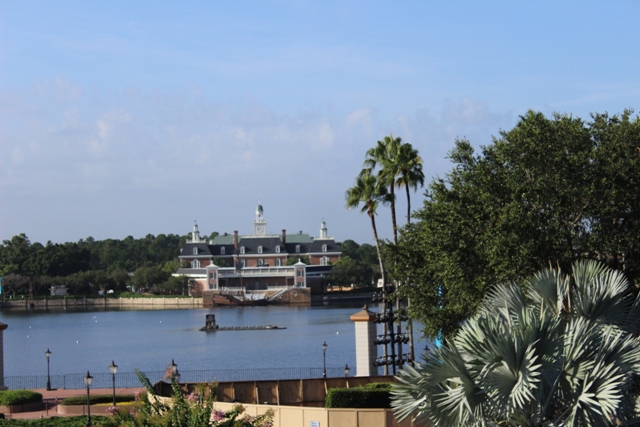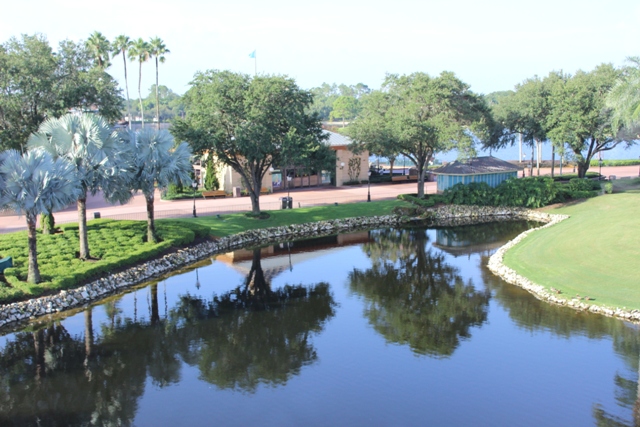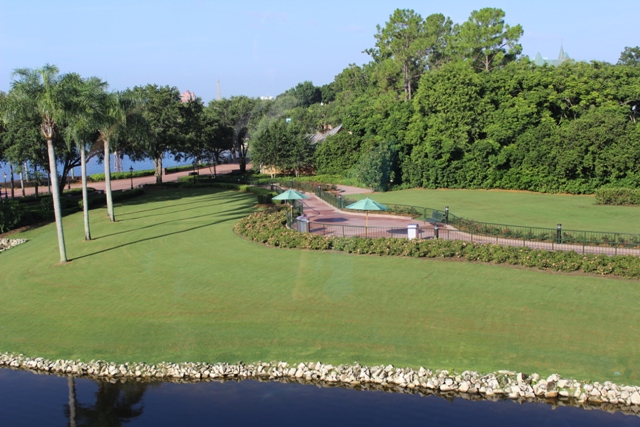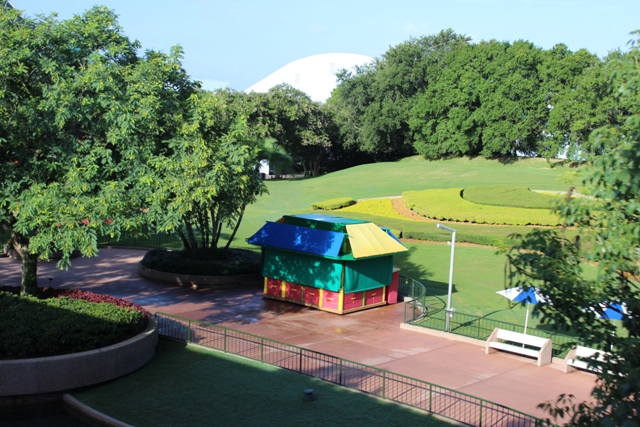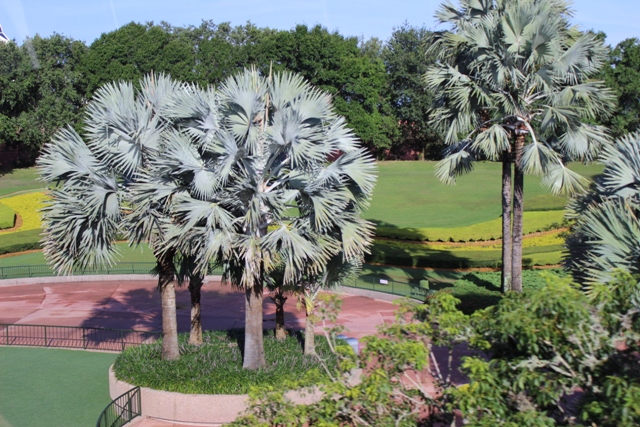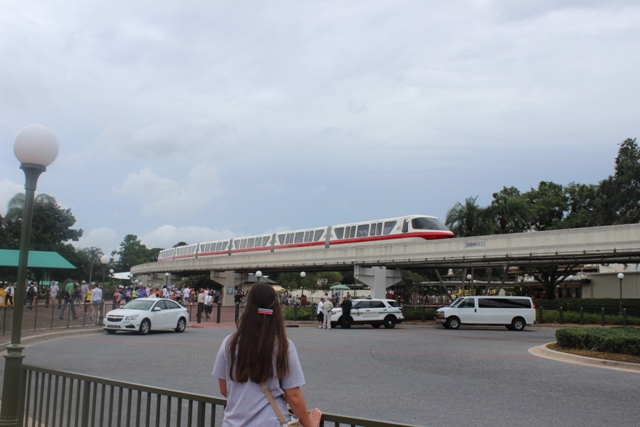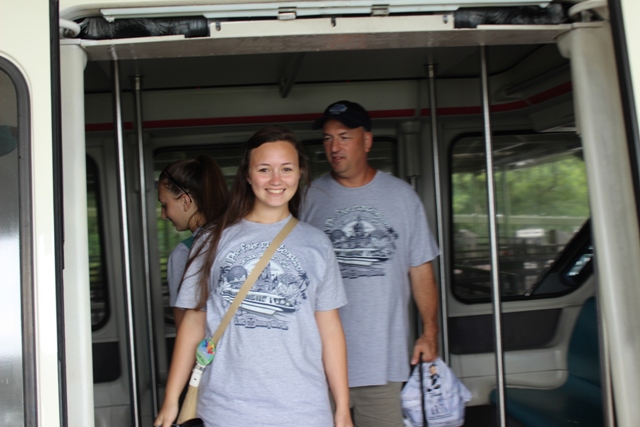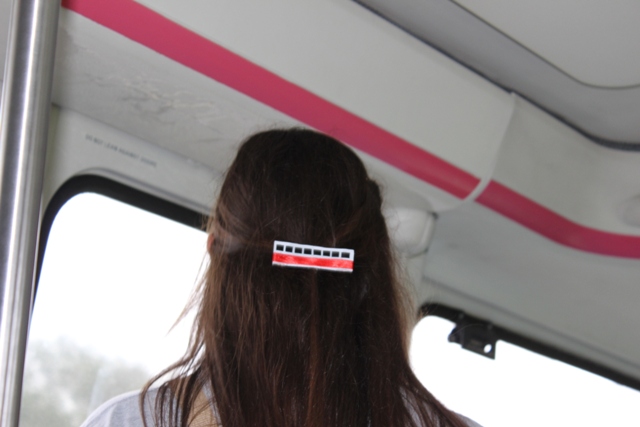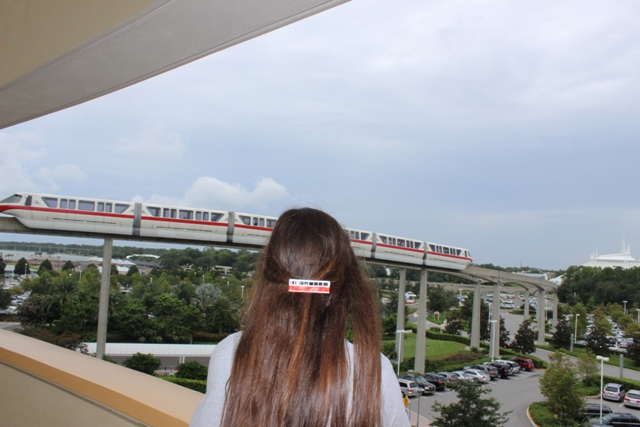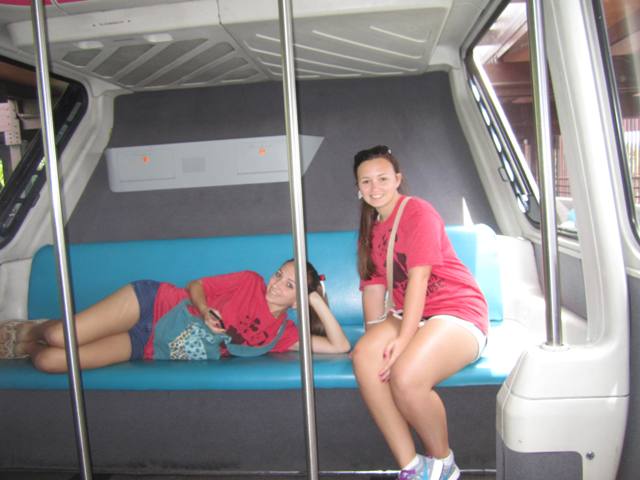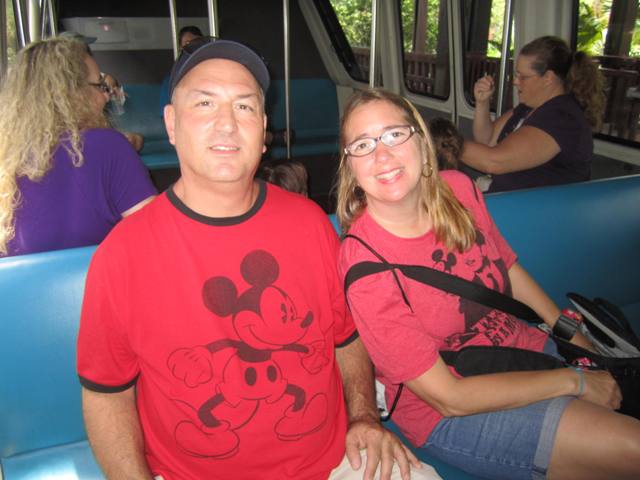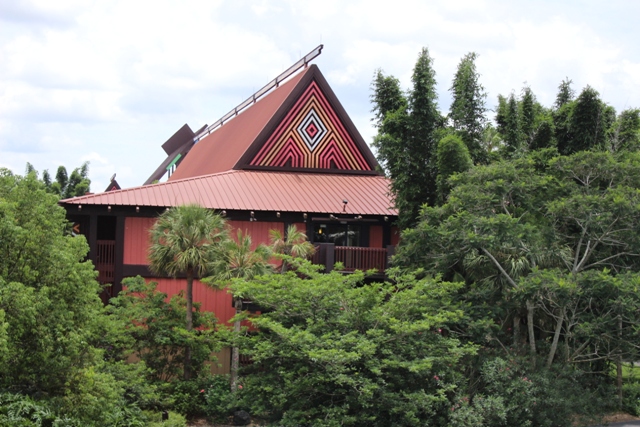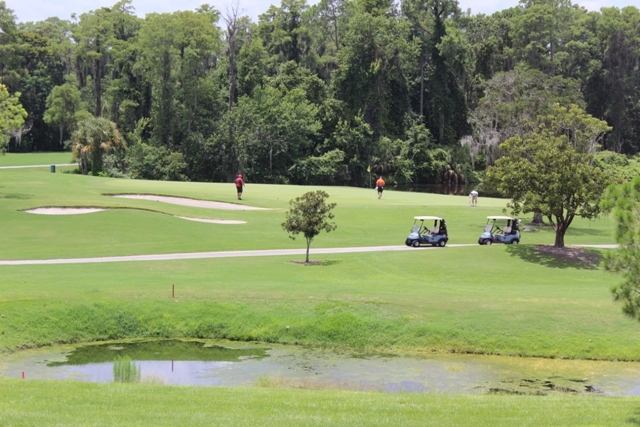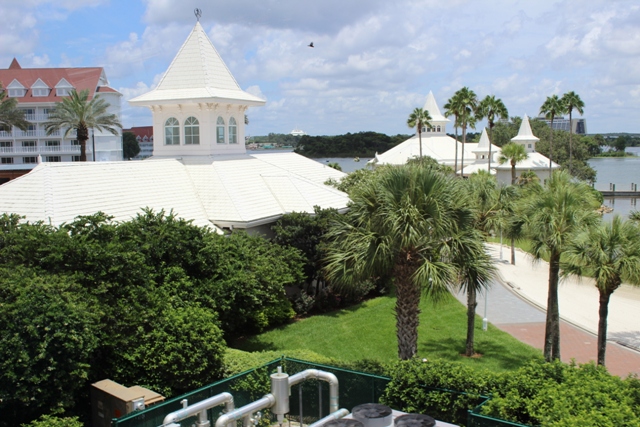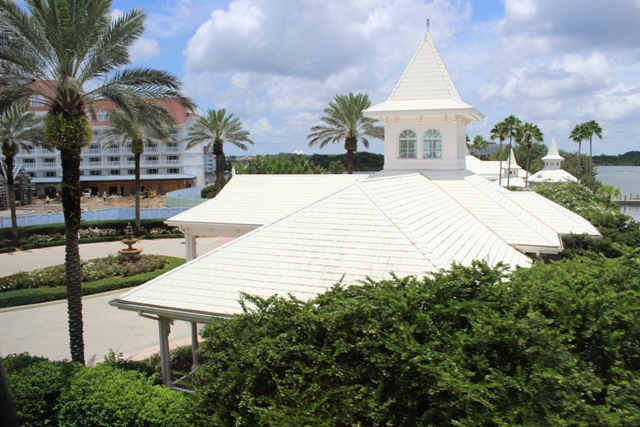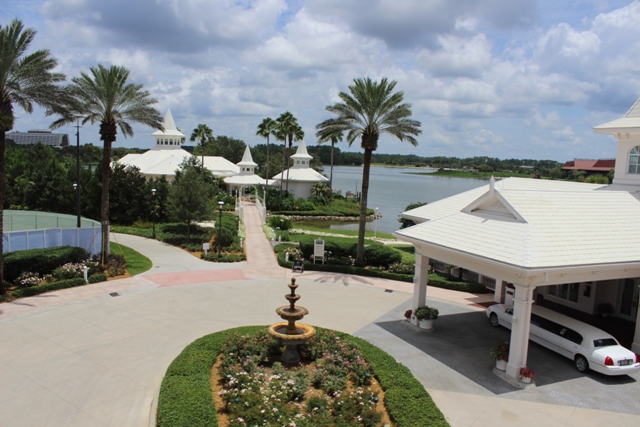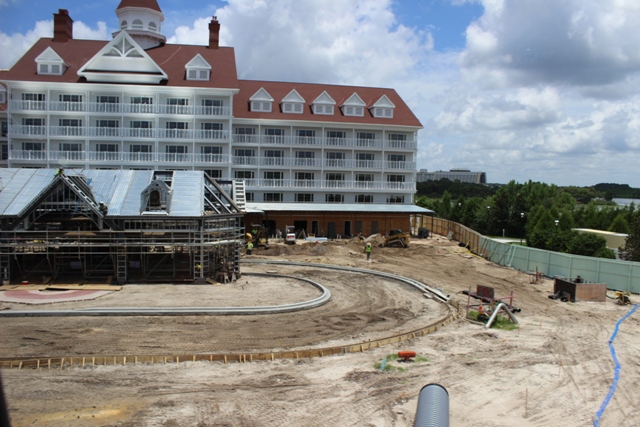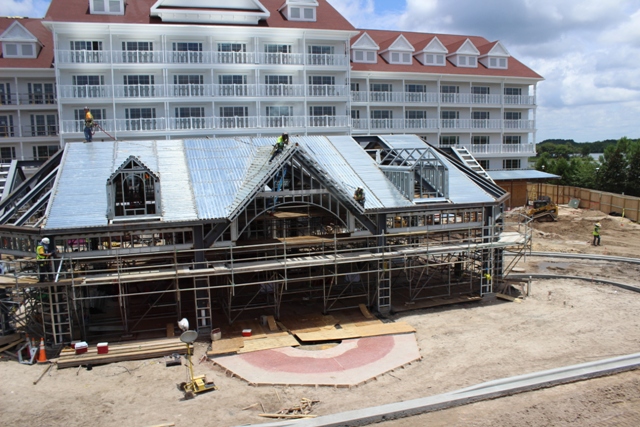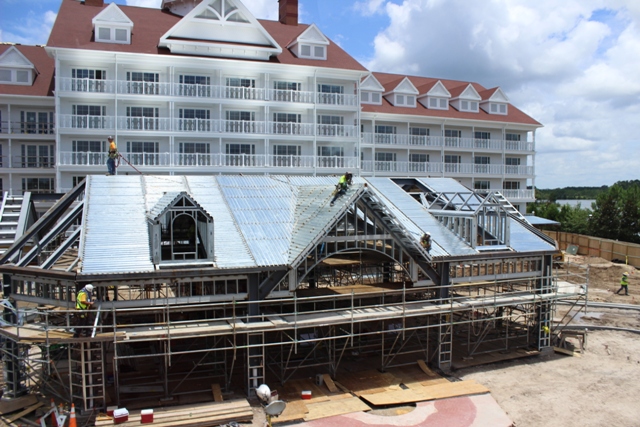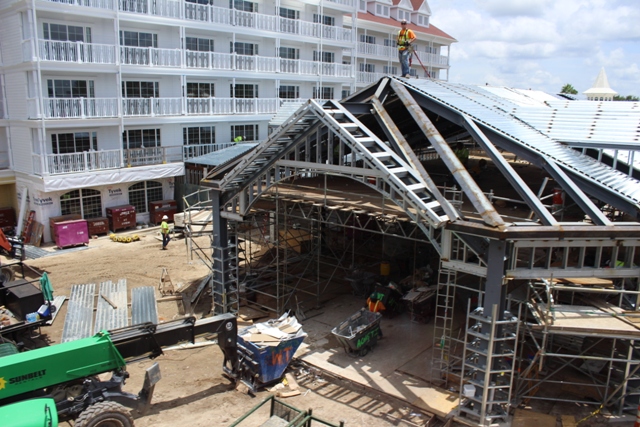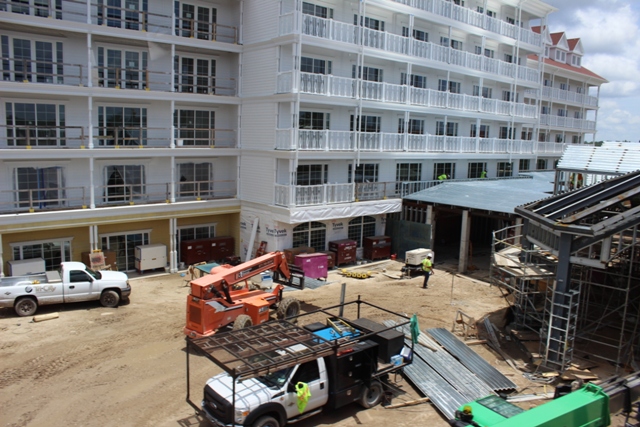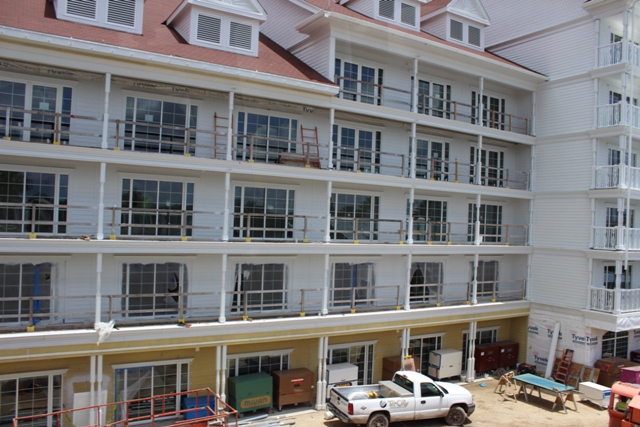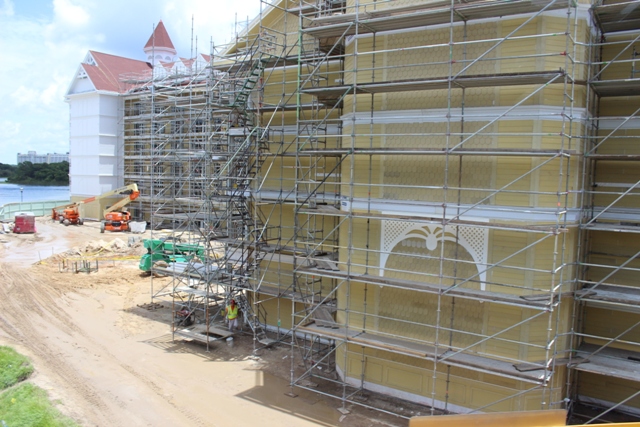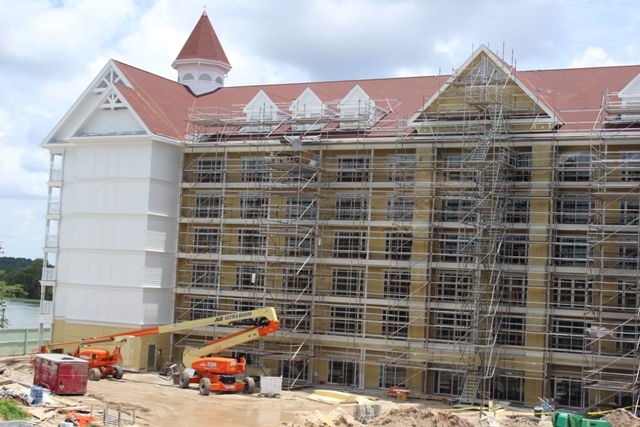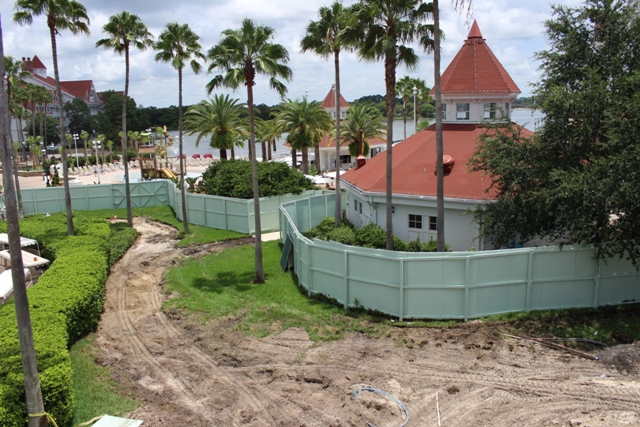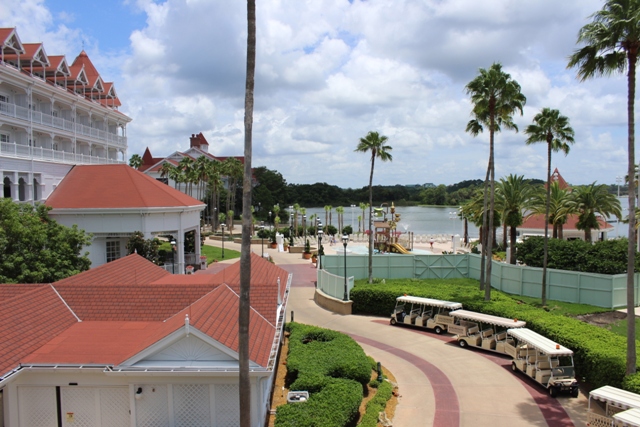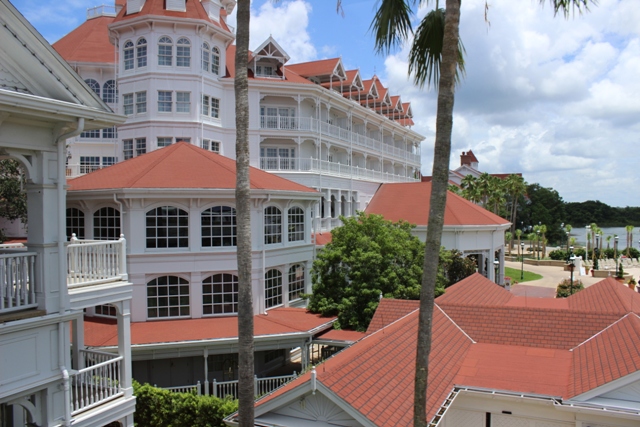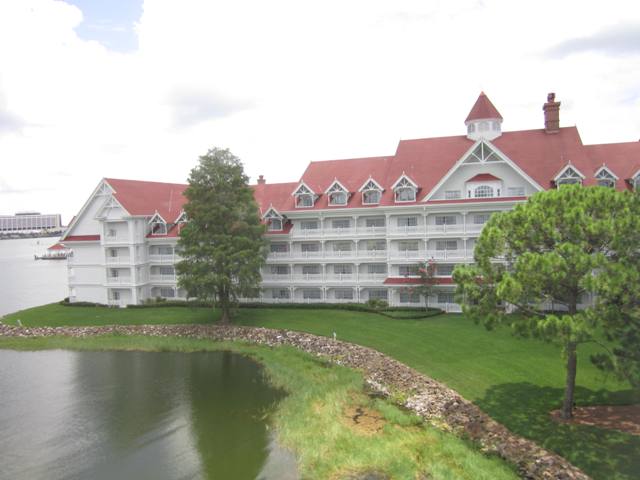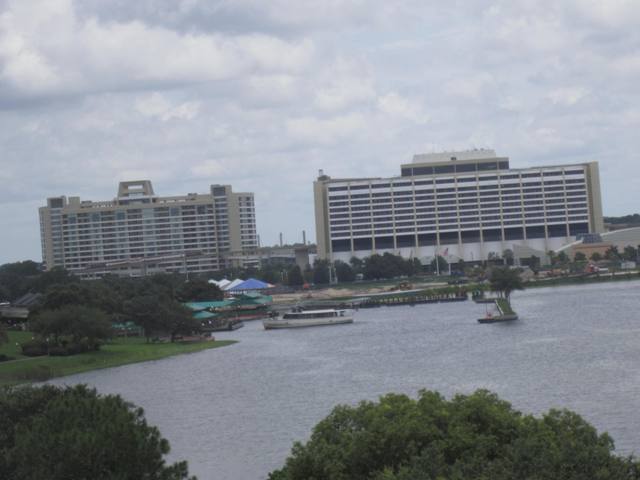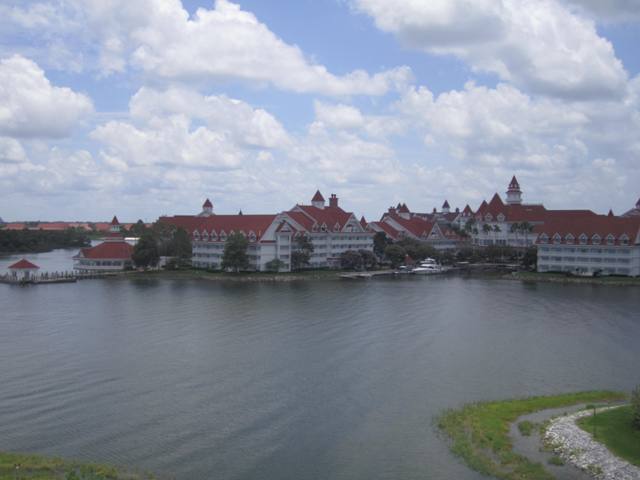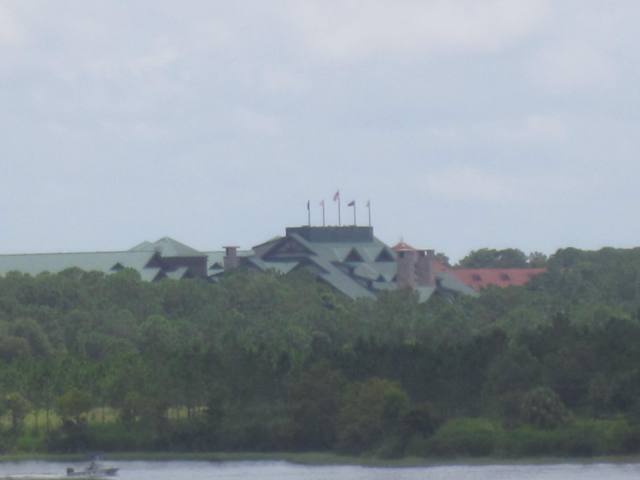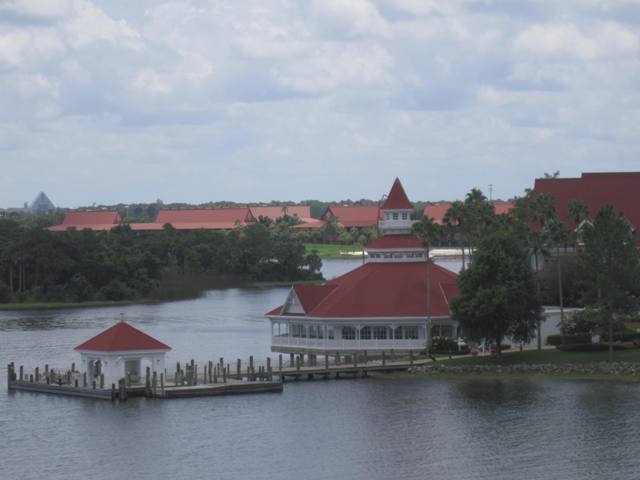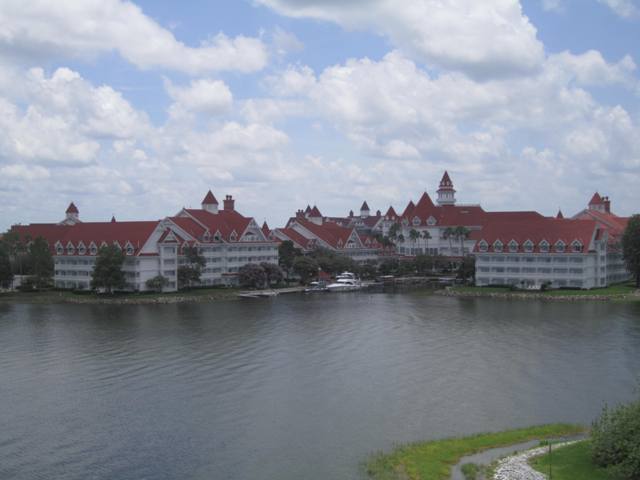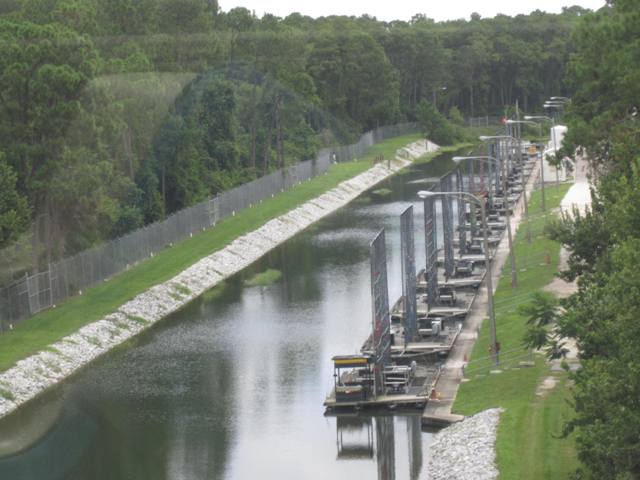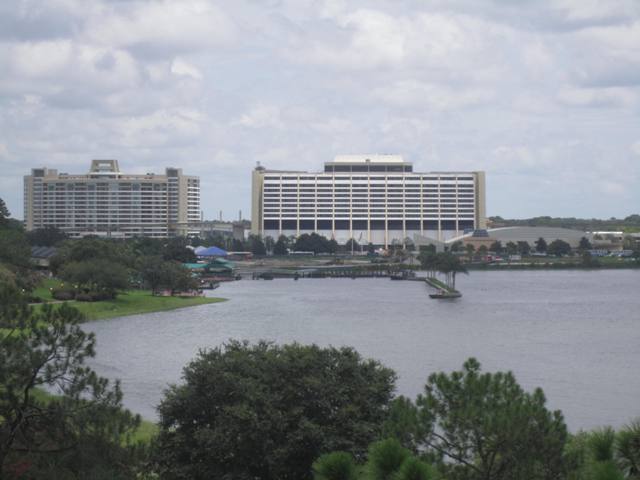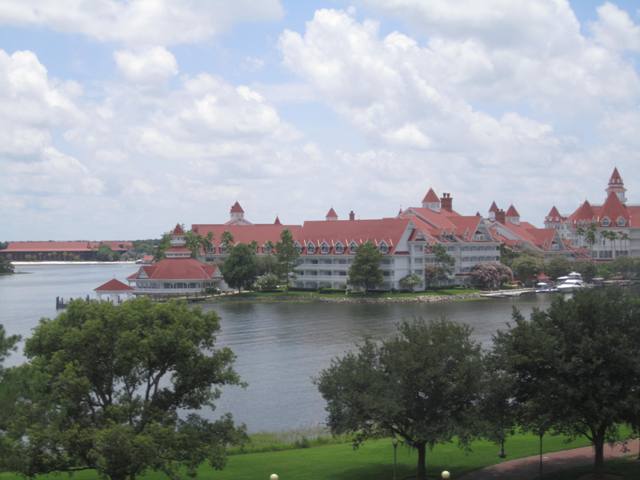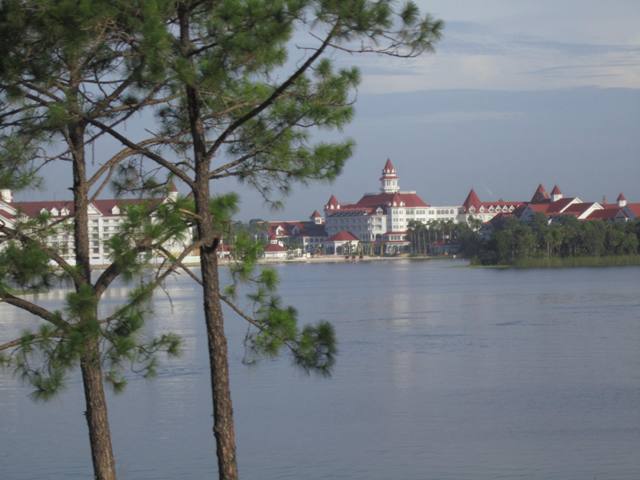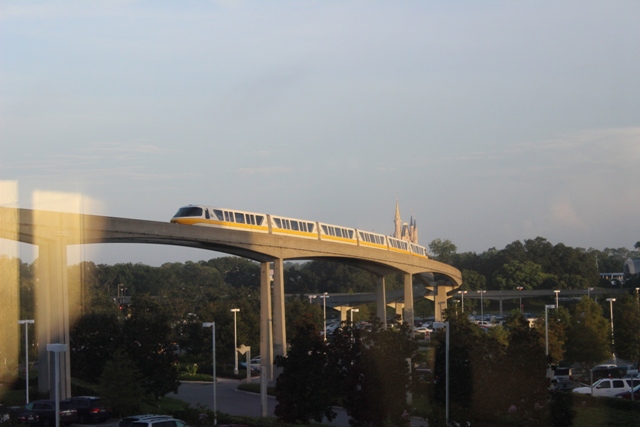 July 2012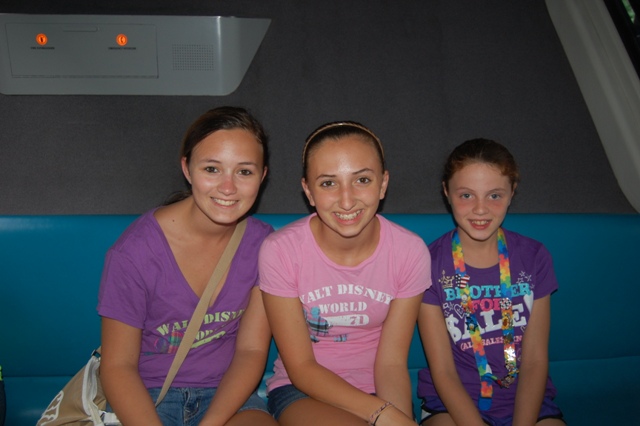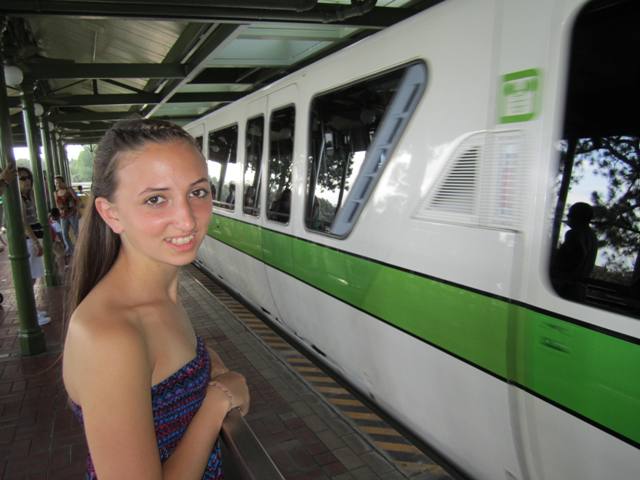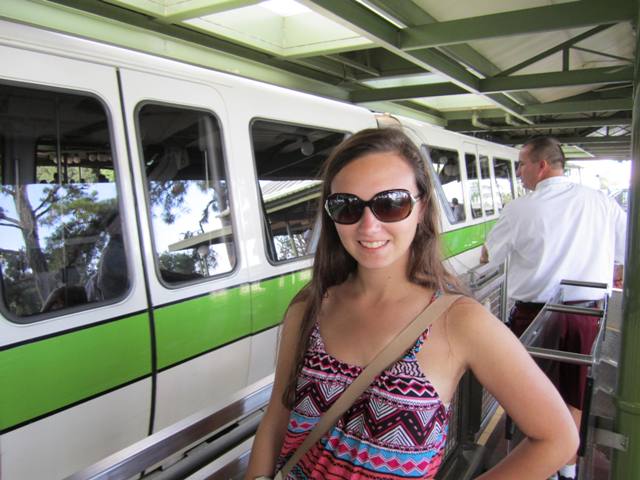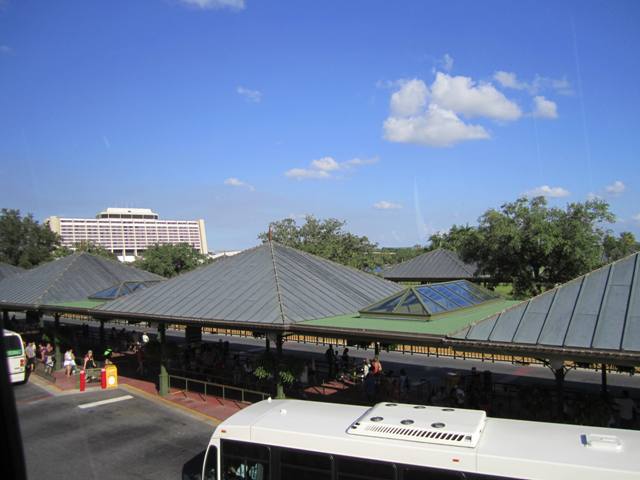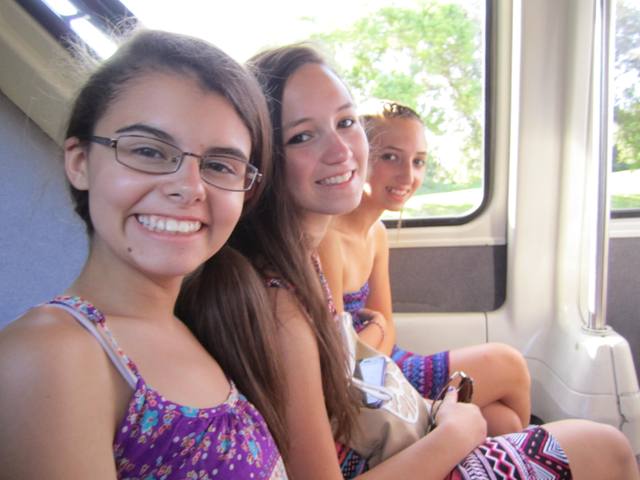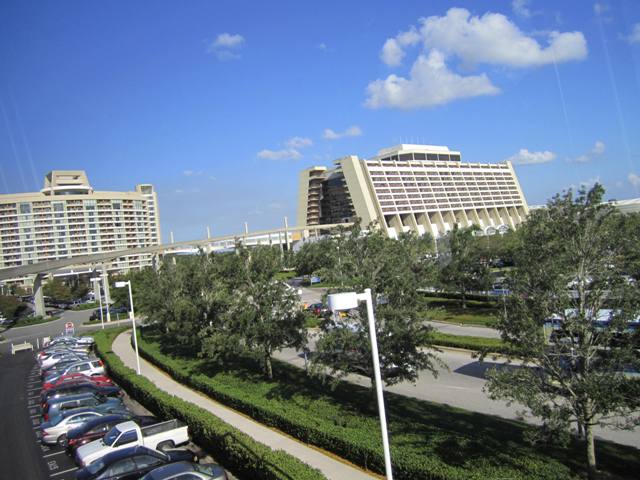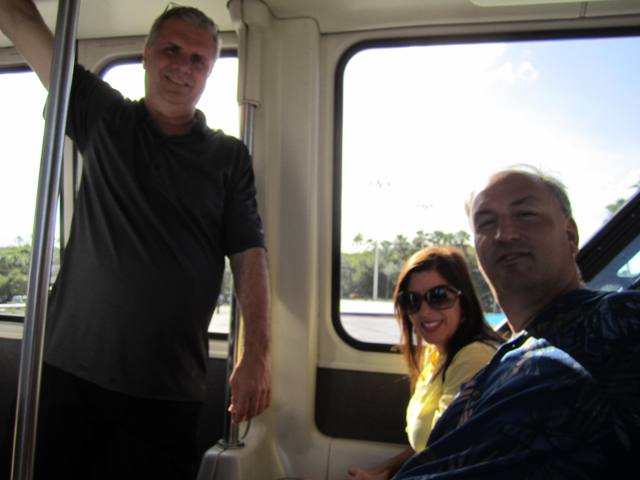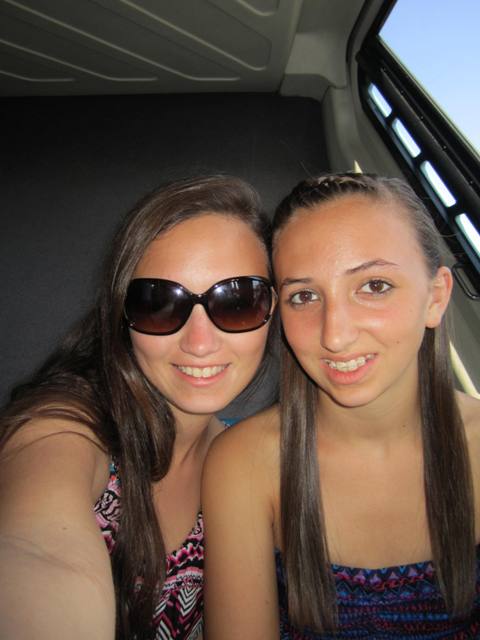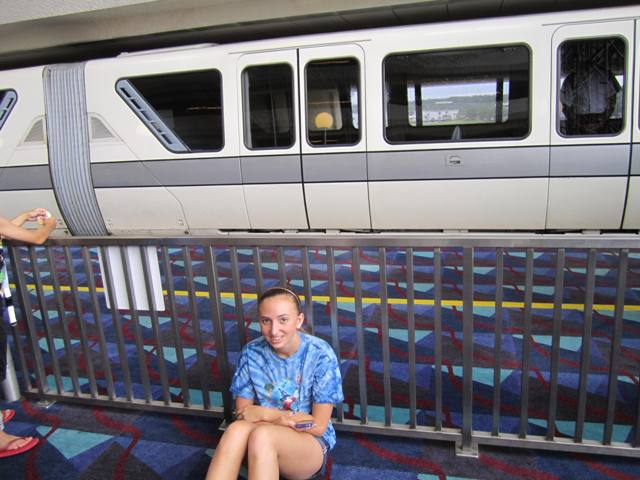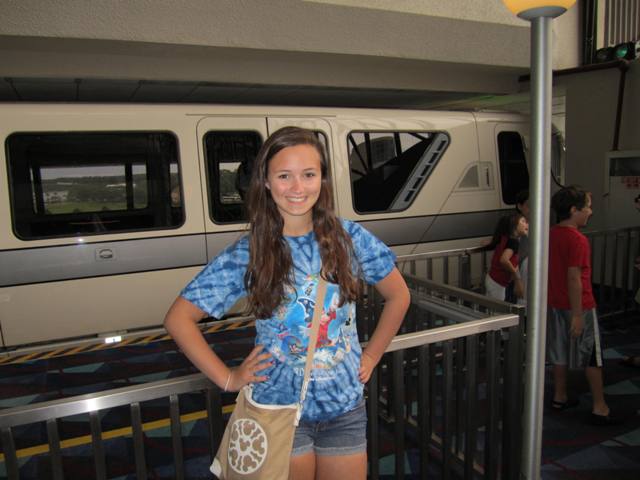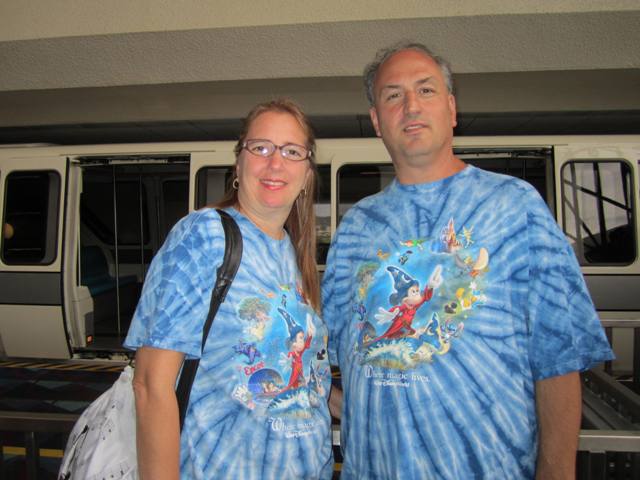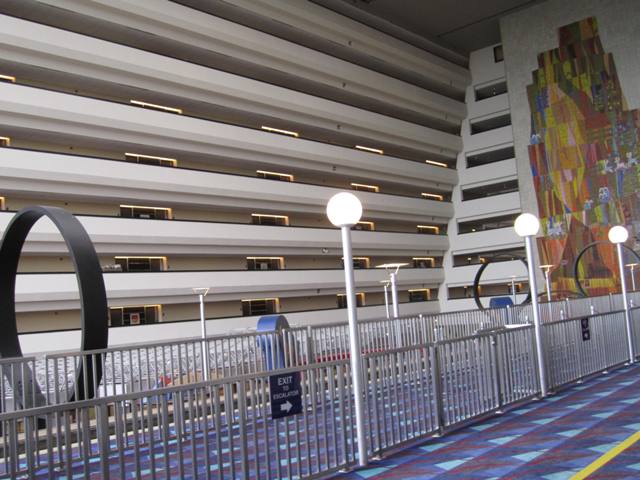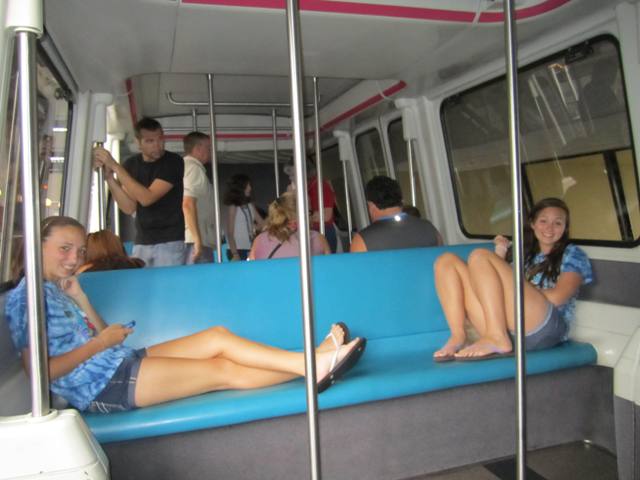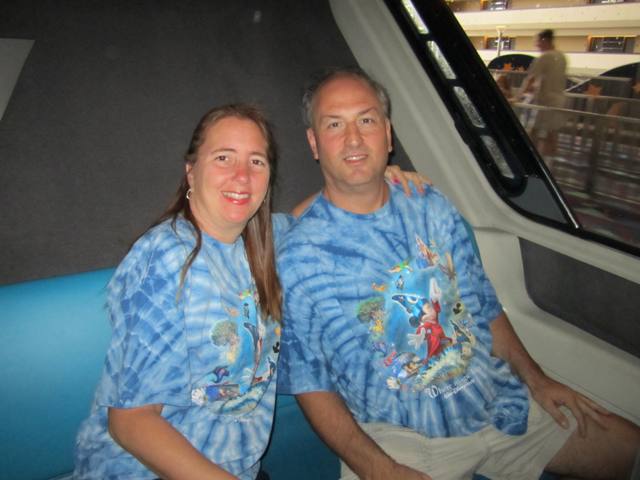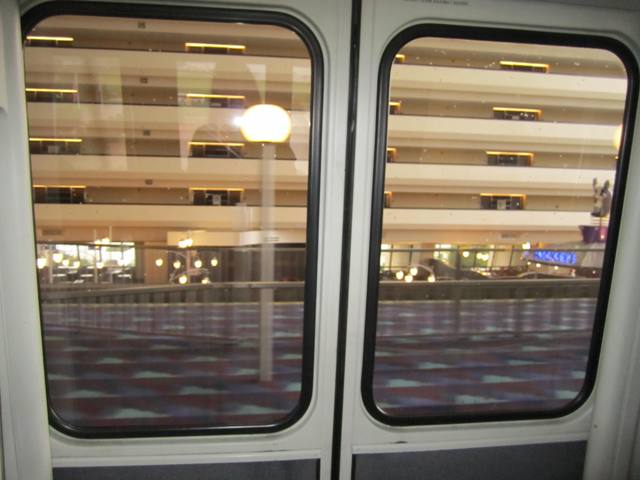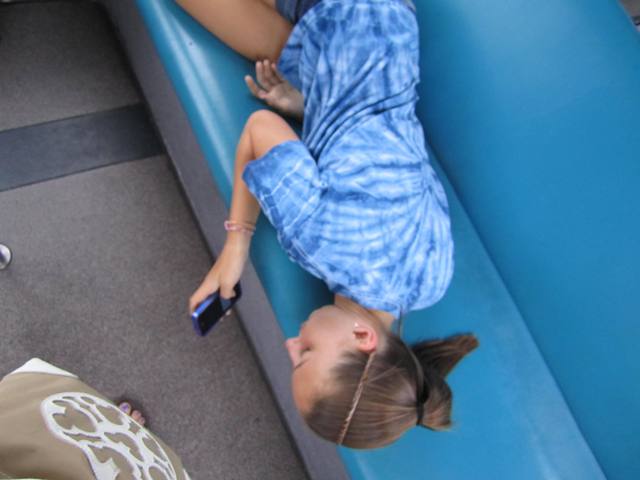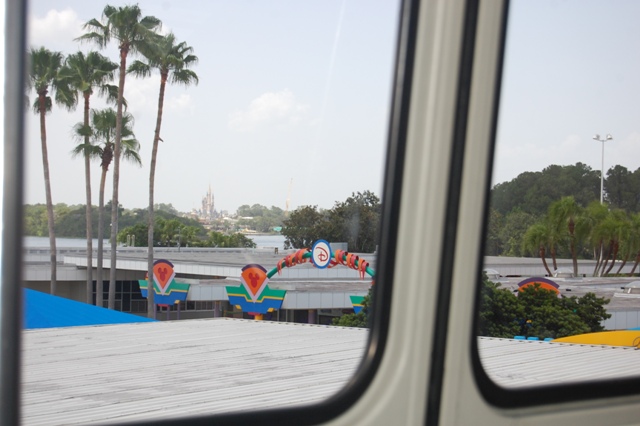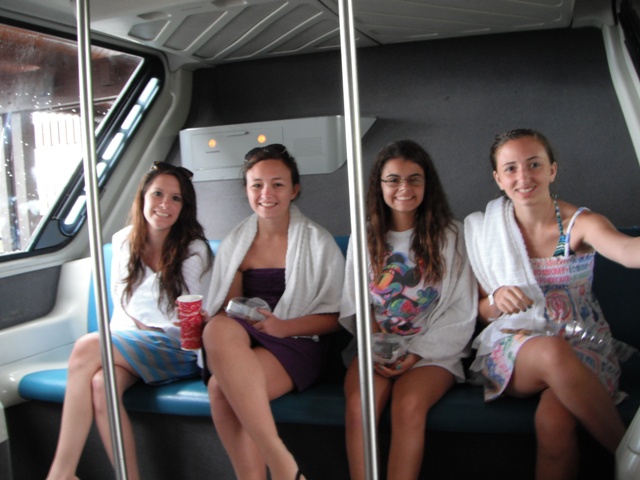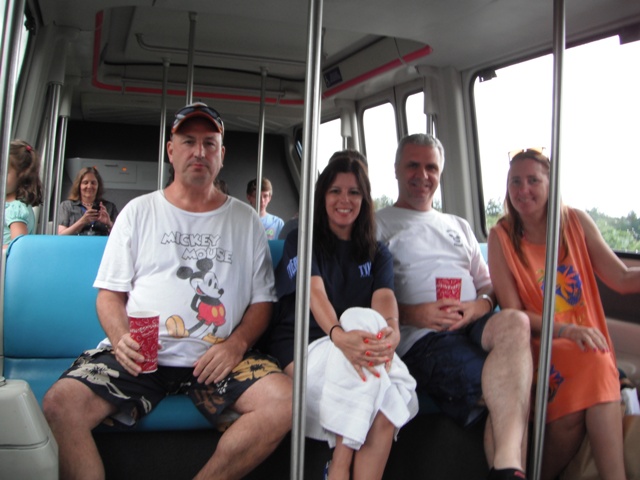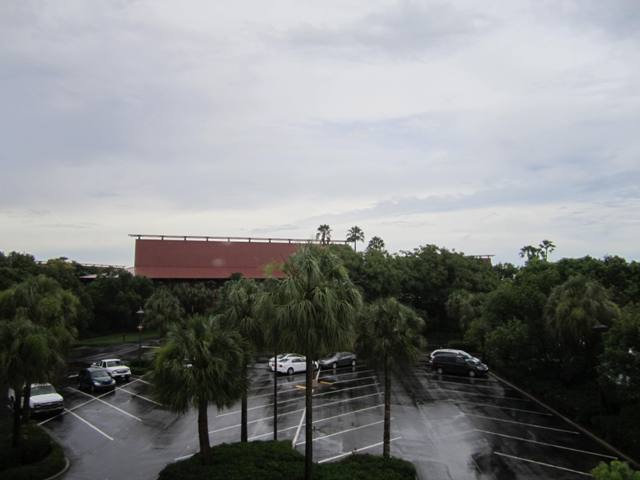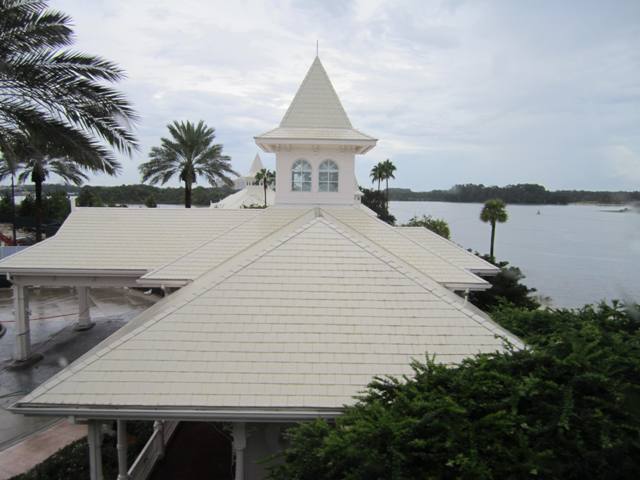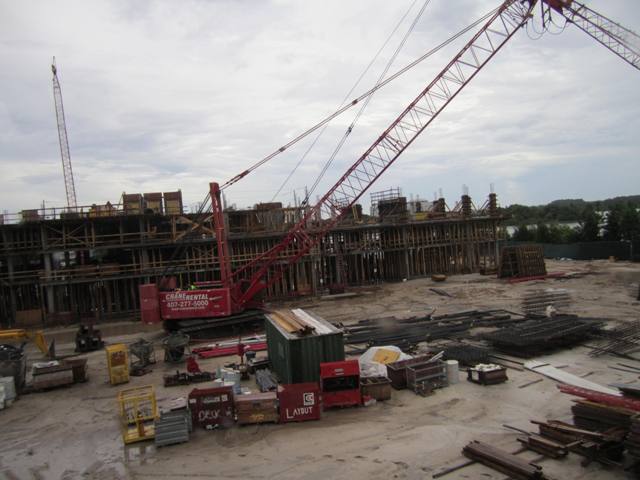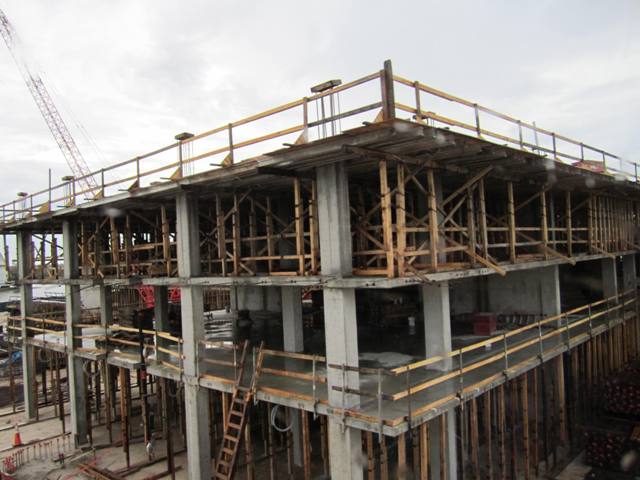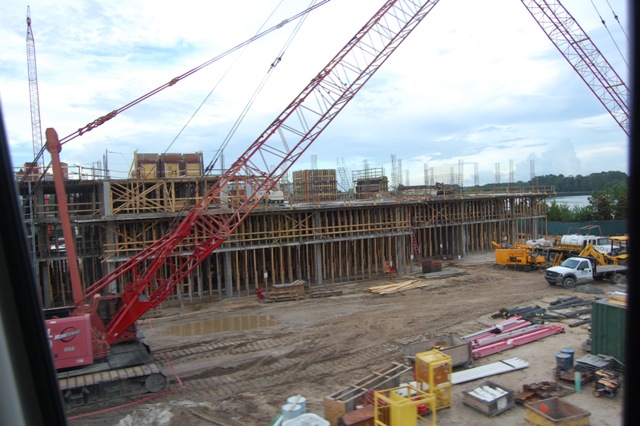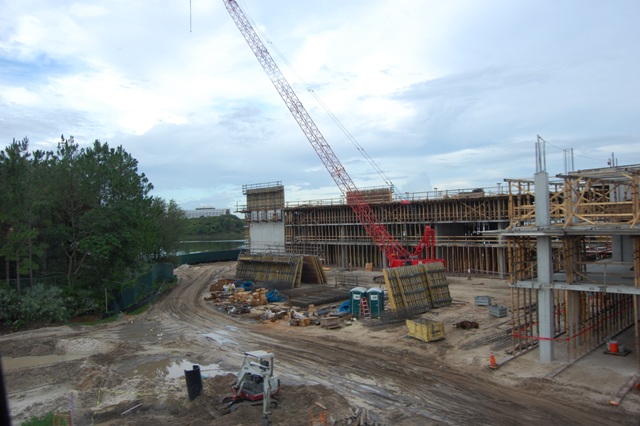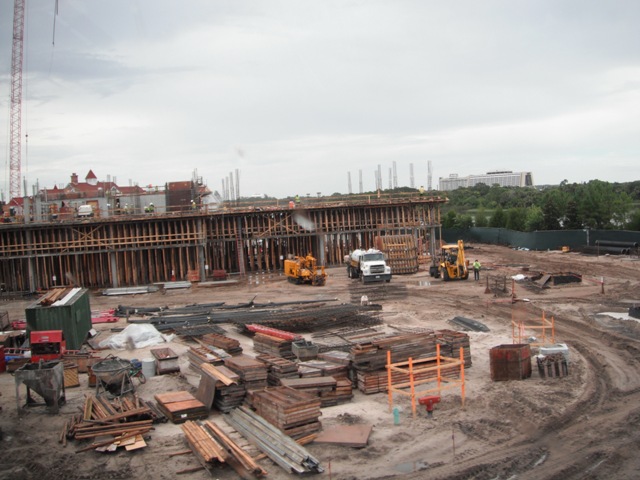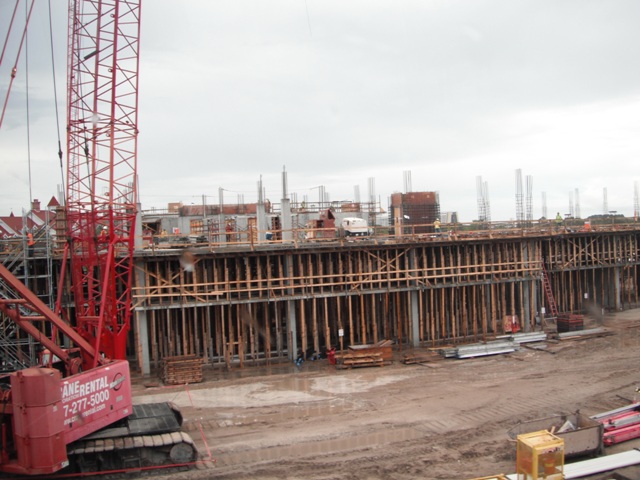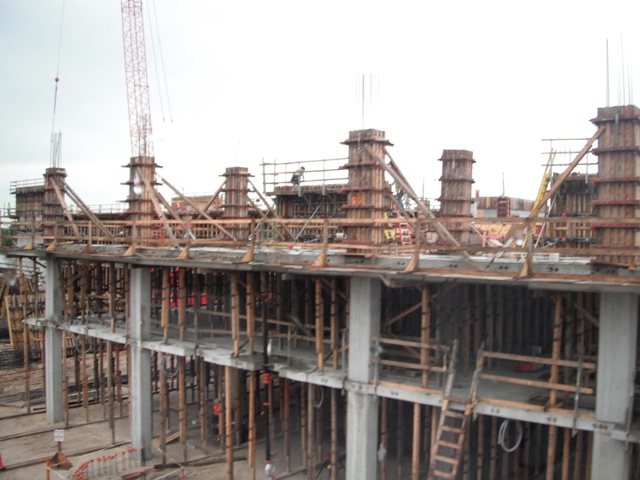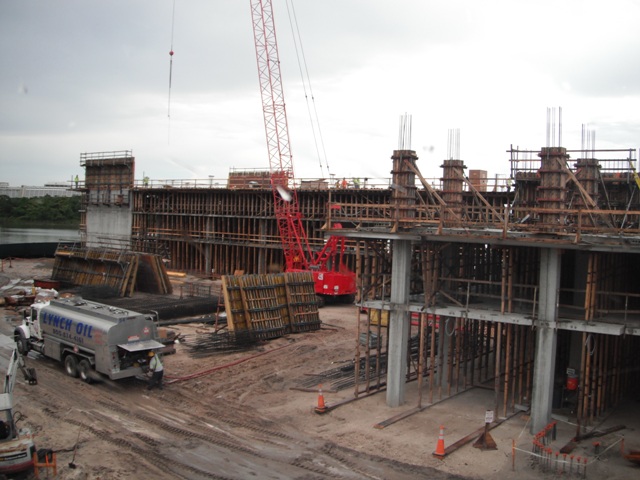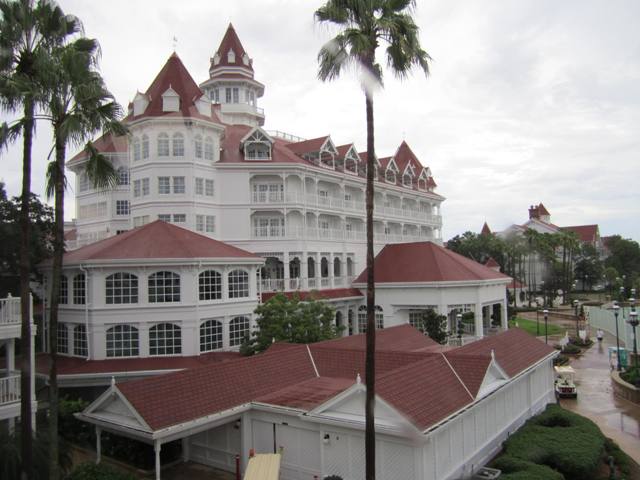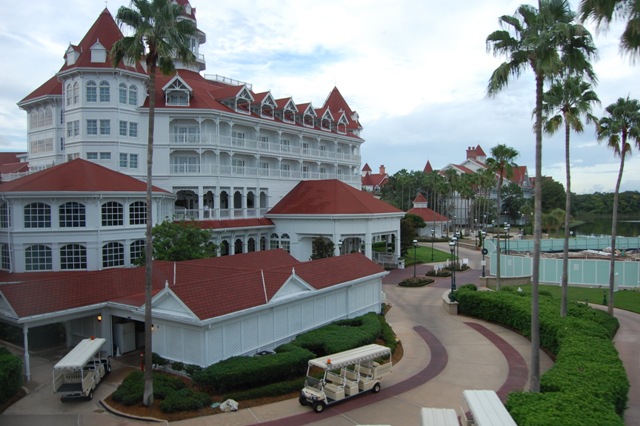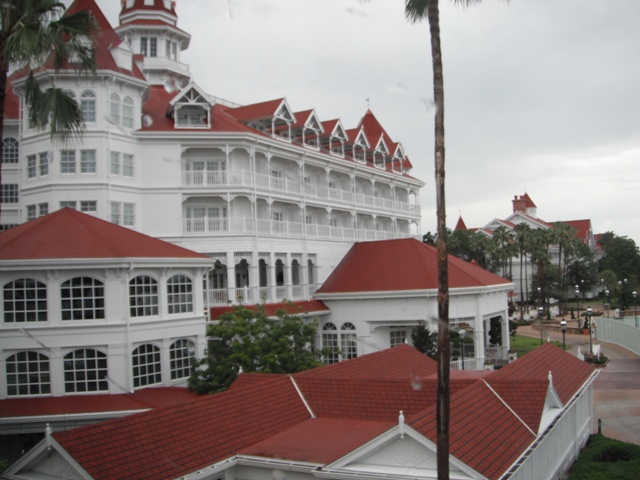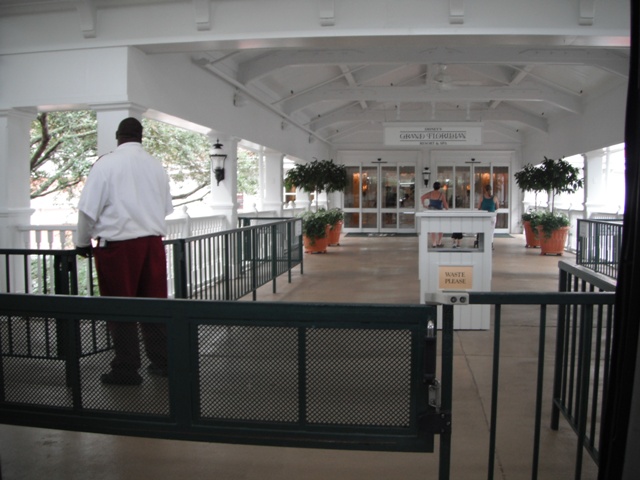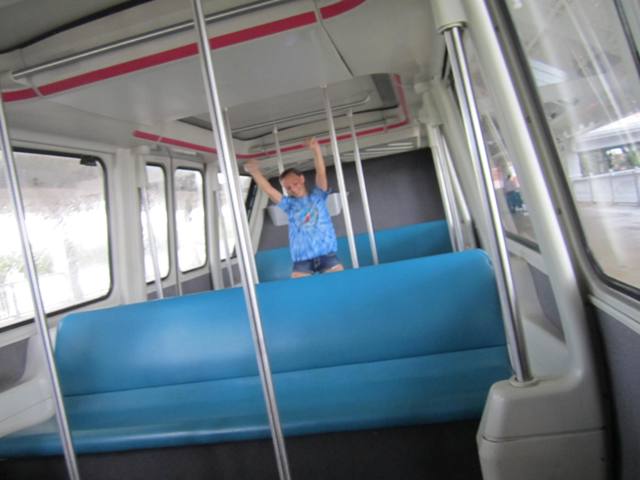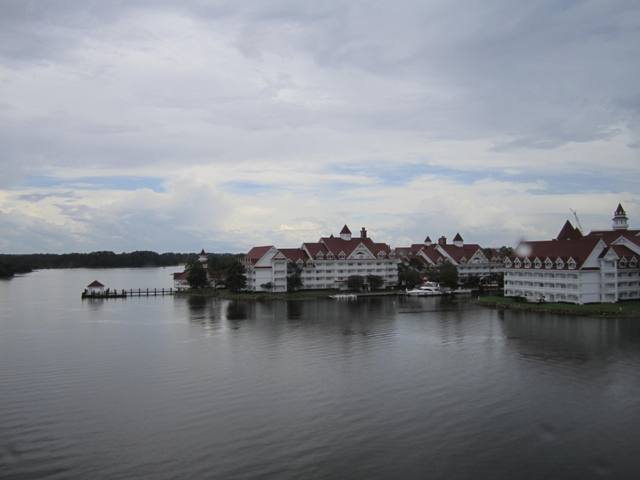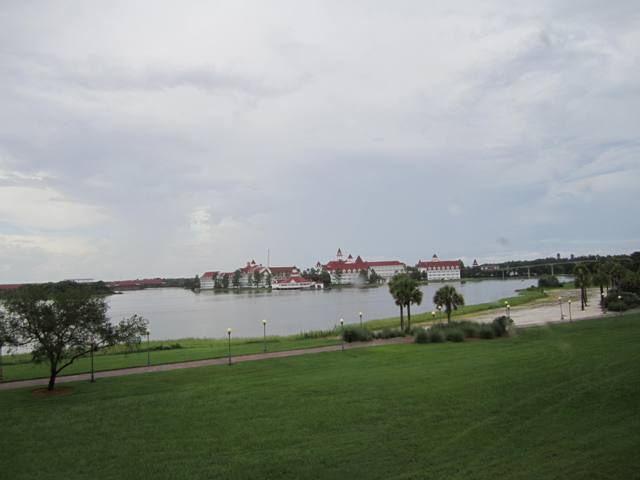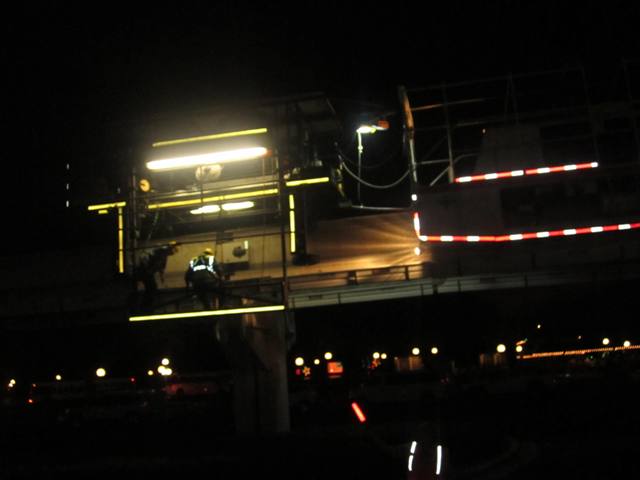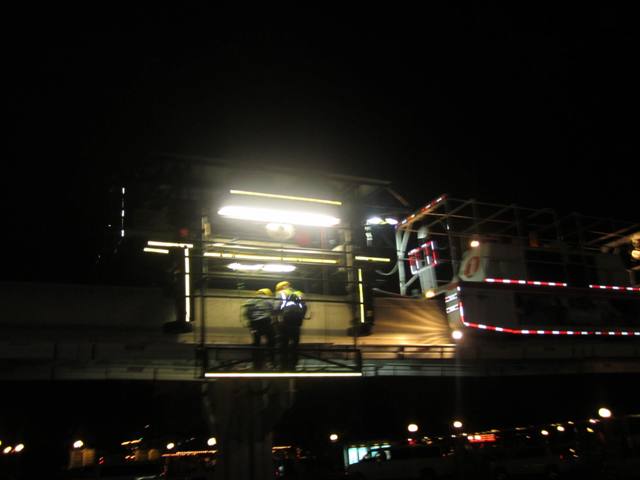 July 2011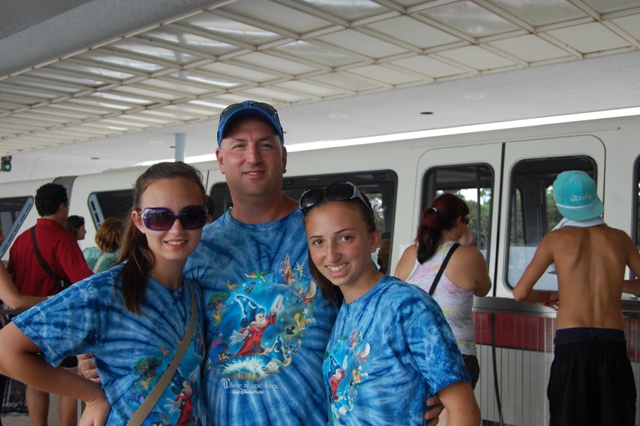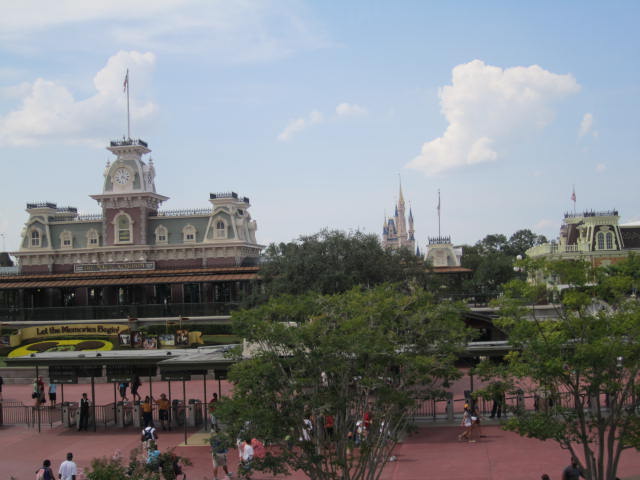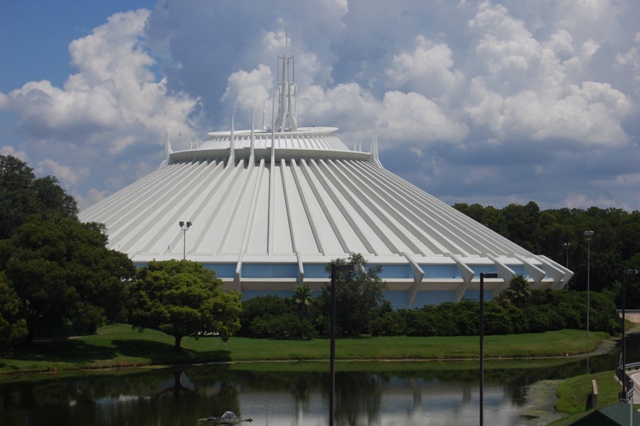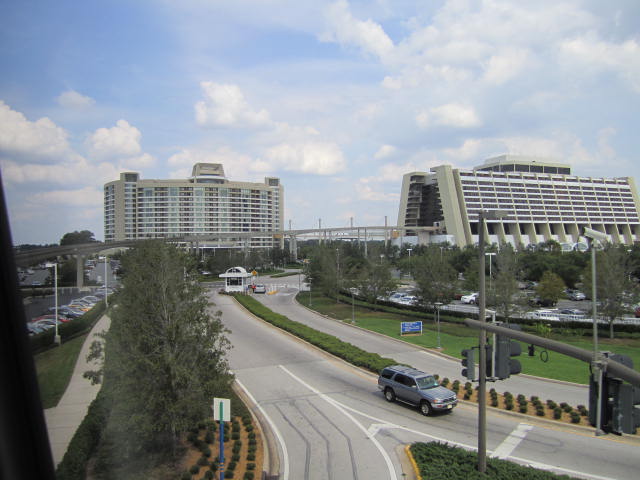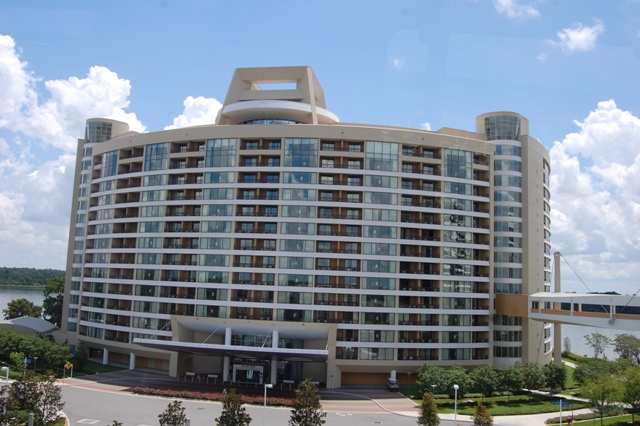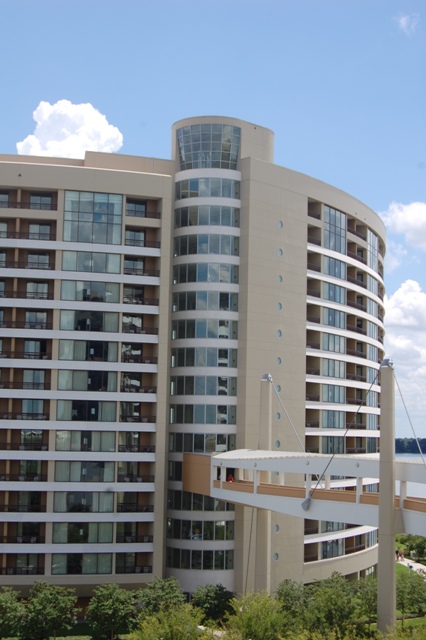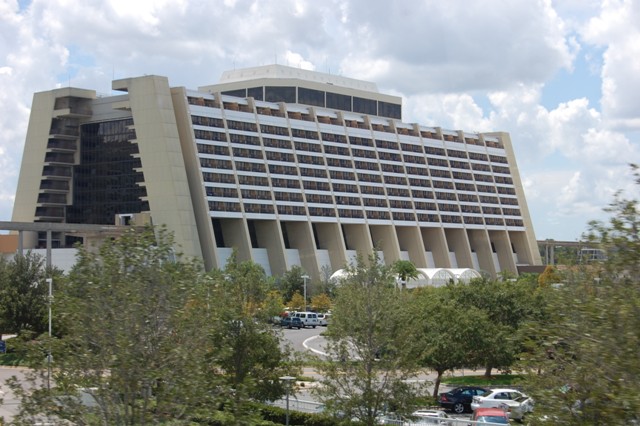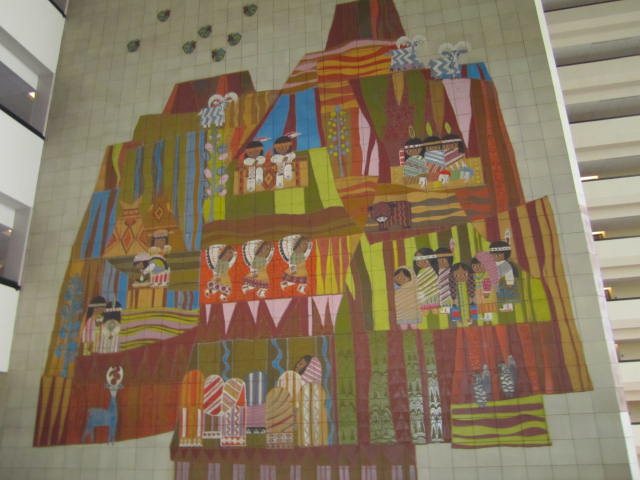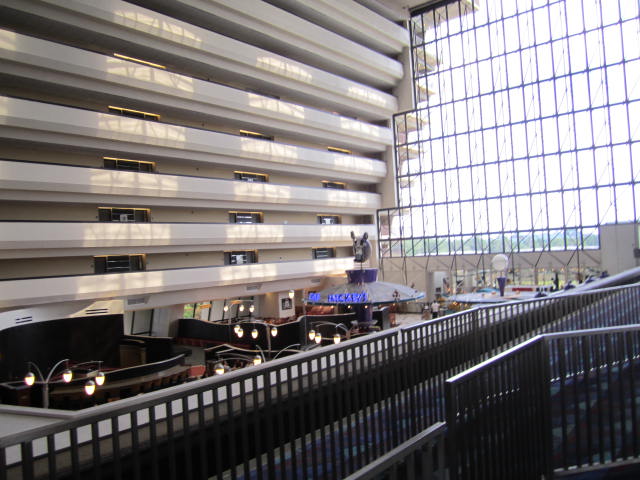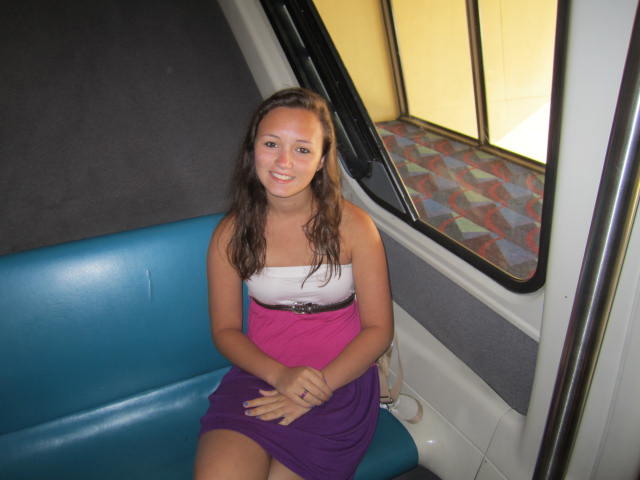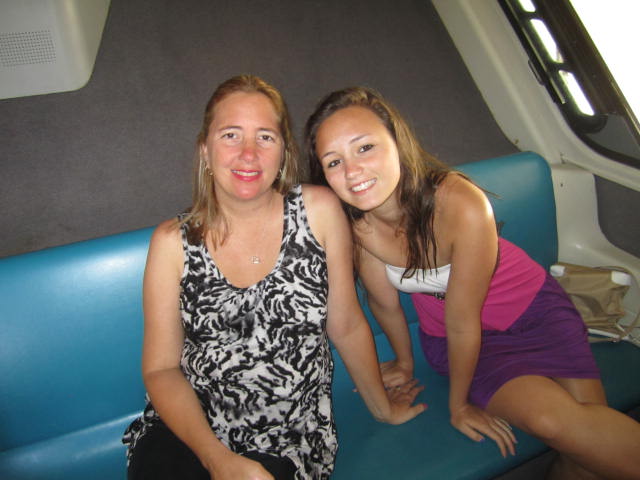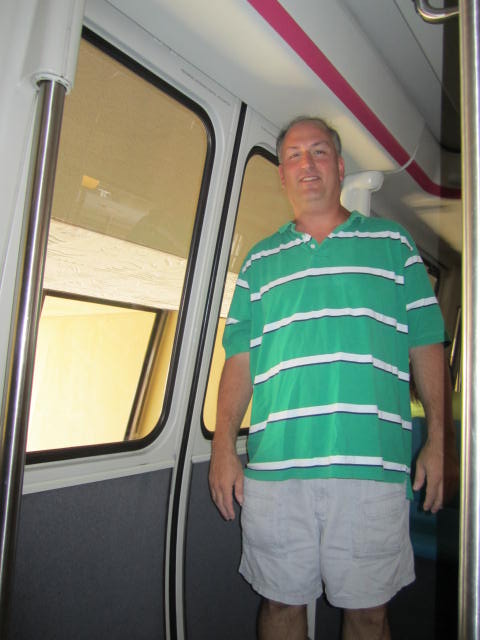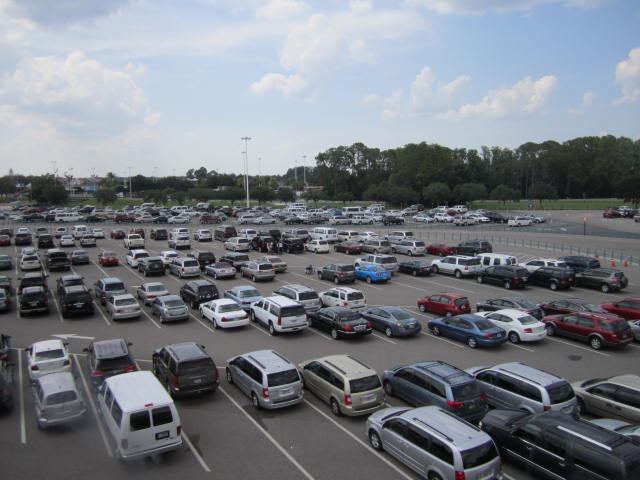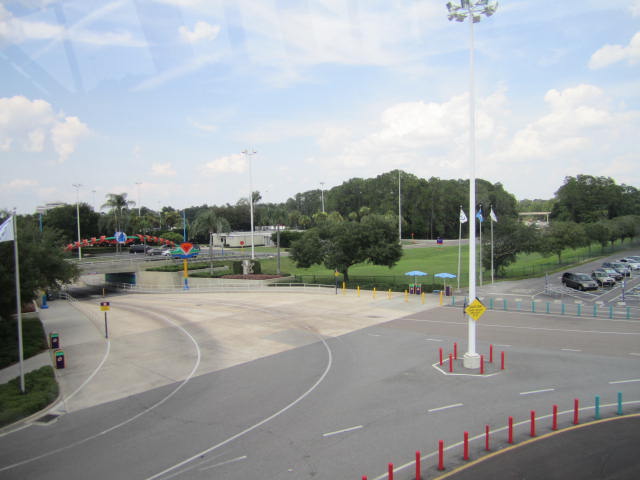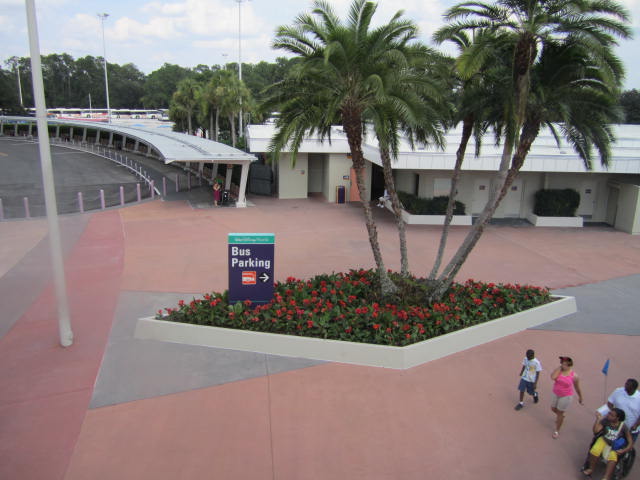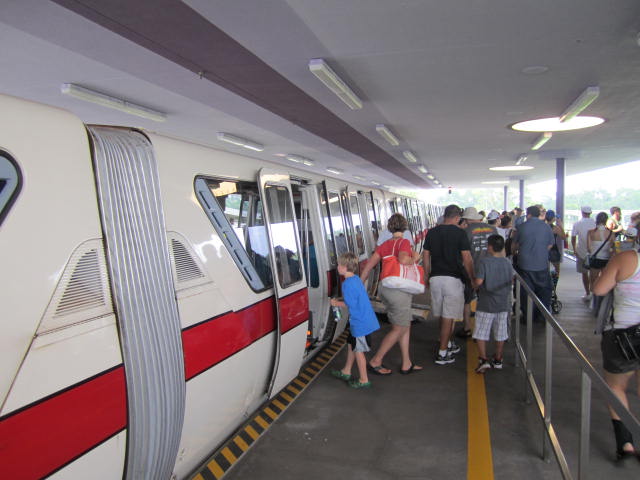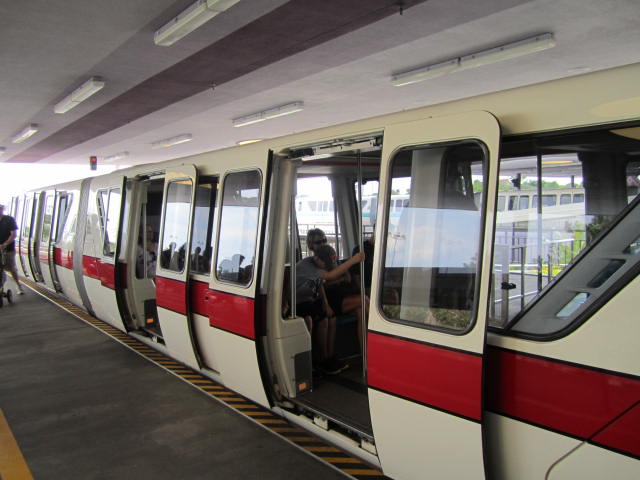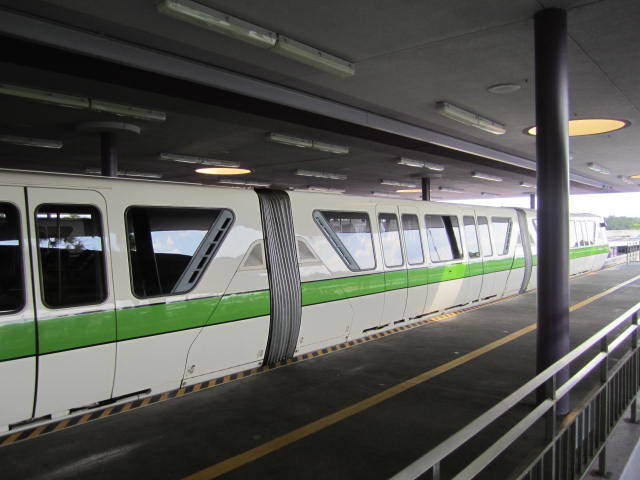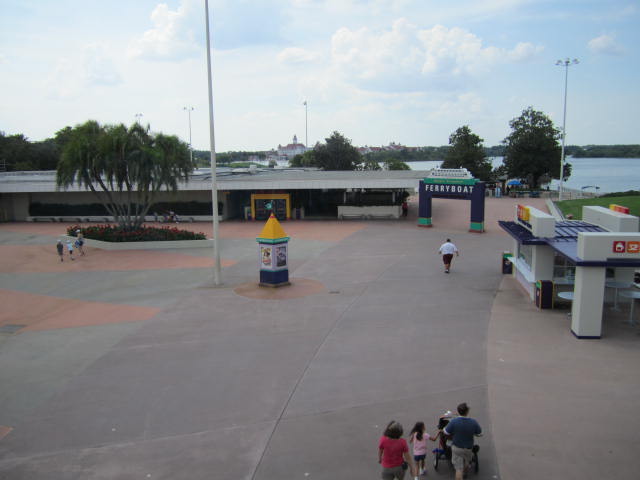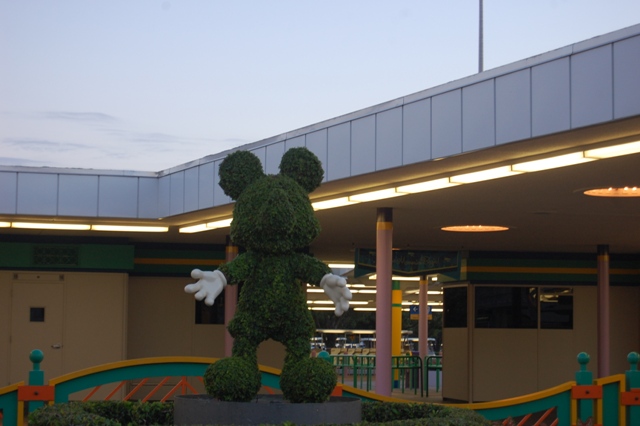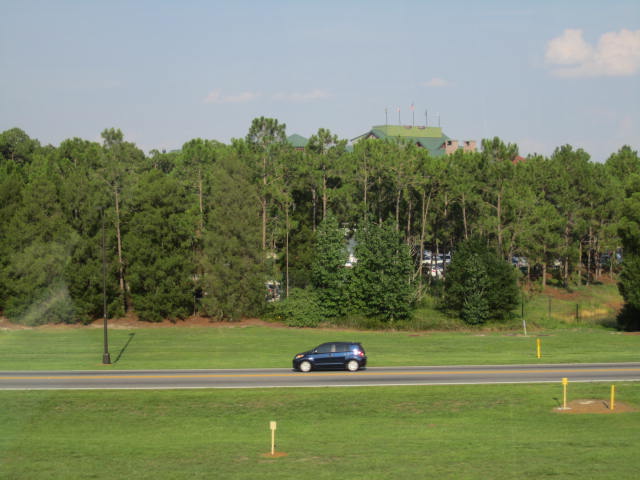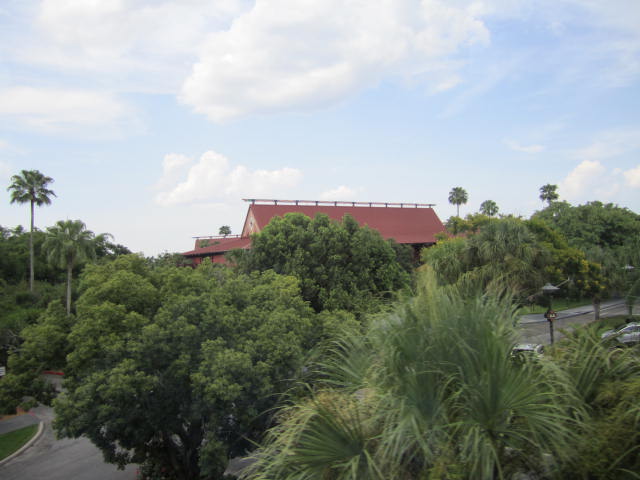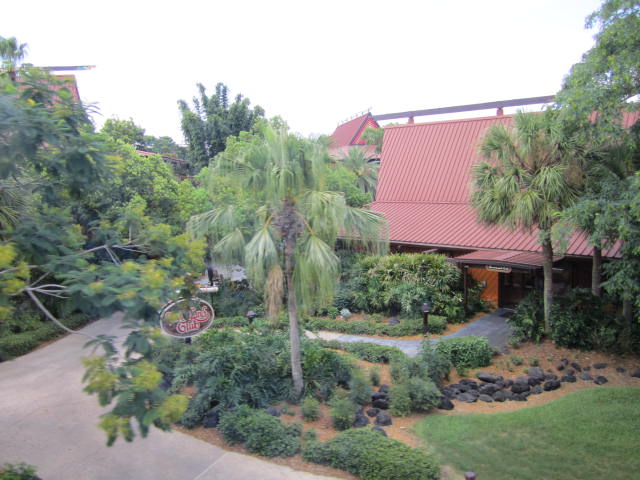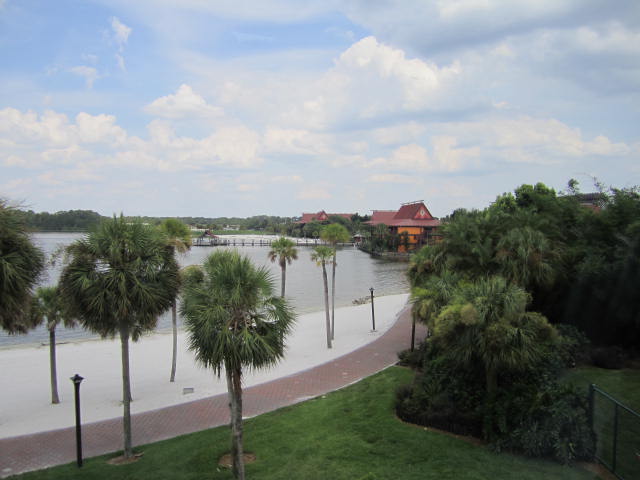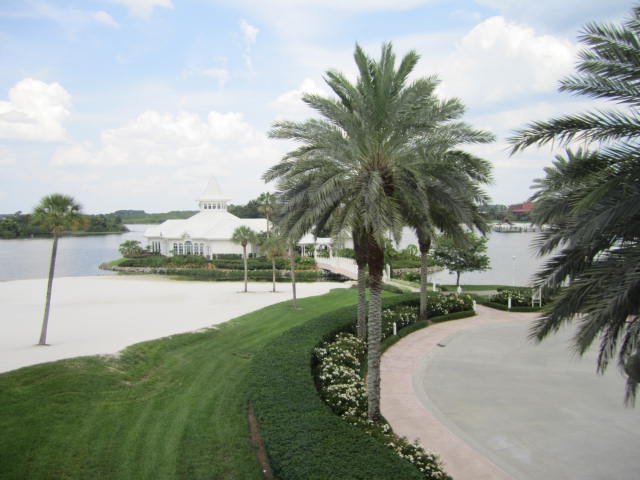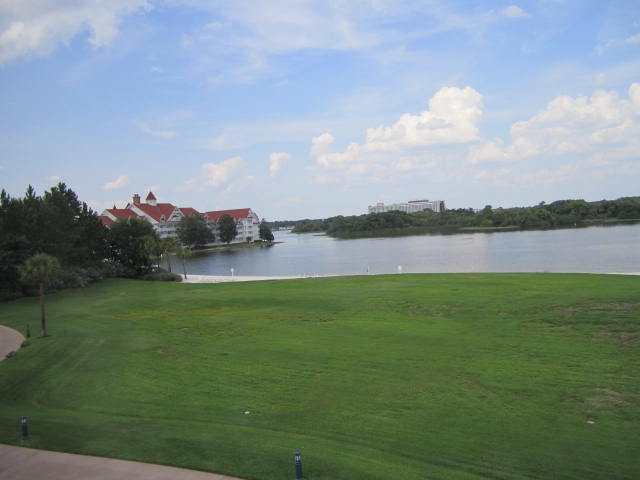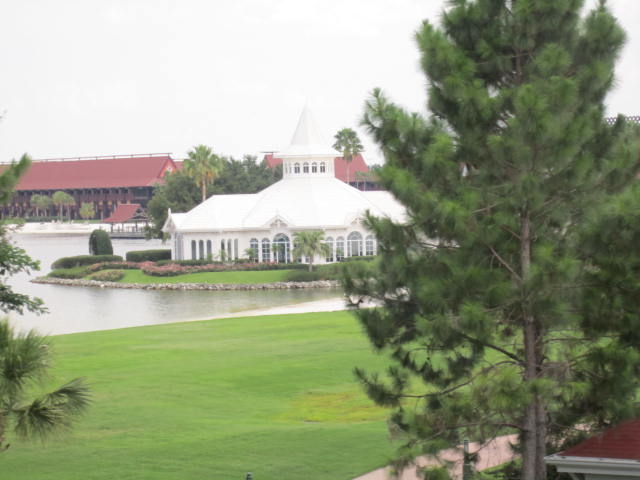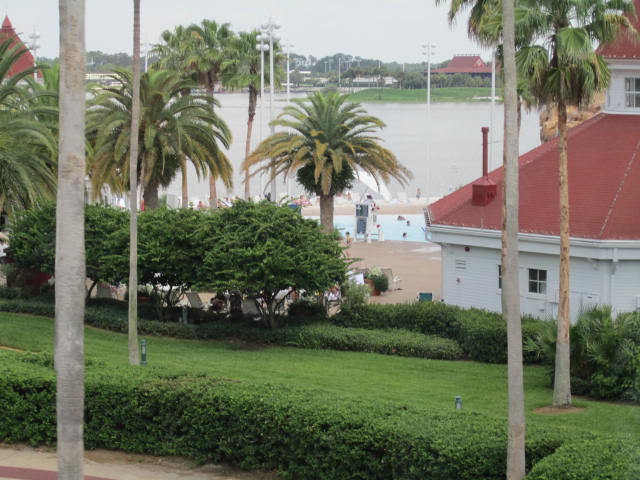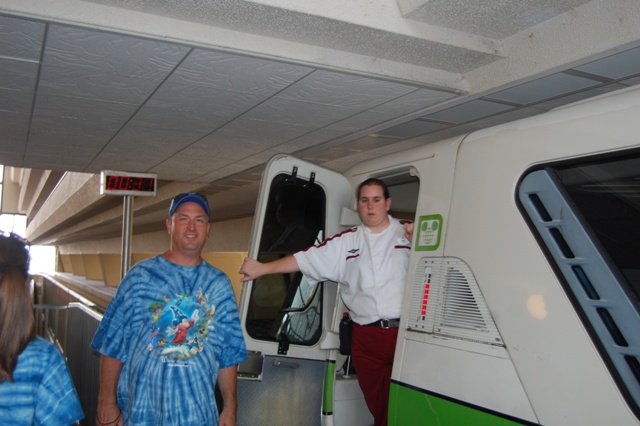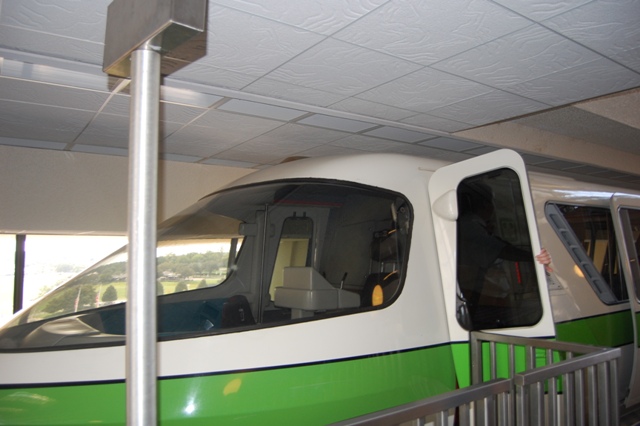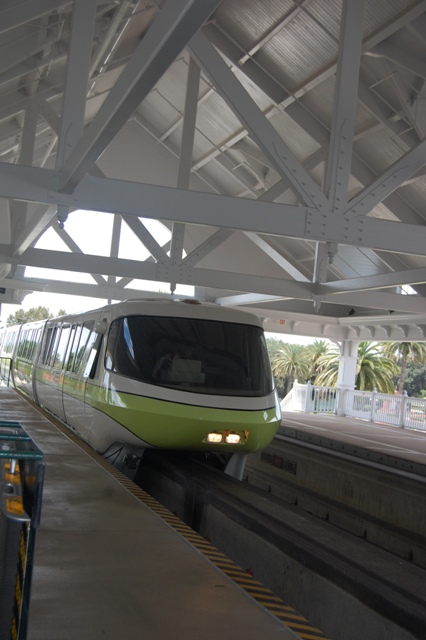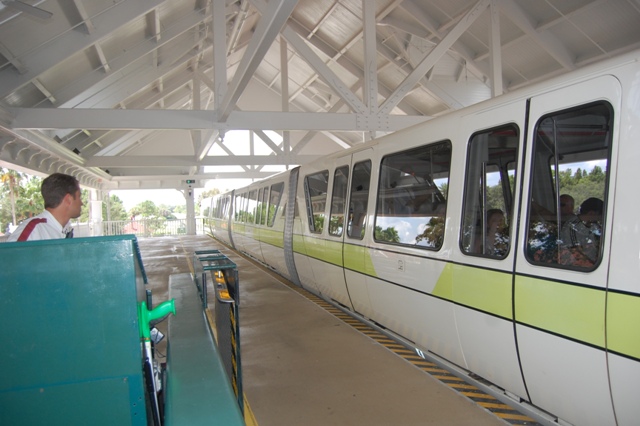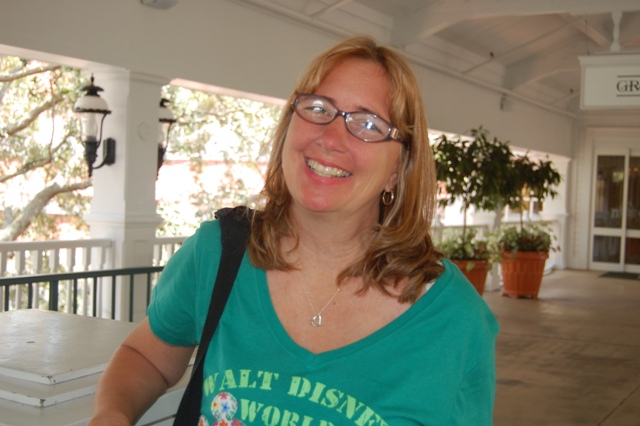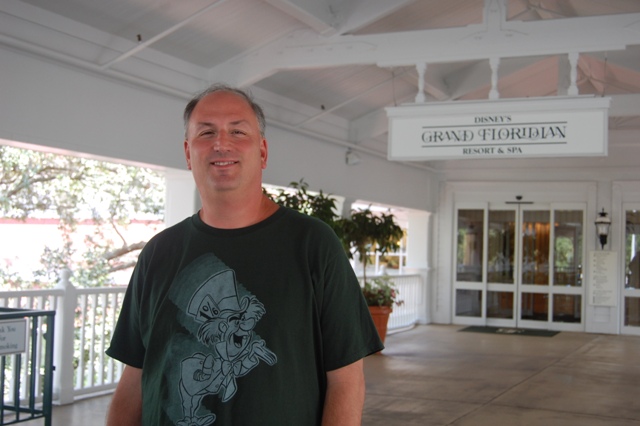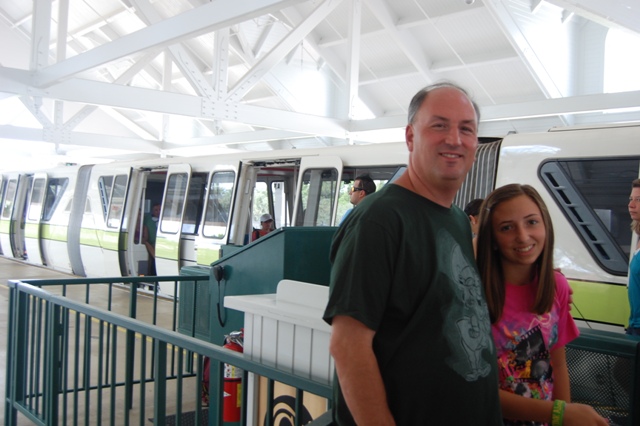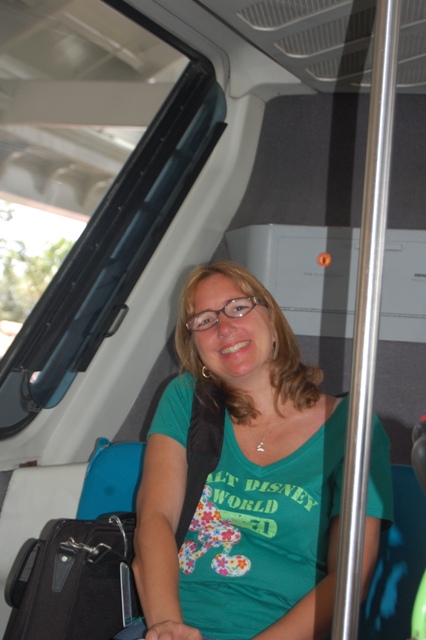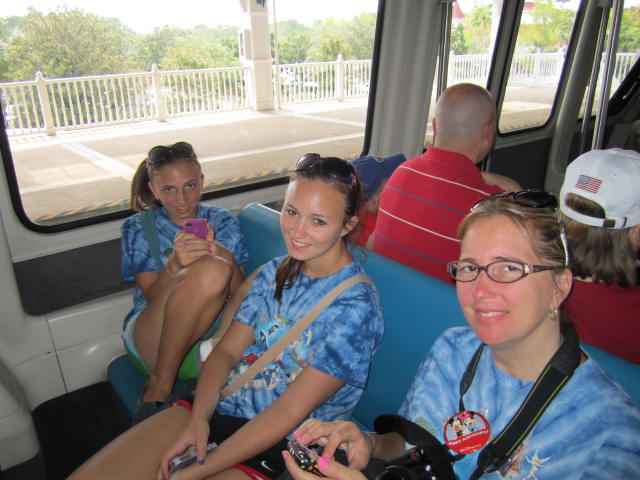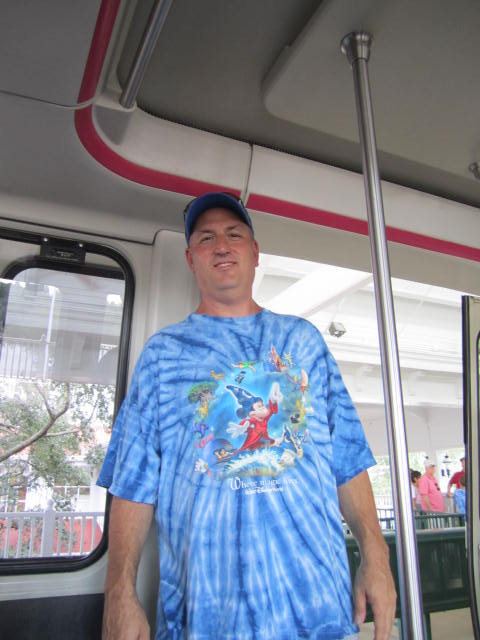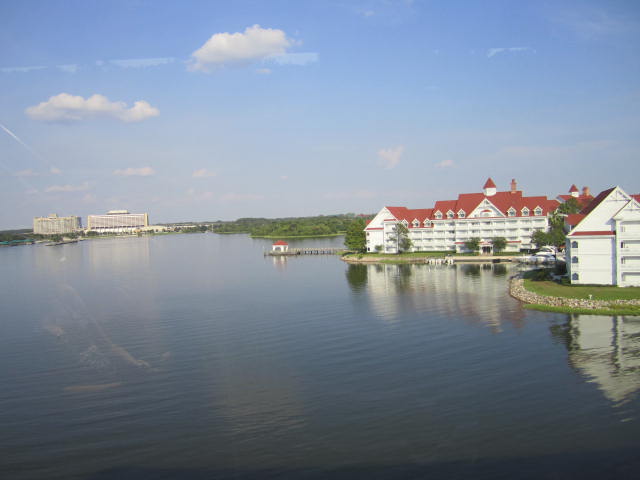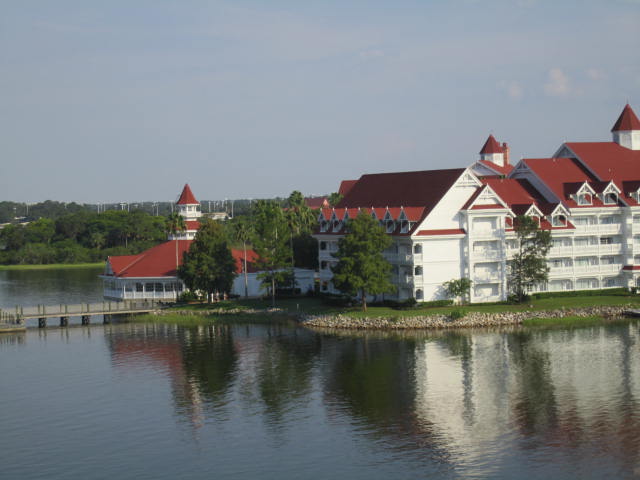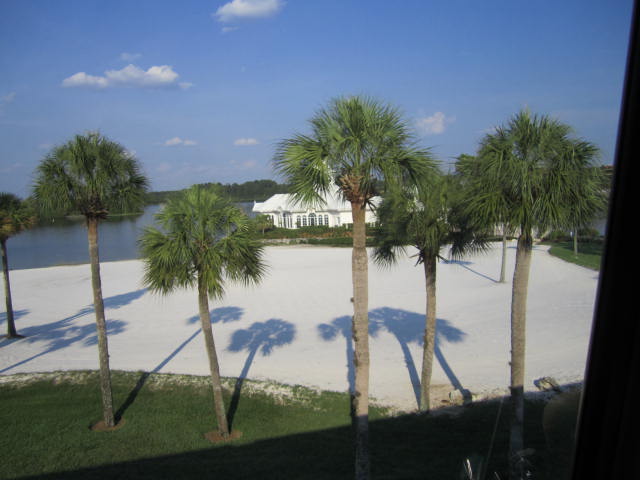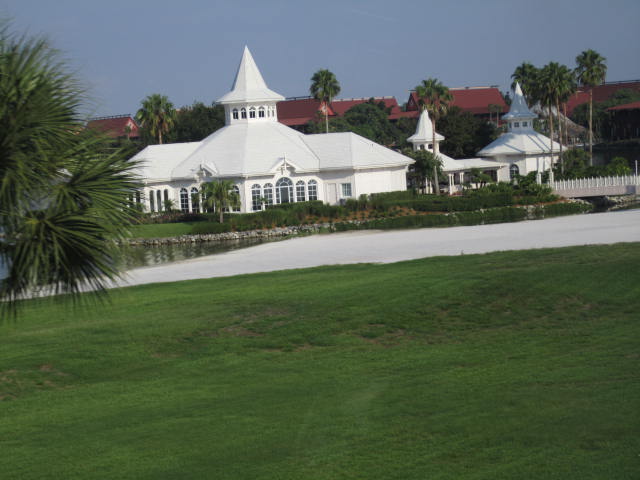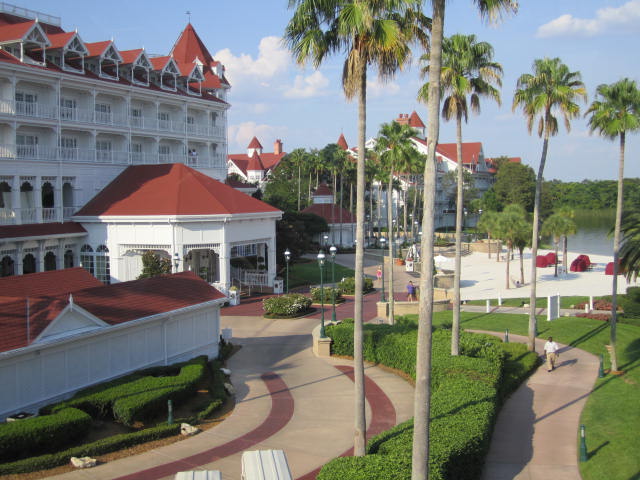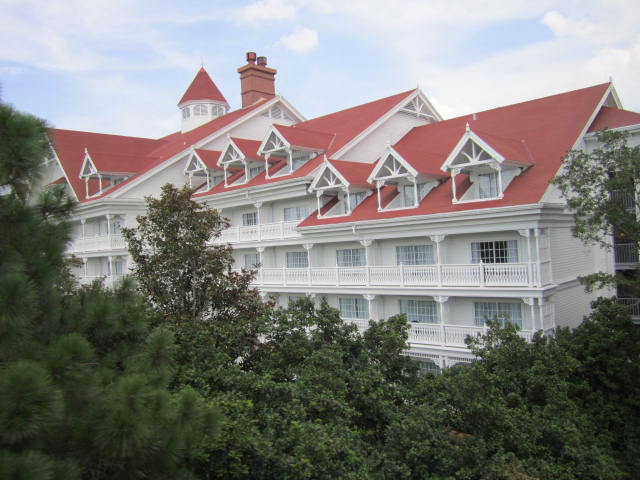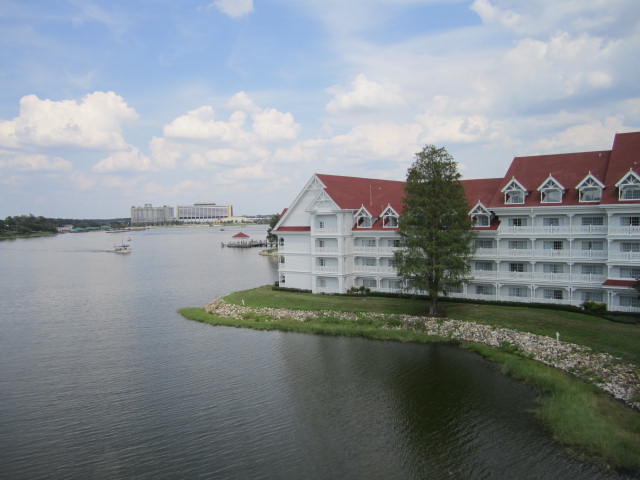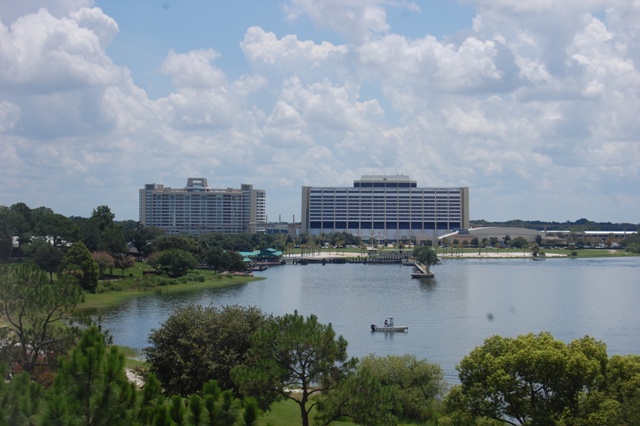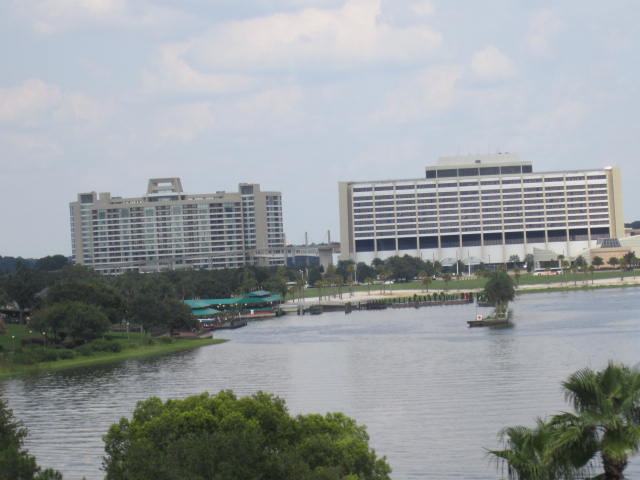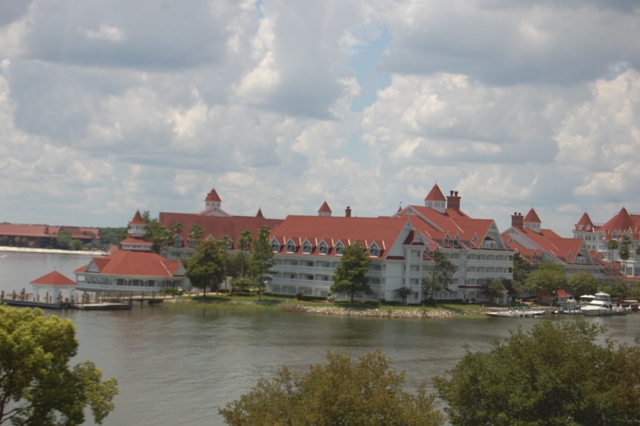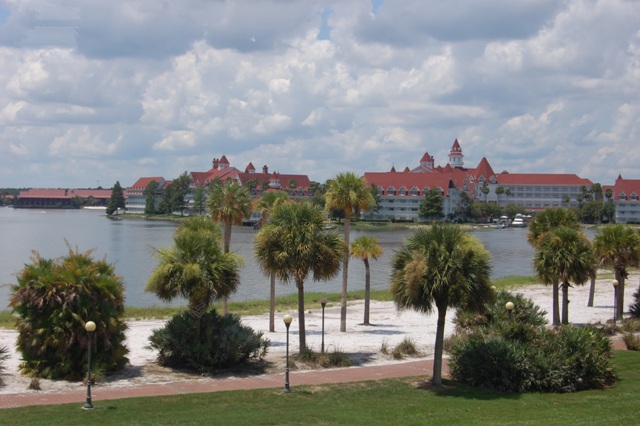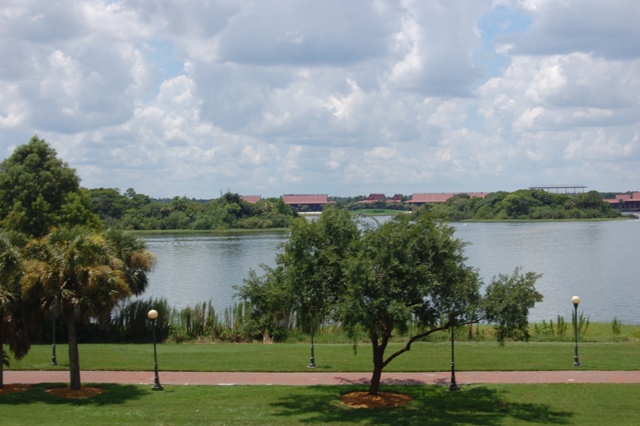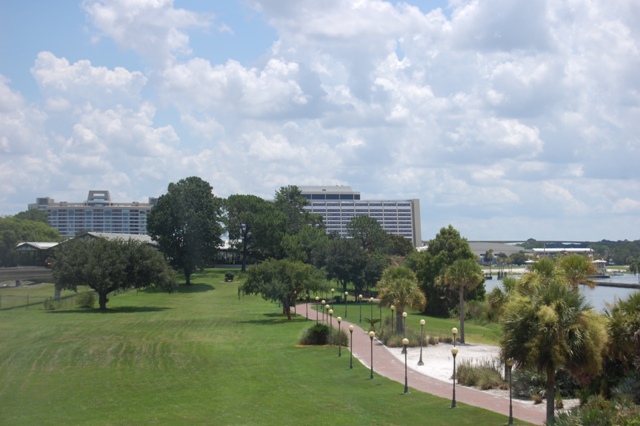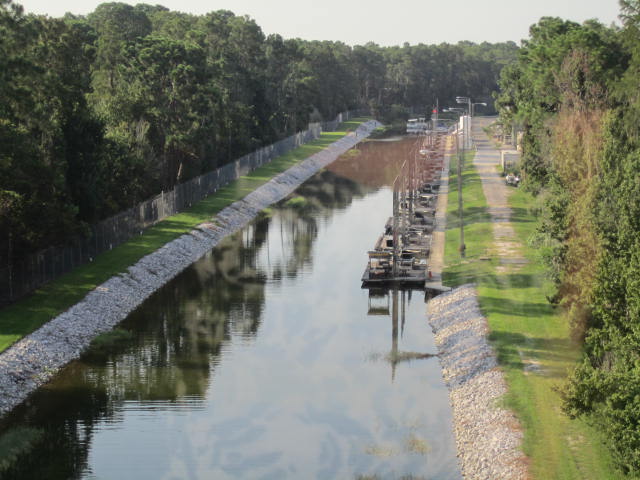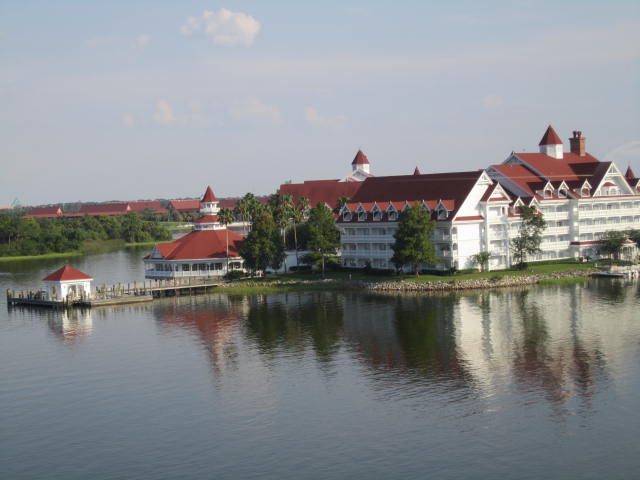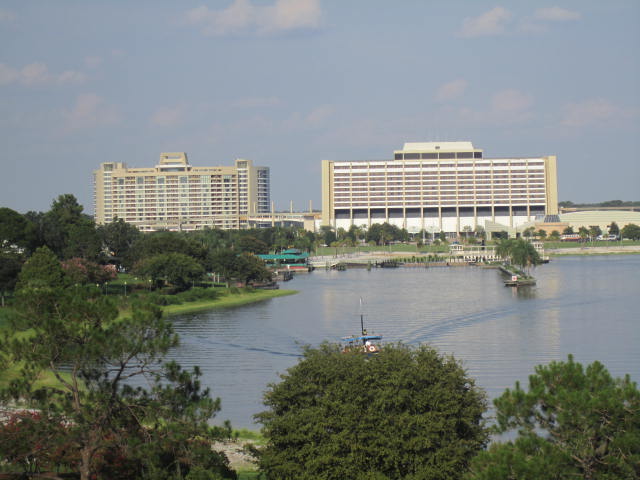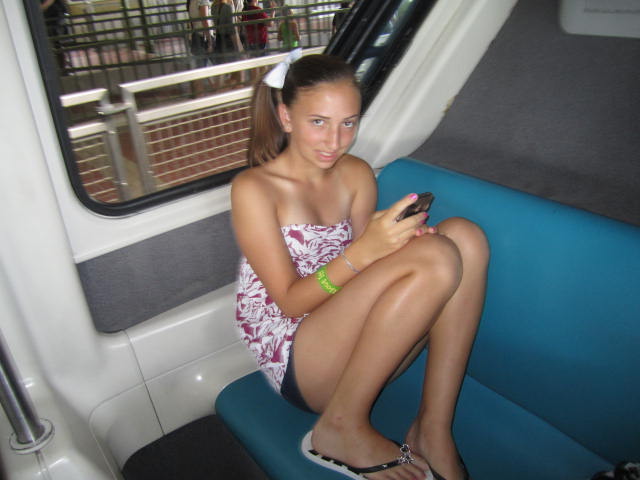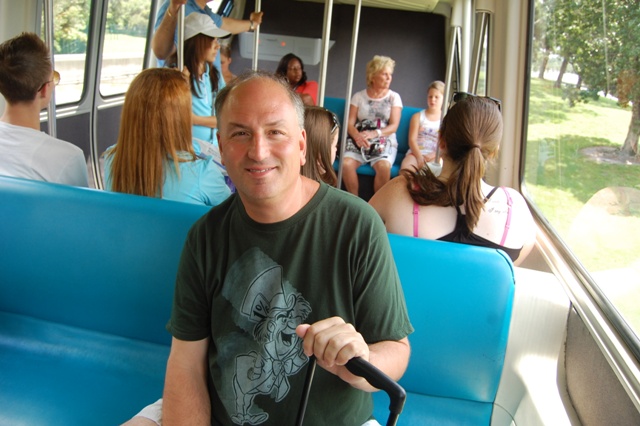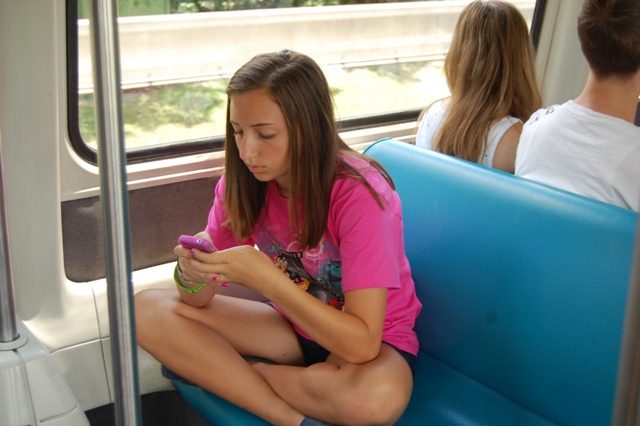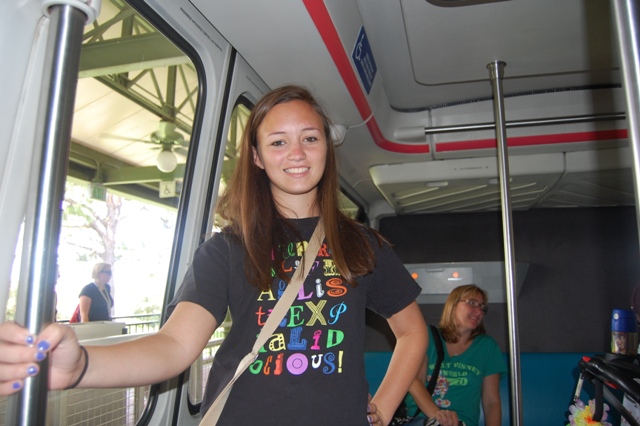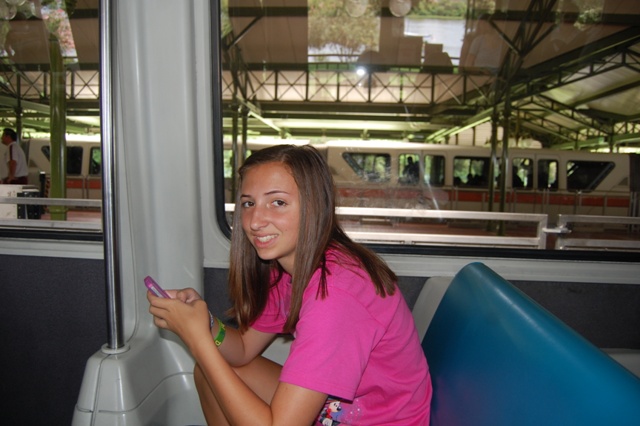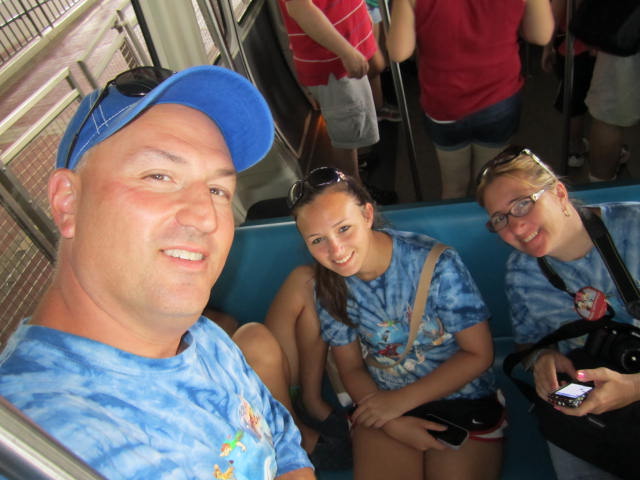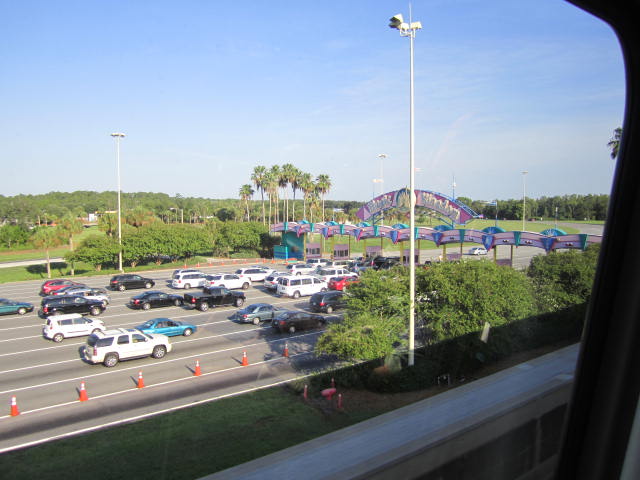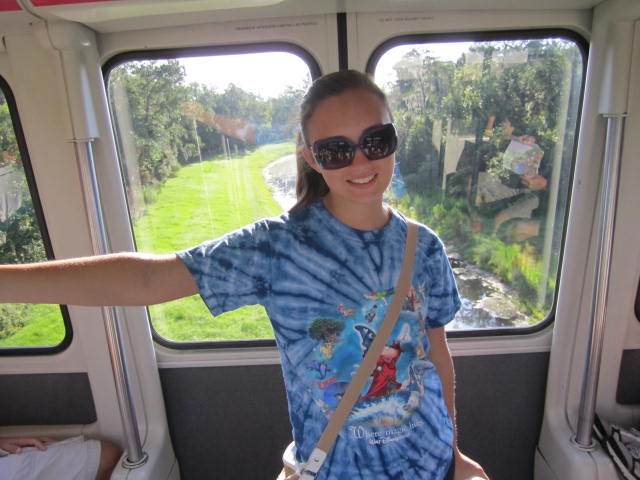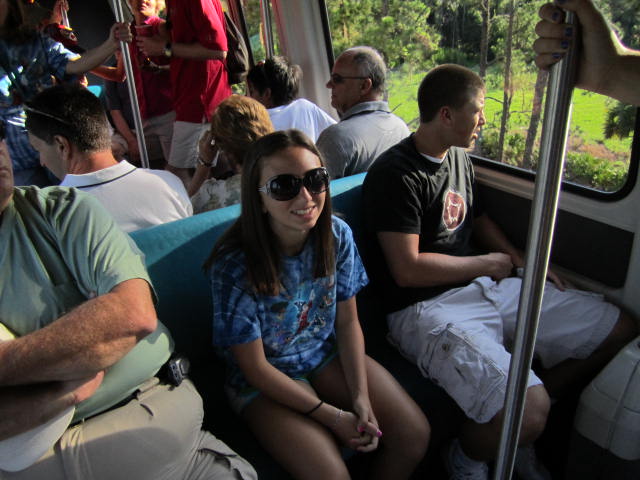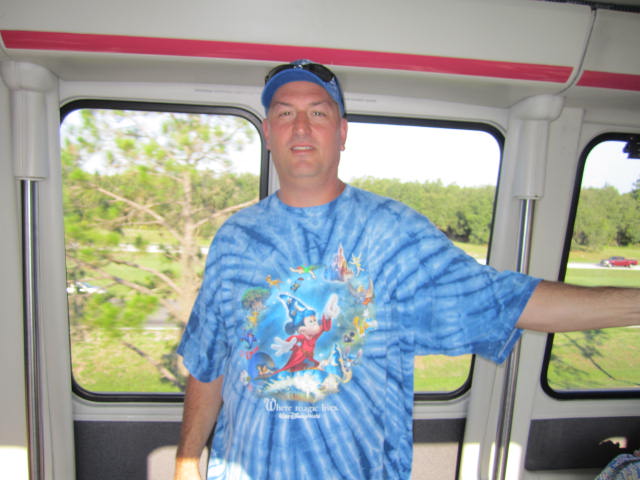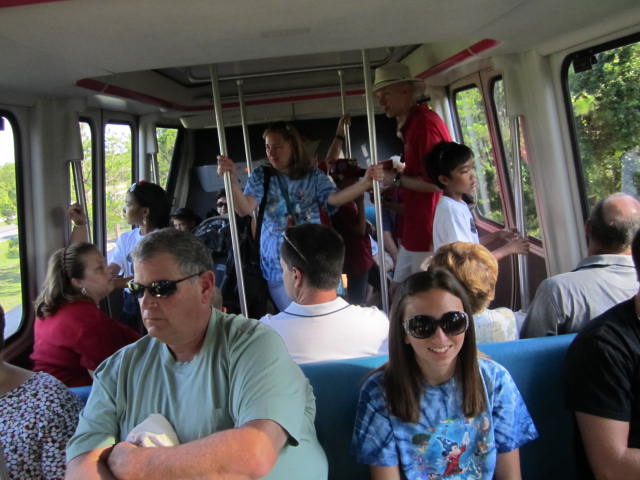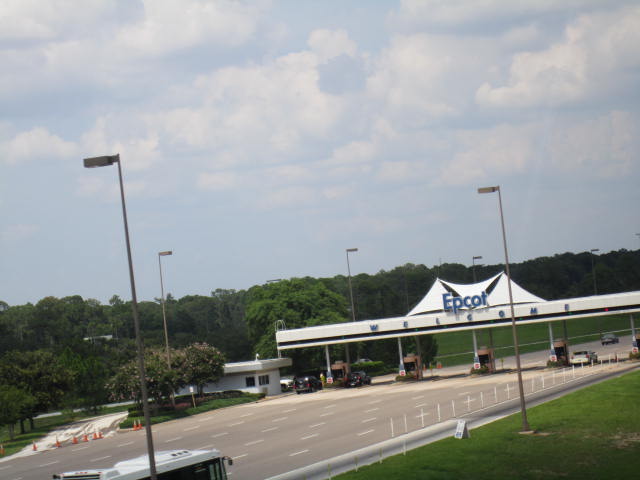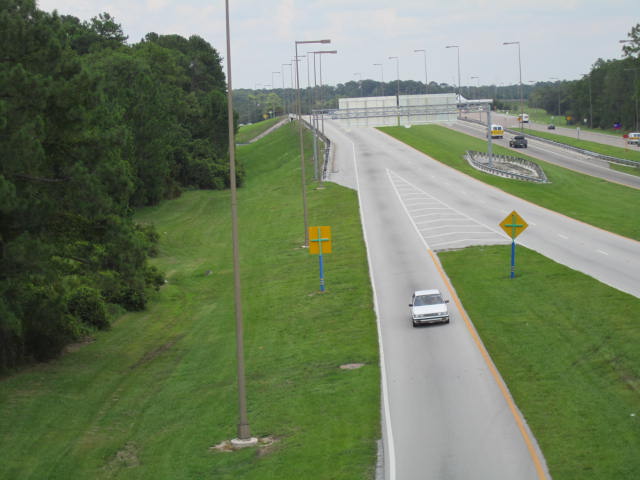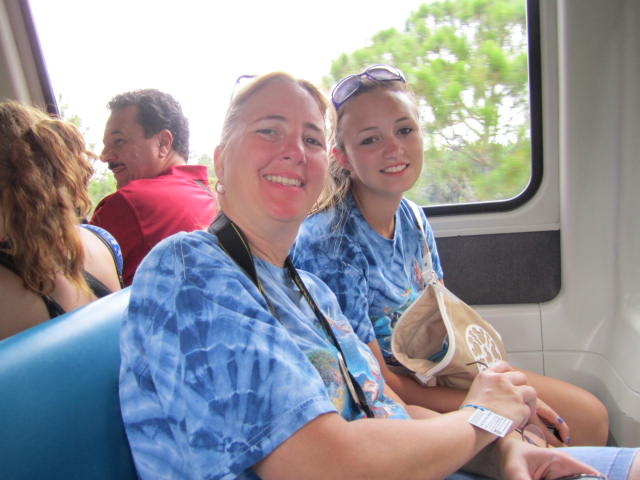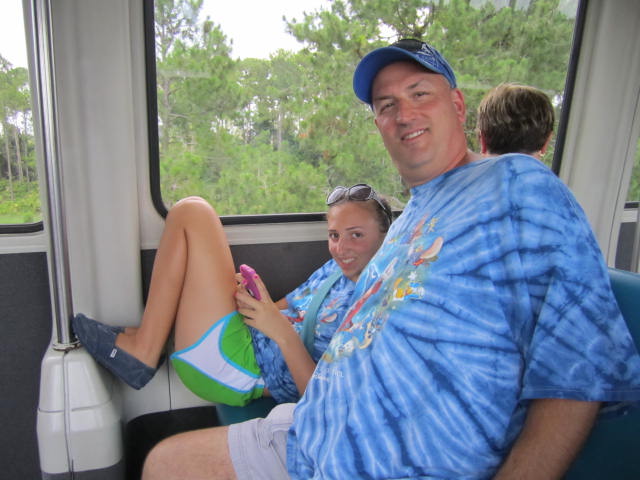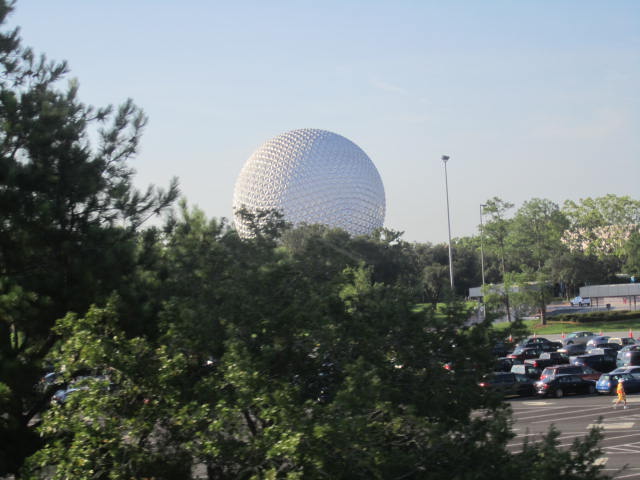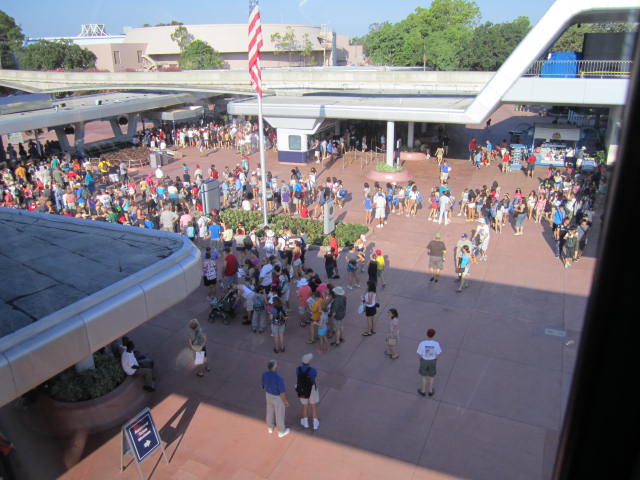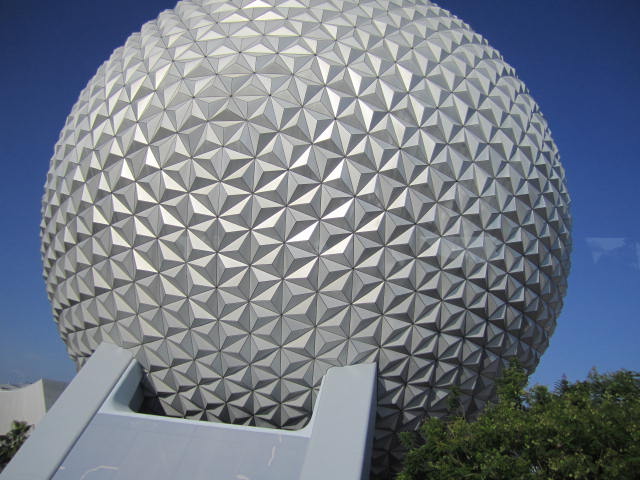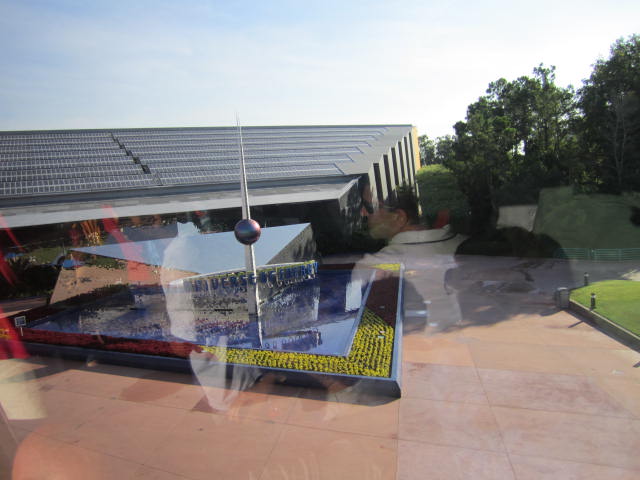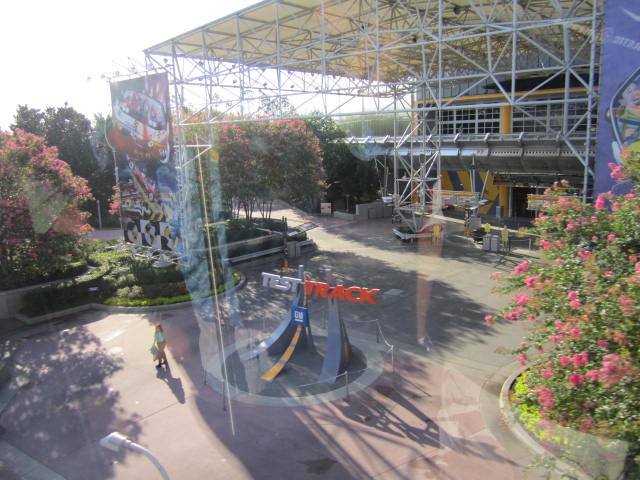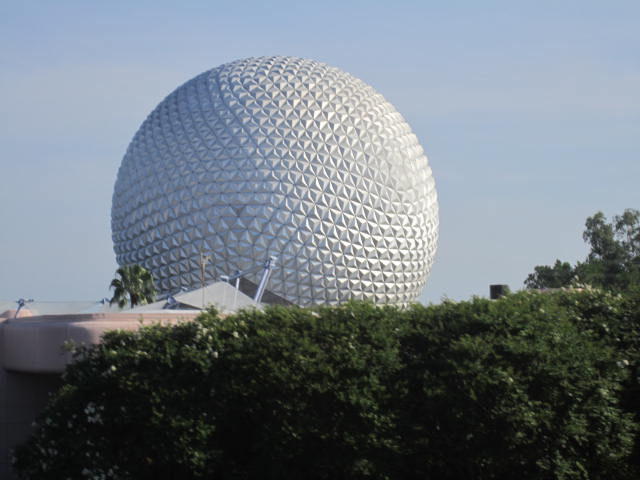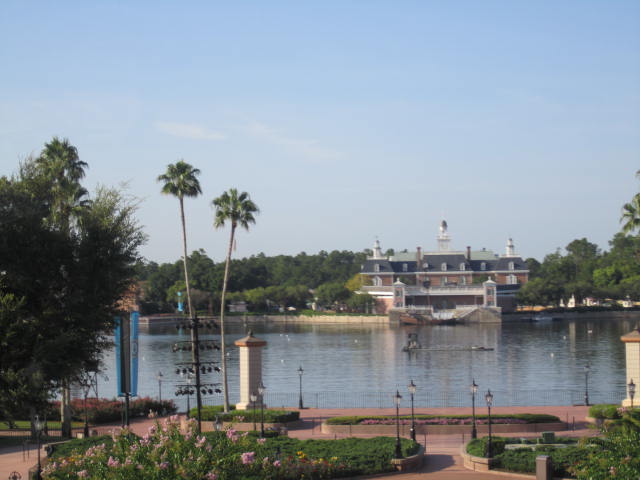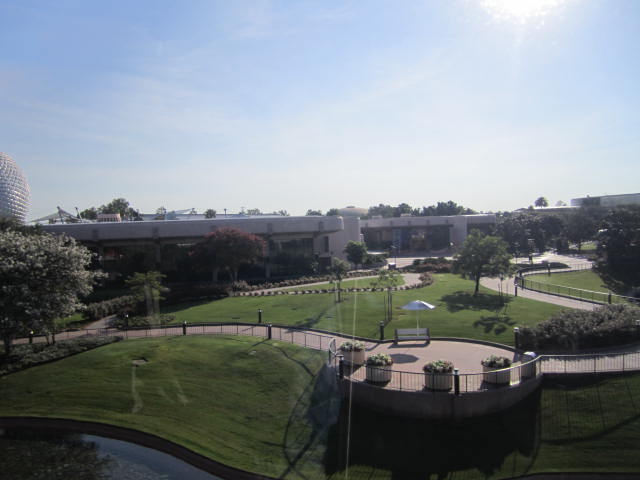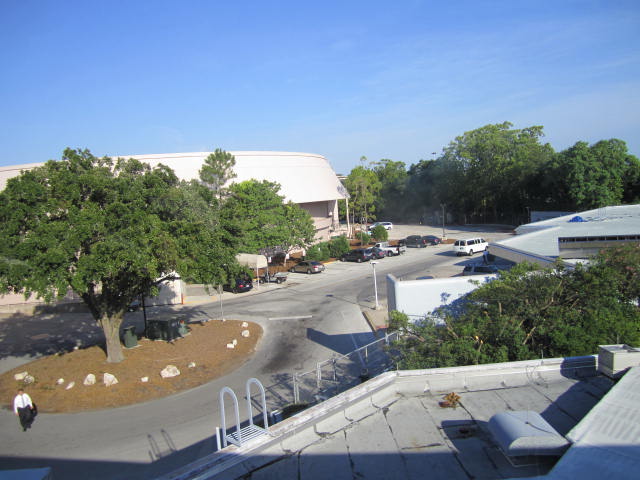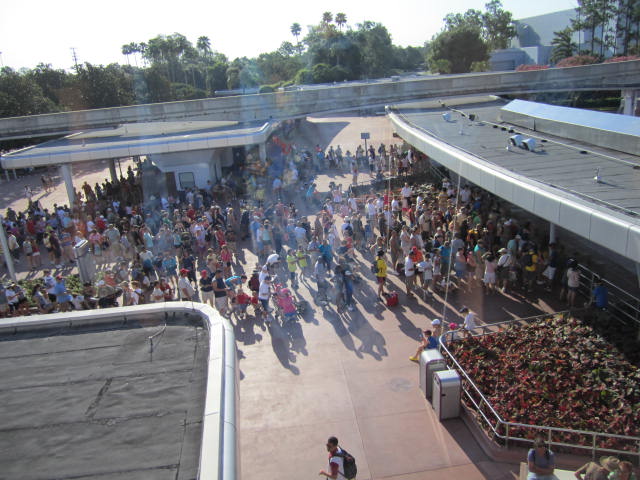 March 2011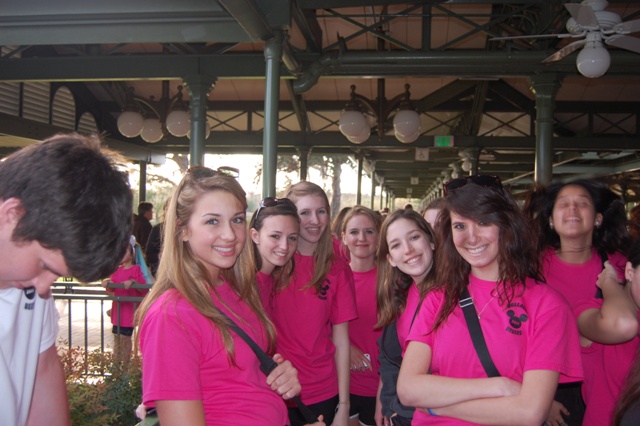 July 2010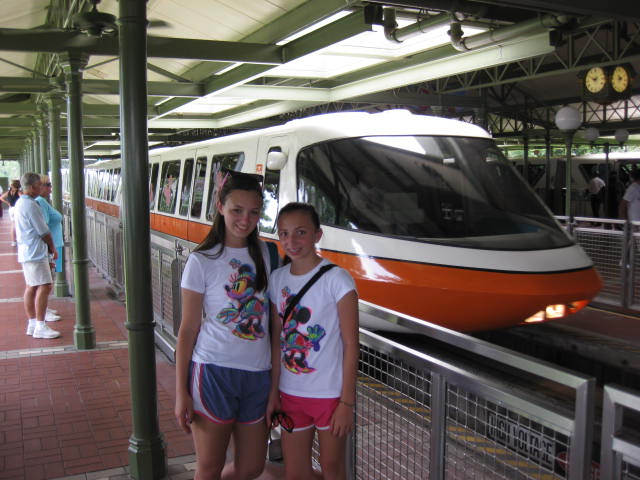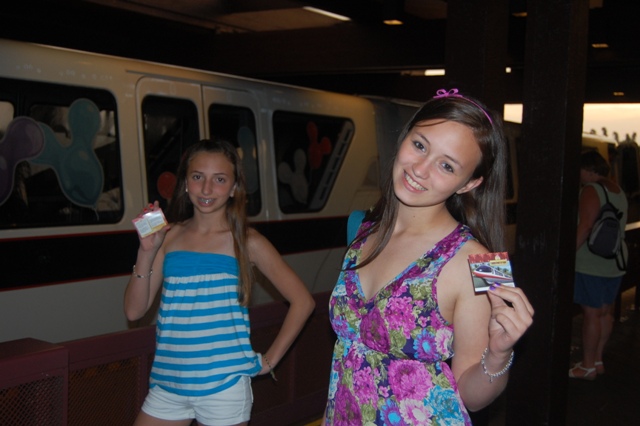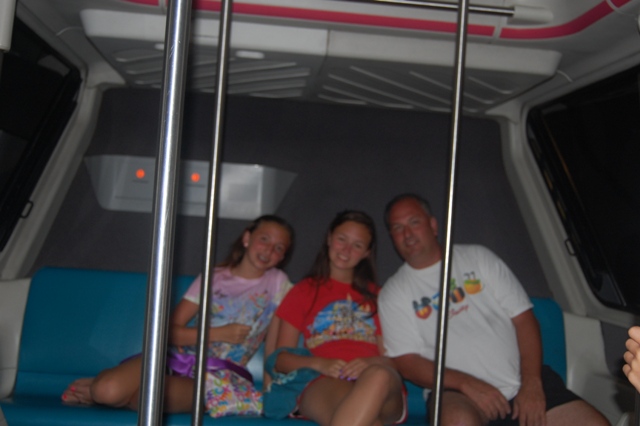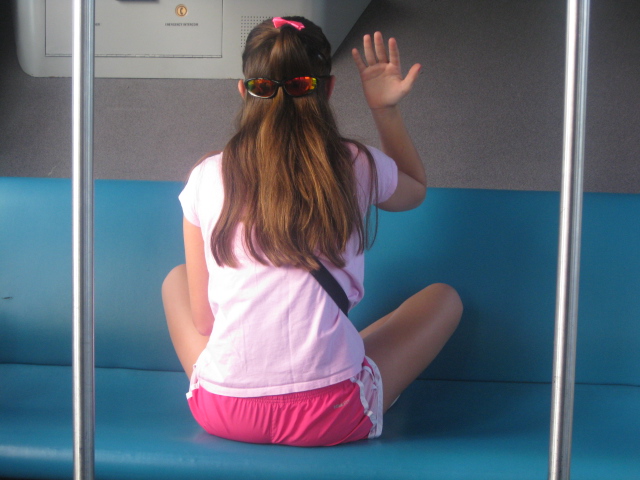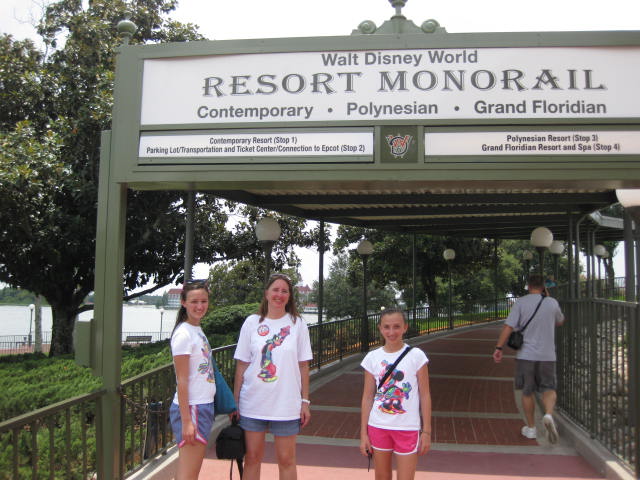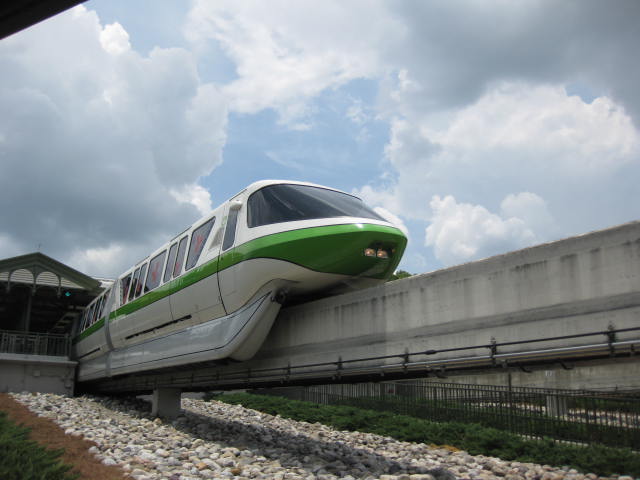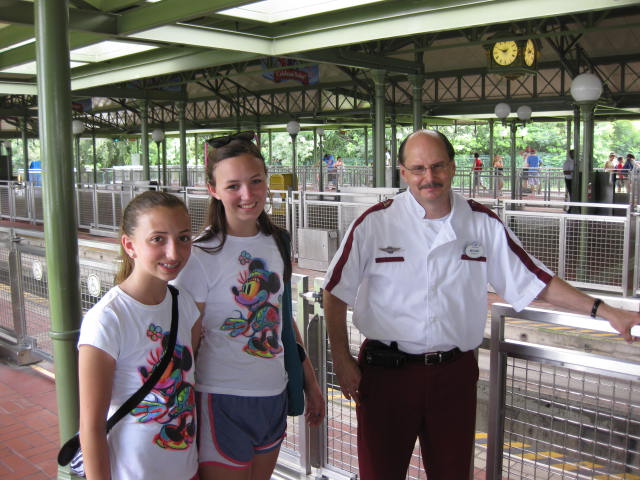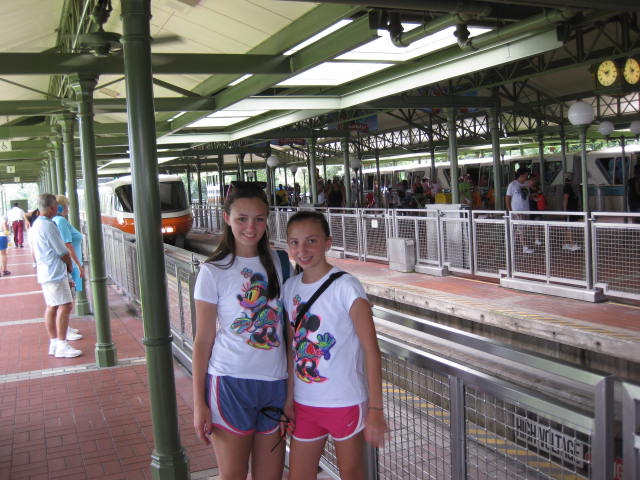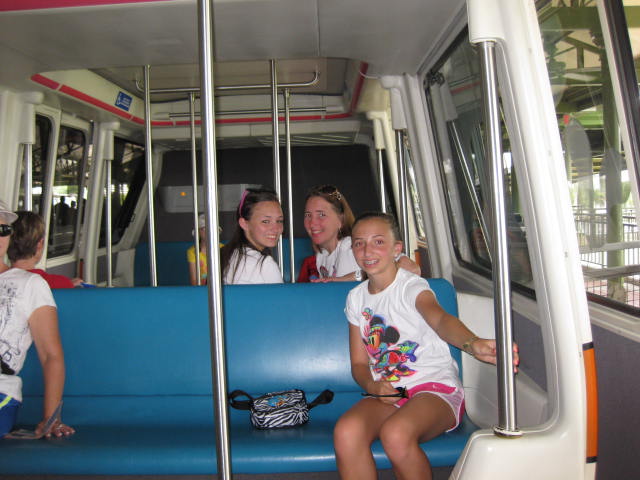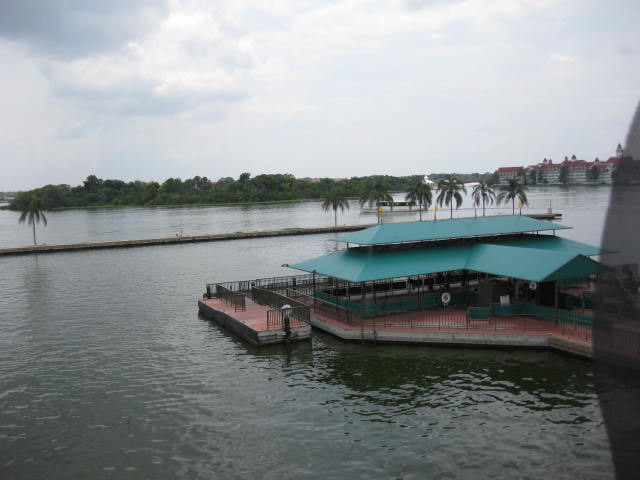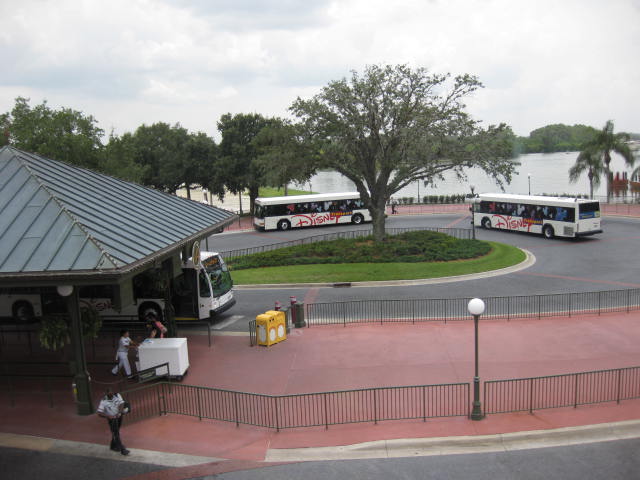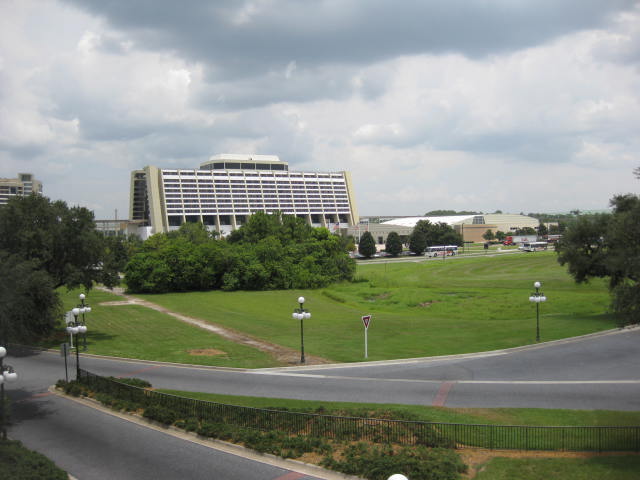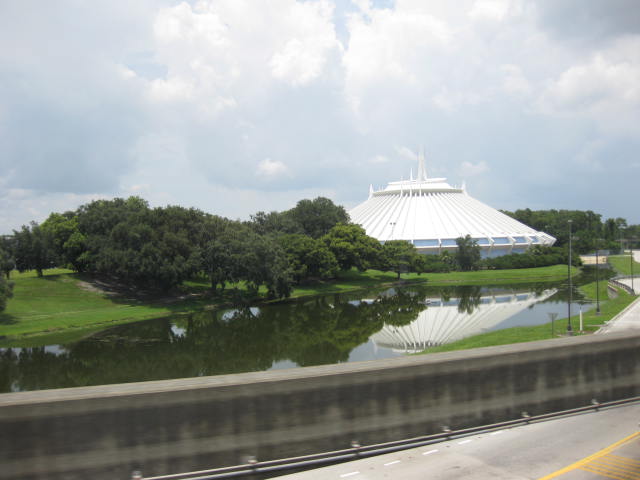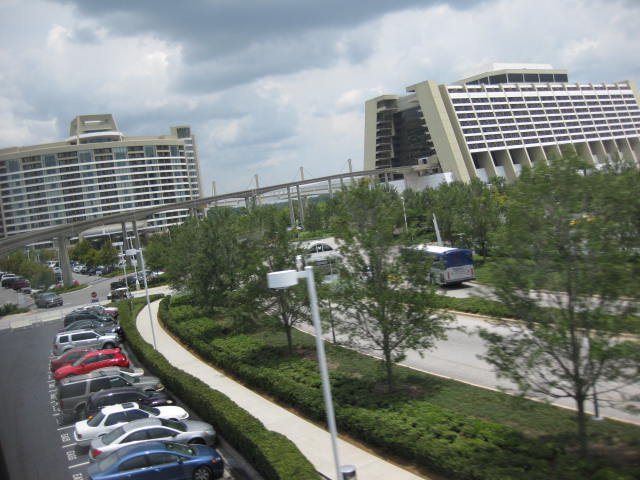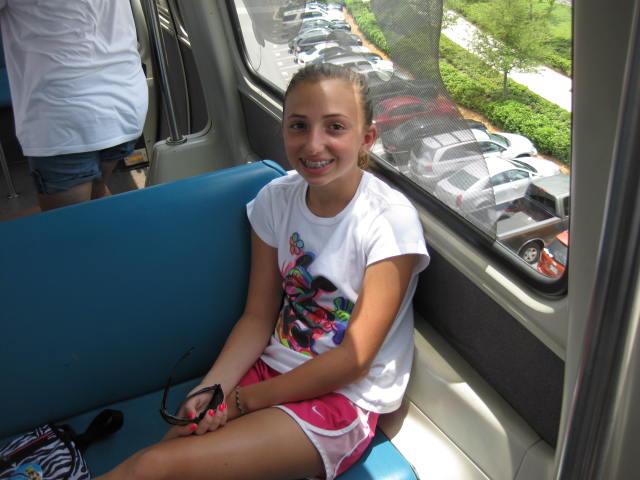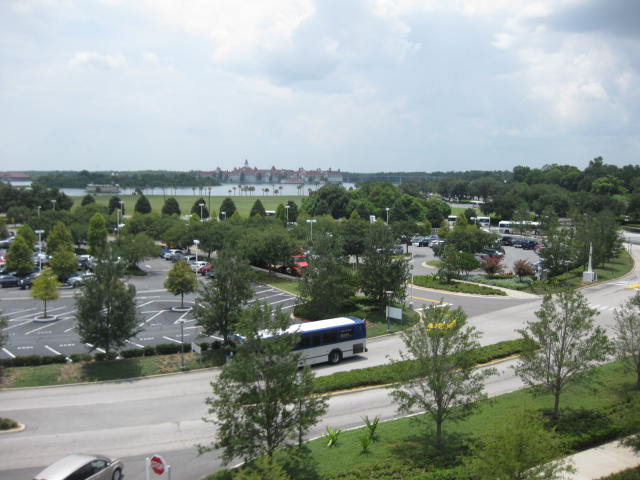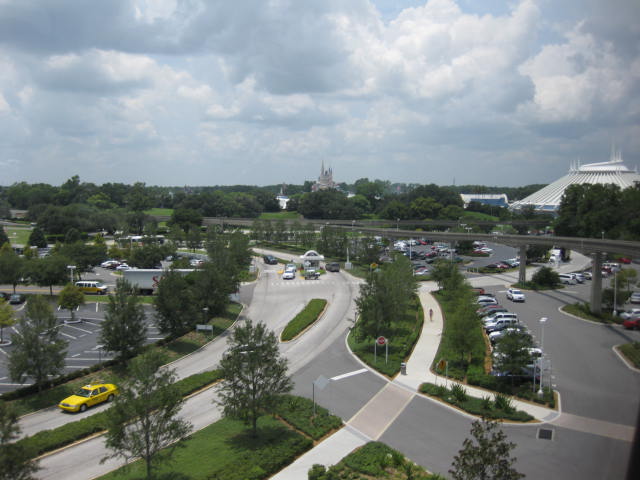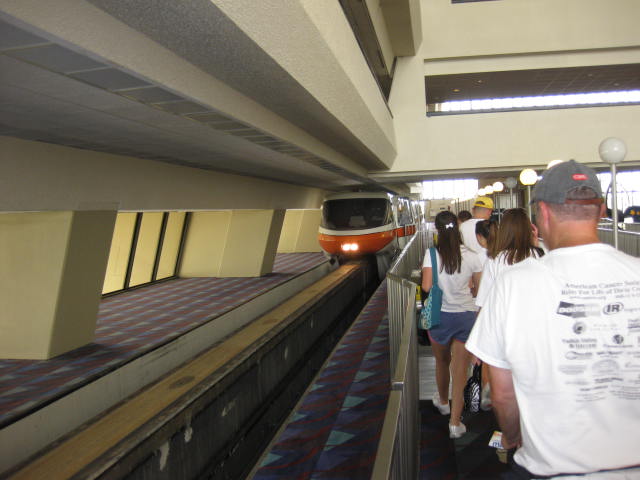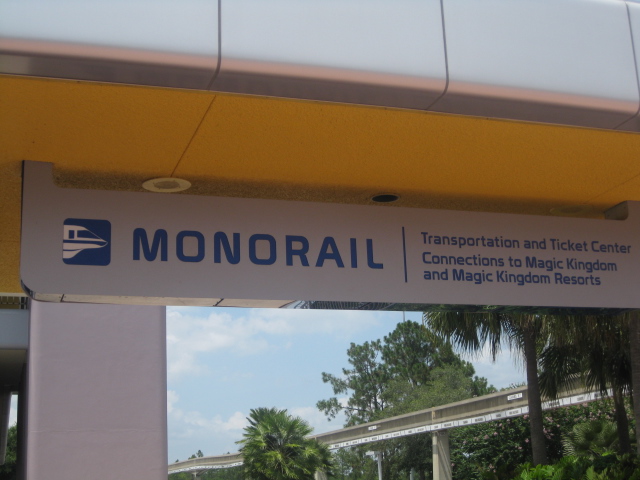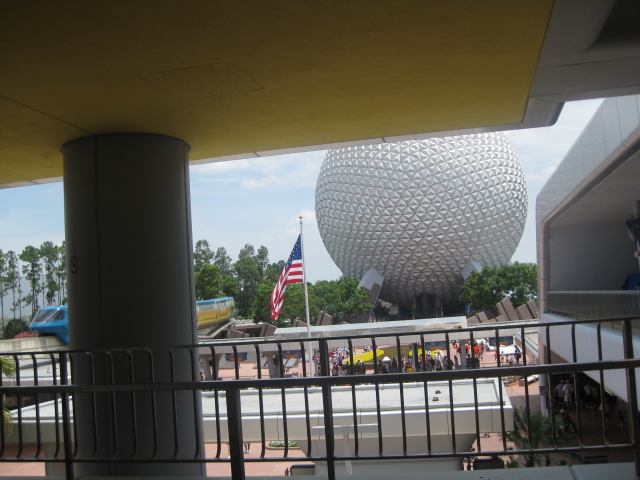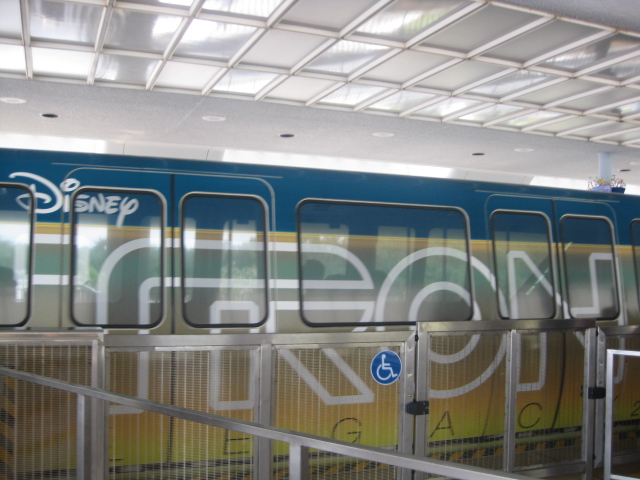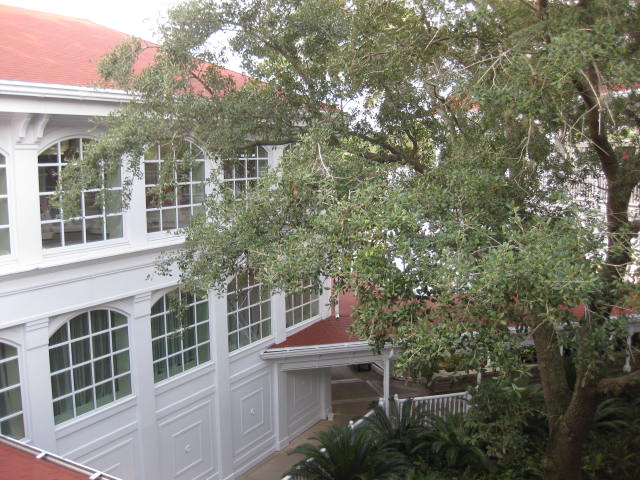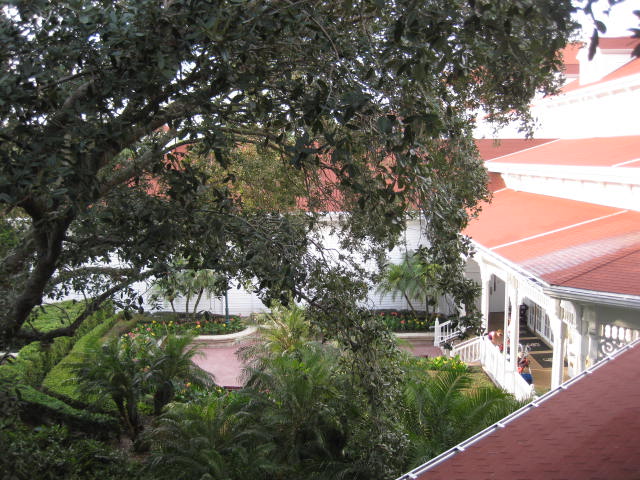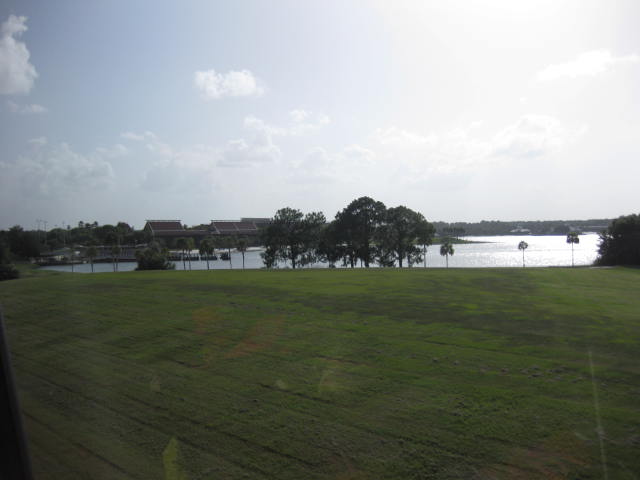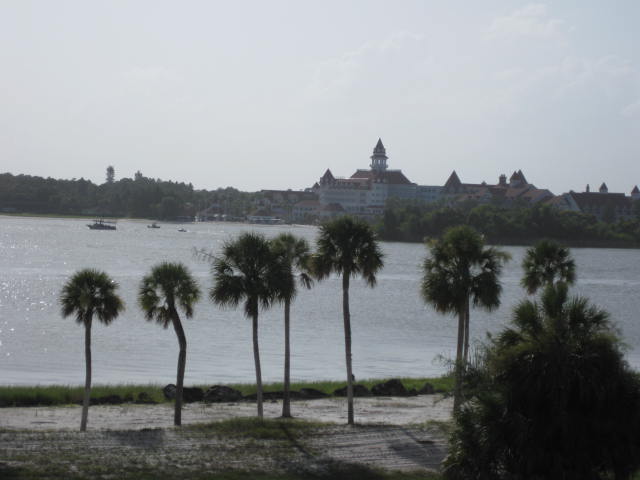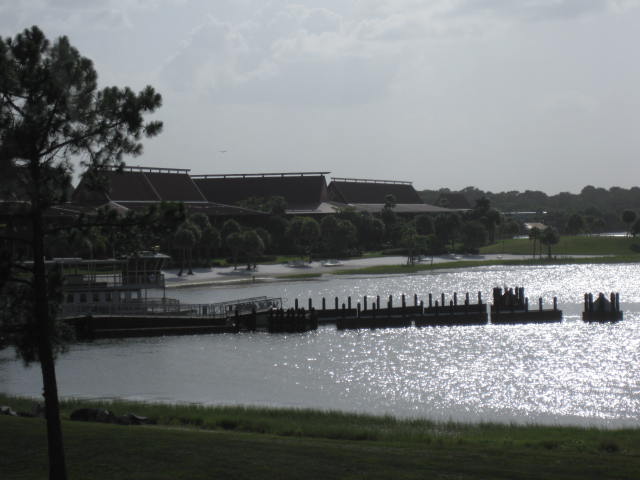 July 2009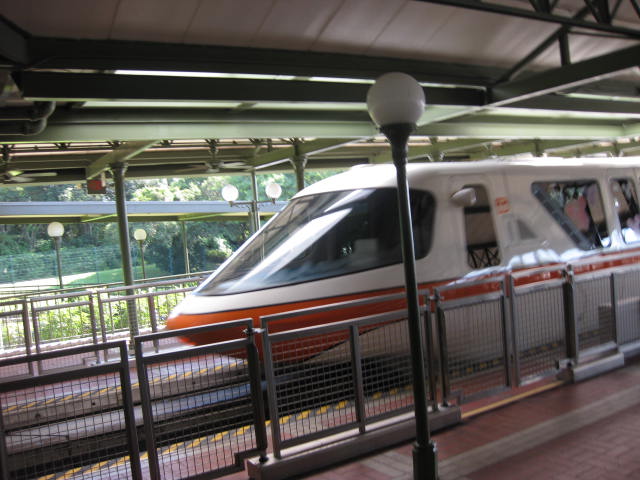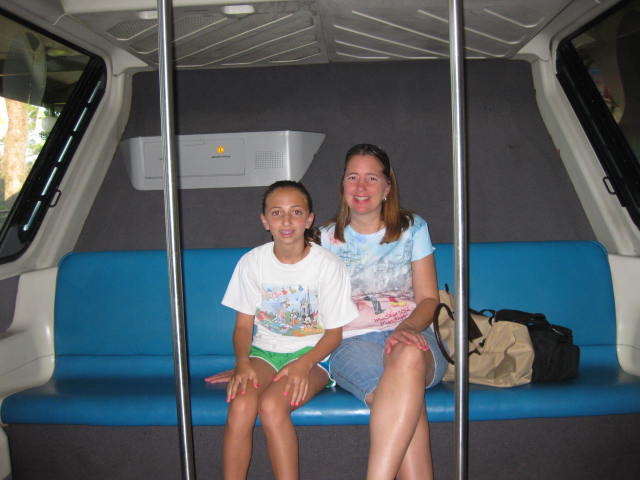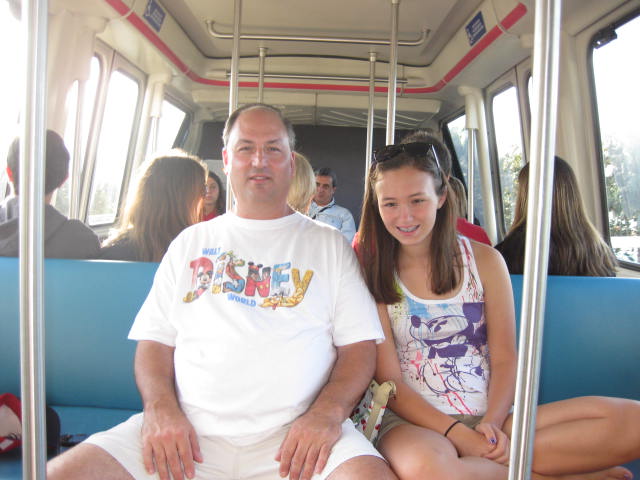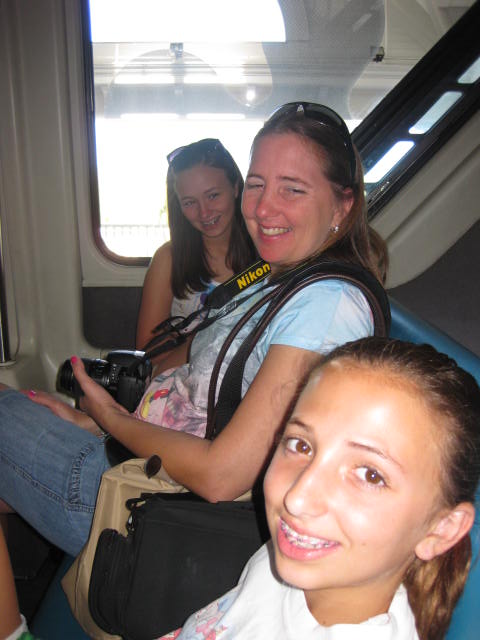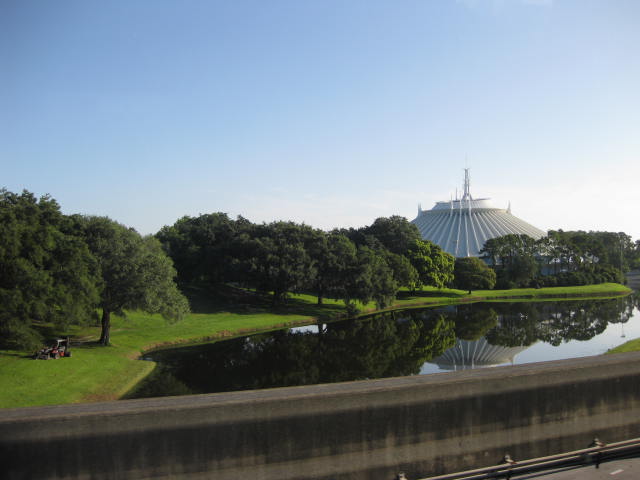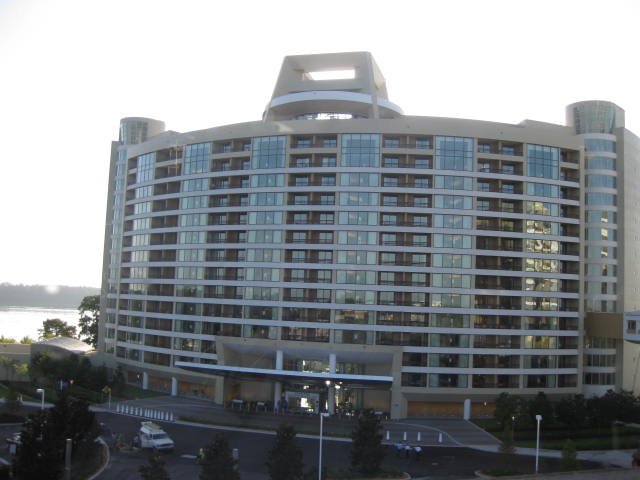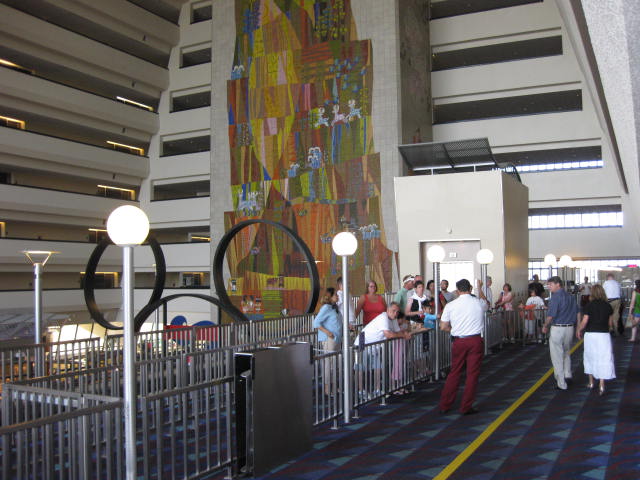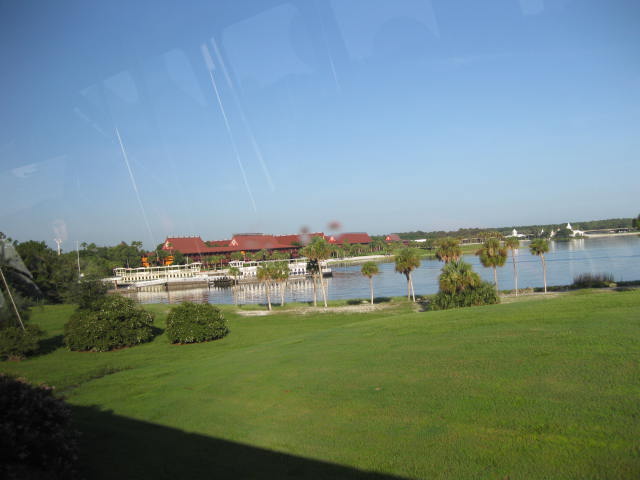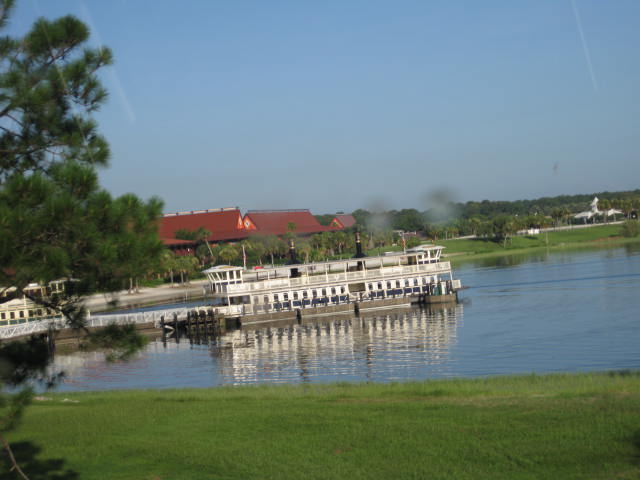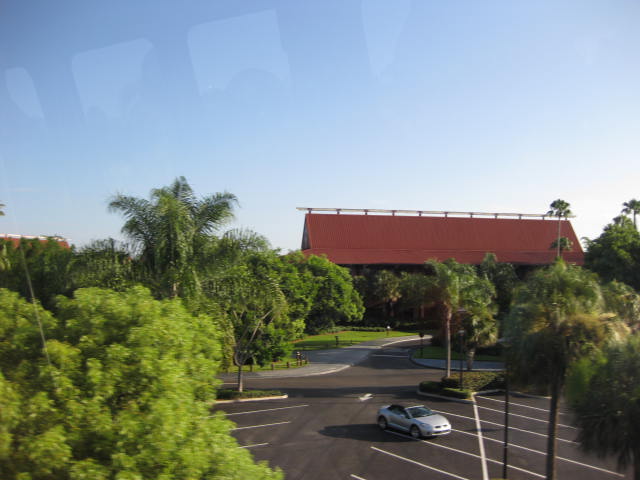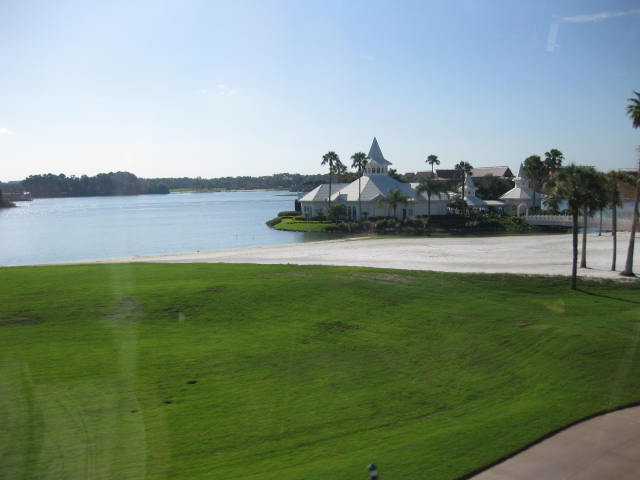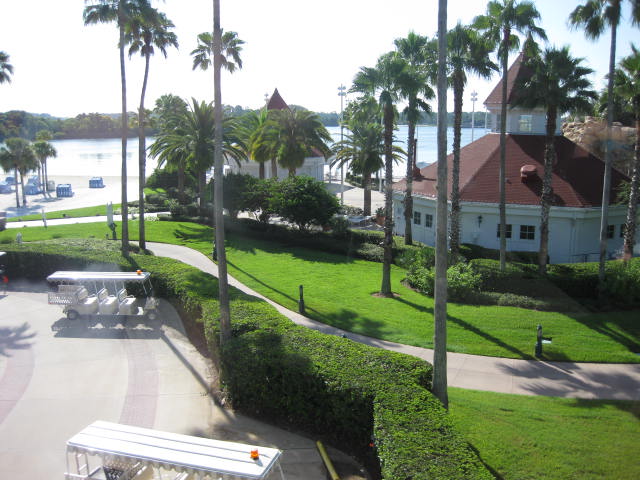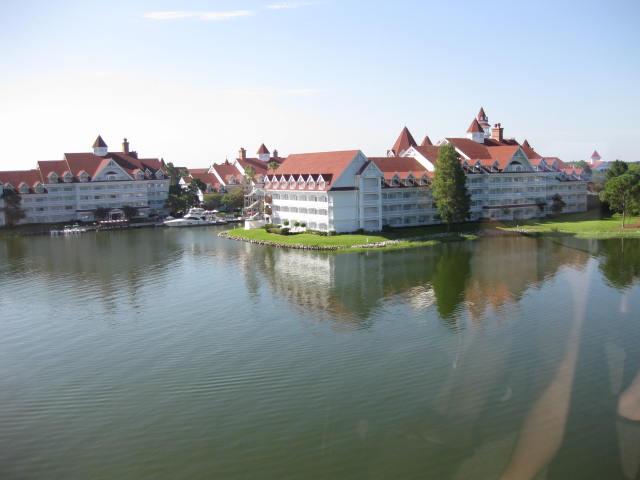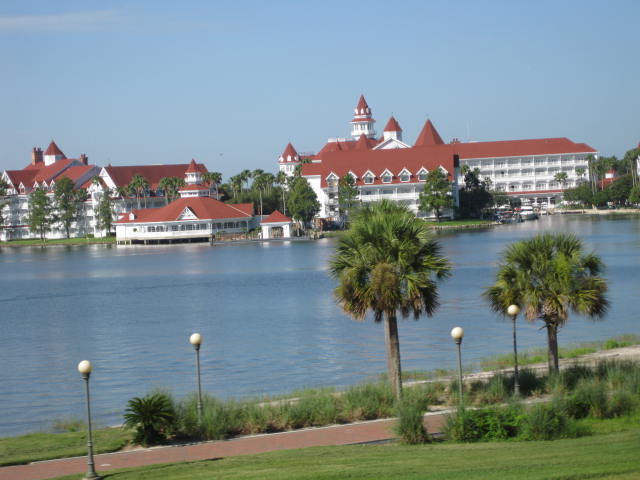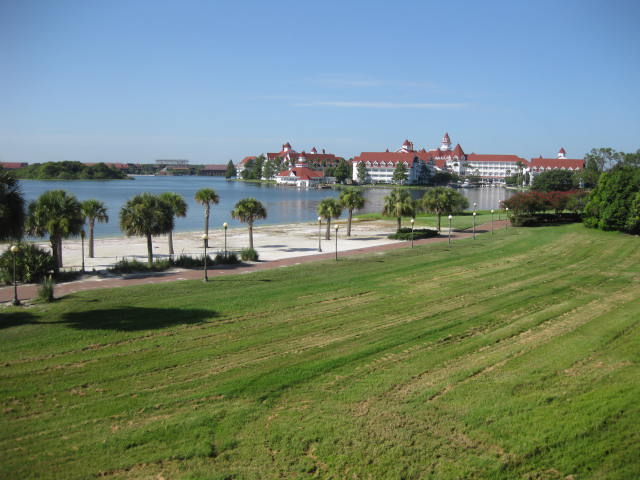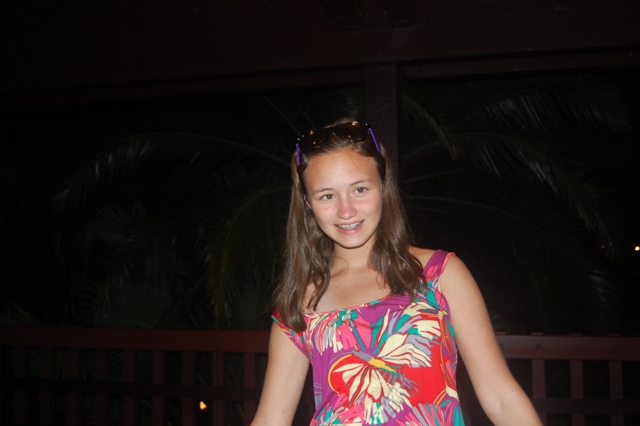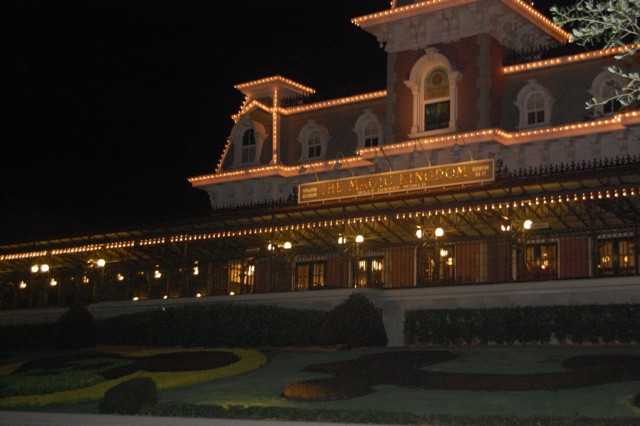 July 2008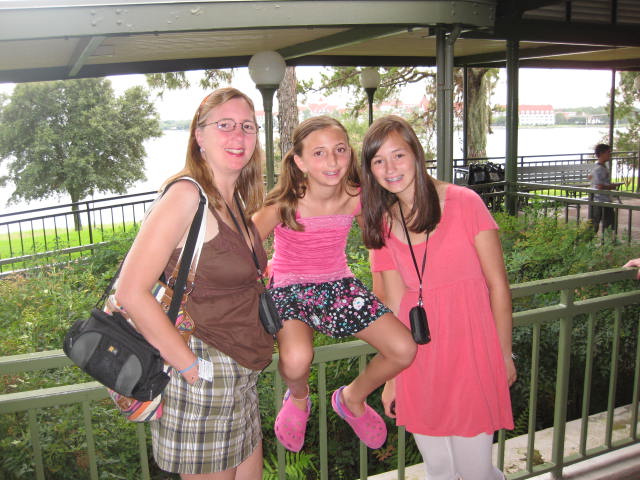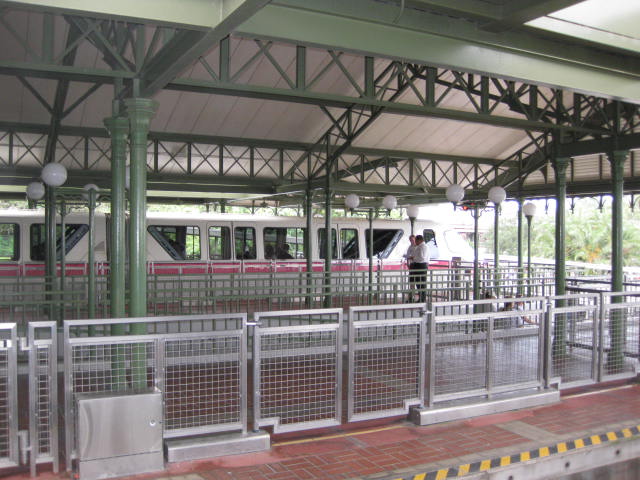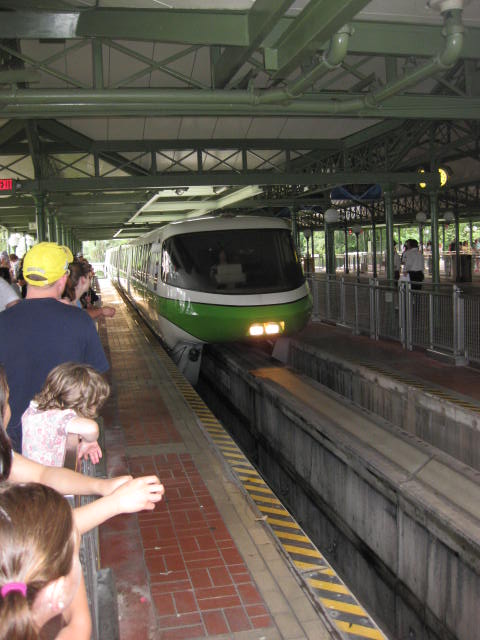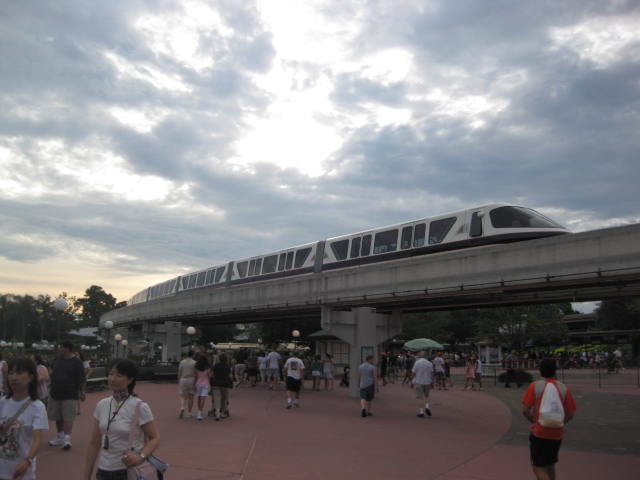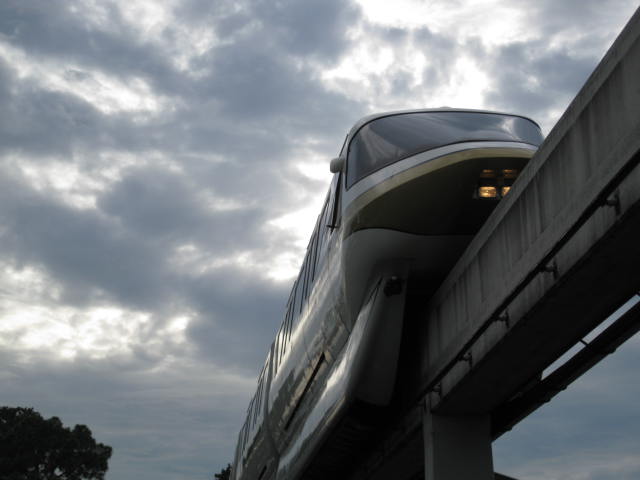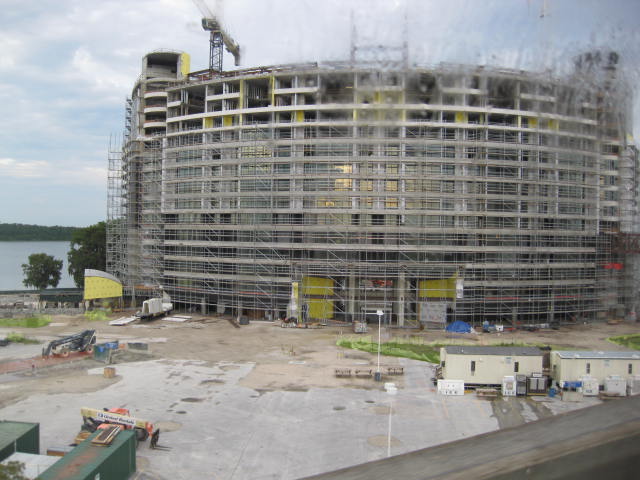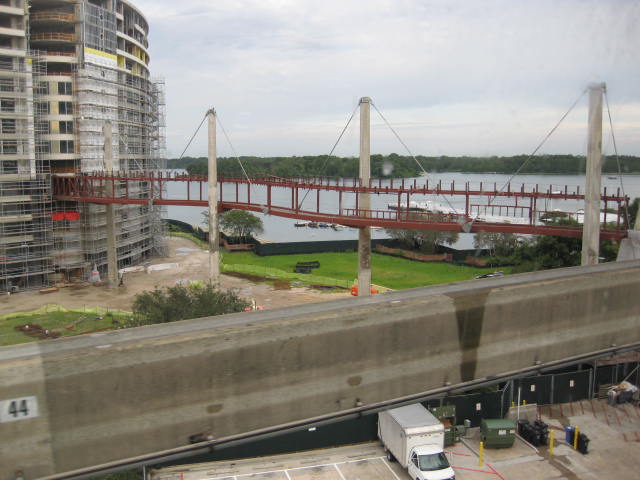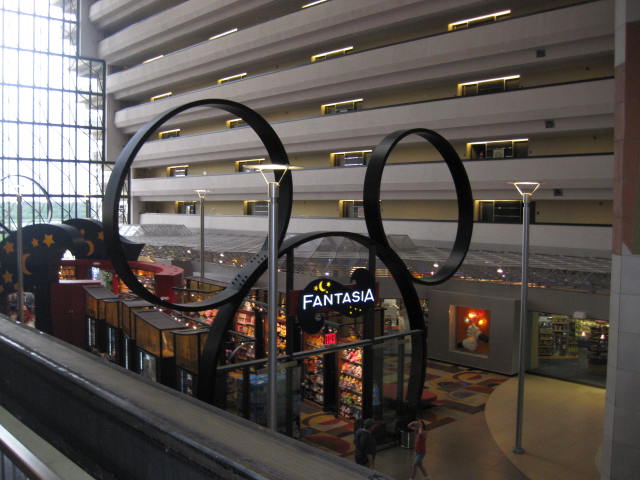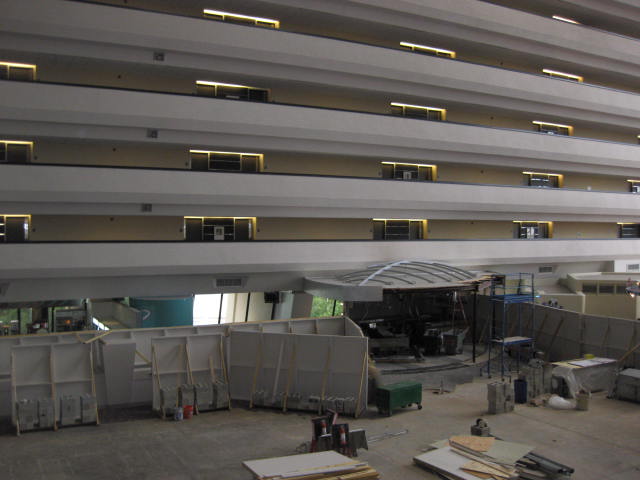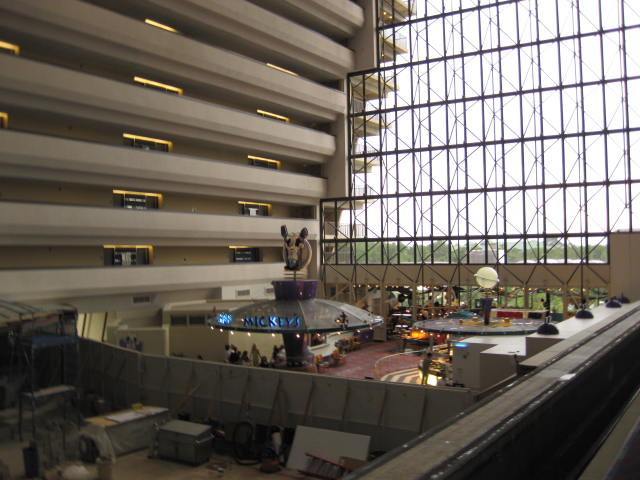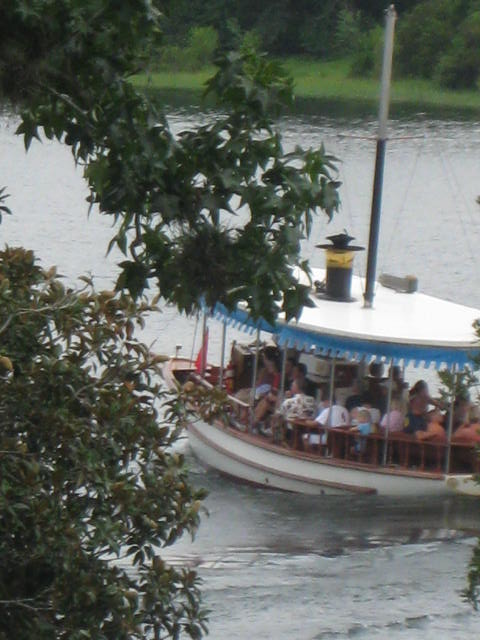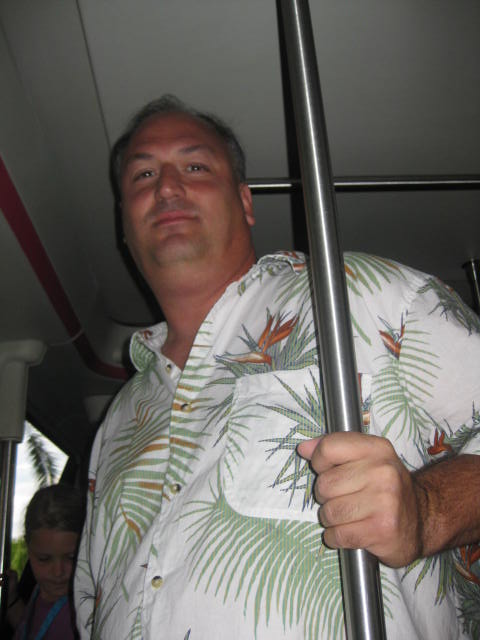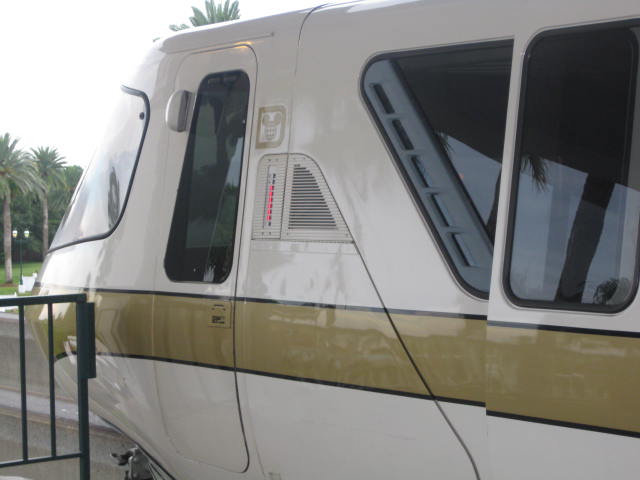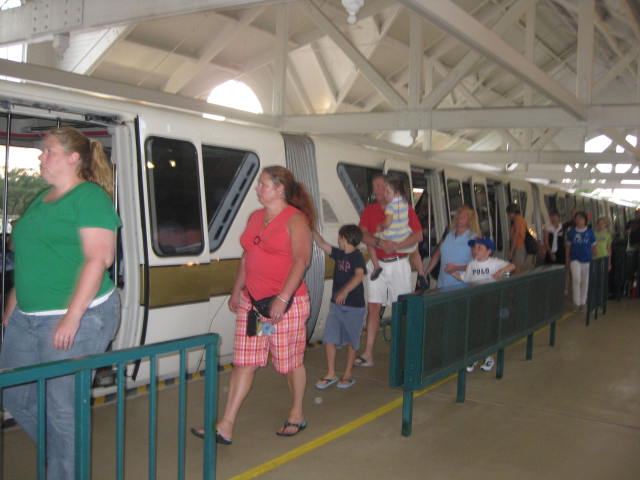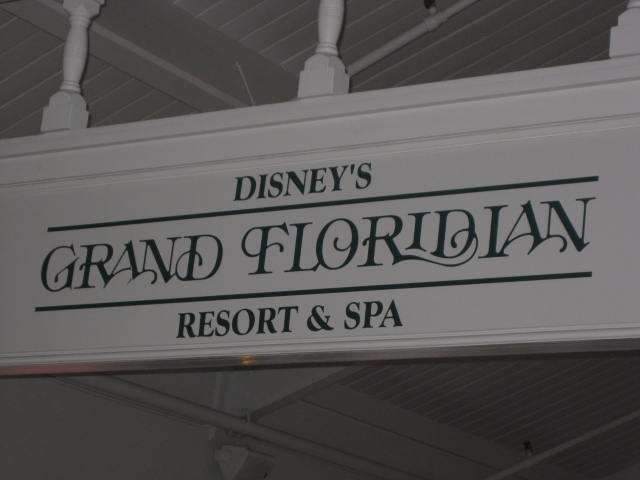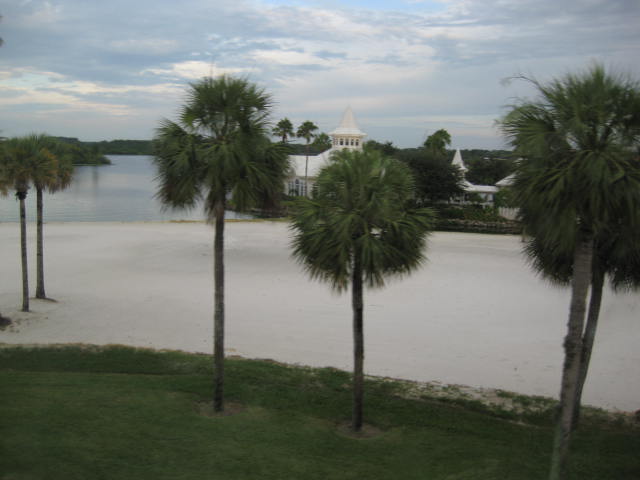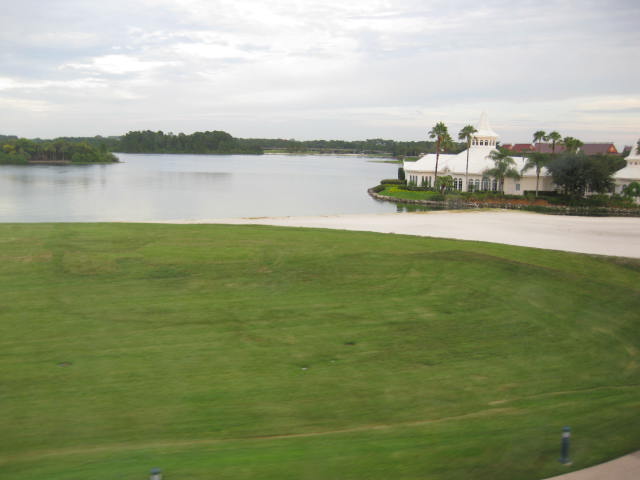 July 2007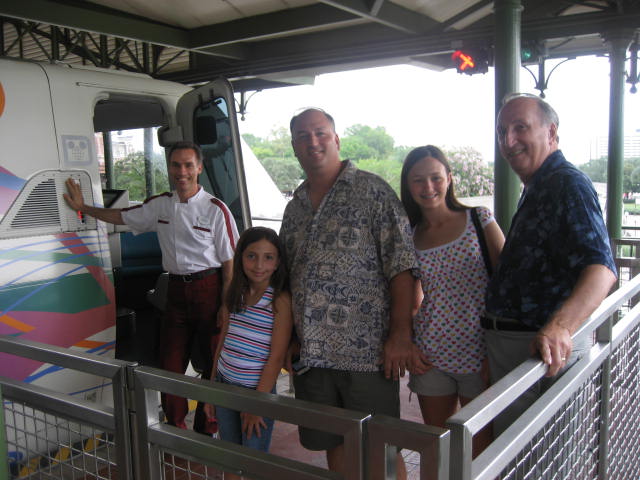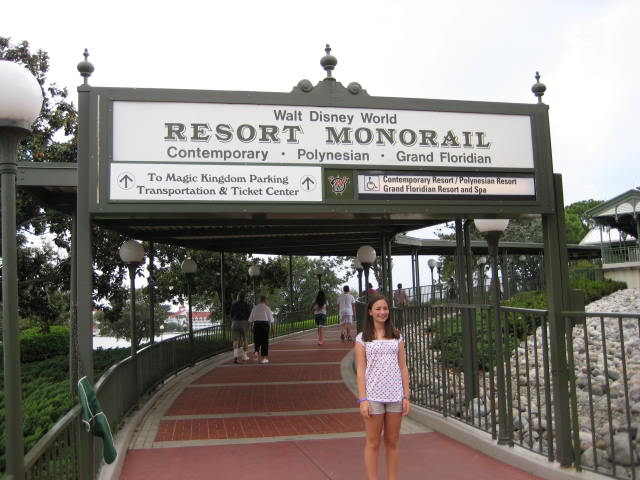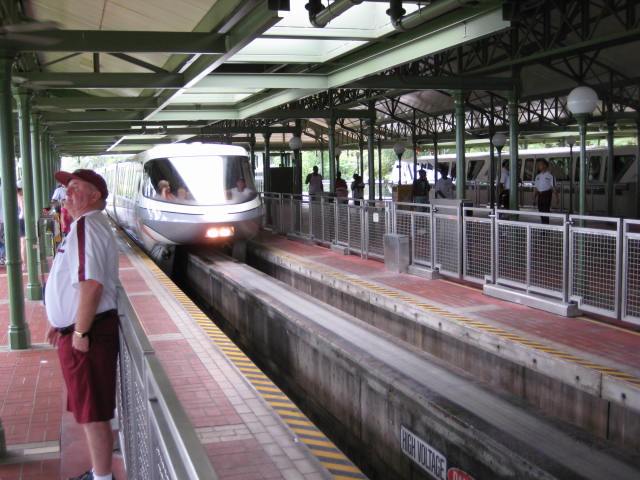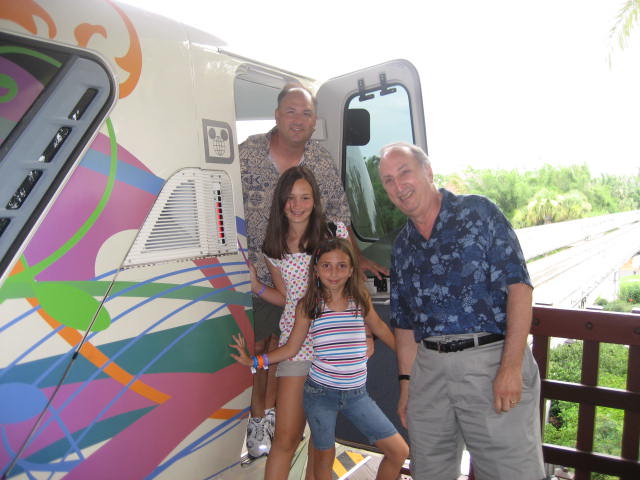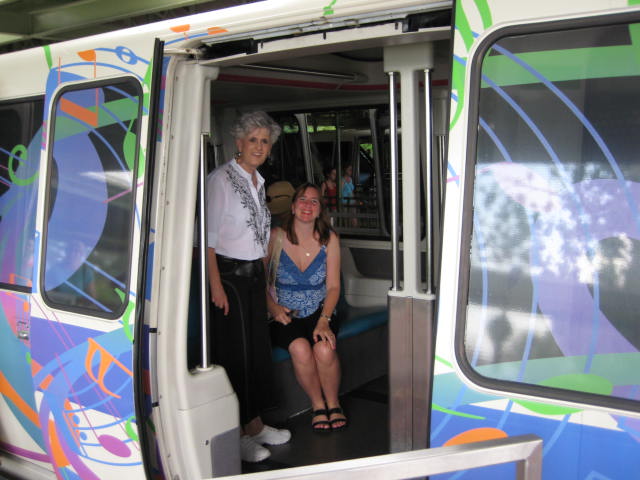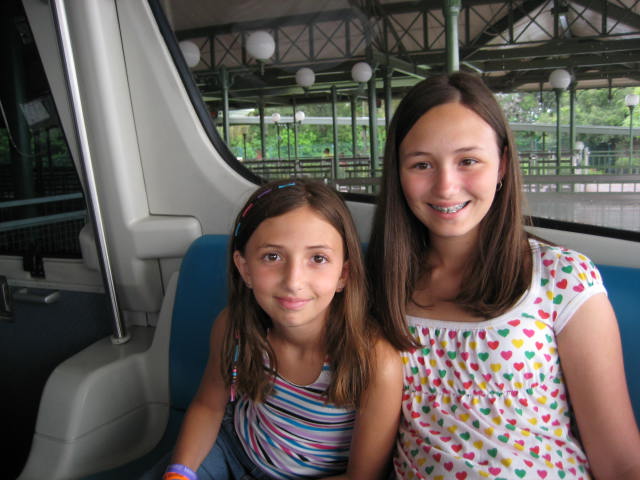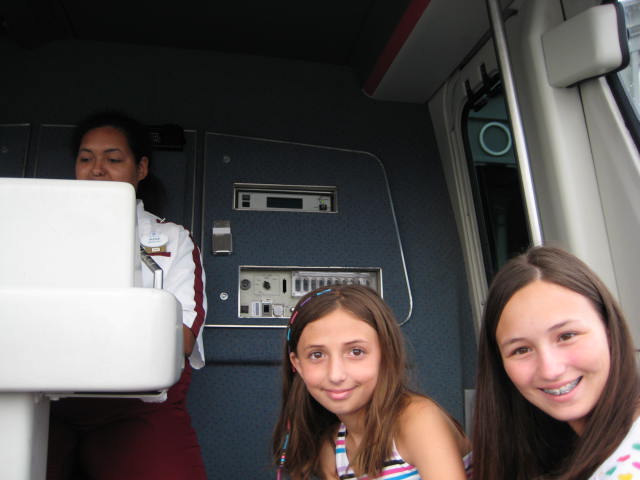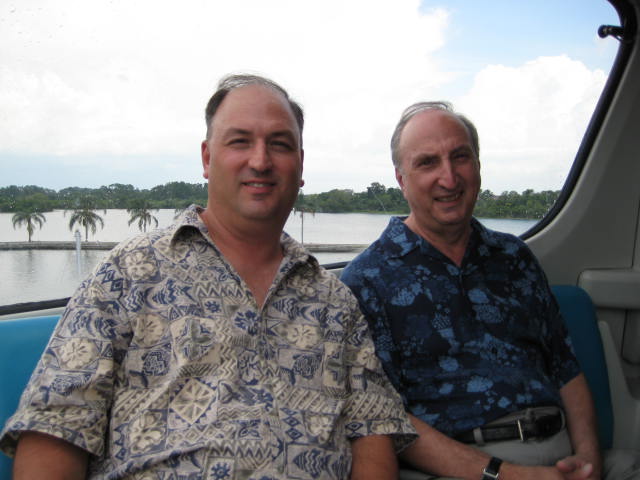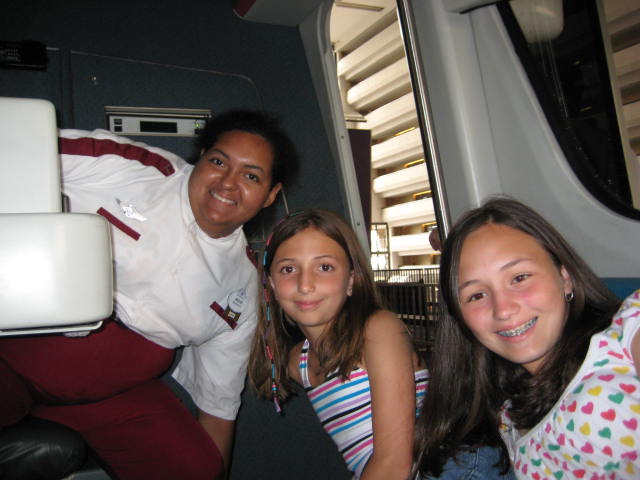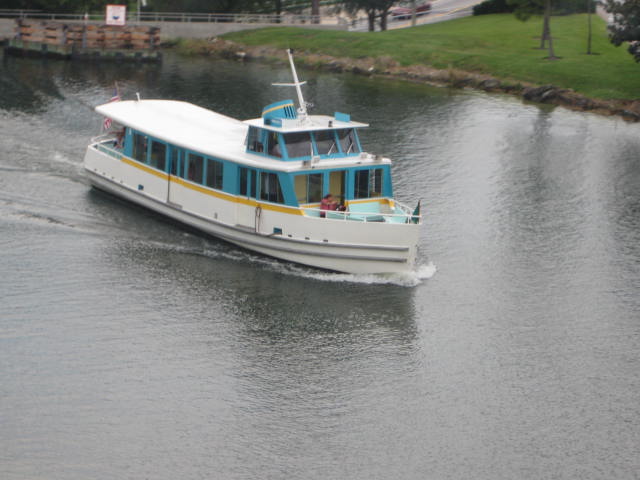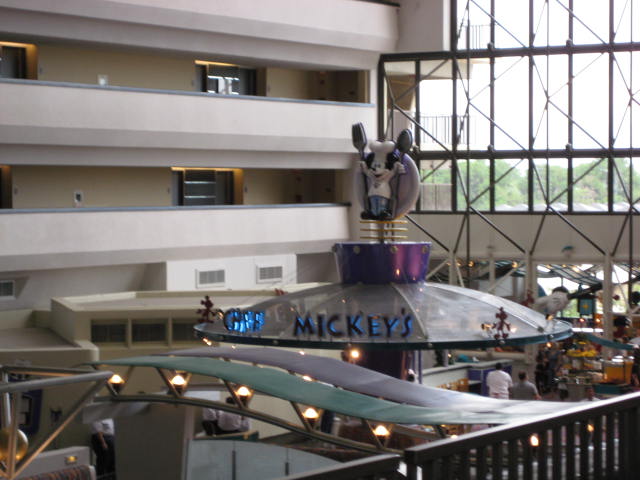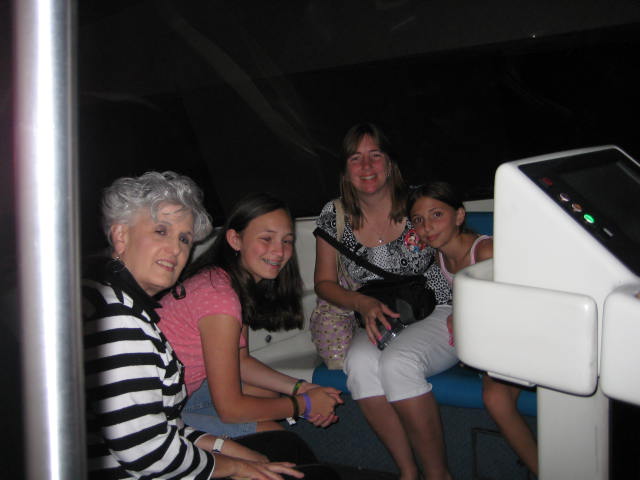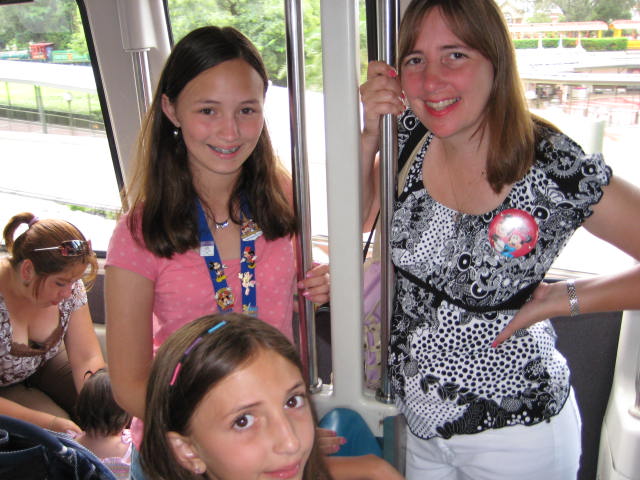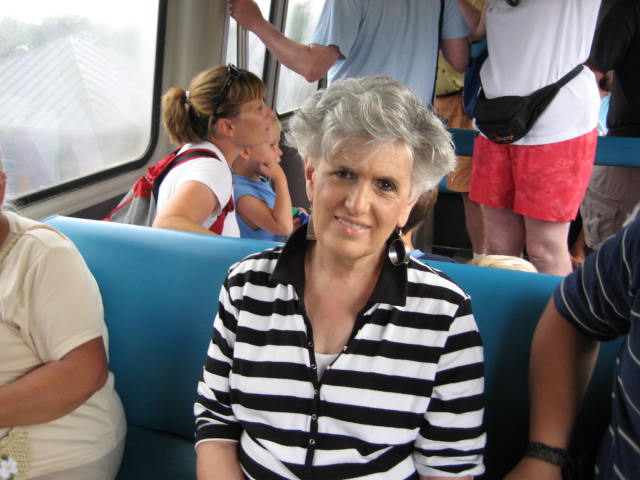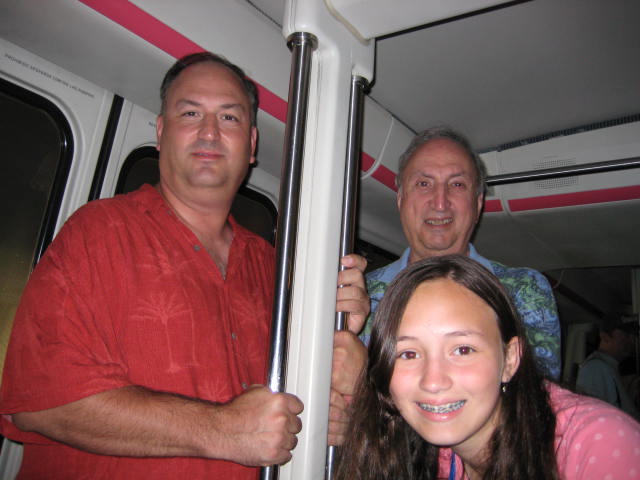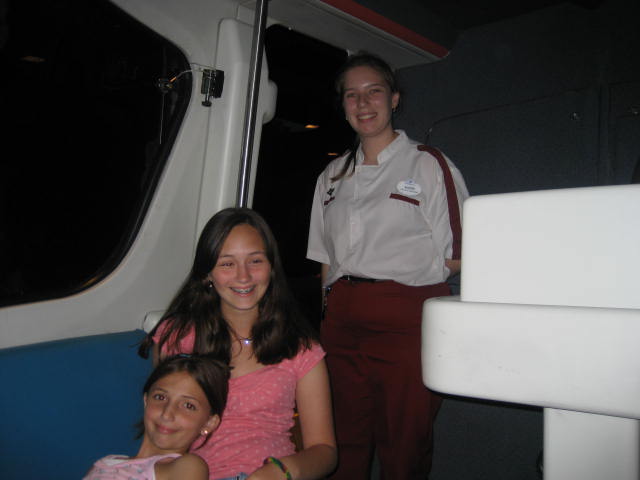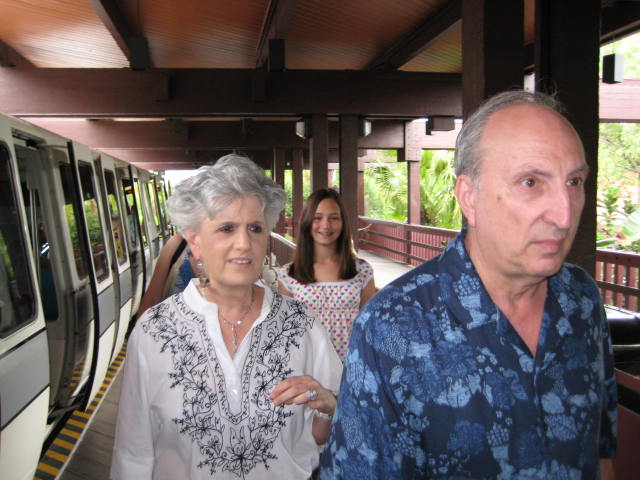 July 2006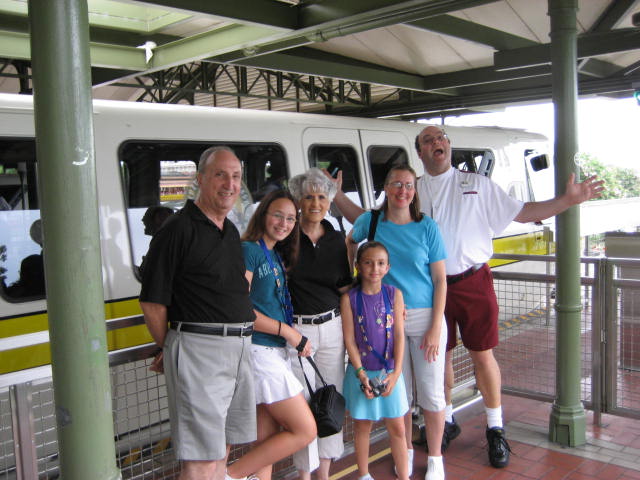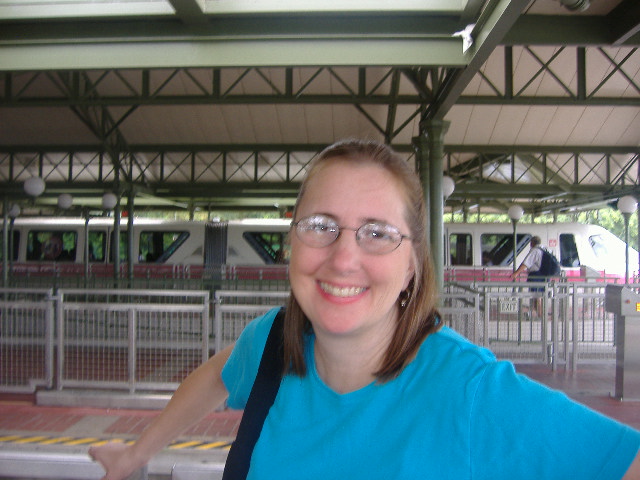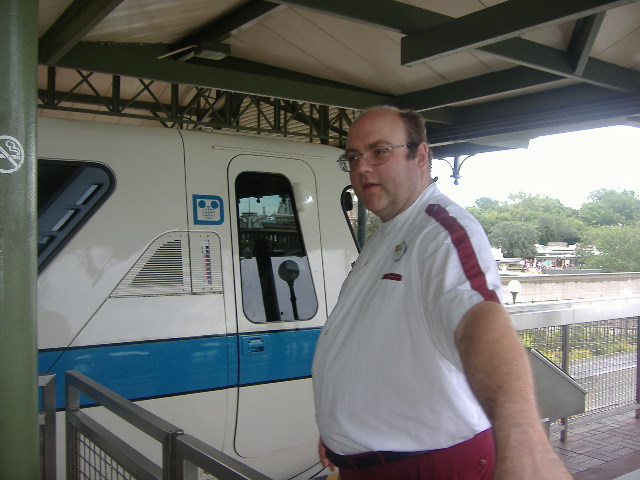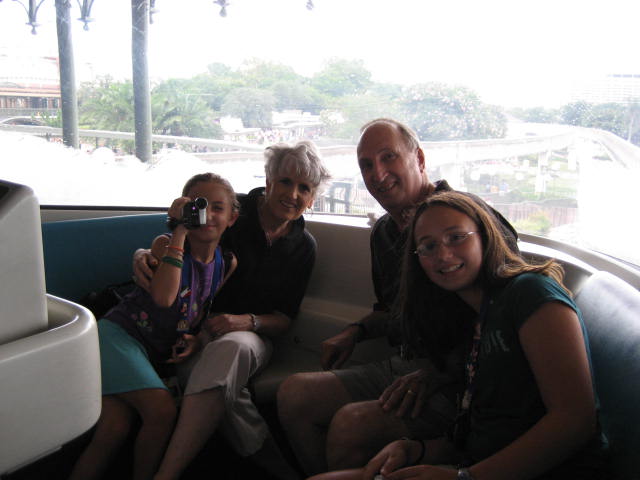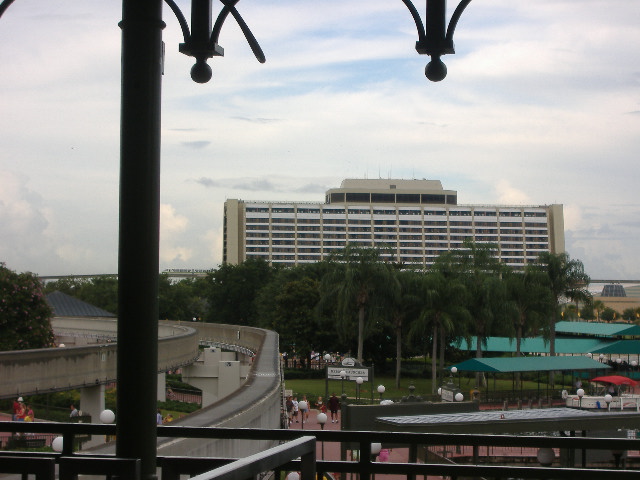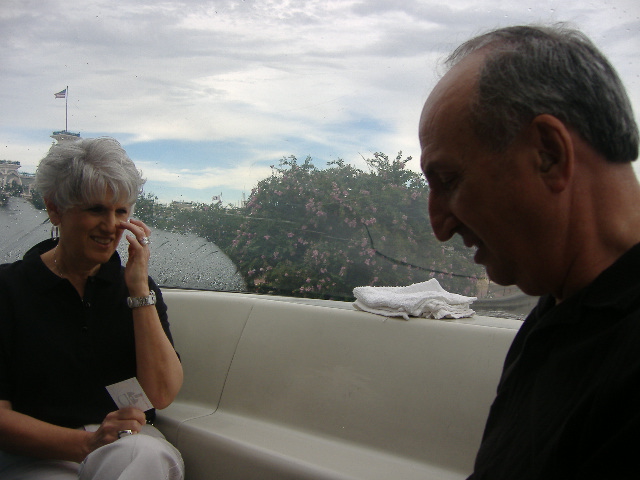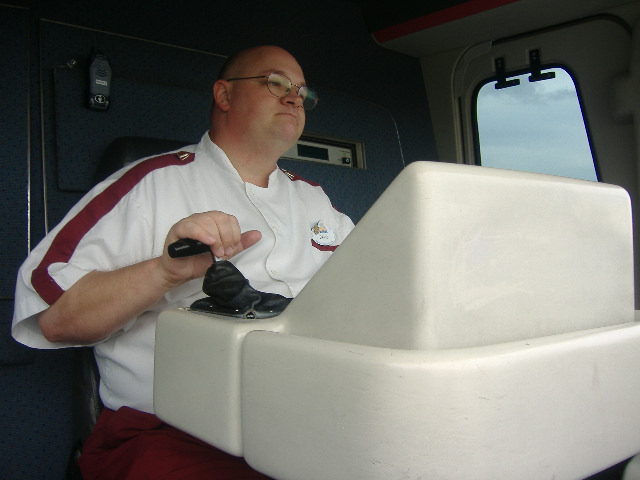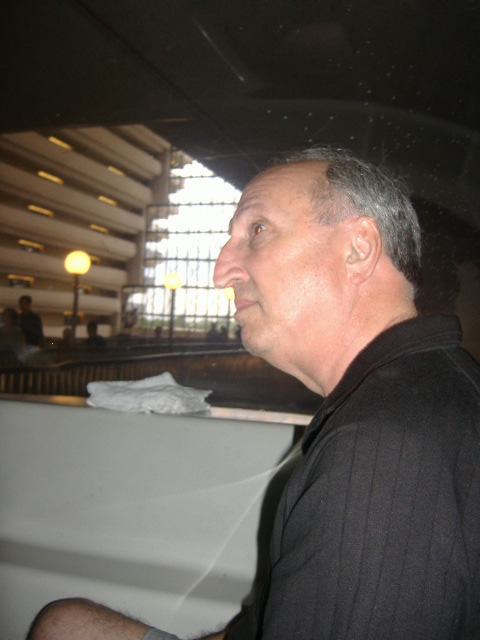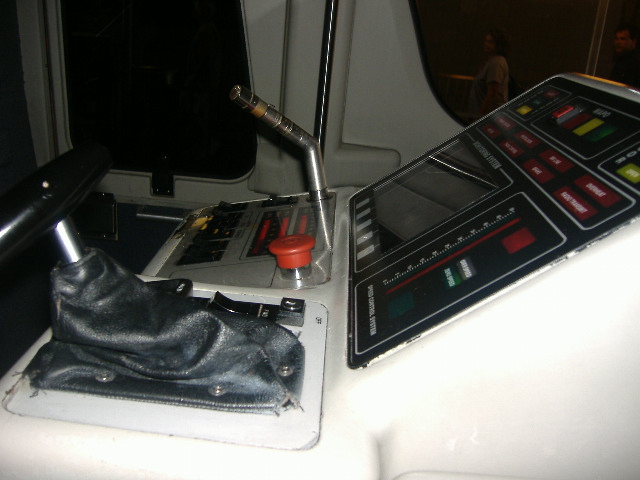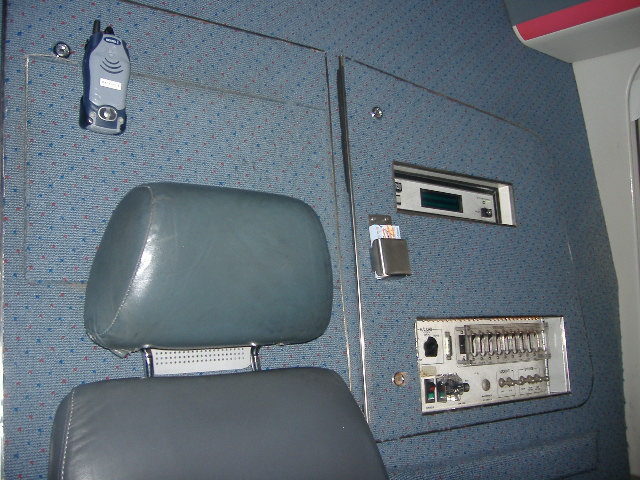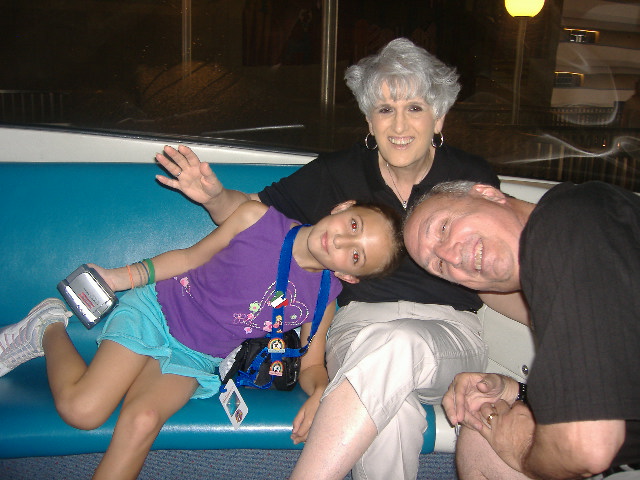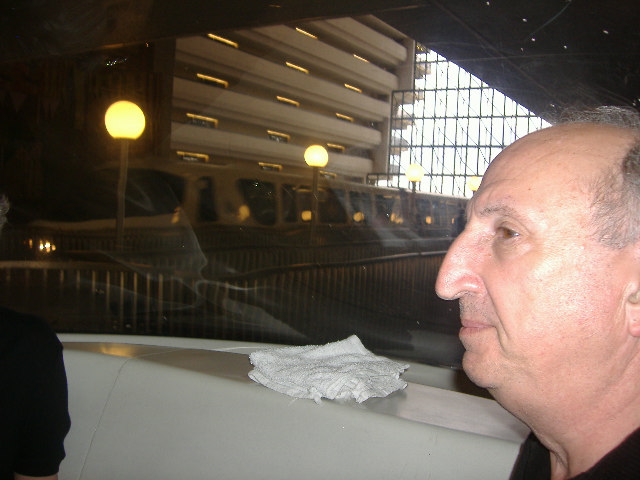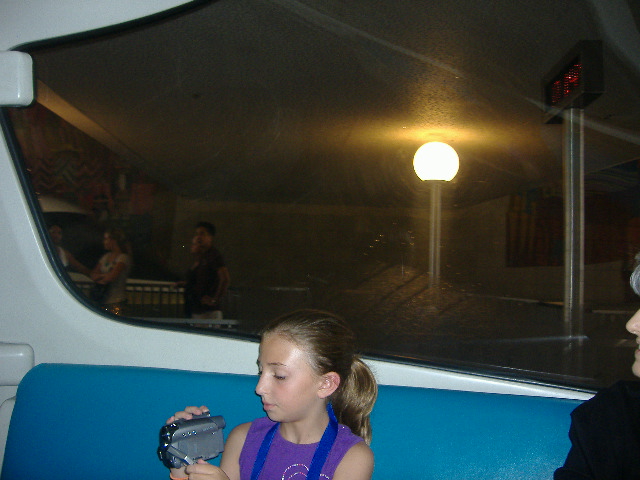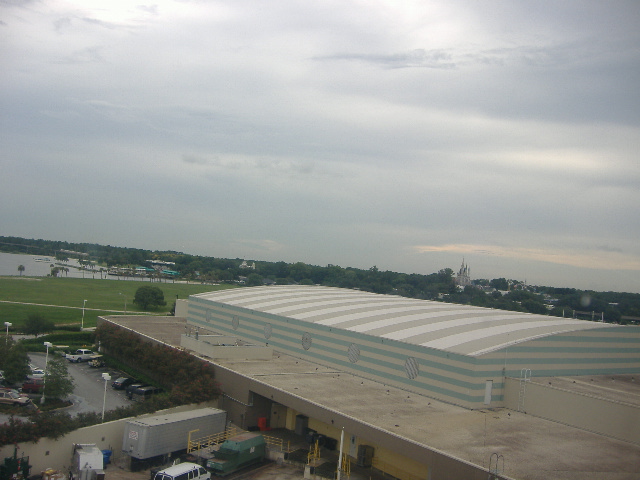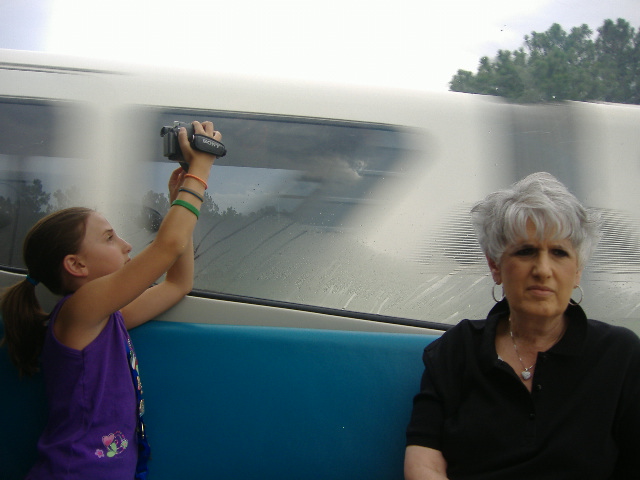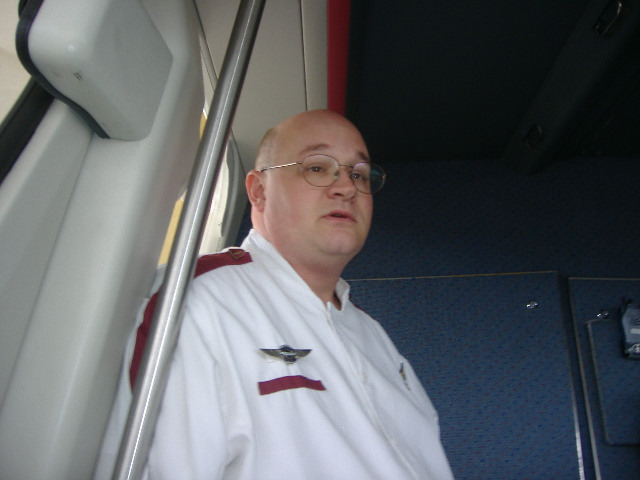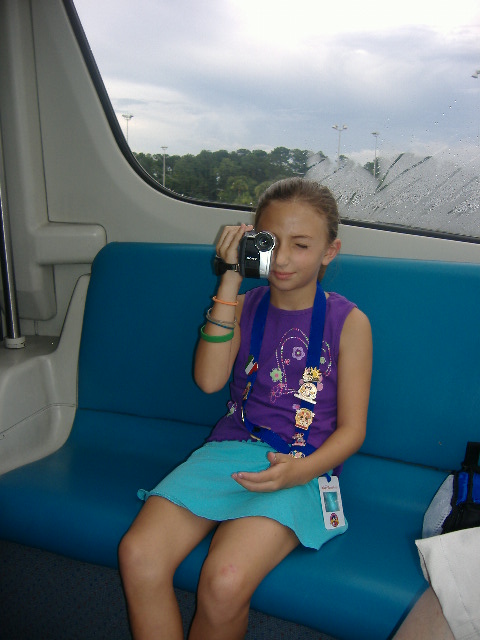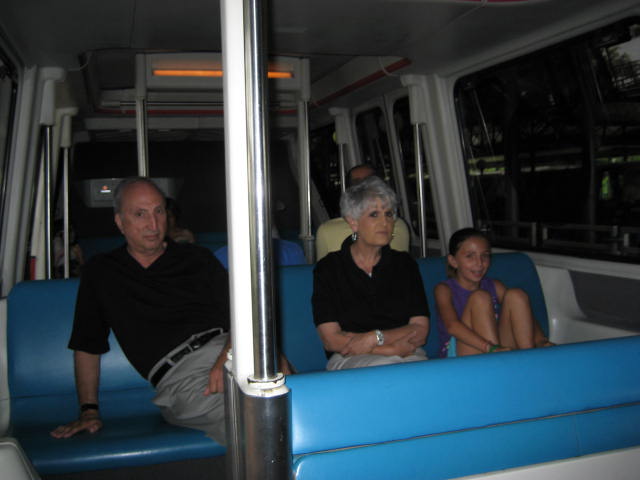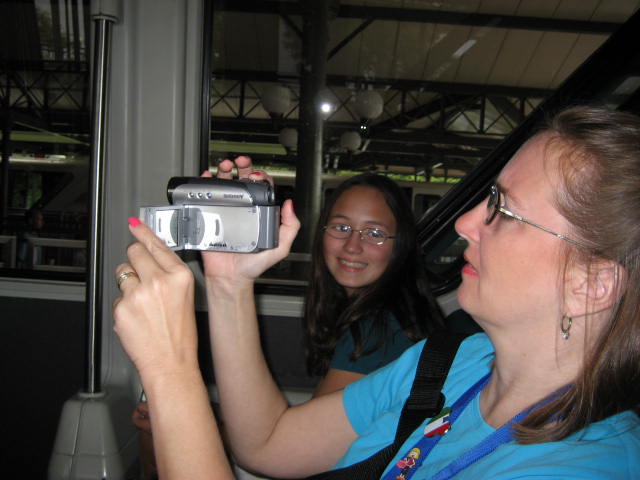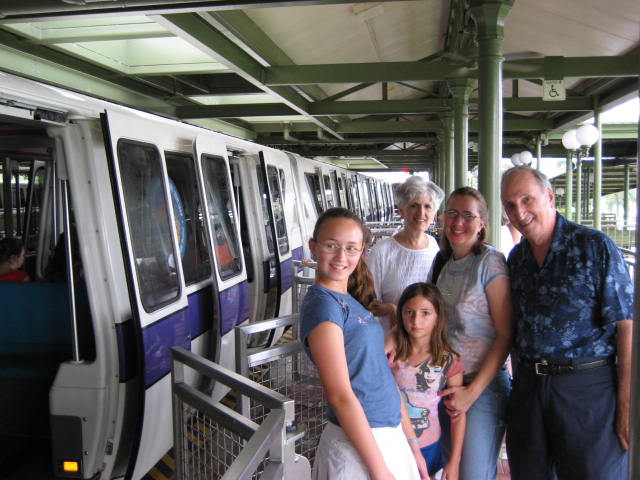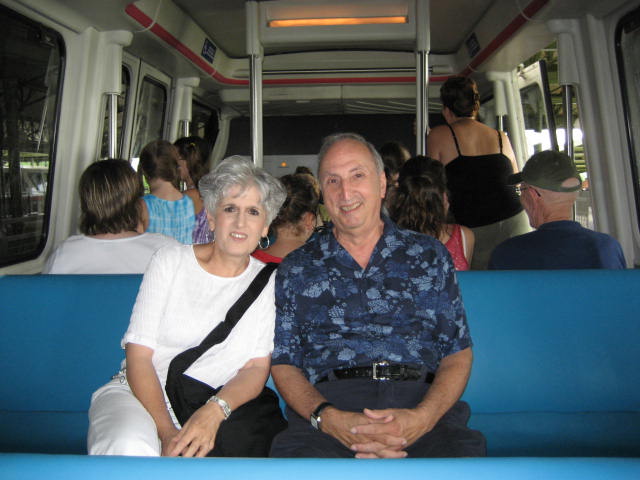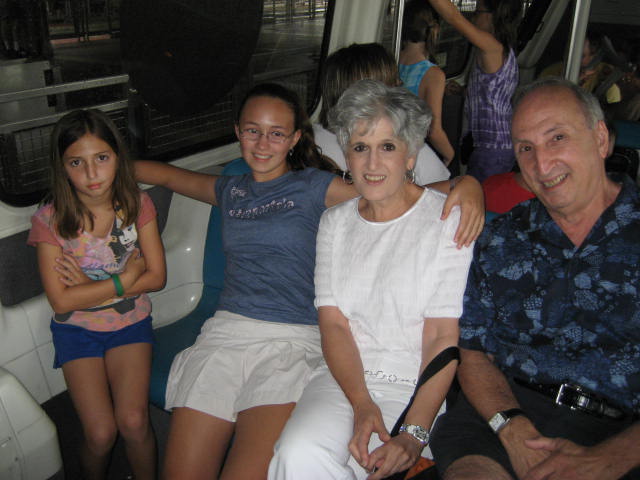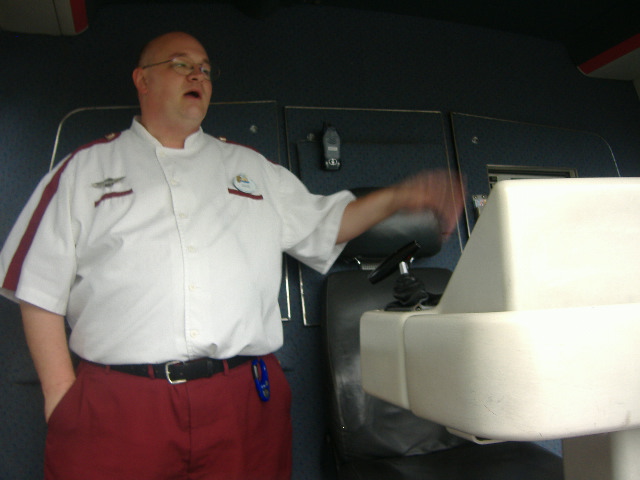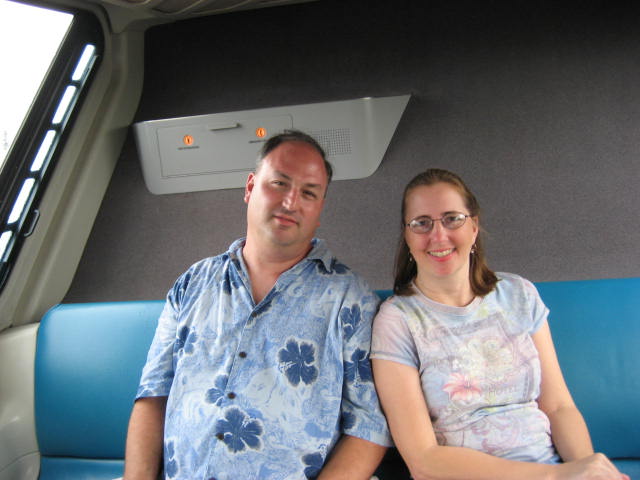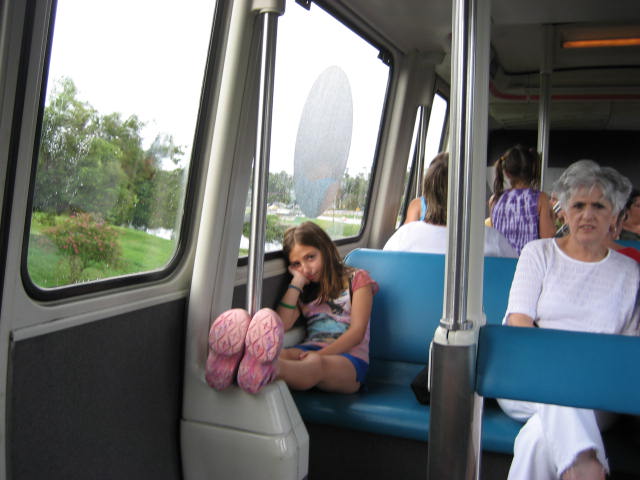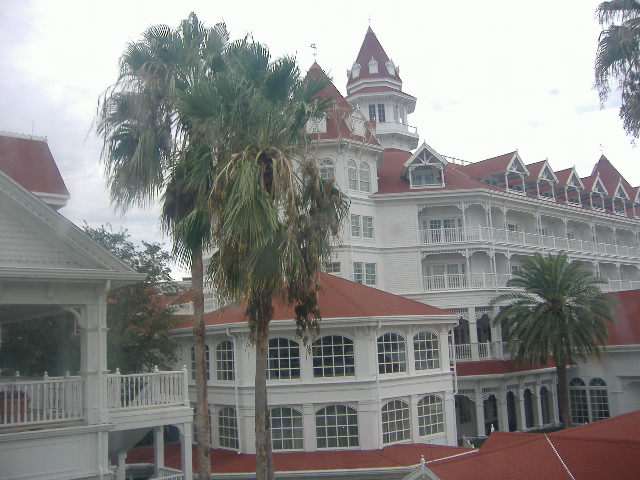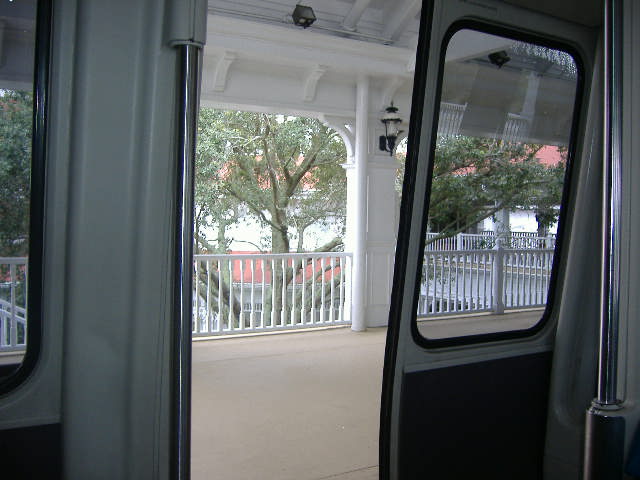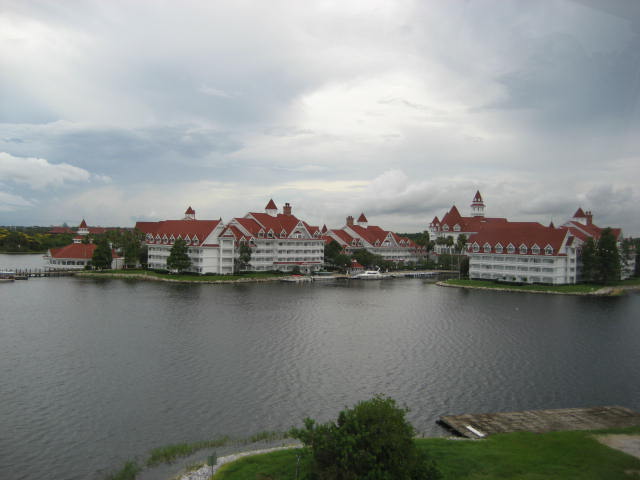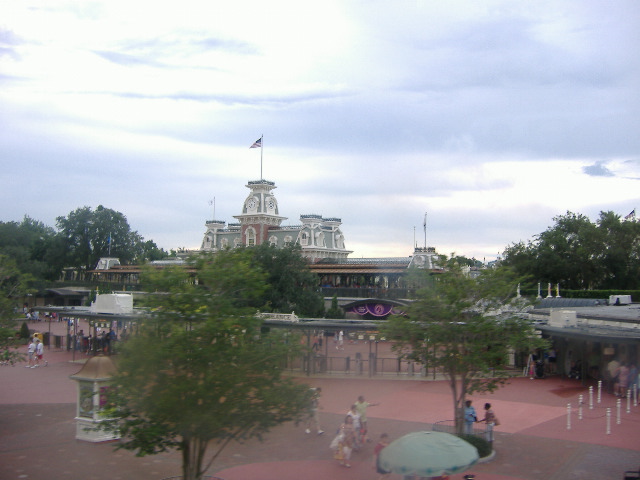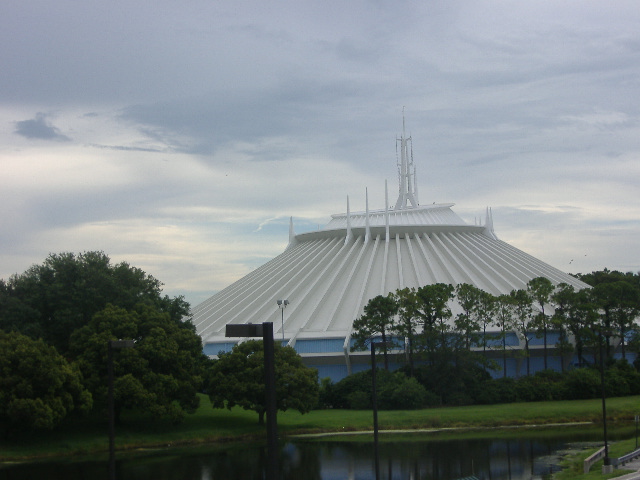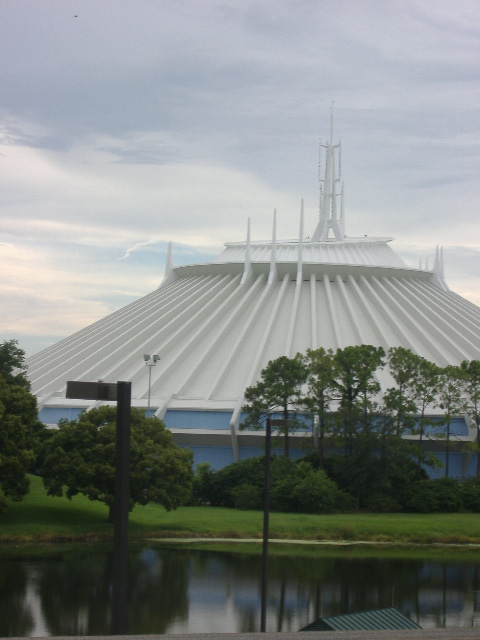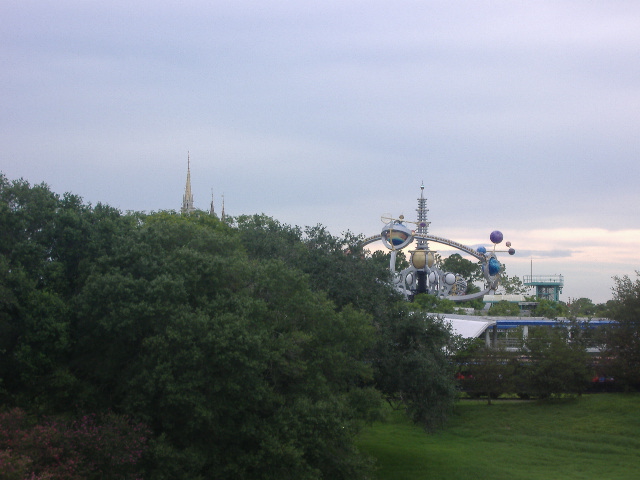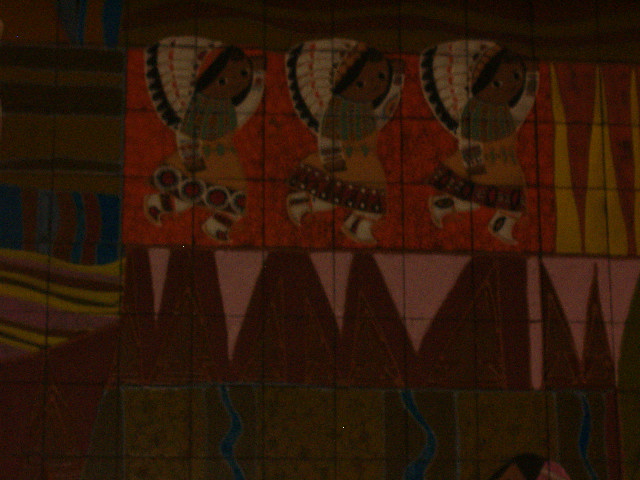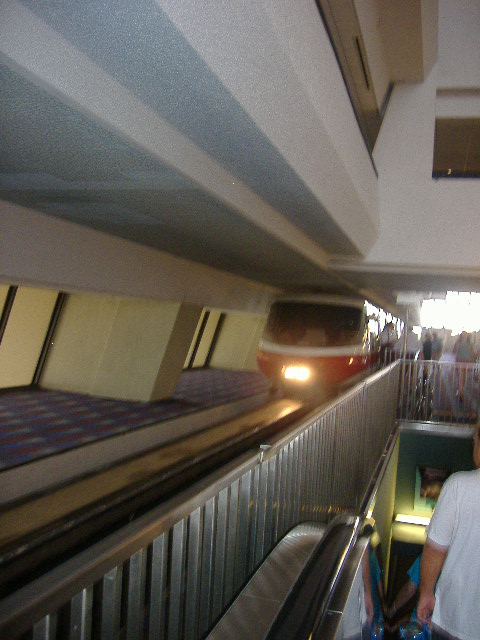 July 2005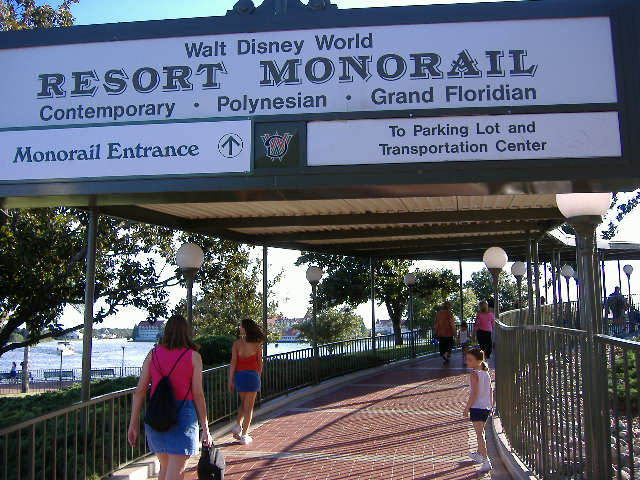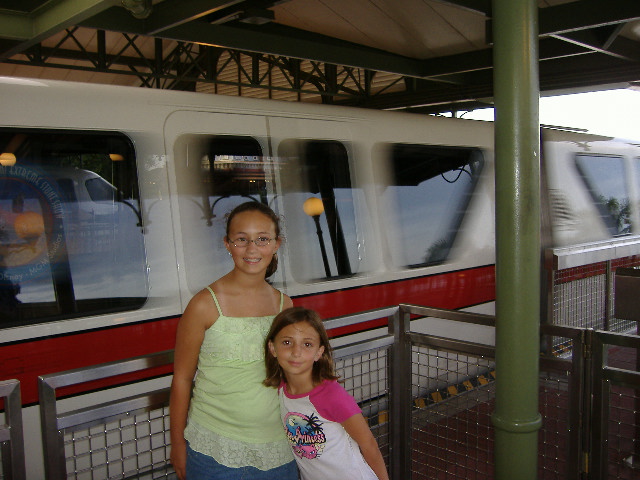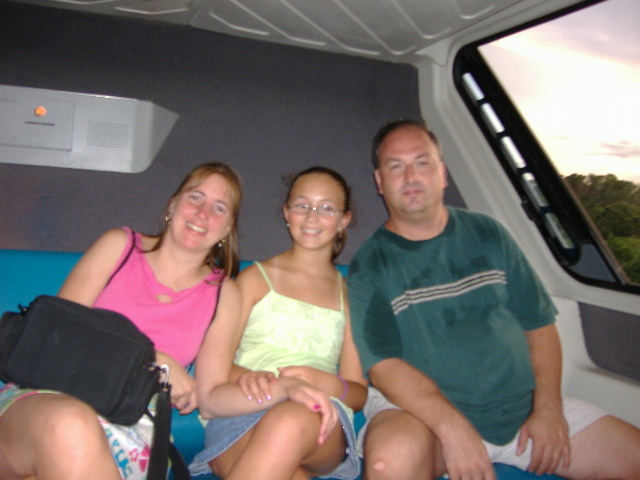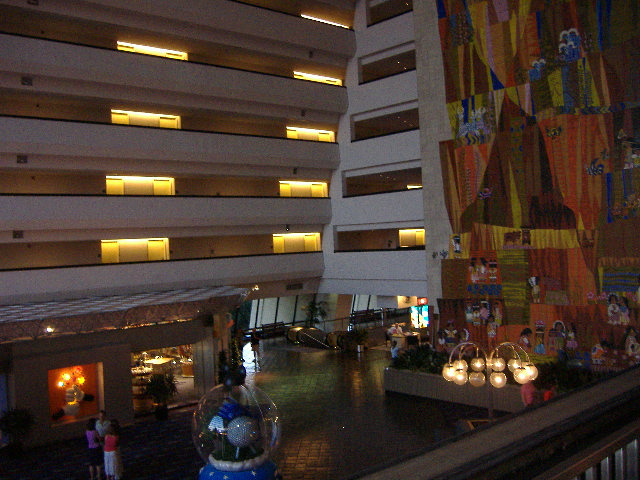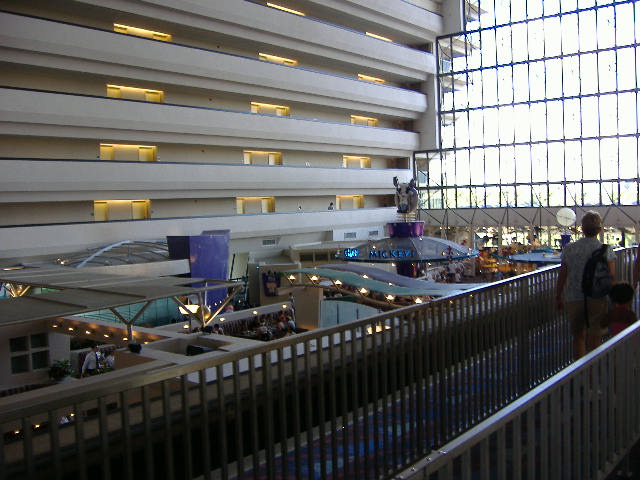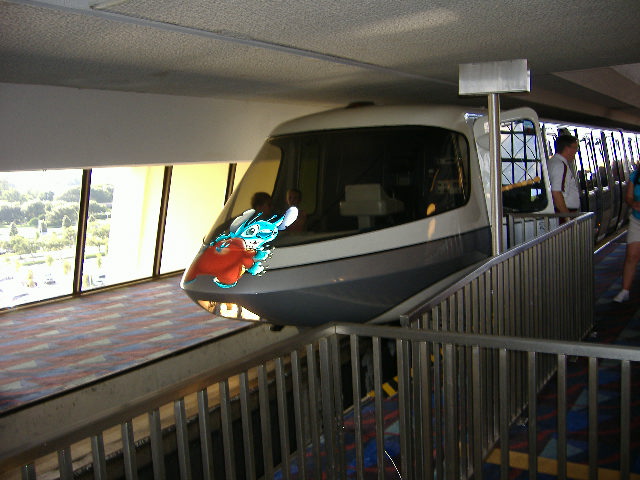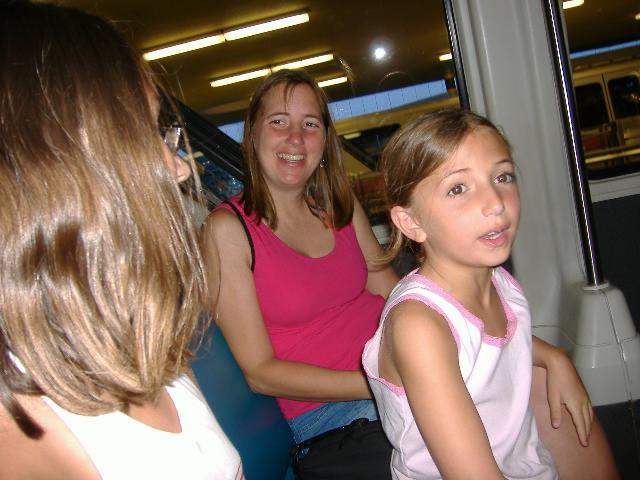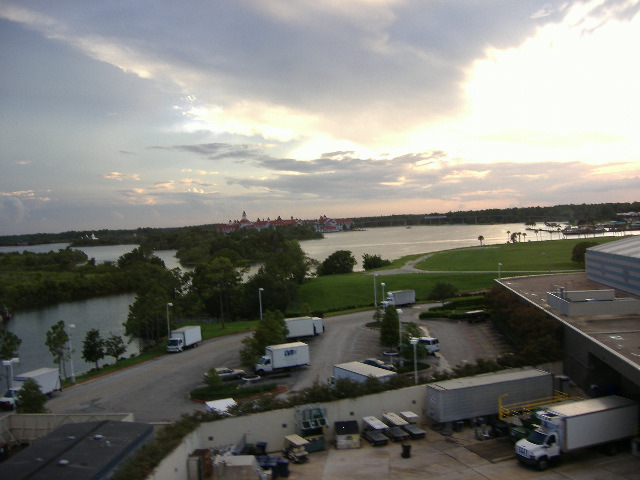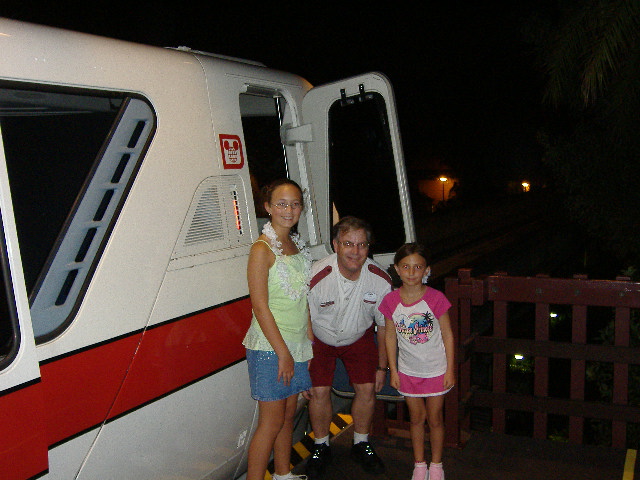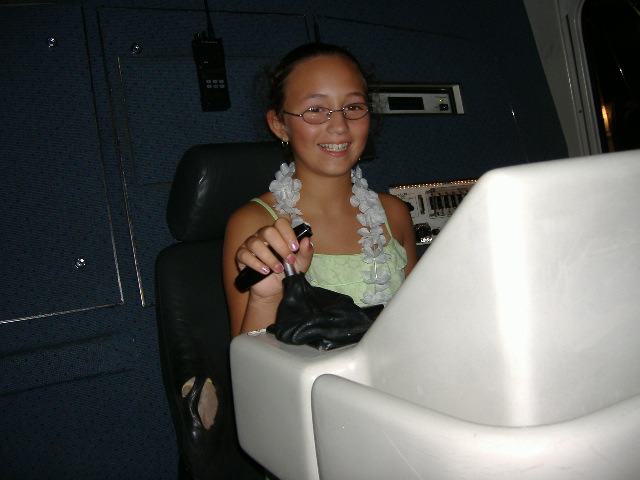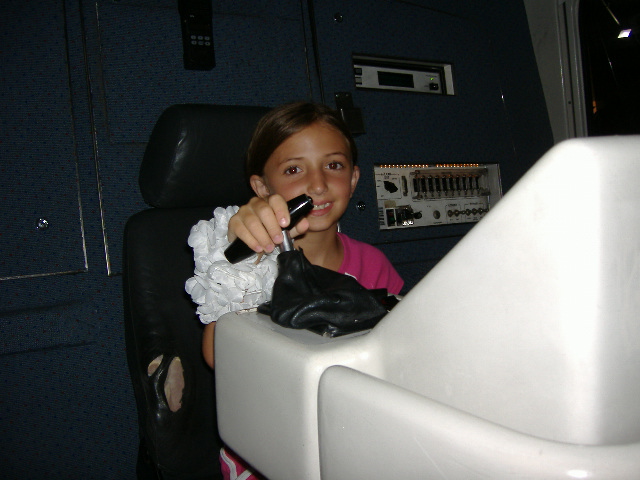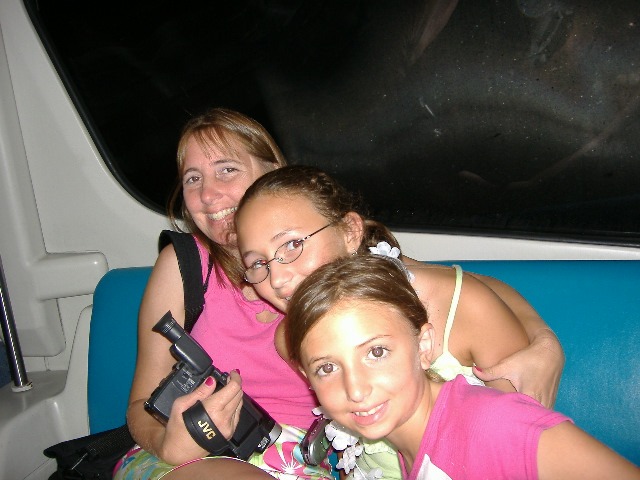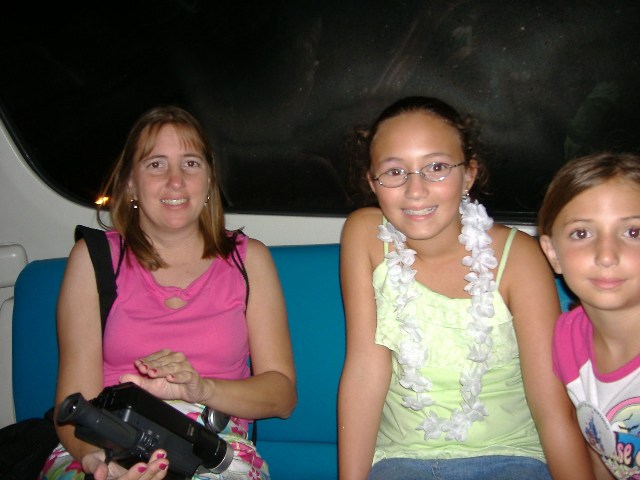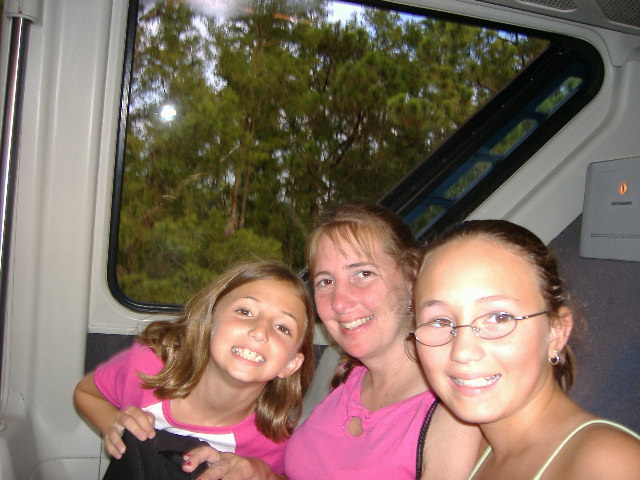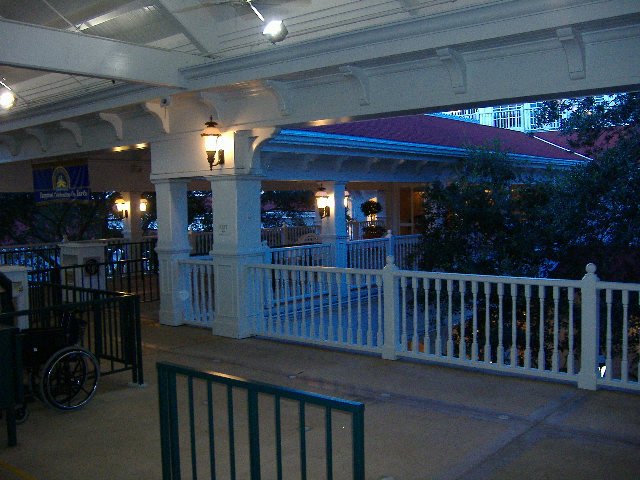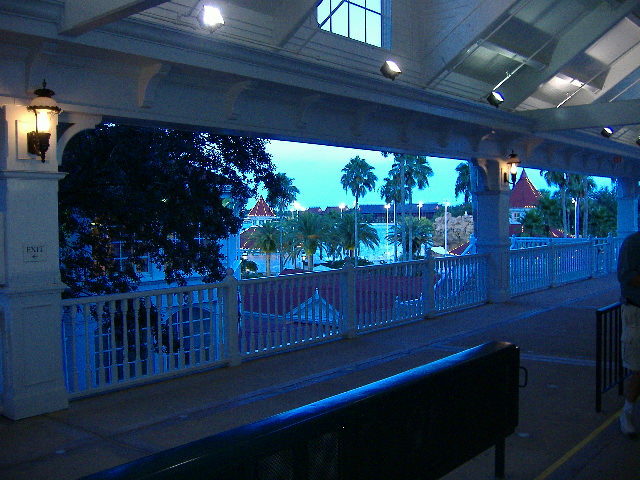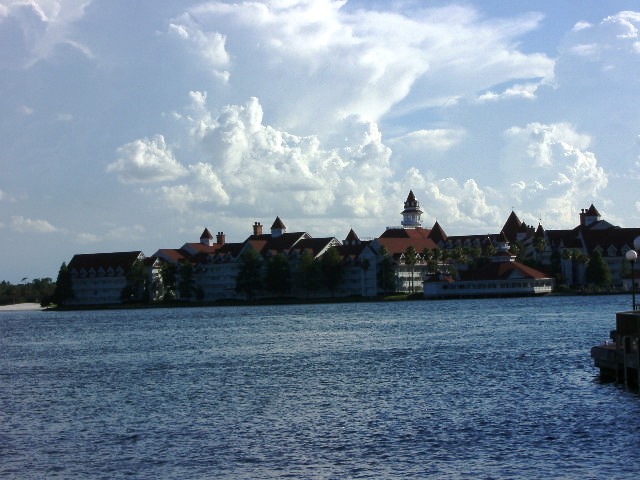 July 2004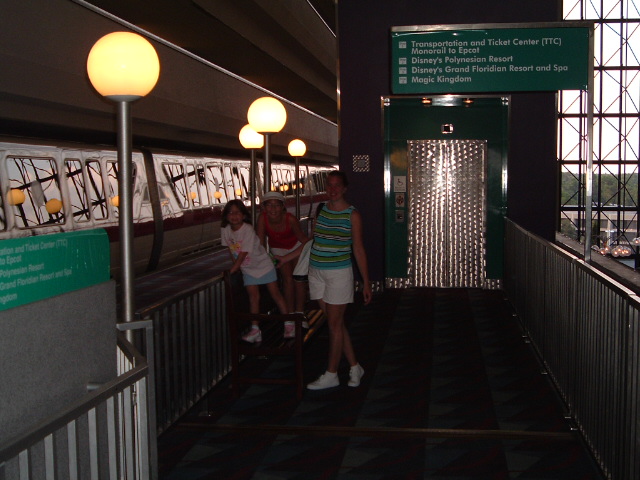 Megan, Courtney, and Bonnie waiting for the monorail!
If you ask, you might be able to sit in the front of the monorail with the driver!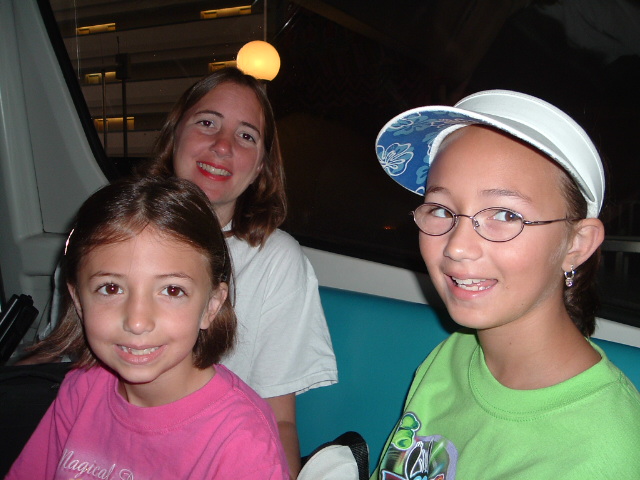 Megan, Bonnie and Courtney in the front of the monorail!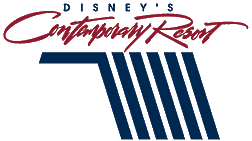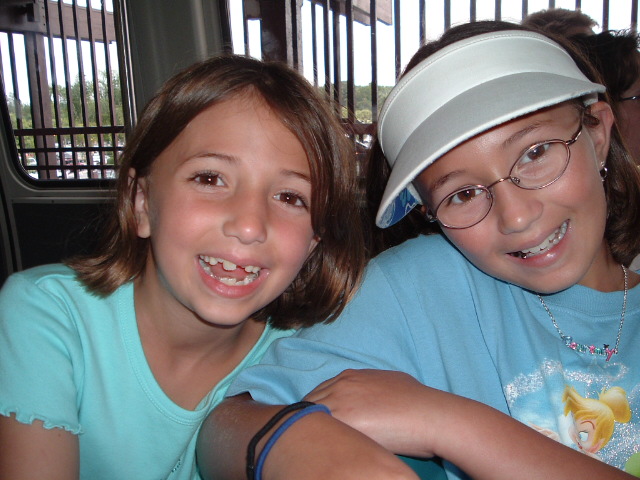 We can't wait to ride!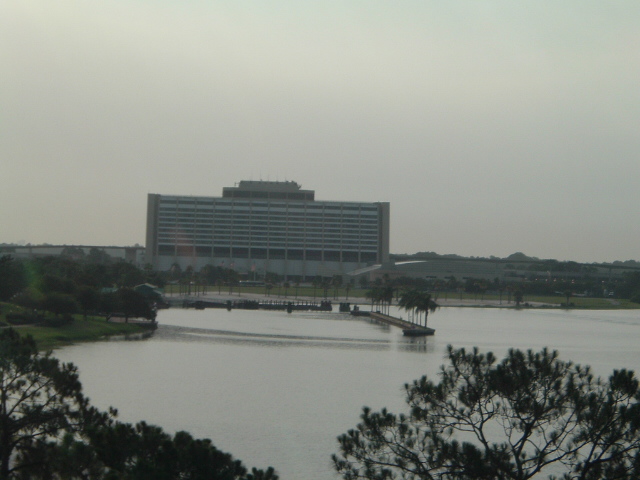 The Contemporary is one of the oldest (but it's still awesome) Disneyworld hotels.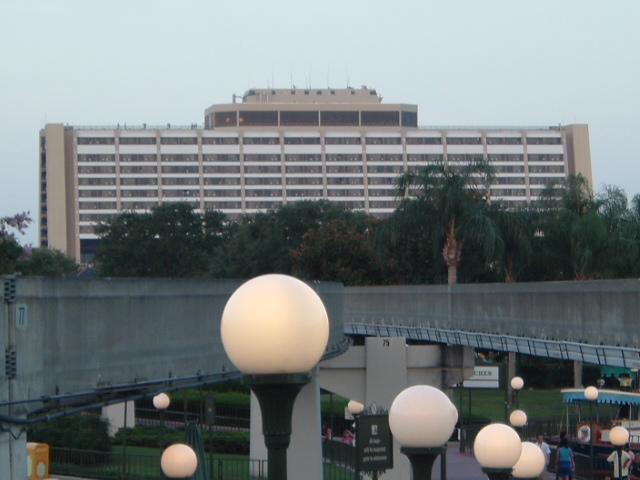 The Contemporary is just inches away from the Magic Kingdom!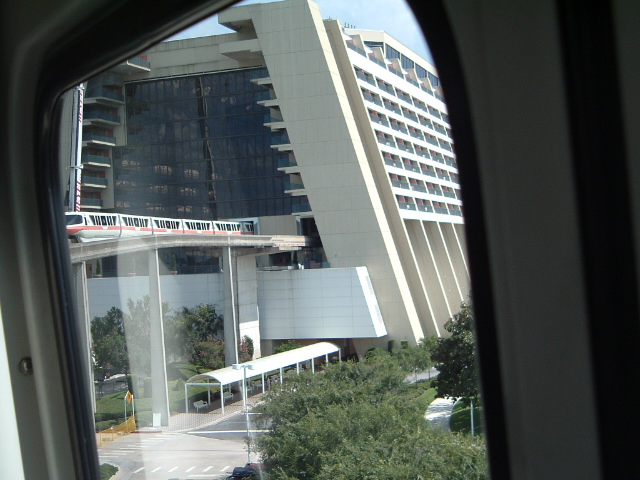 Contemporary is one of the three hotels that have a monorail. The other two are Polynesian and Grand Floridian!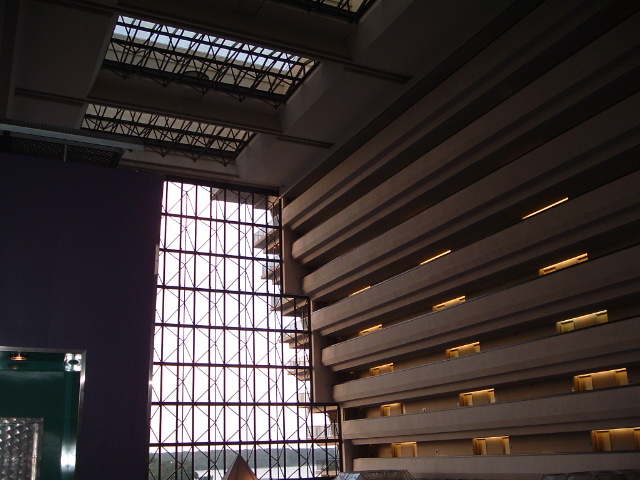 There are a lot of floors in the Contemporary!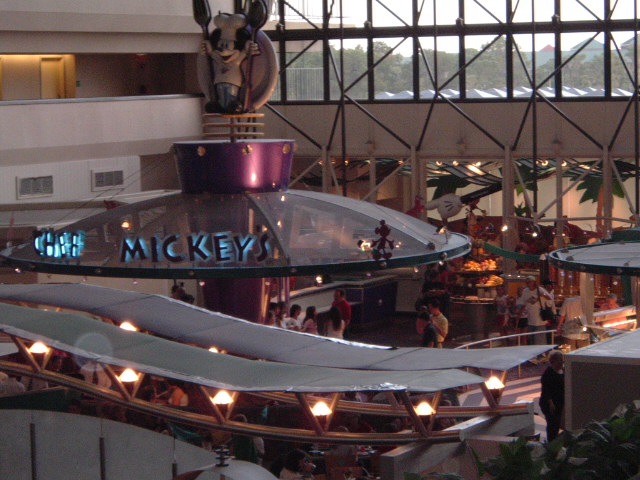 Chef Mickey's is a character breakfast and dinner. Here characters such as Mickey, Minnie, Goofy, Chip and Dale come to your table while Donald Duck is in the waiting area. But don't expect to walk right up, call ahead for reservations!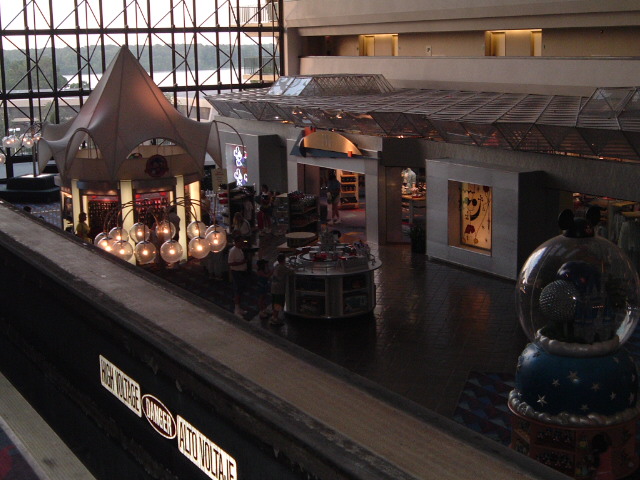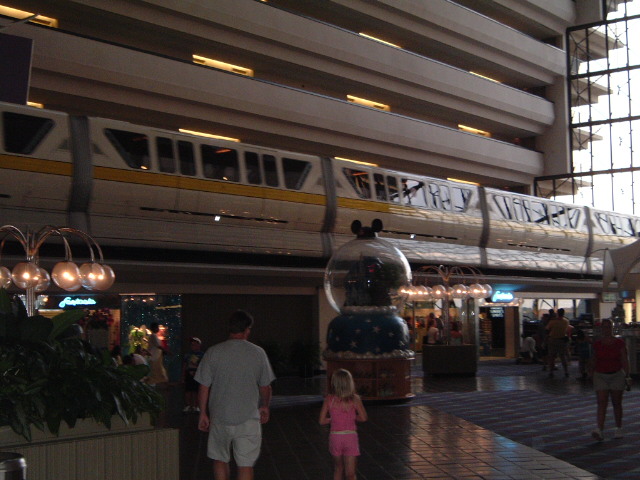 Here is the yellow monorail going through Contemporary.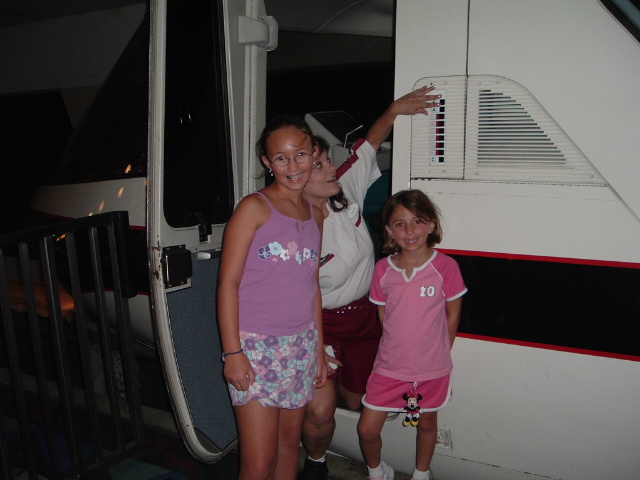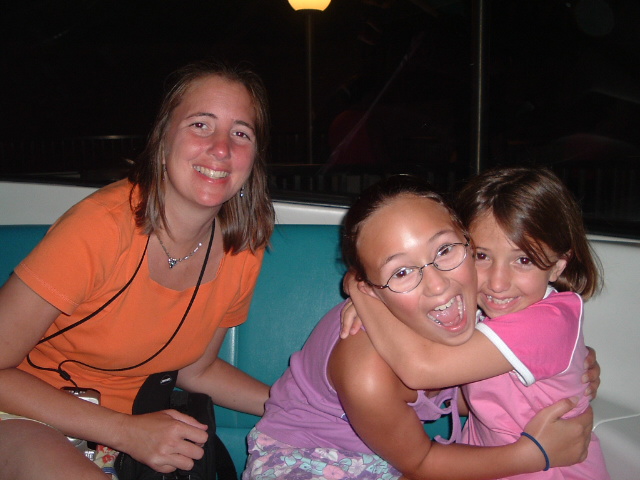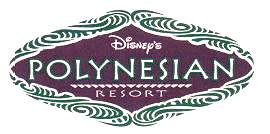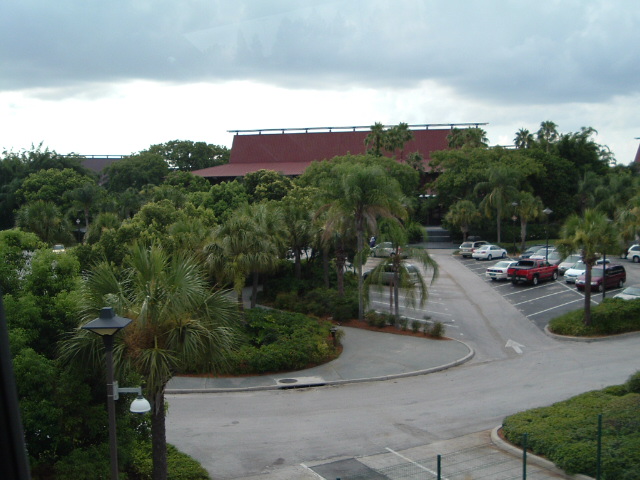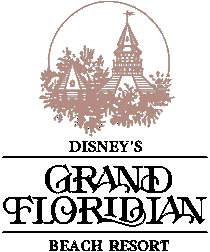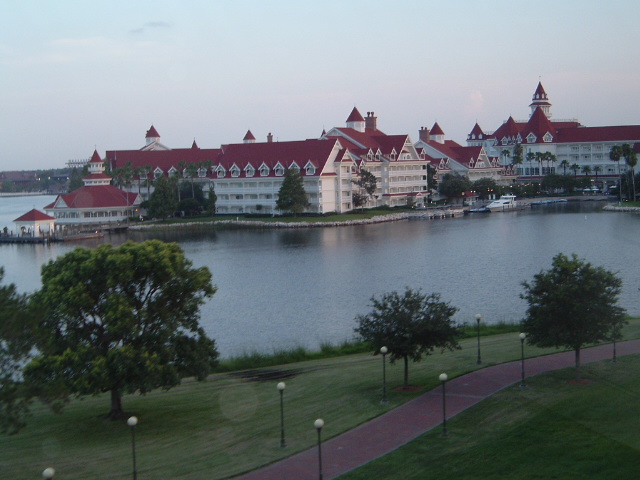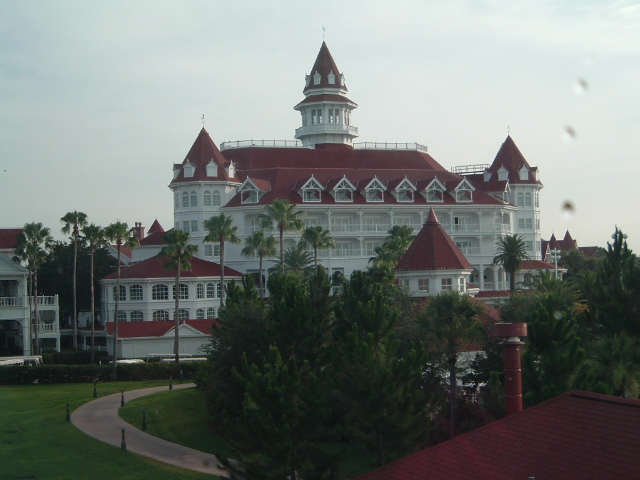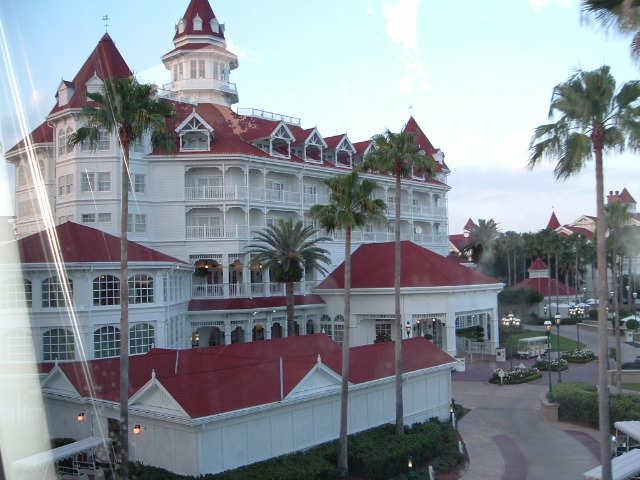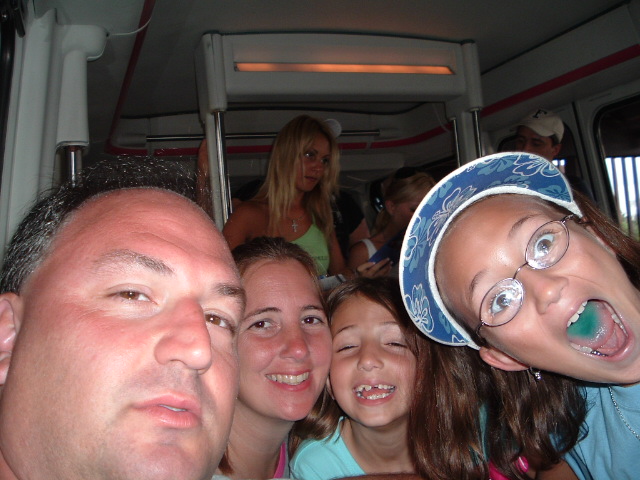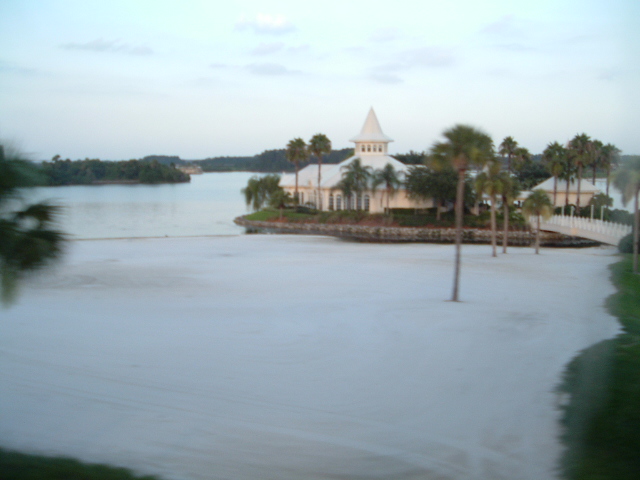 This is the Wedding Pavilion located near the Grand Floridian.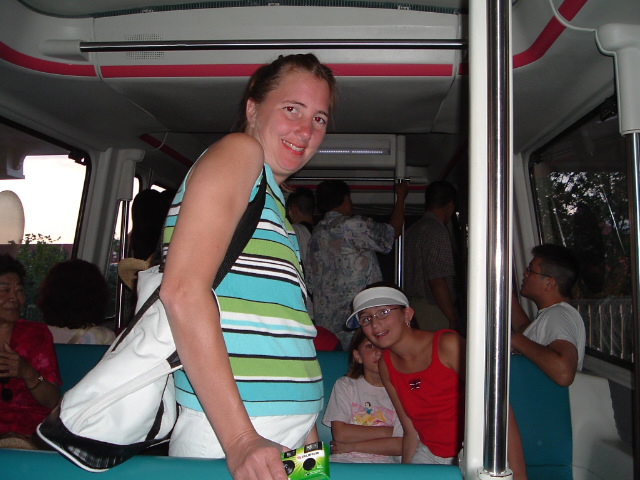 On the monorail, you can sit or stand.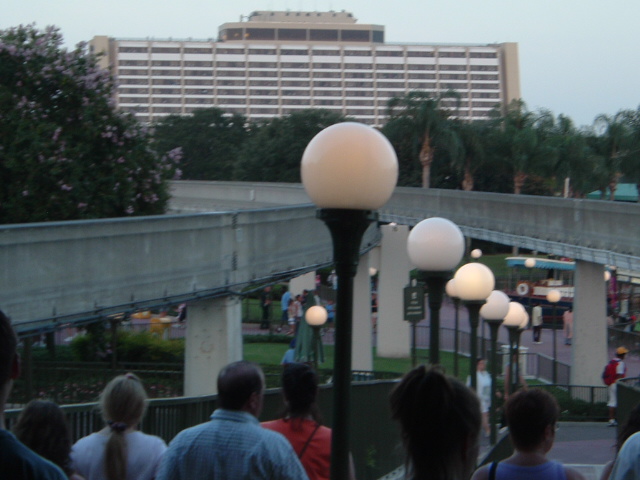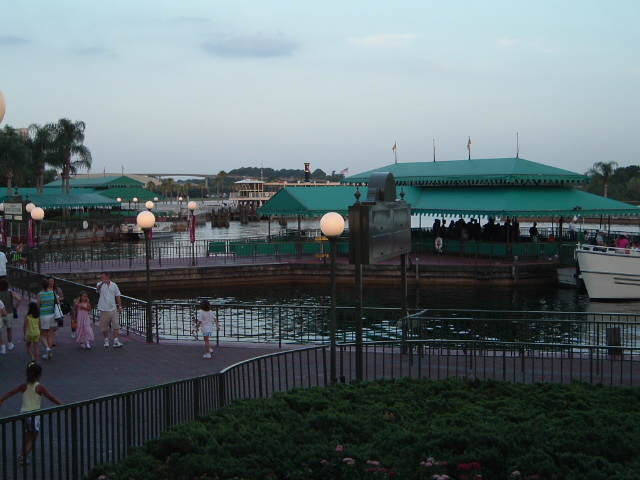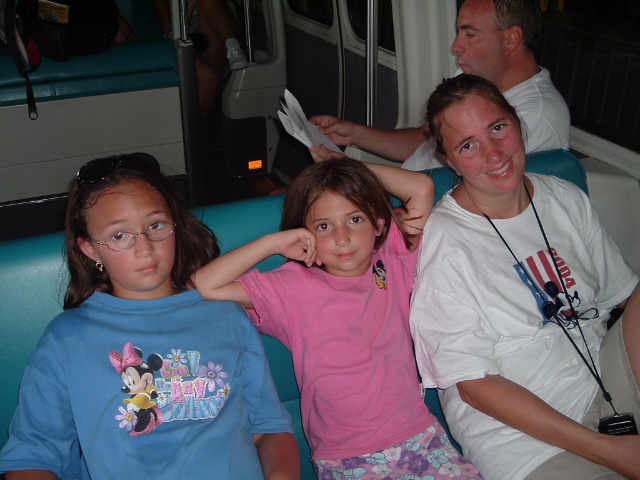 Boy, after a long day at the parks we are so tired!!!
Have any comments, questions, or need some help with Walt Disney World?